Why it's finally time to start your own vintage Heuer collection…
Vintage Heuers are hotter than ever, and this weekend in Geneva, Phillips will offer The Crosthwaite and Gavin Collection of Exceptional Heuer Chronographs from the Jack Heuer Era. Ahead of the sale, we sat down with International Specialist Paul Maudsley to take a look at some of the key pieces…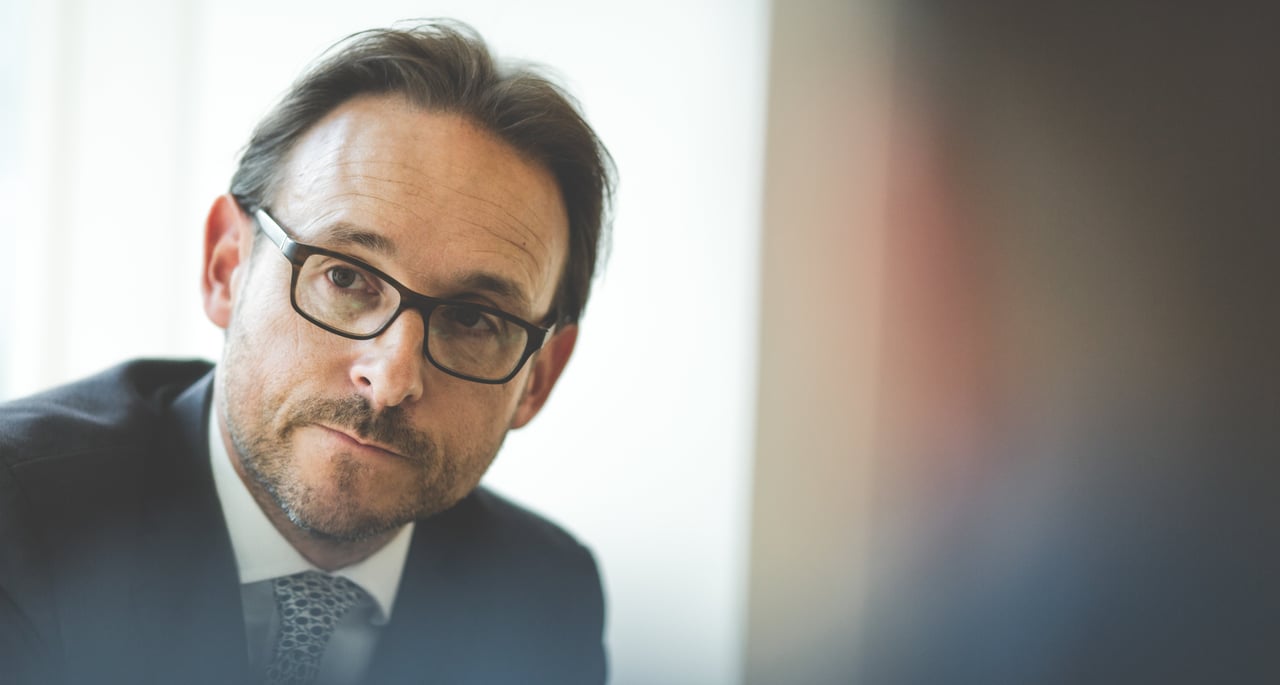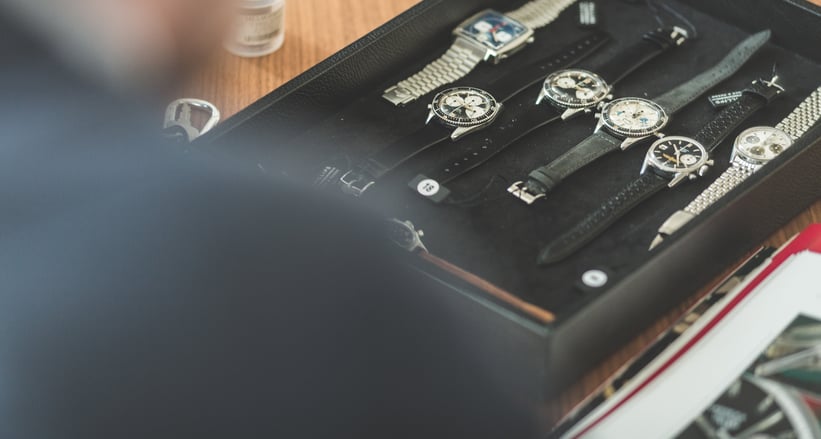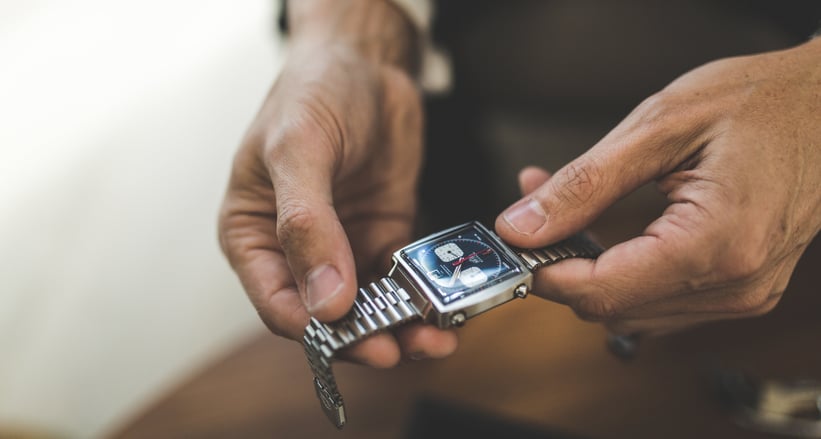 Focusing on the Carrera, Autavia, and Monaco — the three key Heuer models from the 1960s through to the 1980s, a period commonly referred to as the Jack Heuer era — The Crosthwaite and Gavin Collection is considered almost holy to vintage Heuer buffs. "Richard Crosthwaite and Paul Gavin are classed as the world's authorities on these watches," Maudsley explains, "and while it's not a huge collection, the pieces are some of the rarest and most focused in existence."
The time is right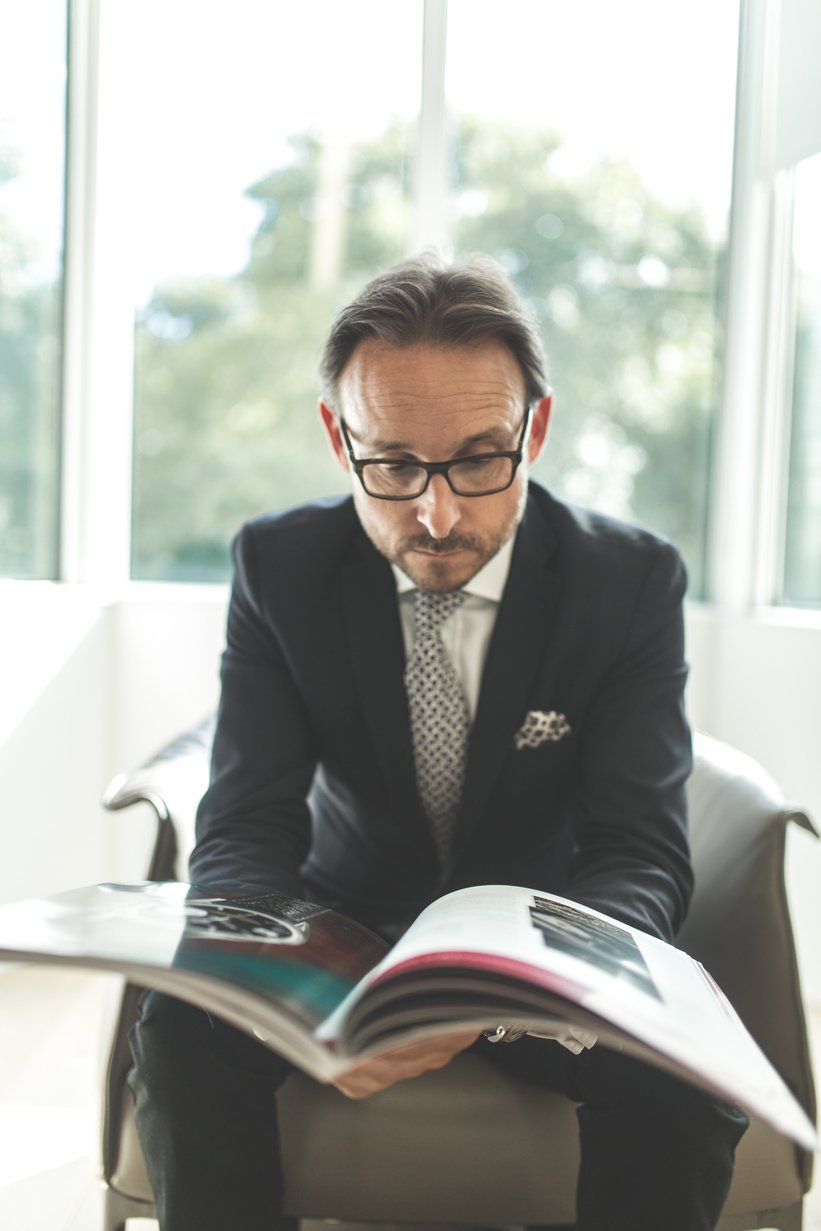 Maudsley should know — since curating the sale of the landmark Haslinger Collection in 2010 while he was at Bonhams (the first ever single-marque watch auction, we might add), he's observed these charming chronographs steadily rise in demand and value. Seven years later and he's holding another Heuer-only sale, and the timing is spot on.
"It's the perfect time to show collectors and the community that we're not just about selling £10m Patek Philippes," he says. "The air's thin up there in terms of the number of collectors — you've got to remember that some of these Heuers are rarer than and share the same movements and dial-makers as a £140k Rolex Daytona, but they can be picked up for as little as £5,000." It's this better understanding and newfound knowledge of just how rare some of the pieces are (a lot of which has lovingly gone into the catalogue) that's driving their desirability.
Deep-rooted connection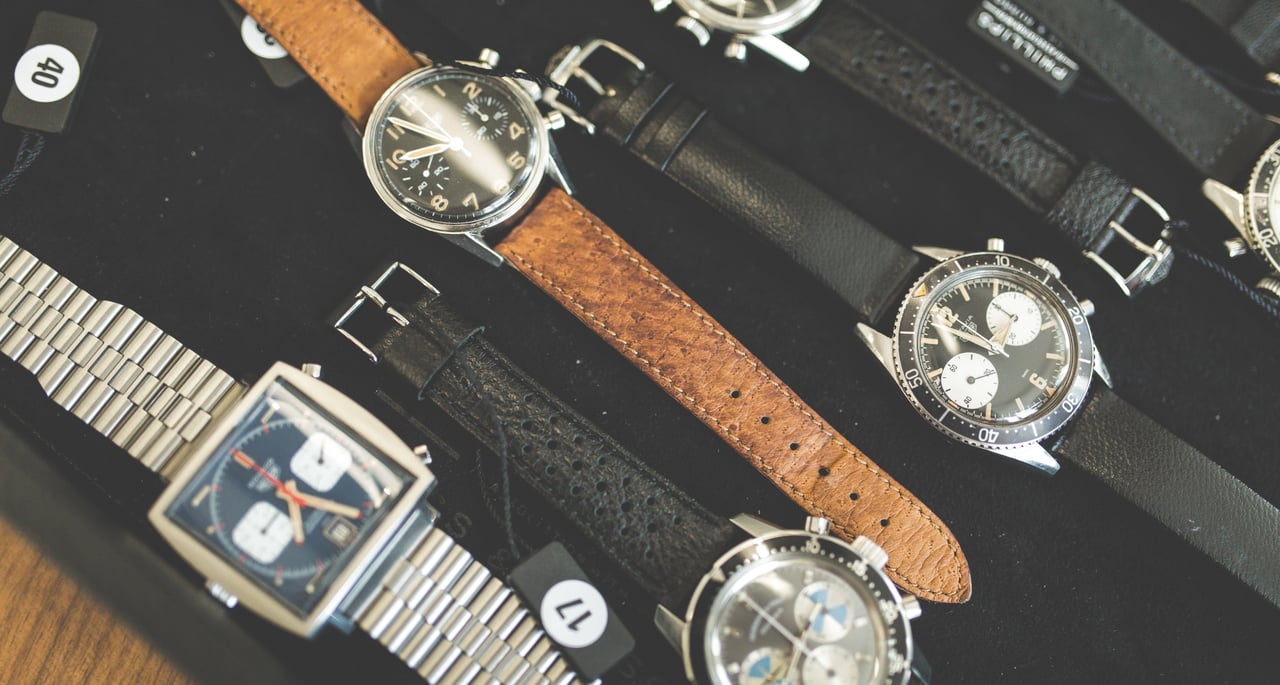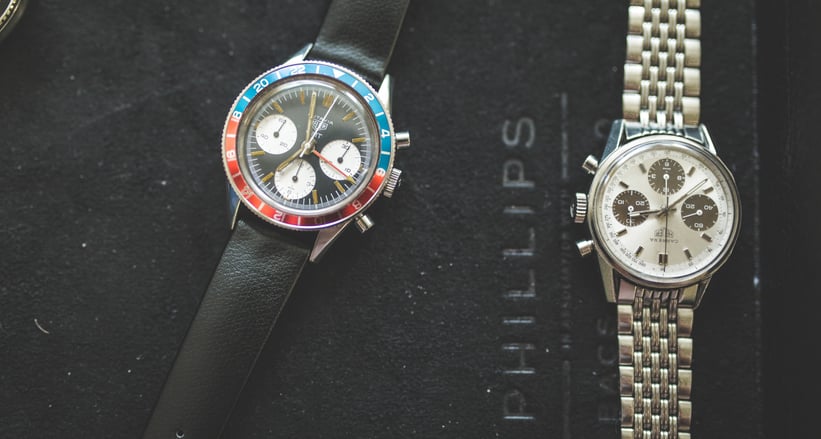 Take the first-execution Autavia as a case in point. Just a handful have changed hands in the last decades and collectors have cottoned on. Seven years ago, an example could be picked up for 4,000–5,000 US dollars. The two exceptional examples offered in Phillips' Heuer Parade sale this weekend — a reference 2446M and a 3646M — are estimated to fetch 80,000–120,000 dollars and 50,000–80,000 dollars, respectively. And it's a similar story with the Carrera and Monaco.
Maudsley also reckons Heuer's inherent link to that most golden of motorsport eras, the 1970s, is also a defining factor in its newfound 'trendy' status. "I don't know any watchmaker that has a stronger link with motorsport than Heuer," he says. "Jack Heuer was very good at meeting key figures, such as Jo Siffert, Niki Lauda, and Enzo Ferrari, and getting a feeling for what people actually wanted." Indeed, look at any period photos from Formula 1 or sports car races in the 1970s, and you'll soon spot a Heuer wristwatch, sticker, or patch sewn onto a driver's suit. "This was an era when the drivers actually wore the watches when they were in the car, not just on the podium afterwards — to me, it's by far the coolest period of motor racing."
Condition is everything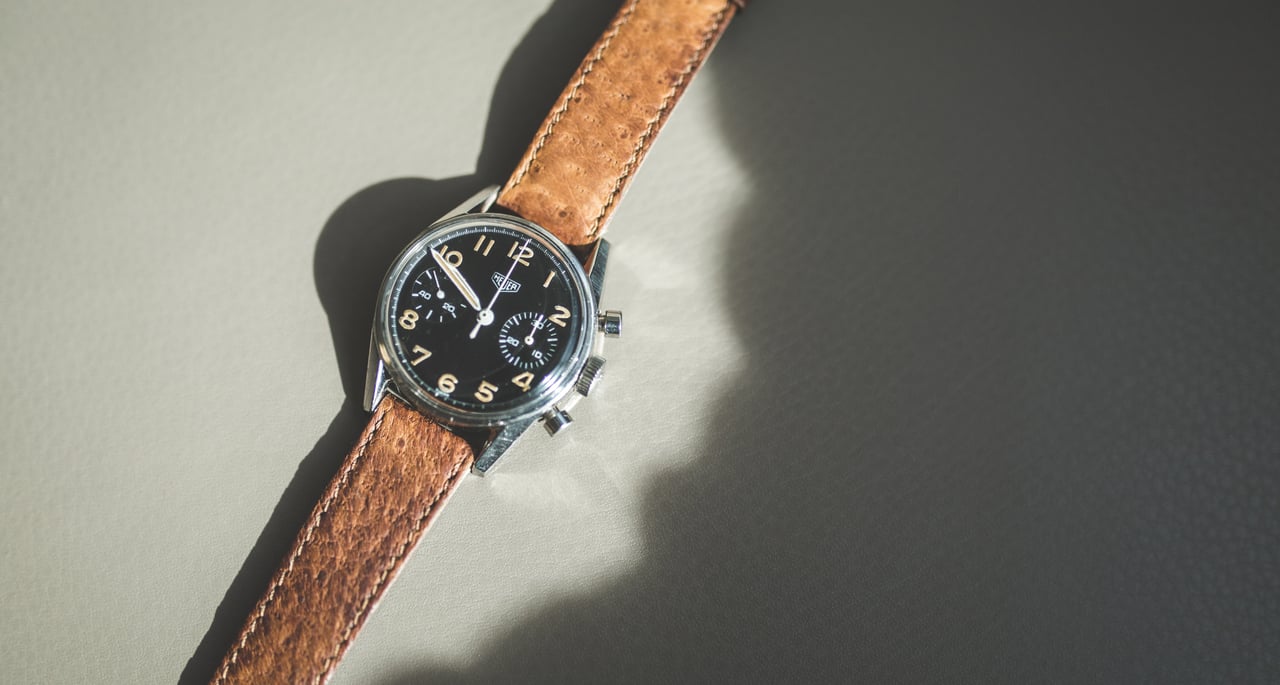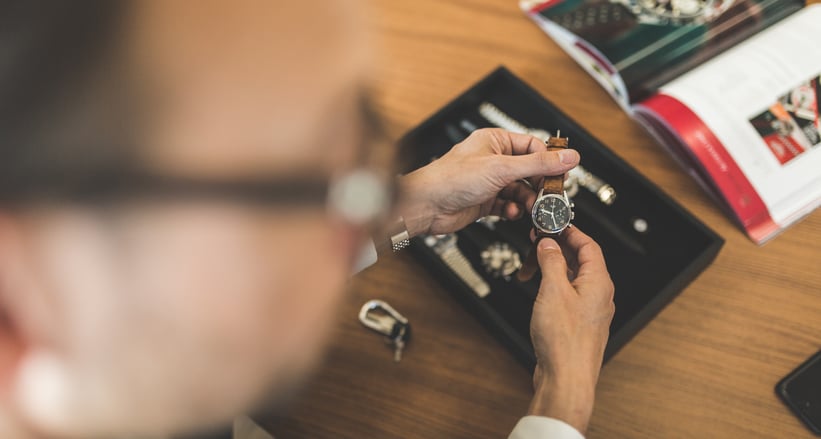 So, what should collectors specifically look out for when it comes to vintage Heuers? "The same applies to any vintage watch: it's all based on condition," Paul explains. "Take a Rolex Moonphase reference 8171, for example — if the dial is perfect, it's a £400k watch, but if it's worn or discoloured, it's £30k. It's a huge difference, even more so in today's ever discerning market." While poring over the 43 watches displayed at Phillips' Berkeley Square gallery, it was clear to see that they're all in fantastic condition, some unbelievably so.
Those with which we were particularly taken by include the beautifully simple Carrera 'LuM-FAé, created for the Belgian Air Force in the early 1970s (est. 12,000–18,000 dollars); the Carrera 'Indianapolis Speedway', which is one of a tiny number sold at the legendary American circuit's boutique (20,000–30,000 dollars); and the relatively obscure Mareographe, a later version of the Seafarer, which was originally created for Abercrombie & Fitch (12,000–18,000 dollars). "Again, Heuer looked to make watches for a variety of people," says Maudsley. "The Mareographe wasn't a great commercial success, hence why so few were made and even fewer survived."
Eenie, meenie...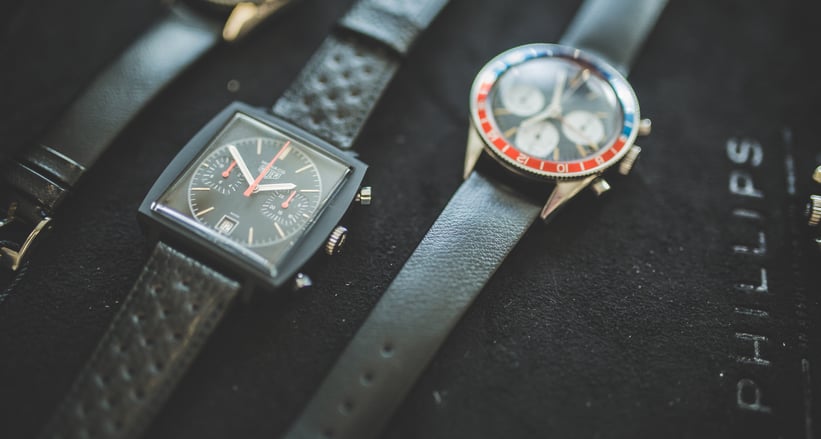 From the moment we sat down with Paul, we were keen to find out his favourite piece, if he could bring himself to choose one. "I love the Monaco 'Dark Lord', but my favourite would have to be the Carrera 1st Execution, with its tropical three-register dial and original Gay Frères bracelet. It's estimated at 8,000–12,000 dollars, but the bracelet probably accounts for 3,500 dollars of that."
In a real coup for Phillips, the very first Tag Heuer Autavia Jack Heuer 85th Anniversary reissue will also be offered as part of the sale, the proceeds of which will go to Save the Children. The piece is indicative of the current brand's new focus on its heritage, under the careful watch of Jean-Claude Biver. "Tag Heuer is embracing its heritage," comments Paul. "For the 'new' Autavia, it actually asked the watch community to vote in a series of rounds — World Cup style. Much like Jack did in the day, it's listening to its collectors and looking at new avenues in which to sell watches."
Baited breath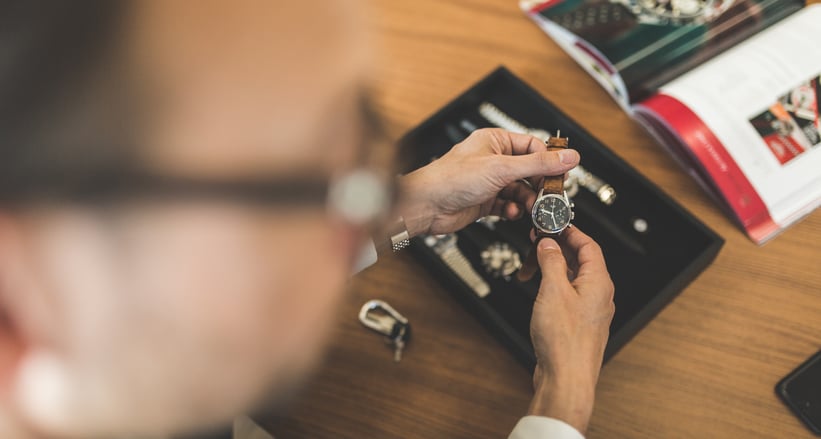 Given the rise in demand for vintage Heuers, Maudsley anticipates that the Heuer Parade in Geneva this weekend will attract large numbers of established and new collectors alike. While he remains button-lipped on his expectations, we don't think it's unreasonable to assume that the unprecedented quality of the catalogue will garner some World Record prices for the brand. Forget Rolexes and Patek Philippes — what you really want for Christmas is a vintage Heuer, and we know exactly where you can get one…
Photos: Robert Cooper for Classic Driver © 2017
You can find the entire catalogue for Phillips' The Crosthwaite and Gavin Collection – Exceptional Chronographs from the Jack Heuer Era, taking place in Geneva on 11 November 2017, listed in the Classic Driver Market.