Loyalty Discount*

Treuerabatt*

Package

Paket

3 Months

3 Monate

6 Months

6 Monate

12 Months

12 Monate

12 Months

12 Monate

Unlimited Listings

Unlimited Listings

EUR 799
EUR 1.499
EUR 2.899
EUR 2.699
GBP 749
GBP 1,299
GBP 2,499
GBP 2,299
CHF 849
CHF 1'599
CHF 2'999
CHF 2'699
USD 849
USD 1,599
USD 2,999
USD 2,699
* Loyalty Discount is only applicable after 12 consecutive months of membership. Any break in membership forfeits loyalty discount.
If you select a package and your location during registration, the appropriate currency will be calculated automatically. Classic Driver supports the following currencies: Euro (EUR), US-Dollar (USD), British Pound (GBP) and Swiss Franc (CHF).
* Der Treuerabatt gilt erst nach 12 aufeinanderfolgenden Monaten der Mitgliedschaft. Bei jeder Unterbrechung der Mitgliedschaft verfällt der Treuerabatt.
Die Paketpreise sind in unserer Basis-Währung (EUR) dargestellt. Wenn Sie bei der Registrierung das Anzeigen-Paket und den Standort auswählen, wird automatisch die passende Währung berechnet. Classic Driver unterstützt folgende Währungen: Euro (EUR), US-Dollar (USD), Britisches Pfund (GBP), Schweizer Franken (CHF).
Additonal promotions
Additonal promotions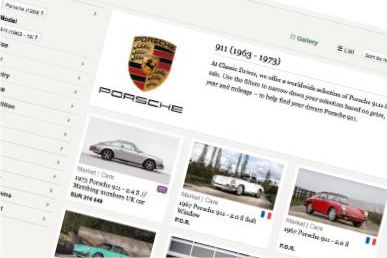 Top Listing
By booking a Top Listing, your listing will automatically be displayed at the top of the search results page for the selected make and model for 14 days.
Bei Buchung eines Top Listings wird Ihre Anzeige für 14 Tage als eines der ersten Suchergebnisse der jeweiligen Marke und Modell angezeigt.
EUR 99
CHF 109
GBP 95
USD 119
/ 14 Days
/ 14 Tage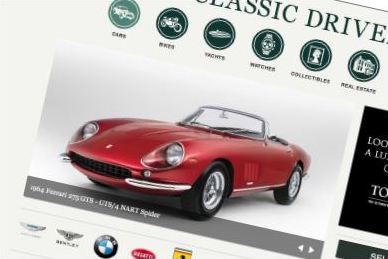 Market Slider
By booking a position in the Market Slider, your listing will automatically be displayed with a big picture in te eye-catching slider on top of the selected market category page (e.g. Cars).
Bei Buchung eines Market Slider wird Ihre Anzeige für ca. 10 Tage mit einem großen Bild im rotierenden Slider, z.B. im Auto-Marktplatz präsentiert.
EUR 149
CHF 159
GBP 129
USD 169
/ 10 Days
/ 10 Tage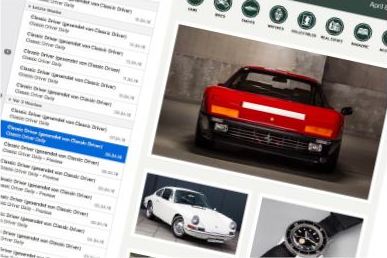 Daily Newsletter
By booking a promotional position in our popular Daily Market Flash, your listing is directly presented to 30,000+ potential buyers around the world.
Mit einer Anzeige im täglichen Daily Newsletter erreichen Sie bis zu 18.000 Leser weltweit.
EUR 199
CHF 209
GBP 169
USD 219
/ Listing
/ Listing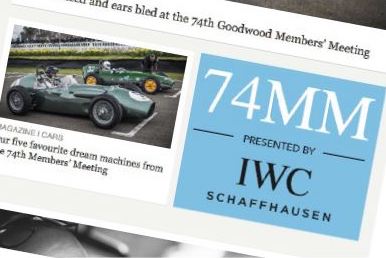 Newsletter Banner
By booking an MPU banner with a direct link to your website within our Editorial Newsletter (English & German edition) your company or product is highlighted towards 35,000+ passionate readers from arround the wrold.
Mit einem Banner in unserem zweimal wöchentlich erscheinenden Newsletter erreichen Sie mehr als 35.000 Leser weltweit.
EUR 249
CHF 259
GBP 209
USD 279
/ Banner
/ Banner
Editorial content
By sponsoring an article series in the Classic Driver Magazine, your company or brand positions itself continuously as a key player within the classic and collector cars world. You can contact the Sales Team at
Wenn Sie Interesse an einem Artikel auf Classic Driver haben, so kontaktieren Sie bitte unser Sales-Team unter
[email protected]
Price on request
Preis auf Anfrage