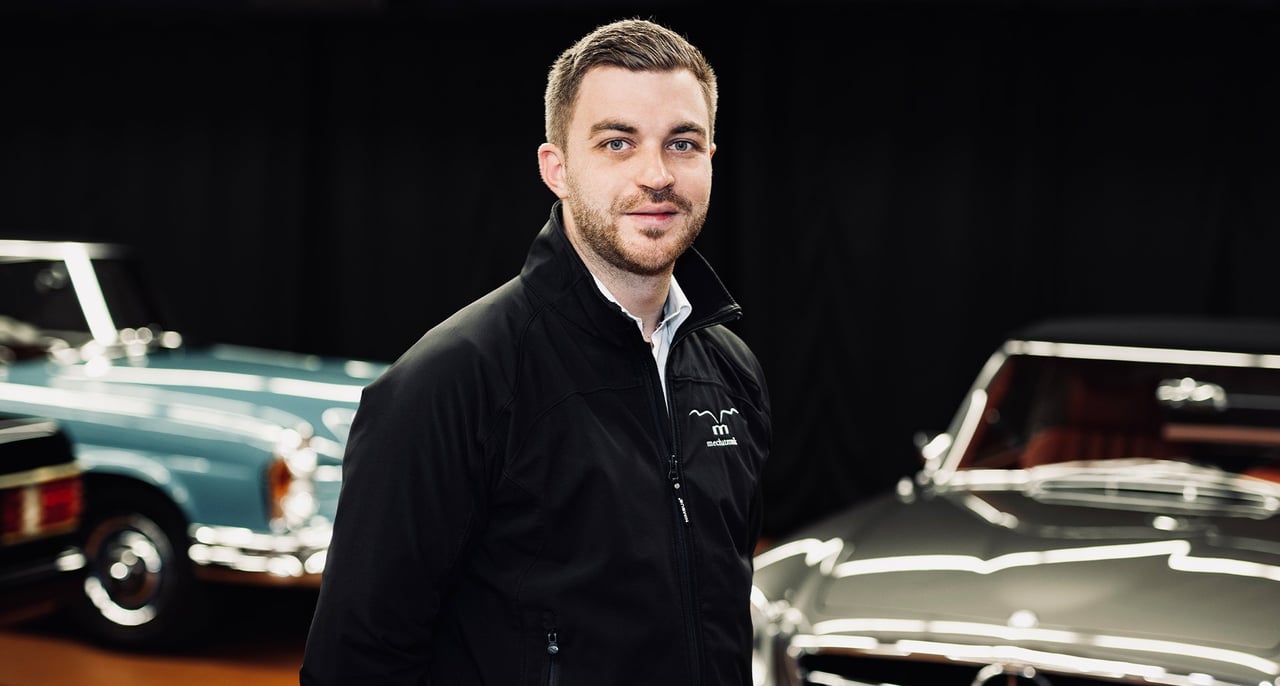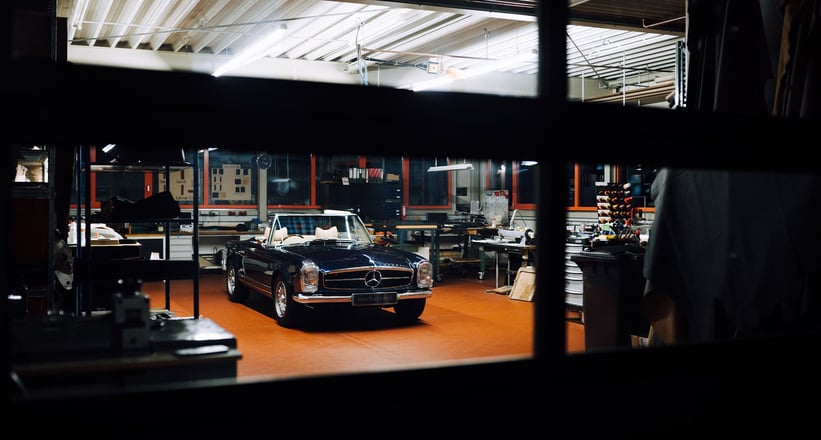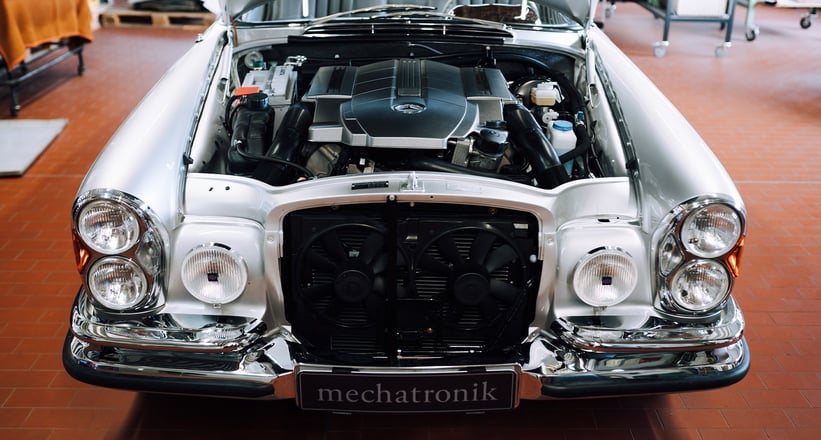 Mercedes has one of the most consistently excellent back catalogues of classic cars, with super-desirable cruisers like the W111 280 SE and picture-perfect sports cars like the W113 Pagoda among the numerous high points in the marque's history. Mechatronik has been at the pinnacle of Mercedes restoration for 25 years, even going as far as to offer totally restomodded cars that benefit from modern suspension technology and some of AMG's finest engines – not that you'd be able to tell from the exterior. Now, the company is working on something new: an R107 SLC-based track weapon inspired by one of AMG's most legendary race cars, under the codename Project 107. We sat down with Mechatronik operations manager Philipp Kronenbitter to find out more.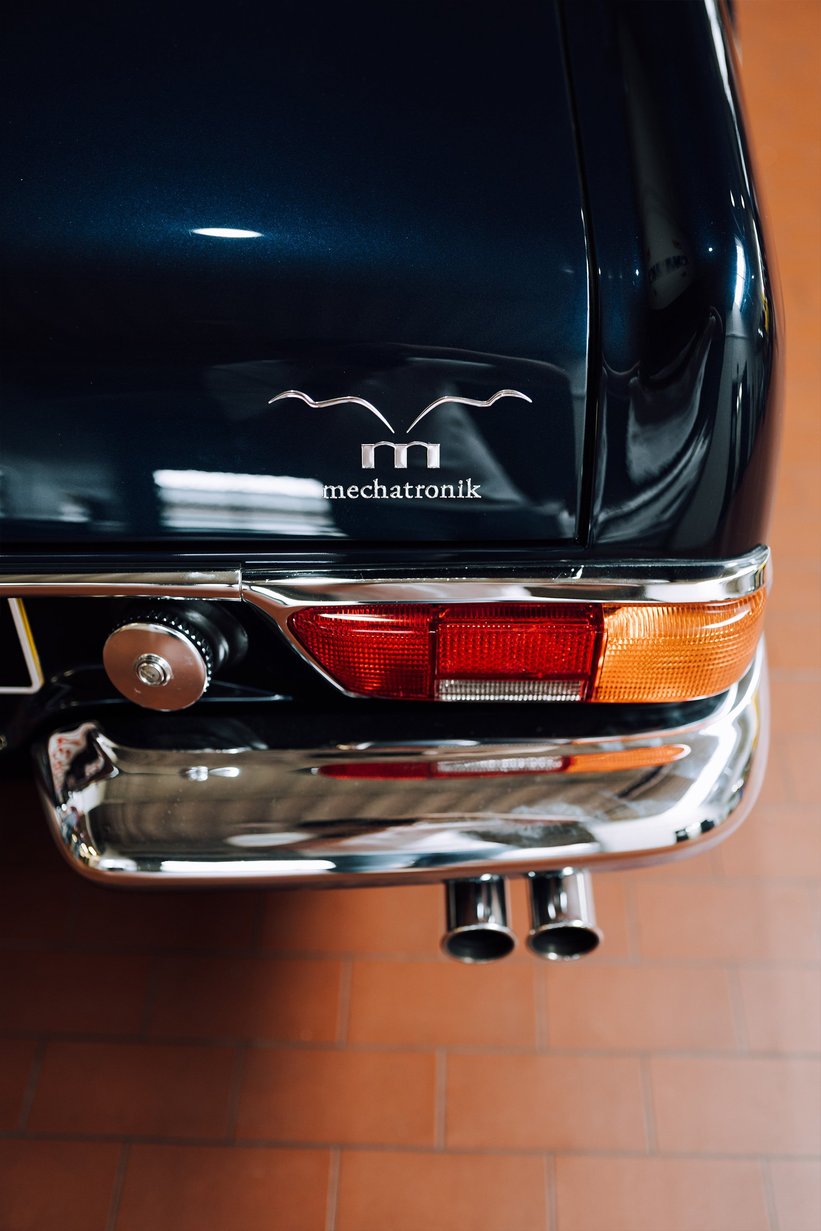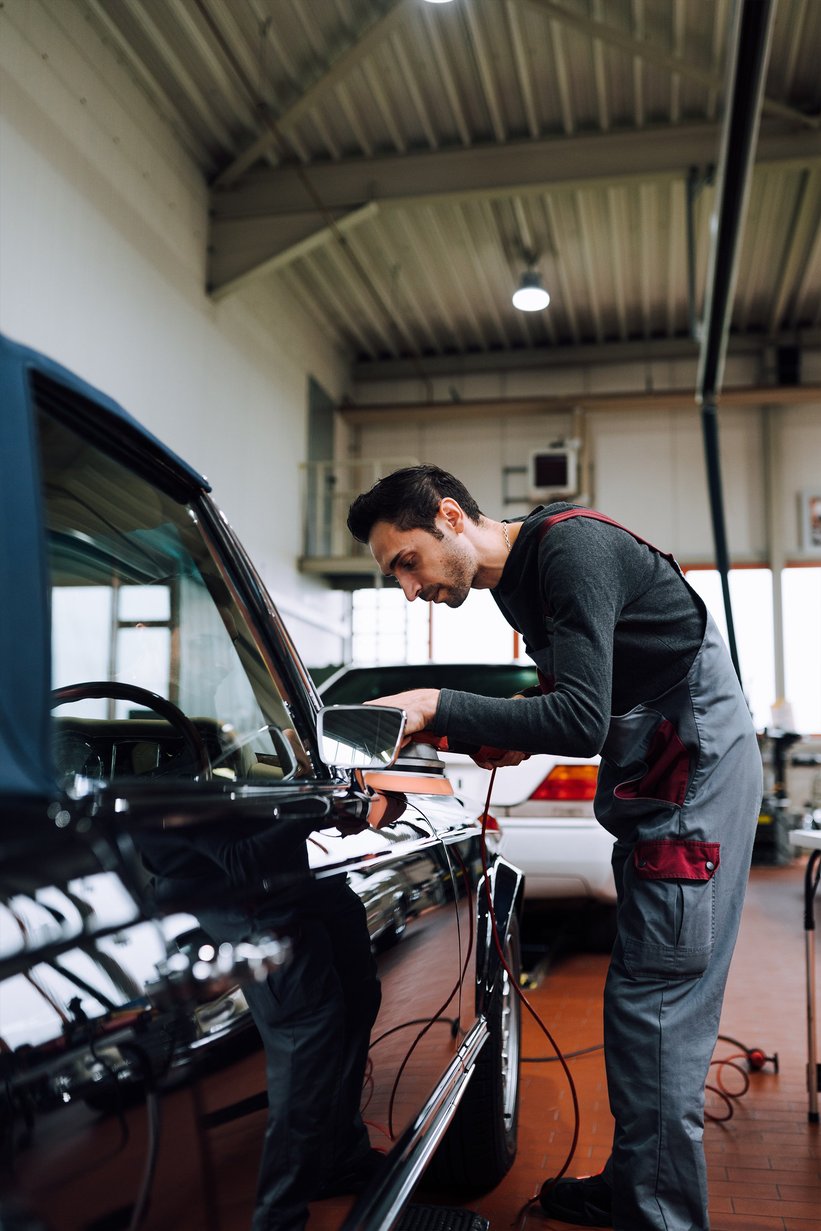 What separates a Mechatronik restoration from other classic-car restorations?
"That's a tough question! I think the biggest difference is that we do all our work in-house. We do all the bodywork, electrics, development, complete mechanics and interior upholstery in our workshop. Paintwork is the only thing we outsource. We don't restore enough cars a year to justify a paint booth, and the government requirements are also very expensive to comply with, so we prefer to spend the money elsewhere to further improve our restorations."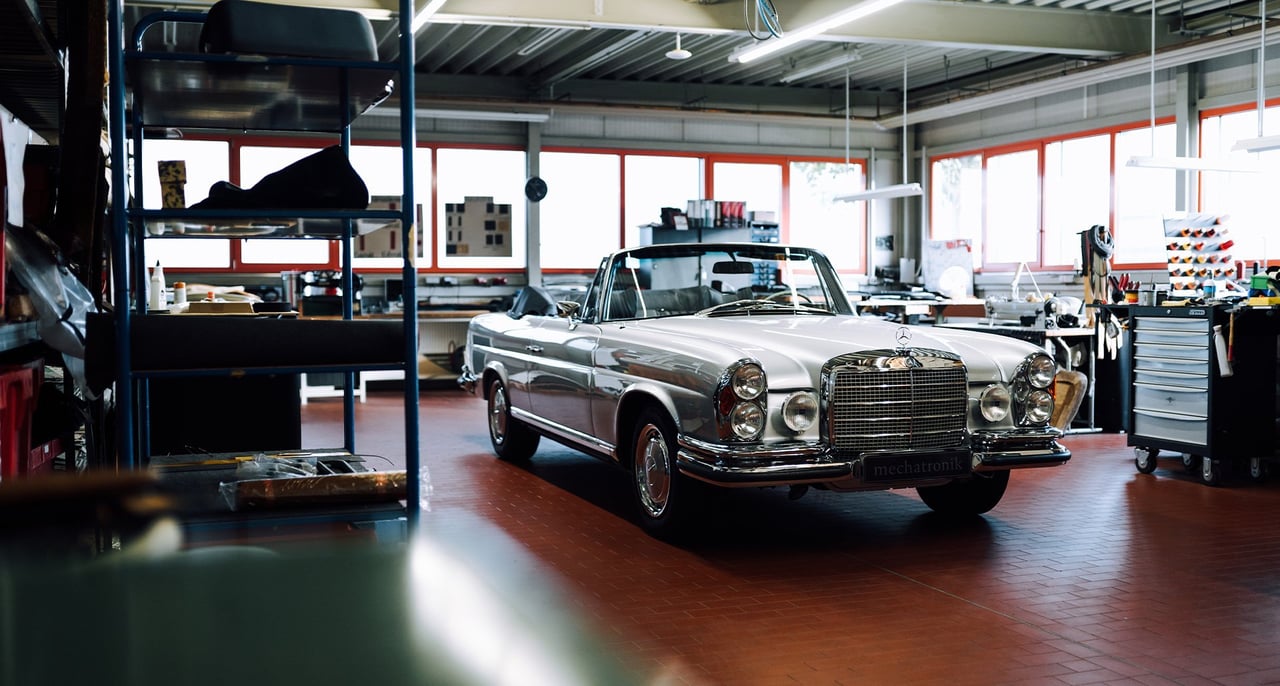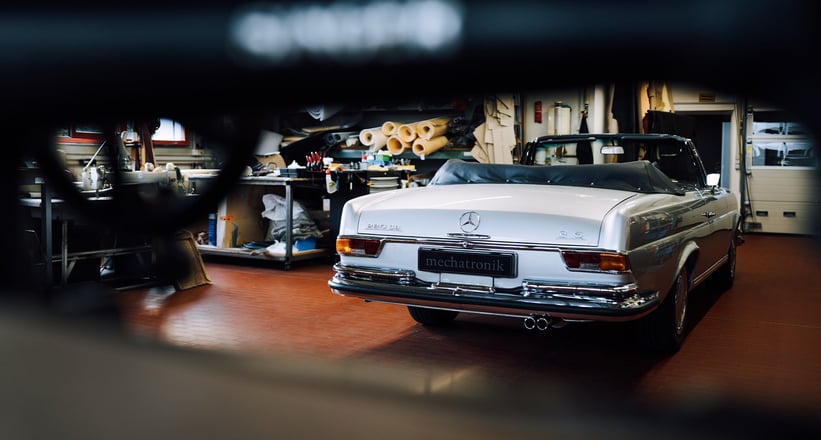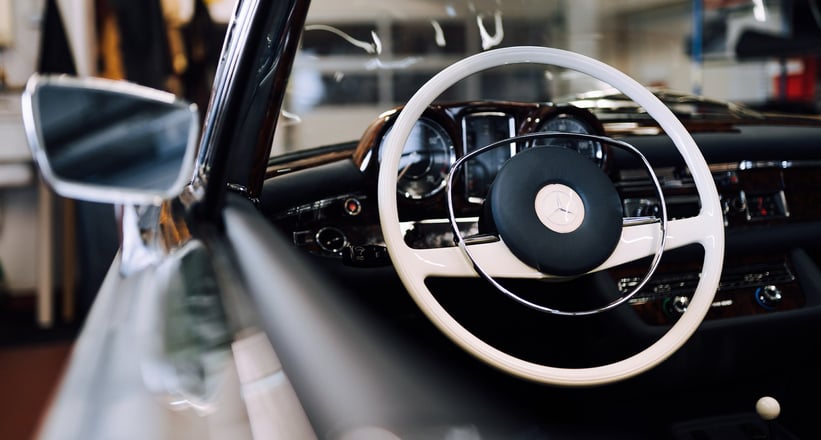 What makes the W111 and W113 great platforms for modernisation?
"I think the W111 and W113 are in the highest demand after the 300SL and have a huge community of owners; those are the main reasons we focus on them. They represent complementary elements of the Mercedes range – the Pagoda is a sports car, while the W111 is a comfortable tourer. That's why we have a few customers who have both a Pagoda and W111 from us. Both are perfect for daily use, whether they want to go for a joyride or take their family on a holiday."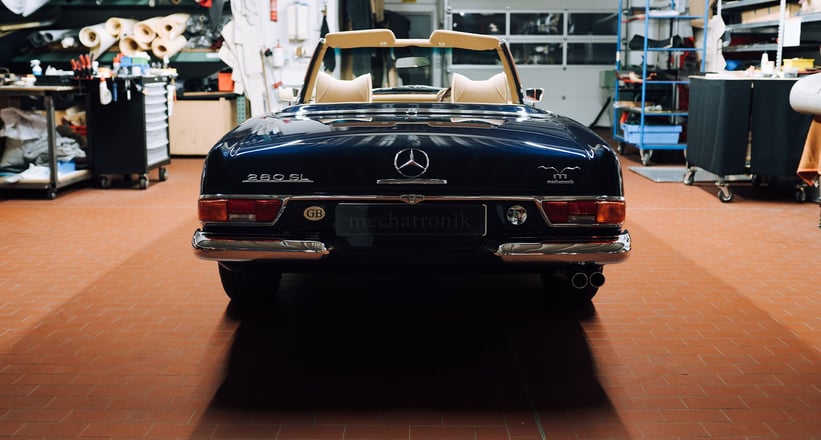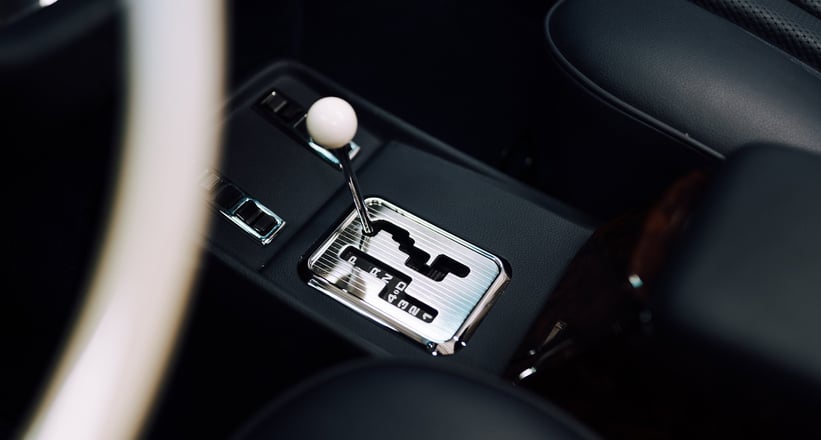 What are the biggest challenges in fitting new technology to these classic Mercedes?
"It's particularly difficult to install the technical equipment in a way that it isn't obvious; we want to make the cars more usable without changing the classic look we all love. The W111 is a big car, so there's lots of space for the electronic parts, but the Pagoda is harder, as there's just less space to work with. The other big challenge is getting the old and new electronics to work in unison, such as when we add ABS and ASR to our restorations."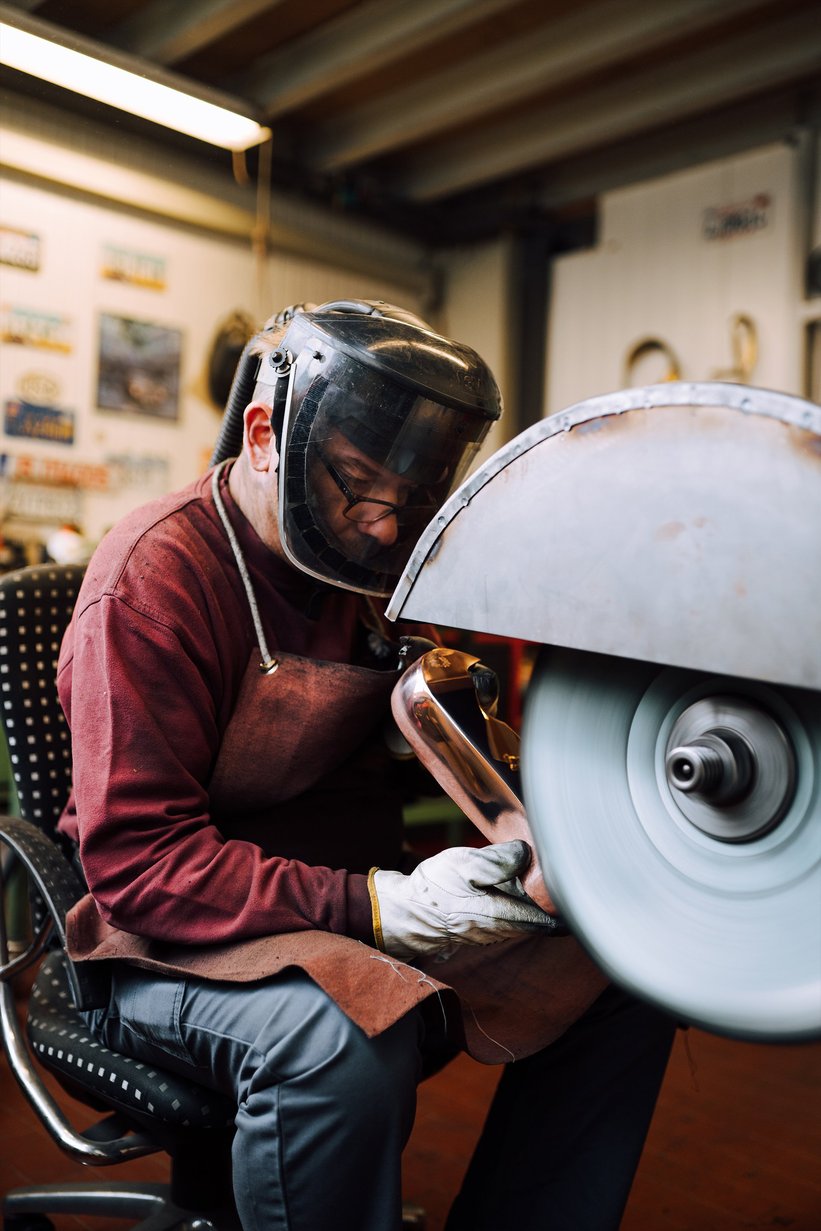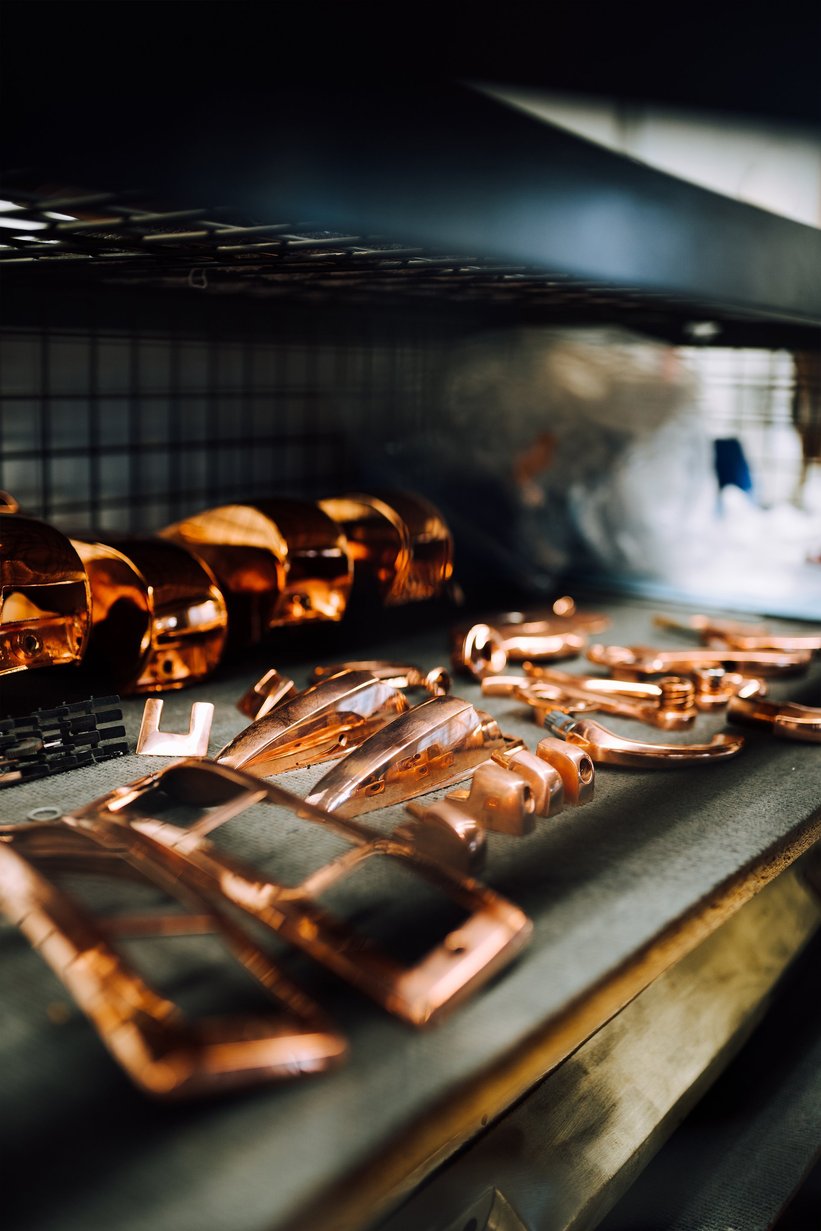 How does fitting a modern AMG engine to these old Mercedes change the character of the car? Does it affect the weight balance?
"Everyone who comes to Mechatronik asks that question; they all ask about weight distribution. Funnily enough, when we swap in the new engines, the weight balance is even better than before – the new engines are lighter than the originals due to their use of more modern materials.
"However, the overall character of the vehicle is totally different. There's a lot more torque at the low end, so it's a much better cruiser. The customer can choose between a subtler exhaust or a sports exhaust – so you can opt to have a sleeper, or let people know you have something a little extra under the bonnet. Both variants have a lovely V8 sound, neither is intrusive; it's as they were from the factory, but when you push the pedal you get that classic AMG noise. KW suspension and bigger brakes with ABS and ASR are standard on our New-Tech restorations. These allow you to drive the car in a sporty and safe manner — you need to match the rest of the car to the powerplant."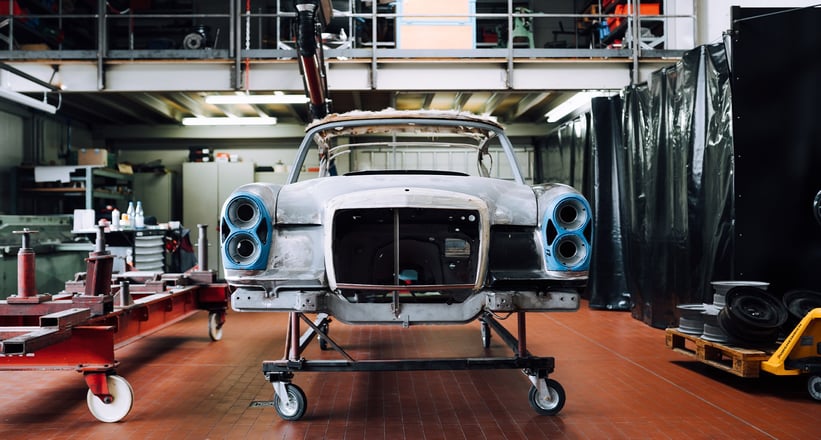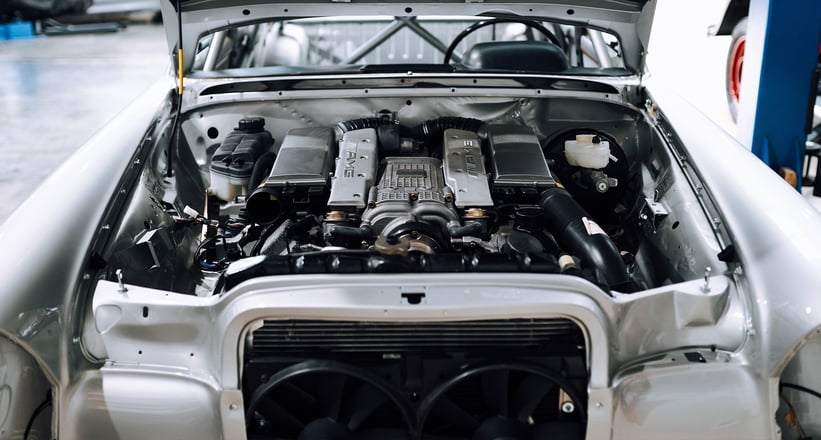 Your products seem very OEM and true to Mercedes' own manufacturing philosophy. Is this something you pay close attention to?
"Definitely! In the case of the W111 and Pagoda, customers prefer an understated look. Of course, there are a few details that differ: the Mechatronik sports seats are taller and wider, and you have a sportier seating position, but only professionals would notice these changes. In general, we put a lot of thought into maintaining the original aesthetic of these cars."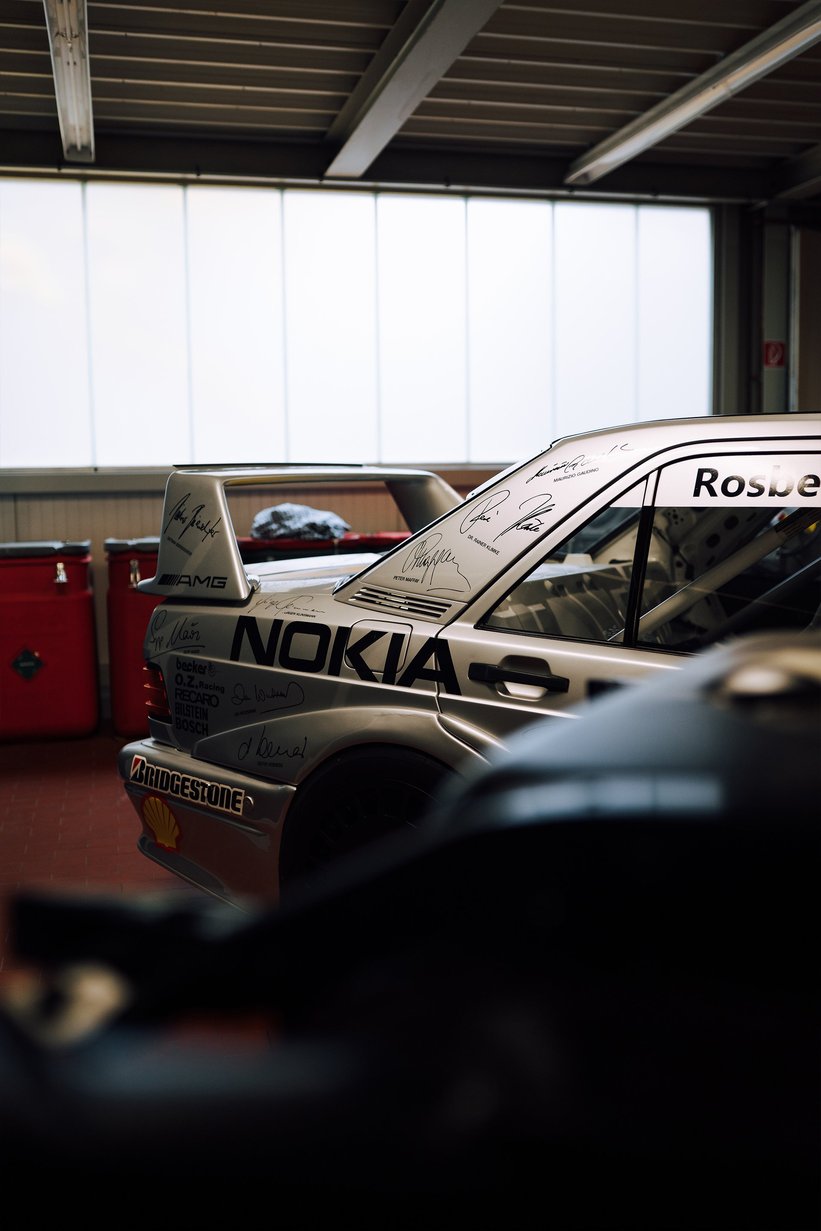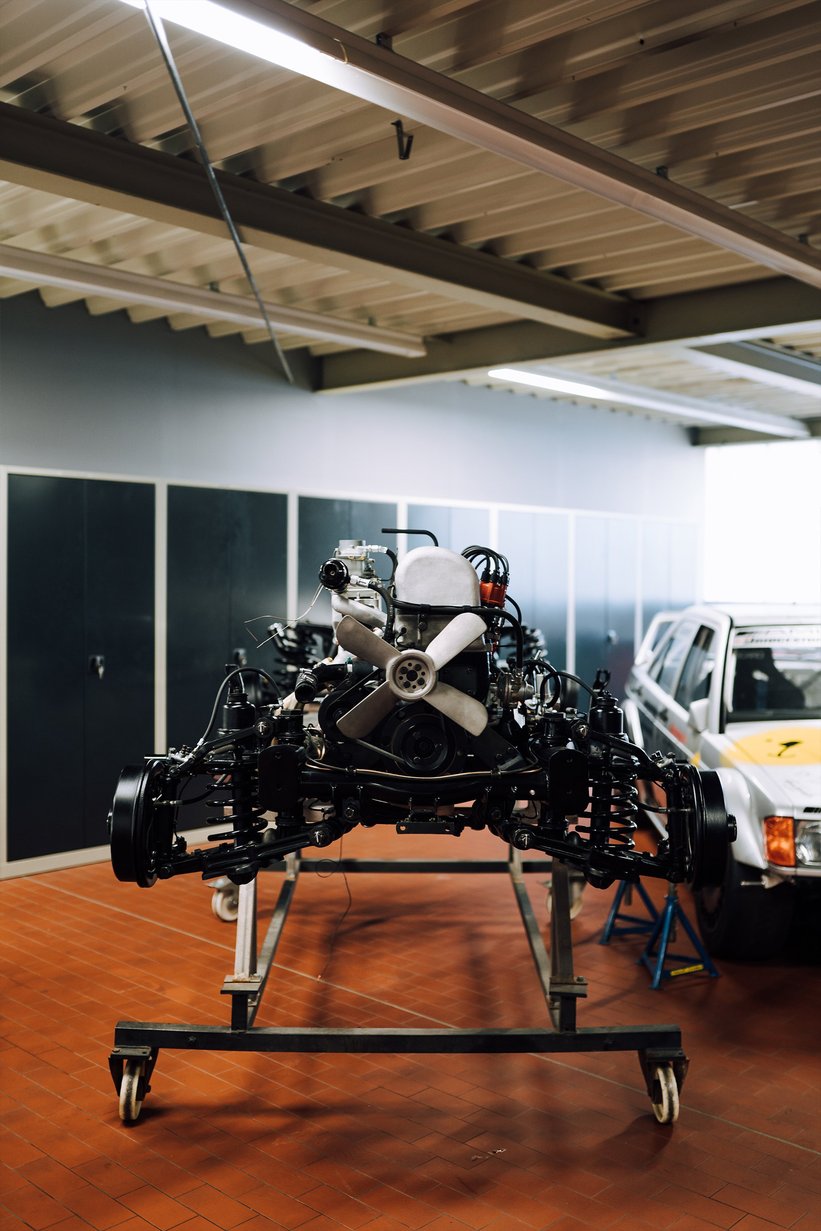 Tell us more about the Mechatronik Project 107 SLC. How does it differ from your other modernised classics?
"We're taking a completely different approach with Project 107. There's extensive use of modern materials like carbon fibre and we've updated many of the chassis components. With the Project 107, we want to create a car that surprises everyone at a trackday. During test drives at Hockenheim and the Nurburgring, we've seen that we've definitely achieved our goal of creating an all-out trackday weapon, but we've also made sure not to compromise daily usability.
"The suspension, brakes, and exhaust are purposefully chosen with trackdays in mind – we want the car to last not just a few a laps, but the whole weekend. Unfortunately, I can't talk about lap times or acceleration, but I can say the car is quite fast!
"We've also been very pleased with the durability during testing. At Hockenheim, we did 300 laps without any problems. The only things we needed to change were the tyres and brake pads once, but everything else works great. It's almost like a Black Series; the philosophy of the Black Series at AMG is almost exactly the same as our philosophy with Project 107. We're aiming for a very wide, good-looking car that still has daily usability. At the moment, we're just doing a coupe – so it's based on the SLC – but maybe at some point in the future we'll do a roadster, based on the SL."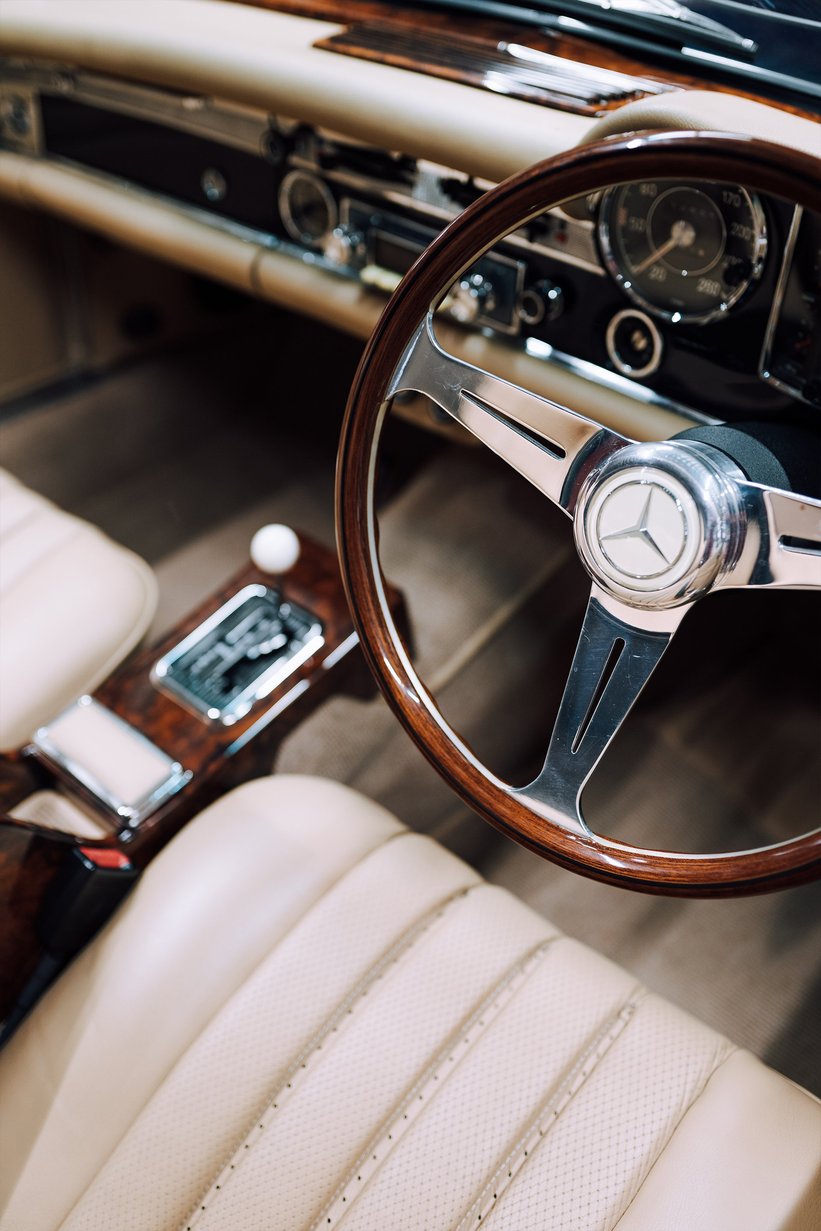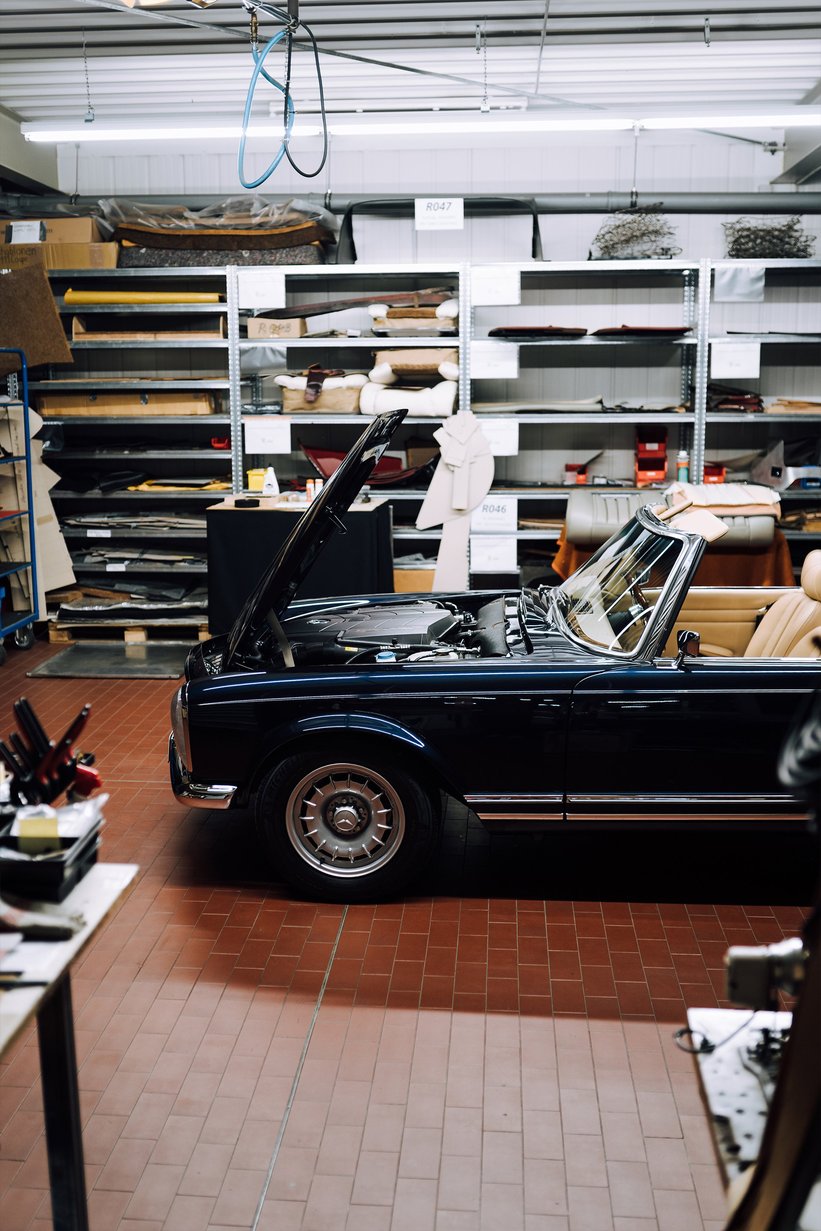 The R107 SL and SLC were raced in period. Was this part of the inspiration for your car?
"Our inspiration for Project 107 came from the legendary 450 SLC AMG 'Mampe'. We have the original 'Mampe' SLC here in our collection, and we were refreshing a few small things like the brakes and tyres; that's when we decided to embark on Project 107. Like the W111 and Pagoda, the R107-generation SLC and SL have huge fanbases. I think a lot more people will take interest in the SLC after this: prices for the basic cars aren't too high and you can drive a classic Mercedes sports car for very reasonable money, which is often why they're the start of many people's Mercedes collections."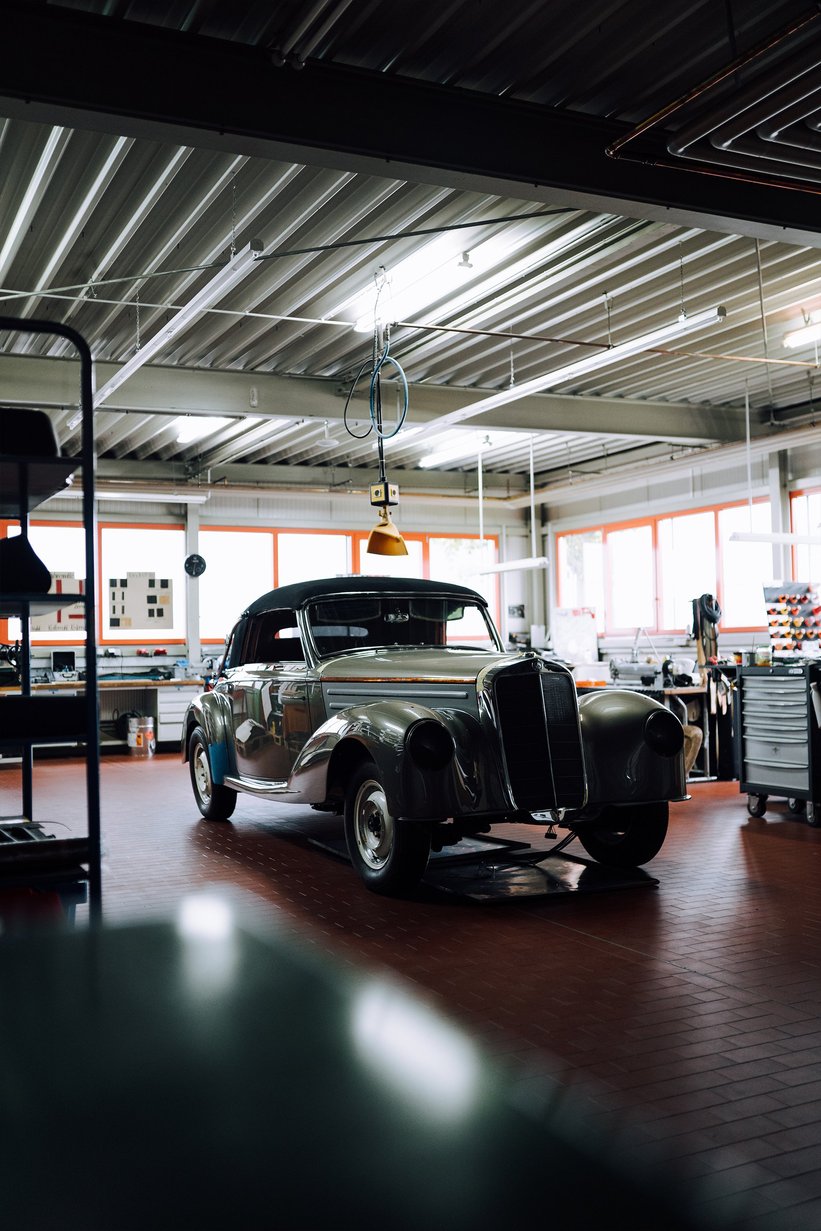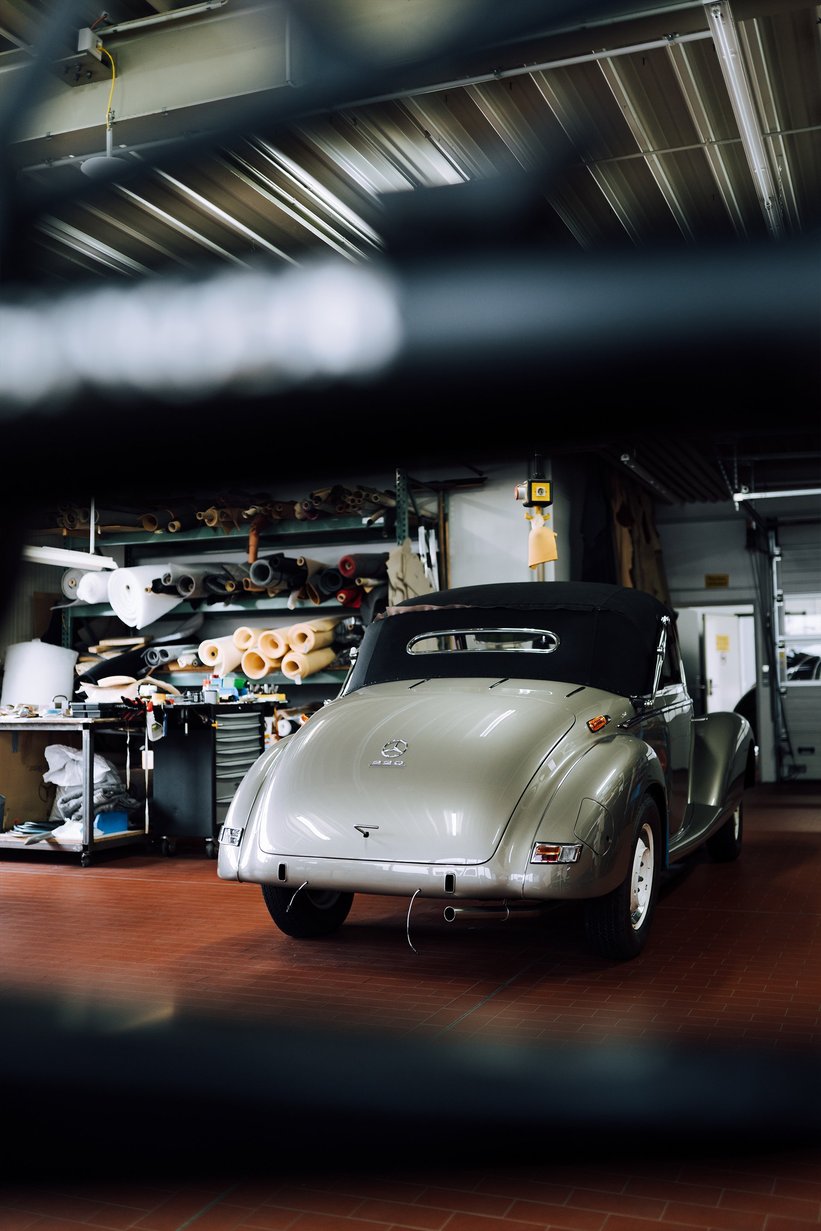 Where do you see the Mercedes classic-car market going in the next 10 years?
"That's really dependent on where the classic market in general heads. Modern classics from the '90s have huge potential, and that's the most interesting segment for us. Blue-chip cars are going to get rarer, but I think the values for cars with big production numbers will remain relatively stable.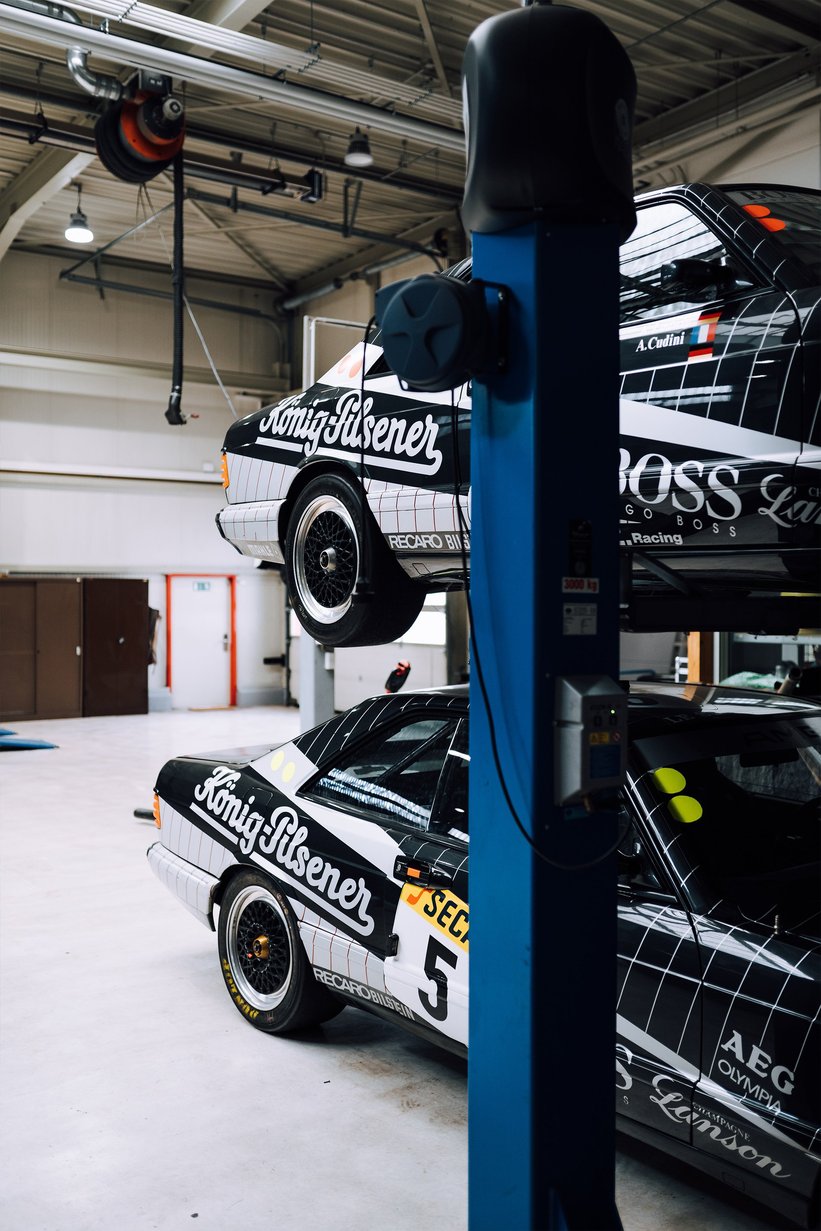 "I think a lot of people perhaps paid a little too much for their cars back in 2017 and now prices aren't as healthy, so they're looking to get more enjoyment out of their investments. That's why they come to us, because they now want to use their cars daily and enjoy them without worrying about keeping everything as it left the factory."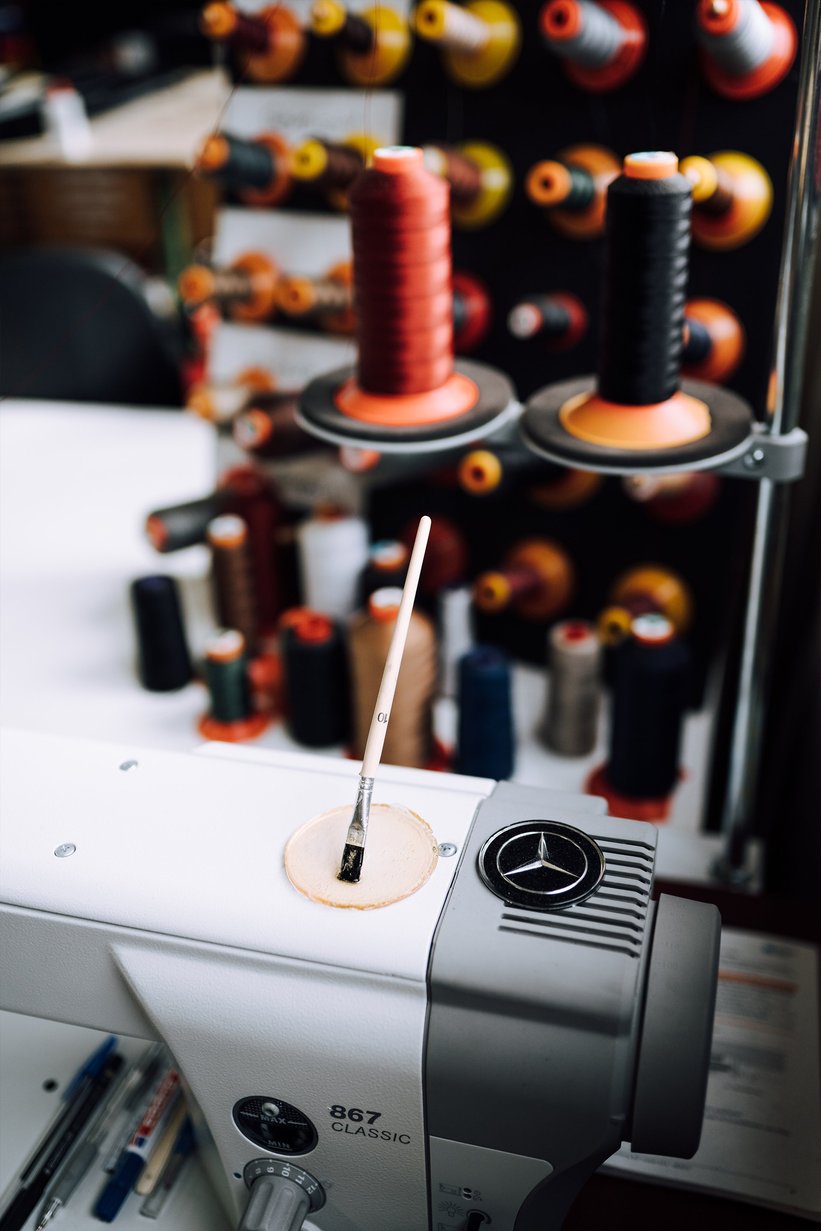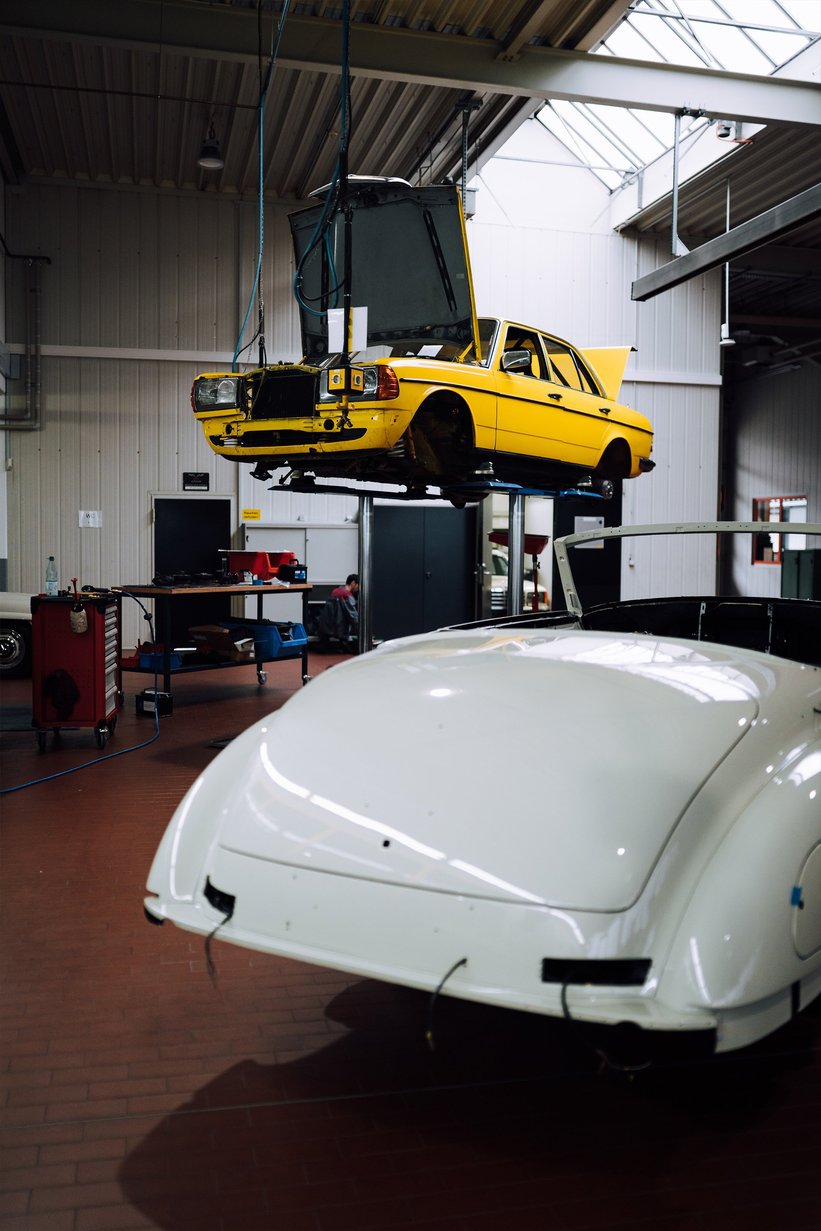 Are there any modern Mercedes with classic potential?
"The '90s AMGs are very interesting and there are a number of very interesting homologation specials. There's a lot of potential for Black Series cars to increase in value, the SLK and SLS for example, all the way up to the GTR Black Series. These V8 machines aren't going to be produced in the future, and all Black Series cars have very low production numbers, so I think there's massive potential for these cars. We have a lot of customers who want something like a Black Series, but the market is very empty, so it's difficult to find these cars. That's the reason why, when we get a Black Series, the phone rings all day!"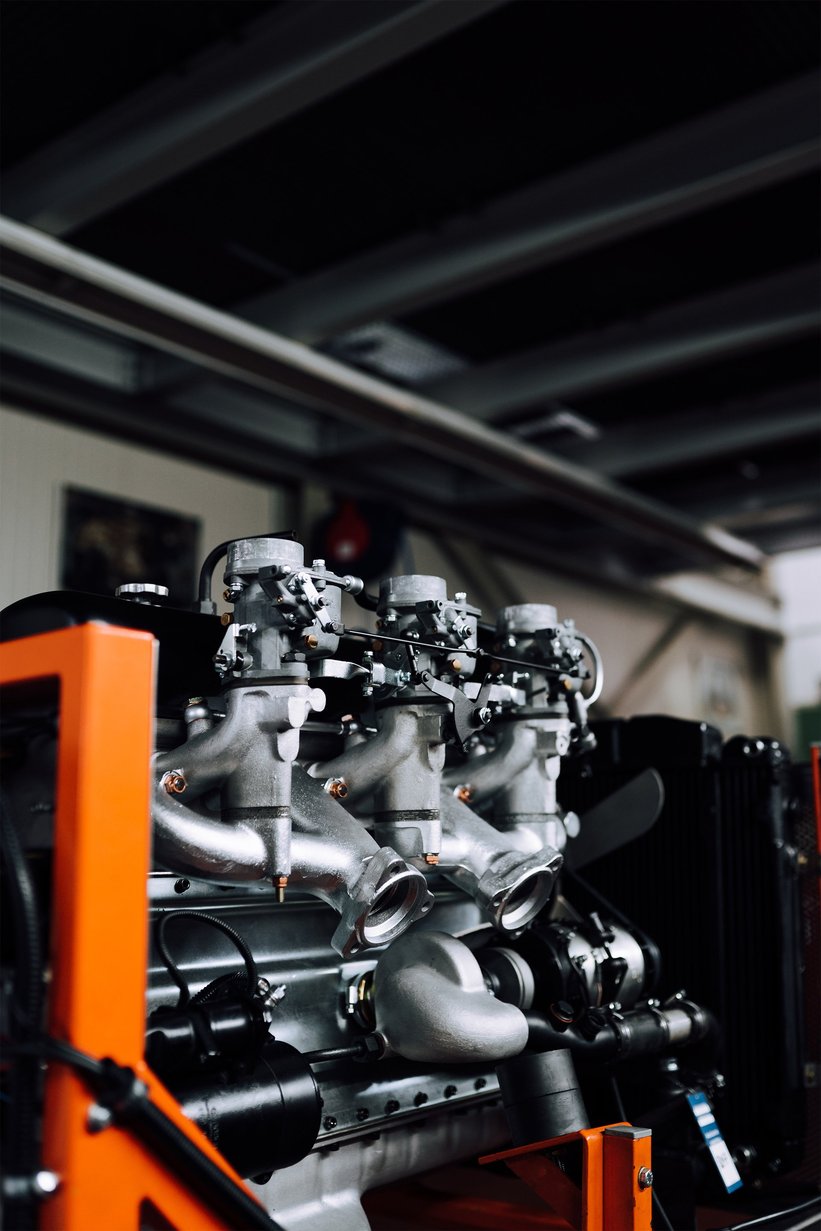 To end, when can we expect to see more of Project 107?
"We haven't set a deadline, because we don't want to rush anything, but we think we'll be able to reveal the final look of the car in summer 2022, with first deliveries in 2023. We'll be very busy next year with Project 107, but it's also fun to see how far we've come to this point. Mechatronik's philosophy has always been 'Quality, Perfection and Passion', and that's the best way to produce and develop a car like this. It's a philosophy that has always worked for us, which is why it's been our slogan for 25 years. We recognise that our cars have very long waiting lists, but the end result speaks for itself. You can feel the passion from our engineers in every aspect of our cars, and Project 107 will be no exception."