Waking up this morning, I knew it was going to be a very good day. After all, as an ex-1998 Carrera 2 owner, I have a huge soft spot for Porsche's least-loved 911, but the car we're going to be taking for a spin today is no ordinary 996. With only 682 cars ever to leave Stuttgart, the 996 GT3 RS is about as rare as Porsches get, and being a right-hand-drive South African car, this particular GT3 RS is one of just 30. The only downside to all this is the fact that I'll have to wait until 5pm for the midsummer South African sun to lift its assault on Cape Town.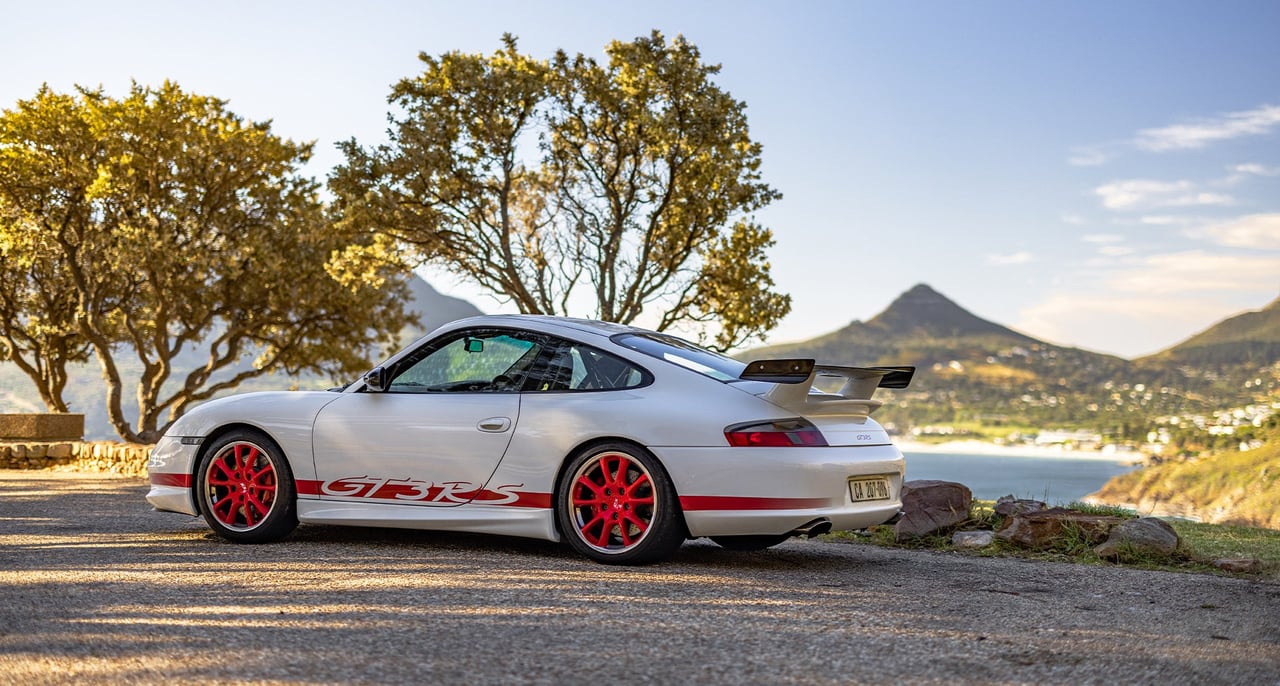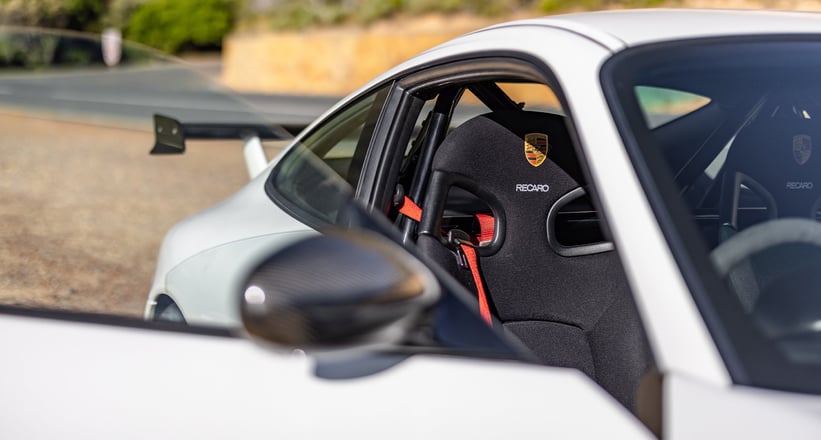 After what felt like an eternity, we pull up to a small parking lot on the coastal road in Bakoven, and there, glistening in the still-brutal sunshine, is a glorious Guards Red on Carrera White 996 GT3 RS. Immediately I realise that one of the biggest challenges on this shoot isn't going to be the searing sun, but rather trying to stop my hands shaking from excitement to hold the camera still. The door opens and out steps Aaron, this GT3 RS's custodian and an all-round great guy. Upon my request, he gladly begins to walk us around Porsche's first GT3 RS, and indeed the first and only water-cooled RS to feature a narrow body.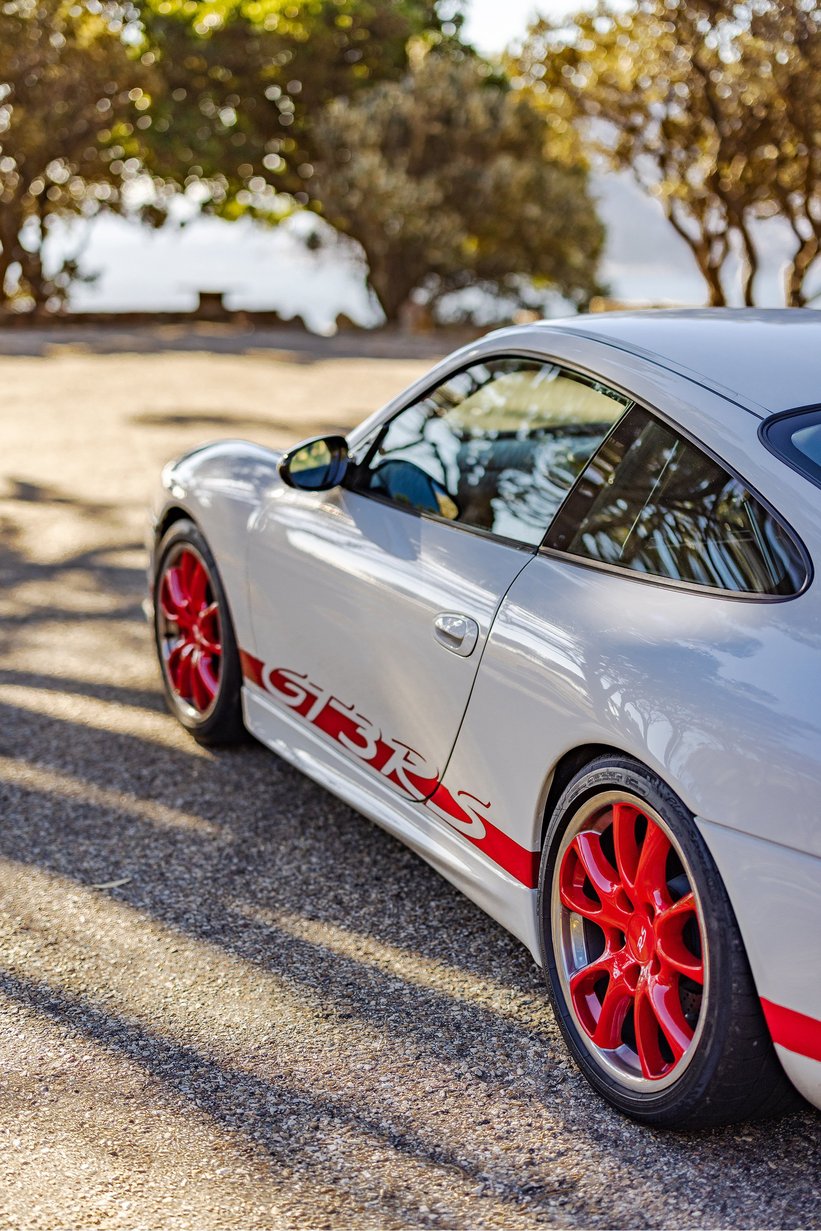 "I bought the car in 2014 from a collector in Pretoria with quite an extensive Porsche collection," he recalls. "I like obscure things, and those headlights made it the 'ugly duckling' of RS cars — it wasn't the flavour of the month at the time, which appealed to me." Taking a look inside, the cobra bucket seats dominate much of the relatively sparse cabin, as does the rear cage, which displaces any hopes of having rear passengers. The car is in immaculate condition, with not so much as a stone chip in sight; clearly this is Aaron's baby.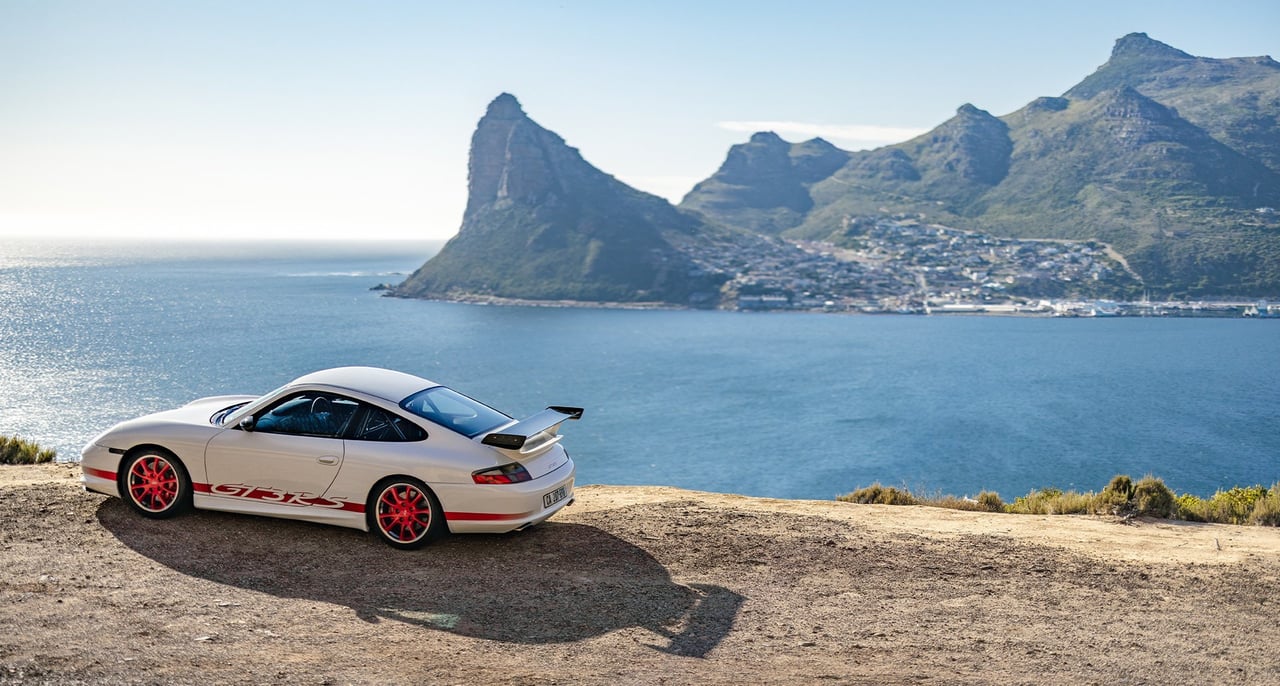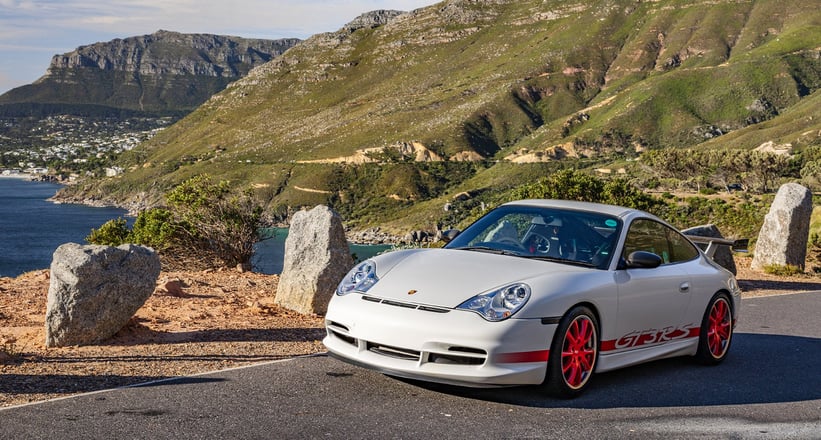 Walking around to the rear of the car, it's impossible not to stop and stare at that enormous exposed-carbon rear wing, which gives Table Mountain a run for its money in terms of sheer surface area. Executing every petrol head's favourite party trick, Aaron depresses the perspex rear window with his finger. This is one of many upgrades over the 'standard' 996 GT3 in the interest of weight saving; at the front, the hood is a gorgeous mixture of carbon and kevlar, even the badge was jettisoned and replaced with a sticker, as per RS tradition. When asked about what it's like to drive, Aaron tells me: "Nothing's blunted, there's no traction control, no stability control, and it's very analogue, which I like. I also own a 3.2 Carrera wide body cabriolet and a 1971 911 Outlaw build; compared to them, this is by far the most aggressive, most capable drive." What's most striking to me, however, is how clean the 996 generation RS is compared to the current regular 992 GT3 — lord knows what the new RS will look like.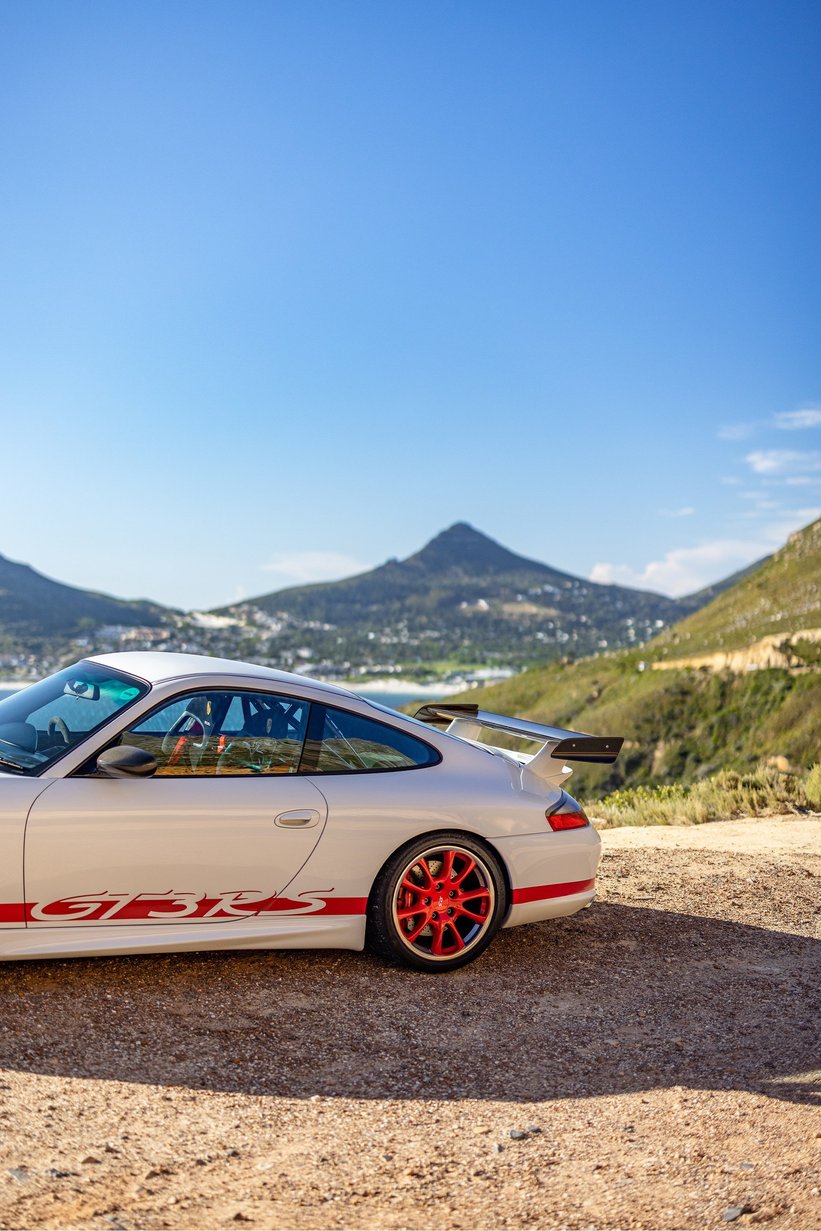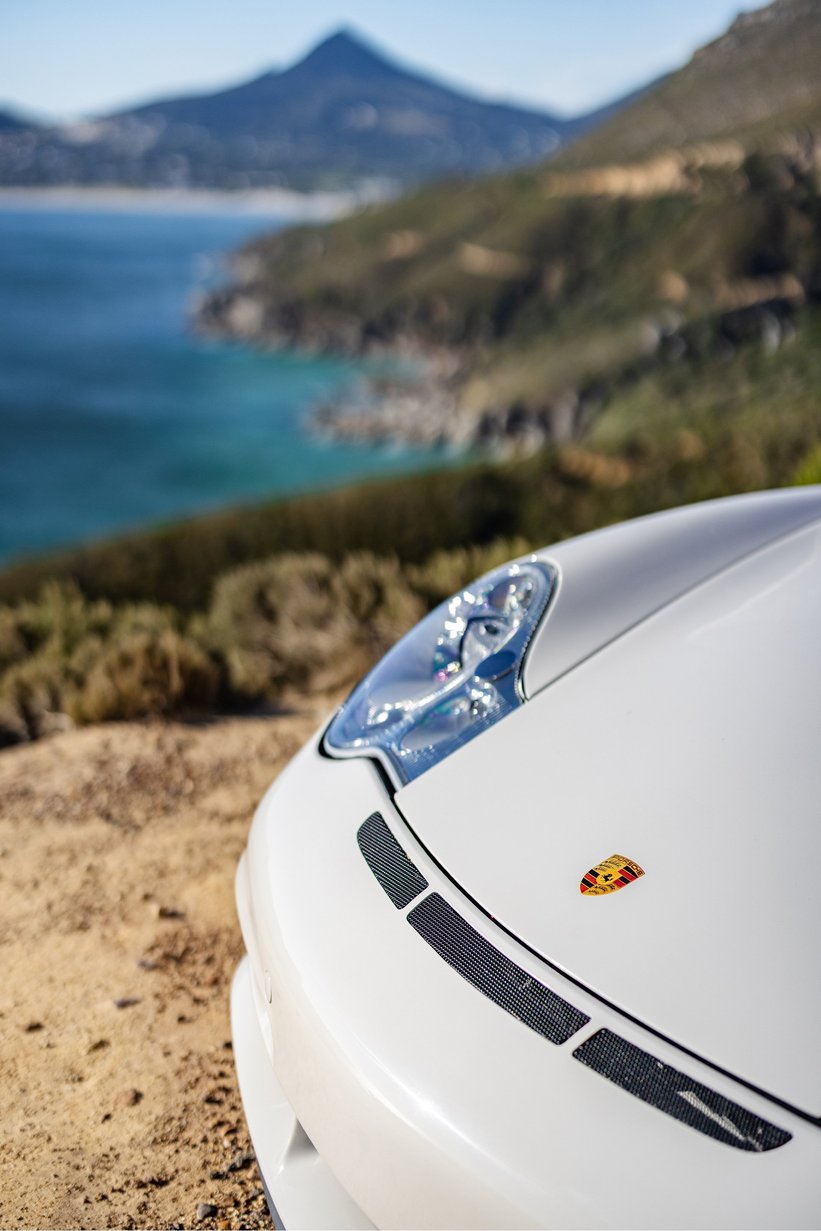 I can feel the lobster-fication process taking effect on my skin in the heat, so I suggest we hit the road. From Bakoven, we head along the M6 past Llandudno Beach and through Hout Bay to the toll gate at the base of Chapman's Peak. "Chappies" as it's affectionately known, is to South Africa what the Stelvio Pass is to Italy; simply put, it's one the most breathtaking roads the African continent has to offer, which is why it's so frequently used for car commercials. It's also relatively short, at only 9 kilometres long, but it still manages to cram in 114 turns as it skirts the rocky slopes of the 593 metre peak.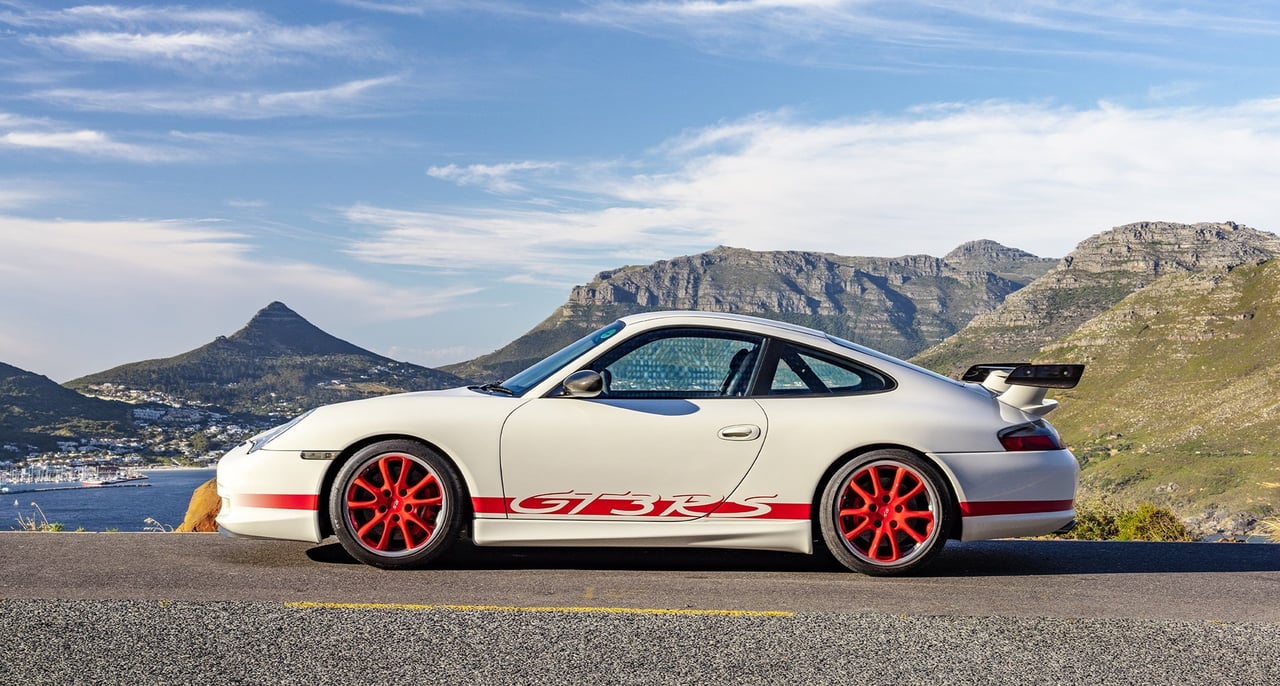 Pausing every few kilometres, it's hard not to feel giddy looking at such a stunning sportscar with that backdrop, but in between my moments of excited hyperventilation, it strikes me that our comparatively dull MK7 Volkswagen Golf chase car isn't exactly being left in the dust on the straights, which goes to show how much faster cars have become in the nearly 20 years since this RS broke cover — and how much bigger. While my Golf barely fits on the narrow lanes of Chapman's Peak Drive, Aaron's RS looks right at home, happily darting up and then over the mountain. If he had been in the 2 metre-wide 992 GT3, I'm sure he would have been far more ginger in his ascent. During one of our pauses, Aaron remarks: "It's not the quickest in a straight line, but in terms of cornering speed, it's a rocket — it's completely glued down."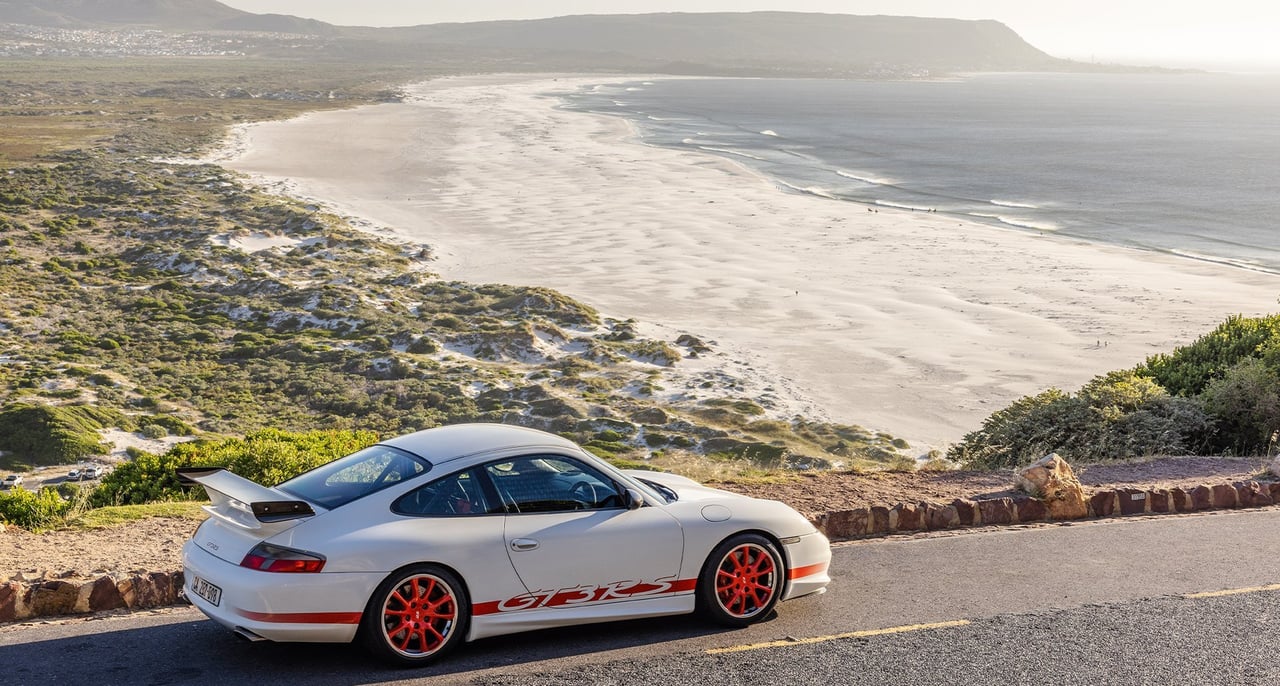 Now on the south-facing side of Chappies, the sun has begun to sink and the fury of the nuclear explosion in the sky is noticeably muted, marking the start of Golden Hour. Rolling into Sunnydale, the GT3 RS looks every bit the supercar among the usual, slightly battered South African traffic. While Capetonians are no strangers to automotive exotica, something about the 996 GT3 RS clearly brings out everyones inner 10-year-old, with the vast majority of those we pass letting out a cheery hoot accompanied by a thumbs up. I wouldn't expect the same level of adoration in an Urus, that's for sure.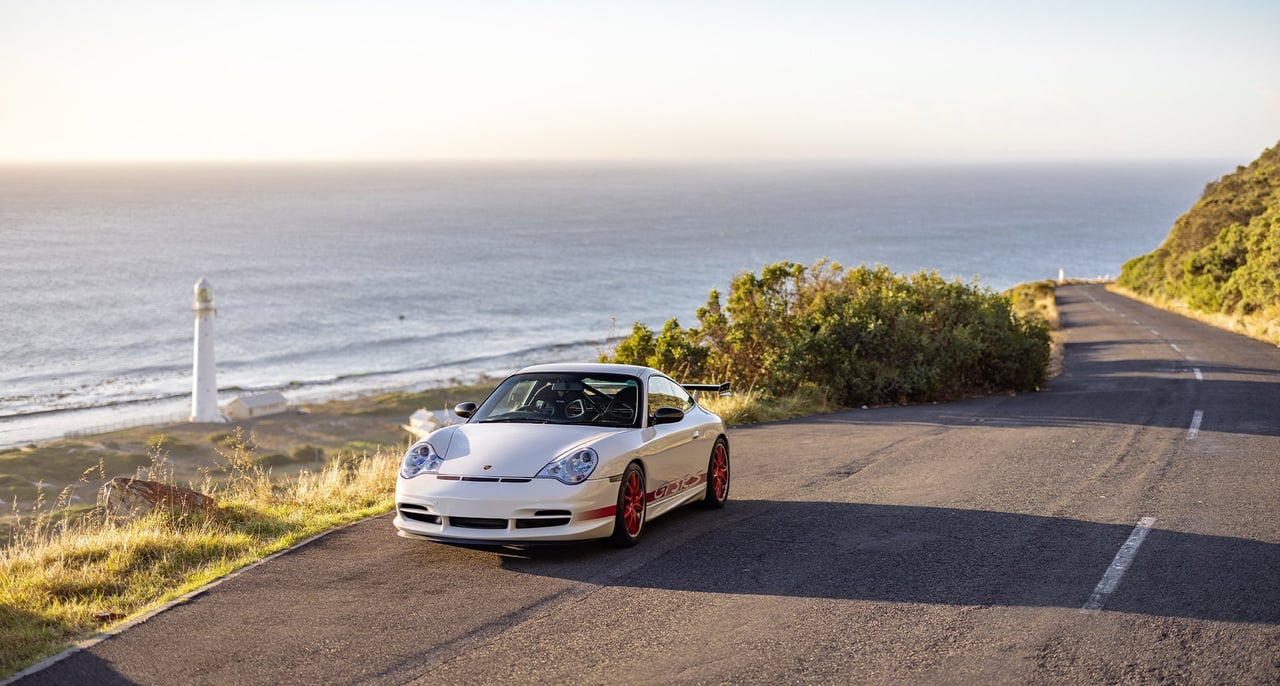 Taking a right off the M6 onto the M65, we head round past Kommetjie beach and pause for some photos with Slangkop Lighthouse as the backdrop. In stark contrast to its earlier aggression, the sunlight has now adopted a golden amber quality, helping the GT3 RS' Carrera White paint shine even more on the South African coastline.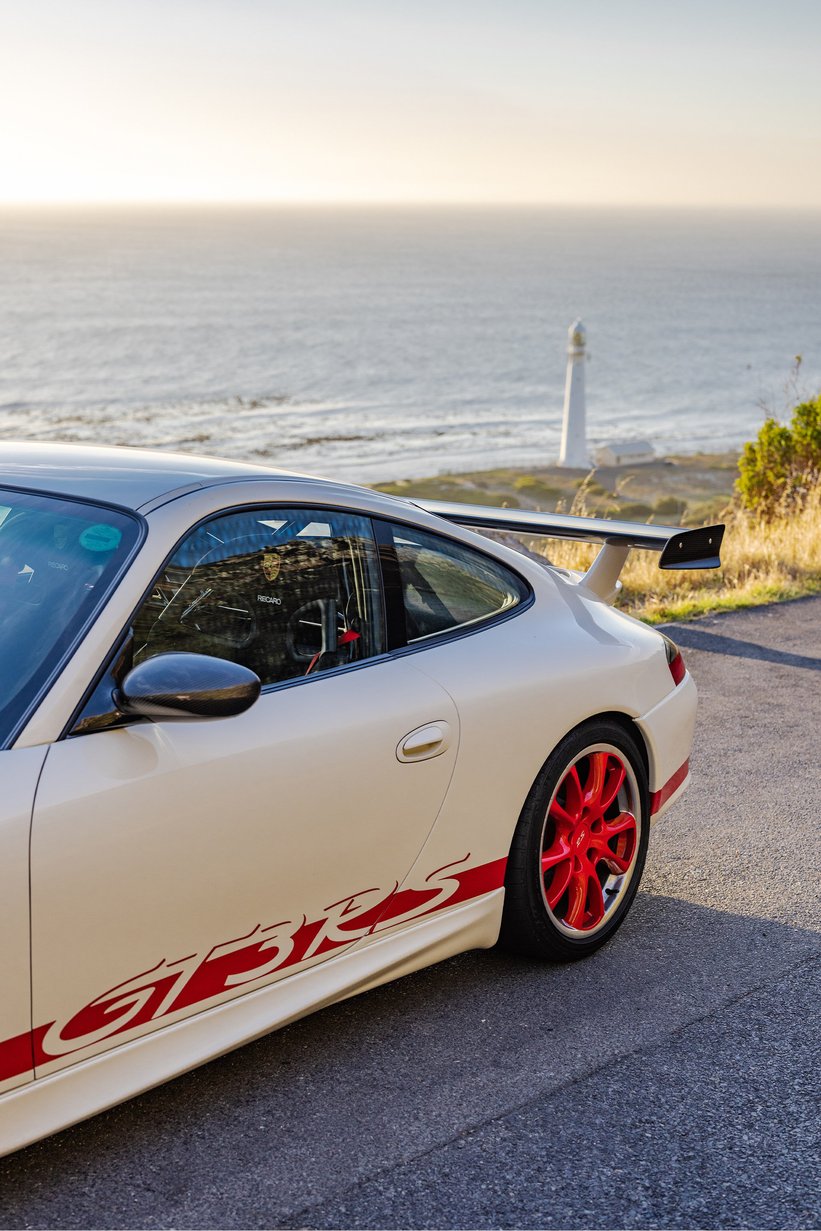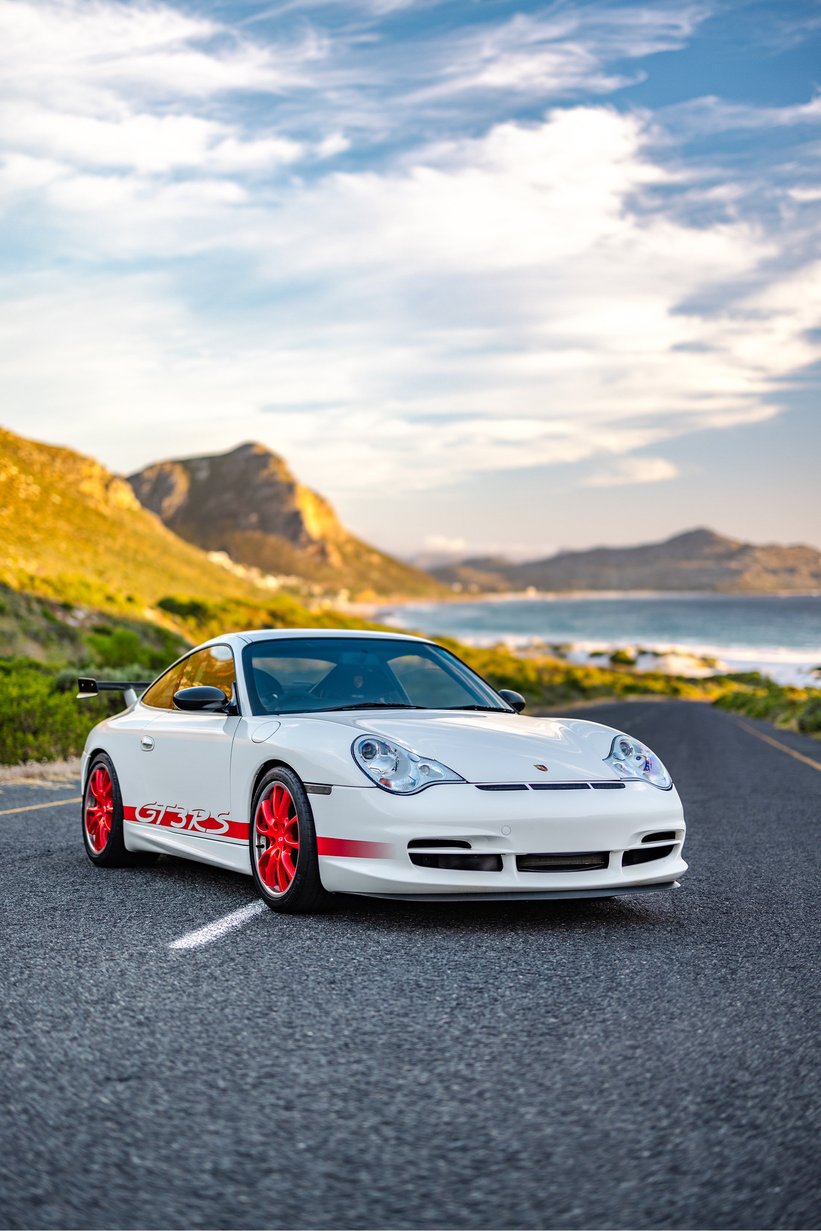 While the view is breathtaking, South Africa's roads are more likely to knock the wind out of you in other ways, so I ask Aaron how he's faring in what is essentially a race car with number plates. "It's definitely a bit hard!" he laughs, "there are some roads where it jiggles you about, it's got a firm suspension setup and very little padding in the seats, but I only drive it once or twice a month for a quick blast."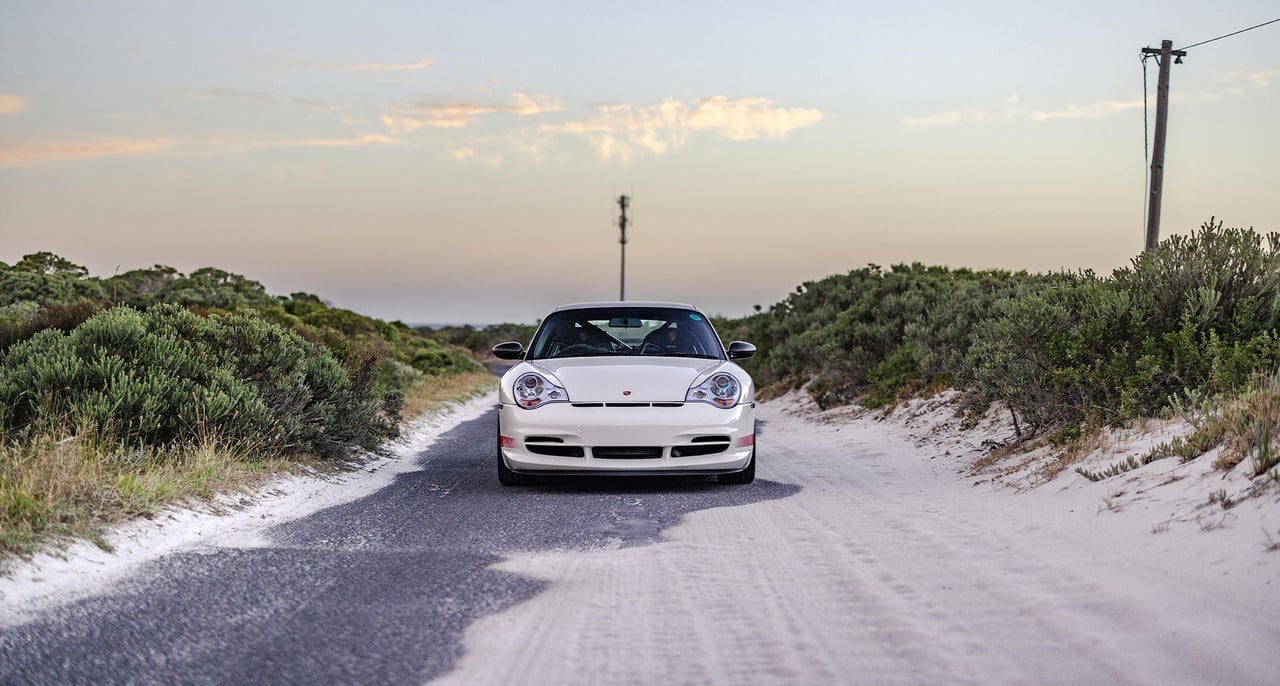 As we approach the end of our drive, we peel off the M65 down Lighthouse Road, and head to the shoreline. Stopping for a penultimate round of photos, the light, and the scenery, approaches perfection. It's close enough to December 25th that this view, with this car, feels like the ultimate Christmas present. As we near the shore, the beach begins to encroach on the road; the white sand almost the exact same shade as the RS' paintwork.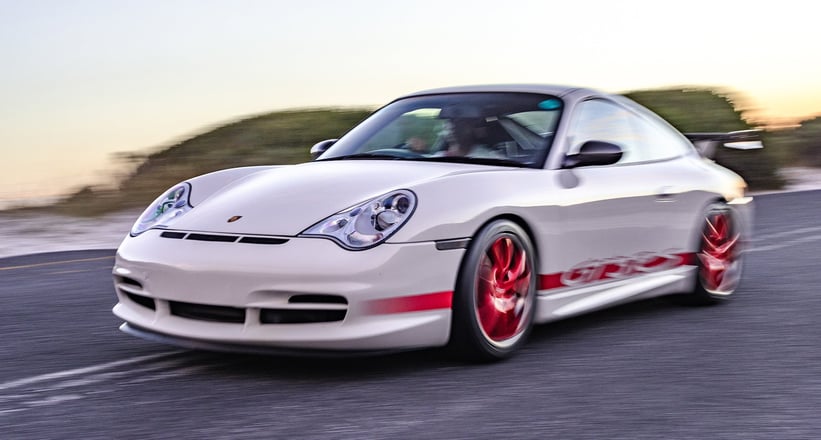 Finally, we reach our end point: the parking lot at Witsands beach, just as the sun begins to kiss the horizon. We're alone save for a small group of smashed but cheerful locals, who seem to share my enthusiasm for Aaron's GT3 RS. After one last set of photos, it's time to say goodbye to Aaron, and what I realise is probably my ultimate Porsche. Thankfully, this isn't the last time CD will have the joy of going for a drive with Aaron, but what an amazing way to spend an afternoon this has been.
Photos by Mikey Snelgar