A soft and sultry front-engined Grand Tourer more suited to a leisurely cruise on the Pacific Coast Highway than a maximum-attack blast down the Mulsanne Straight, the Ferrari 365 GTB/4 — or, as it's universally referred to, the Daytona — was an unlikely race car. But its strong chassis, bulletproof V12, and streamlined body meant the Competizione was reliable. And for smaller privateer outfits contesting endurance events week in and week out, reliability was king.
Lessons learned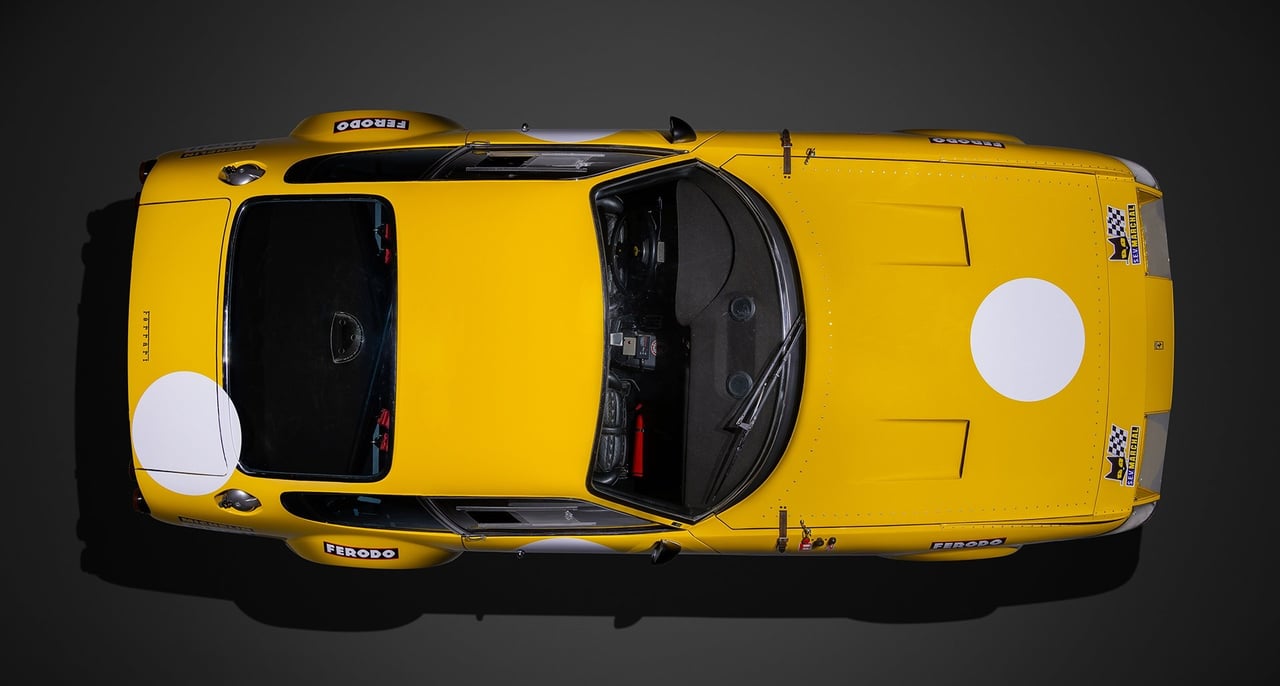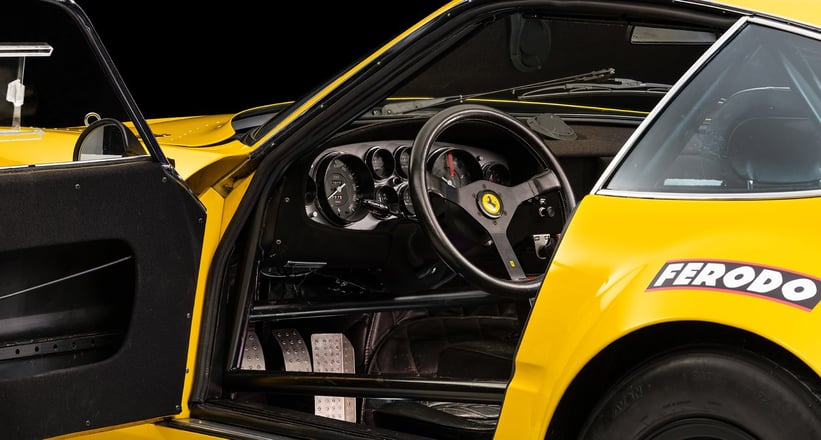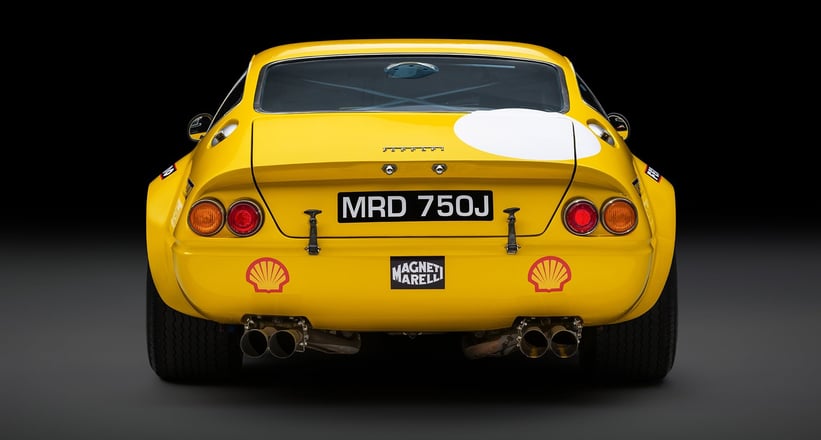 "The Daytona was built in such large numbers that it meant the research and development and lessons learned during production went straight into the racing cars," explains Masoud Abdelhafid of Classic Driver dealer Bell Classics, which is offering this very special Competizione for sale. "They were great at endurance racing because all the parts were incredibly reliable — I recently spoke to a long-standing Group IV owner, and he told me he'd never had any issues with the engine in his car."
Ferrari only built 15 Daytona Comps, in varying states of lightness thanks to the scrupulous regulations of the CSI. But their prowess was abundantly clear, scoring class wins at Le Mans in 1972, '73, and '74; 2nd overall at Daytona in 1979; and an outright win in the 1972 Tour de France Automobile. As a result, a number of road-going Daytonas were privately converted to racing specification, and this muscularly elegant Giallo example might be the most special of them all.
Dream team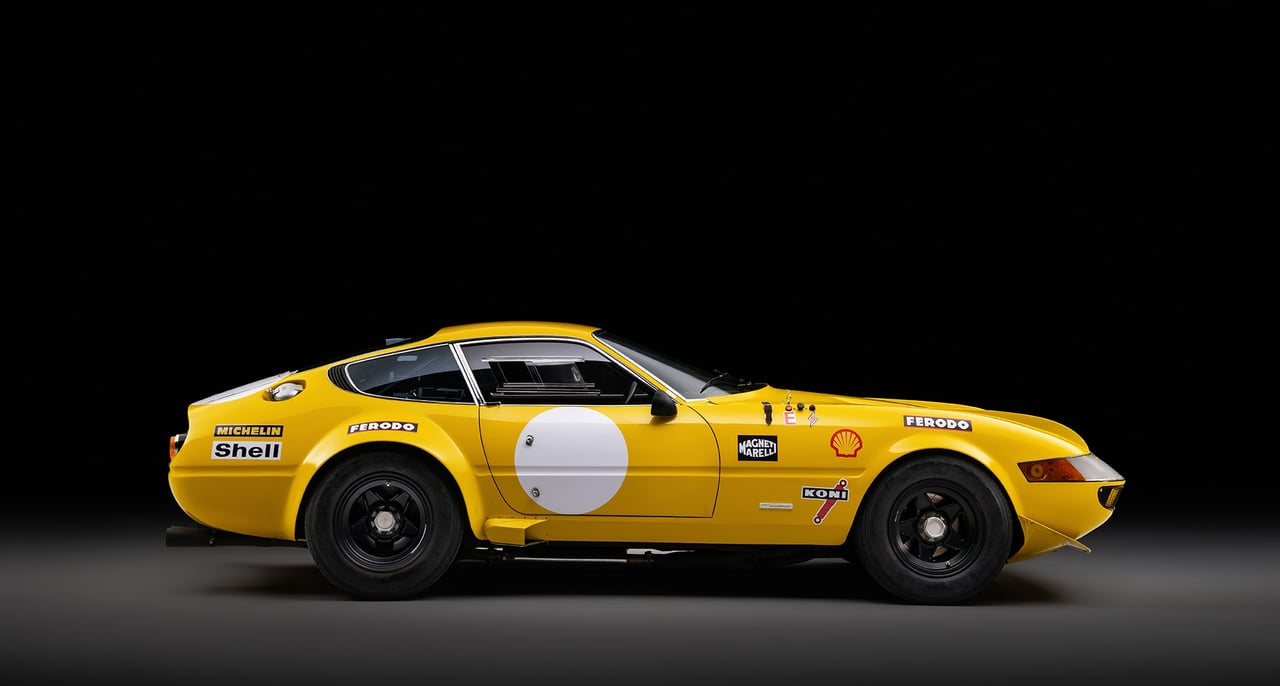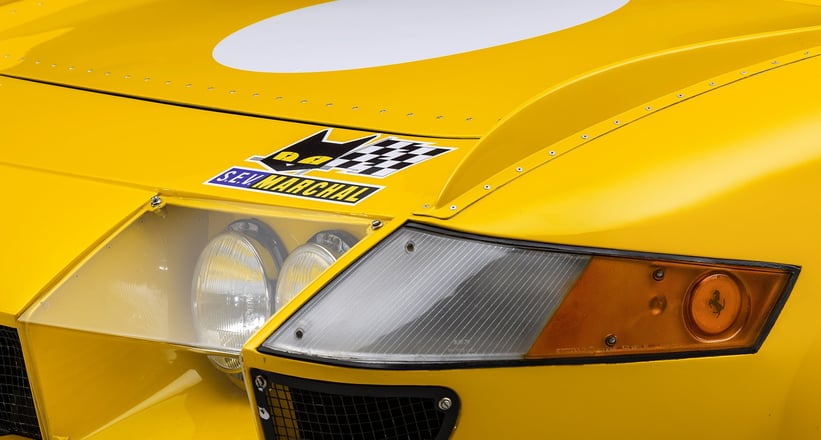 Originally delivered to Italy in 1970, this Daytona — chassis number 13971 — started life as a road car painted in Celeste, a gorgeous shade of turquoise. It passed through several Italian owners until 1981, when it fell into the hands of Aldo Cudone. A wealthy Italian industrialist and quintessential gentleman driver, Dottore Cudone had a record of modifying exotic cars. "He had two Miura Ses, one of which he turned into a Jota lookalike that became known as the Millechiodi, or 'a thousand rivets'," explains Masoud. "It looked like a do-it-yourself back-room project, but he just loved to make his cars represent racers or one-offs, and he used the best people to carry out the work."
In light of this, Cudone decided to convert his new Daytona to Group IV competition specification for use in the Coppa d'Italia. So, using his considerable influence, he sought the assistance of Gaetano Florini, then head of Ferrari's Assistenza Clienti department, to help him do it properly. Armed with the factory's blueprints and diagrams, Florini oversaw the project, entrusting legendary tuner Giuliano Michelotto with the mechanicals and famed Carrozzeria Bacchelli & Villa with the bodywork.
No expense spared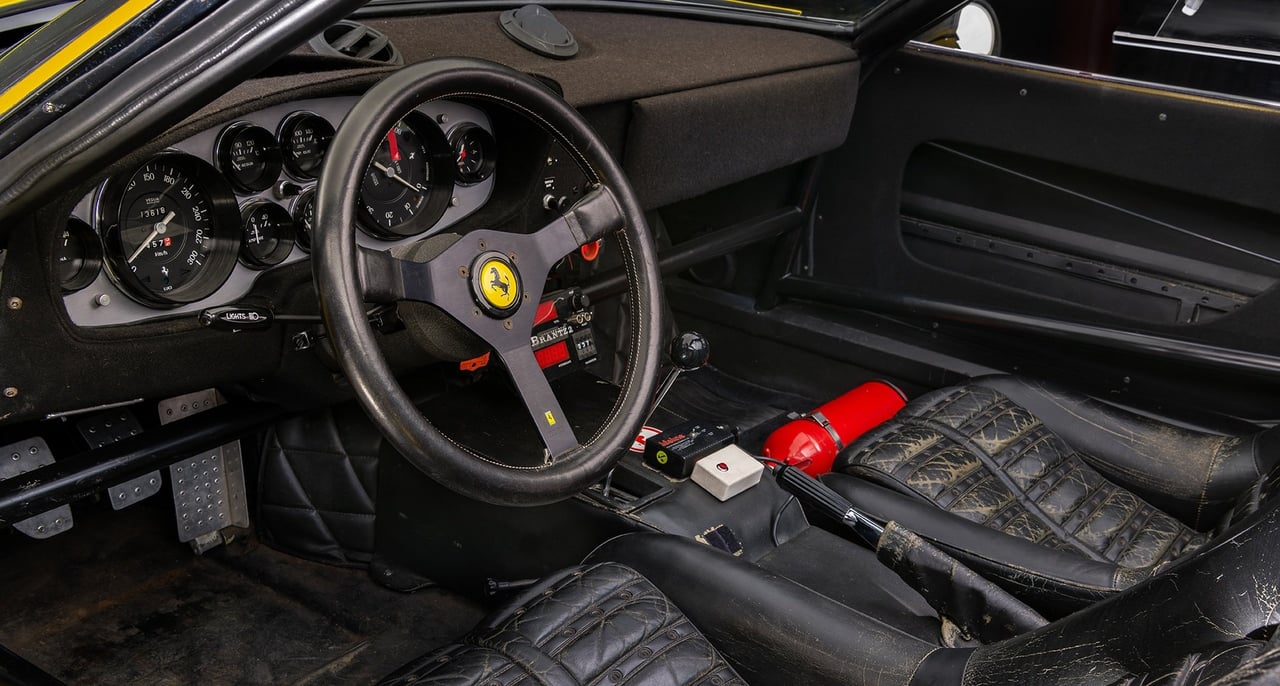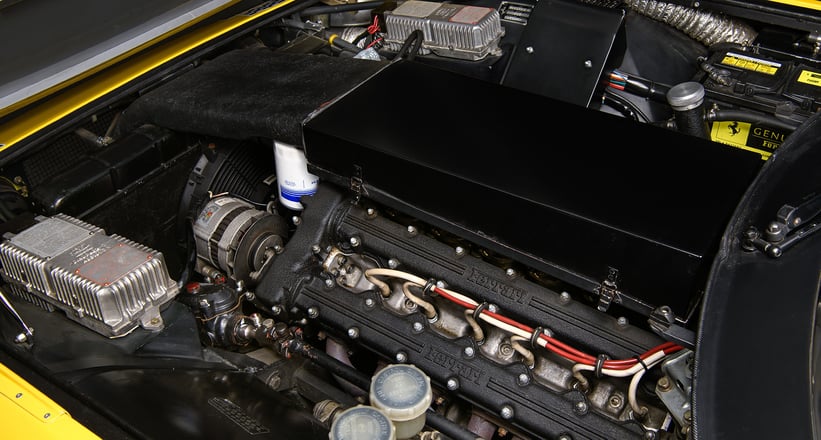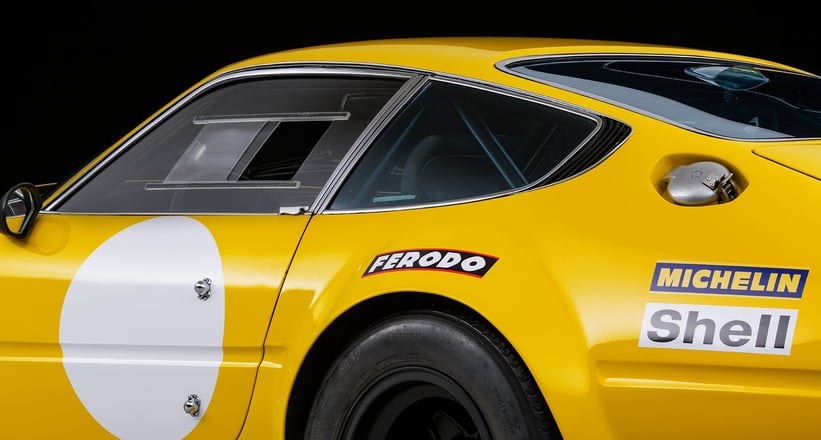 "The thing that makes this car so special is that it was built by Michelotto," Masoud explains. "Look at his résumé — which features incredibly successful Ferraris, such as the 308 Group IV, F40 LM, and 333SP — and it's difficult to underestimate his significance in the competition Ferrari world. He was an extremely fastidious engine builder and race preparer." Beneath the surface, Michelotto went to town building an incredibly durable engine that developed a mighty 450hp and modifying the brakes, suspension, and anti-roll bars to authentic Works specification.
The attention to detail is also evident in the comprehensively lightened bodywork — Bacchelli & Villa (which, today, is renowned for its repairs and restorations of very special Ferraris) went the whole hog, with the characteristic flared arches, Plexiglas-covered headlamps, chin spoilers, and feather-light alloy bonnet and boot. It's also littered with motorsport-oriented trinkets, such as the twin filler caps, hood straps, boot latches, and single pantograph wiper. And it was a similar story inside, with a lightweight dash and door cards, harnesses, and a fire extinguisher. It might not be as pretty as the road car, but its aggression and muscularity is something to behold, especially in this bold shade of yellow.
Seasoned traveller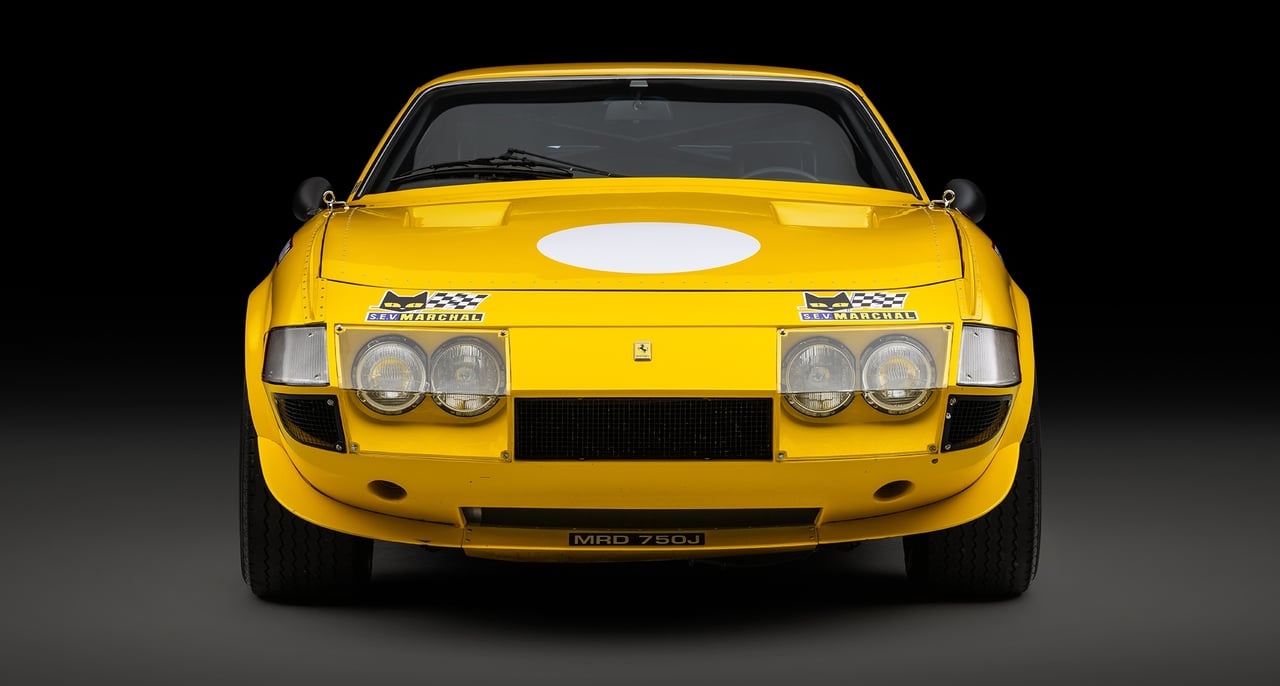 Given the meticulous, no-expense-spared nature of the conversion, it's perhaps surprising that Cudone only chose to race the car once, in the 1985 Coppa d'Italia, as he'd intended. "He loved to drive," says Masoud. "Of course, it was a race car, but it was important for him to use it on the road, hence why he left the original seats." Fortunately, number 13971's subsequent owners put the car to good use, competing in prestigious events across the globe, from Adelaide in Australia and the Middle East to Spain and France. "If this car had a passport, it would have more stamps than some well-travelled individuals!"
Before reluctantly deciding to offer it for sale, Bell Classics had been using the car as a sort of company mascot for some time, and Masoud was able to experience it first-hand on a number of occasions. "It's one hell of a machine. The driving experience makes you feel equal parts fear and adrenalin. Compared to a regular Daytona, it's night and day. It's not the greatest car on the brakes, but it's extremely powerful. We took it to Brands Hatch and, down the back straight, it was hitting 180mph. And with those side-exit exhaust pipes, it sounds like what can only be described as a Spitfire!"
Happy birthday, Ferrari Daytona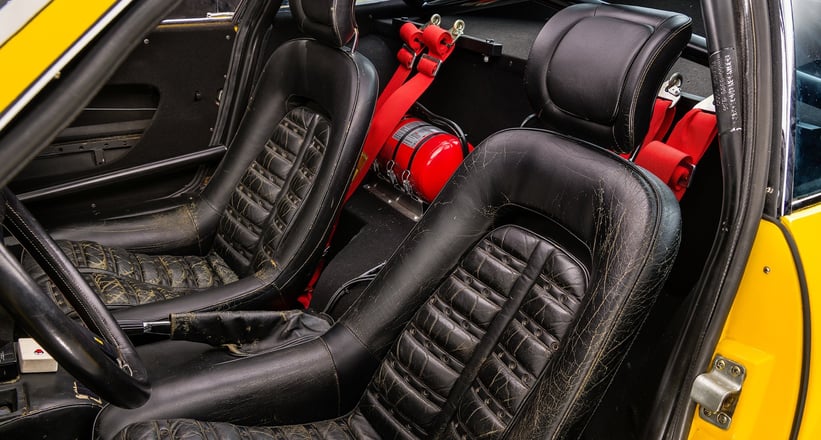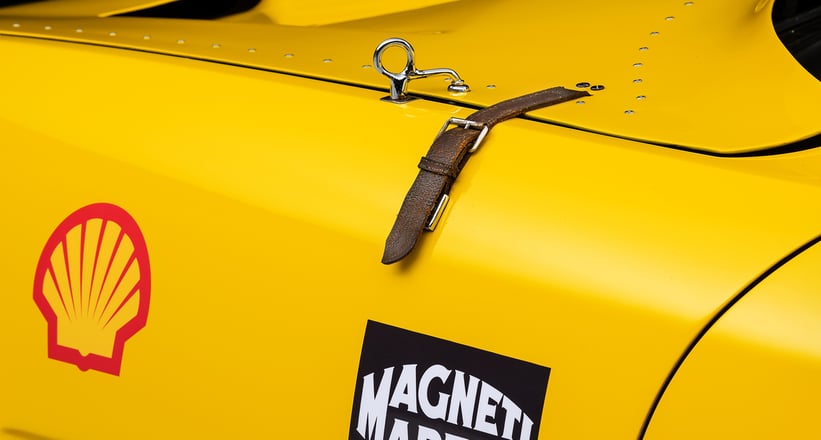 So, in this, the Ferrari Daytona's 50th year, what could be a more special way of marking the occasion than entering one of the raft of historic rallies or motorsport meetings for which this Competizione is eligible? The last of the proper Enzo-era Ferraris before Fiat became involved and the final road-going Ferrari competition car, the Daytona's significance to the marque cannot be underestimated. And this particular car, the only example prepared by Michelotto, epitomises what made it so great. Some people love them, others less so, but the Daytona will always secure a place in our dream garage.
Photos: Tim Scott / Fluid Images for Bell Classics © 2018