Lamborghini Countach versus Diablo – the ultimate bullfight
Golden sunshine, the 'Garden of England' and two of the most brazen Lamborghinis ever built: the Countach 25th Anniversary and the Diablo – the stage was set for a very special showdown. Lock, livestock and eight smoking barrels…
Kent. It's known as the 'Garden of England', and for good reason. The county's gently rolling hills, fertile farmland, fairy tale forests and breath-taking coastline form an oasis of tranquillity. But not today.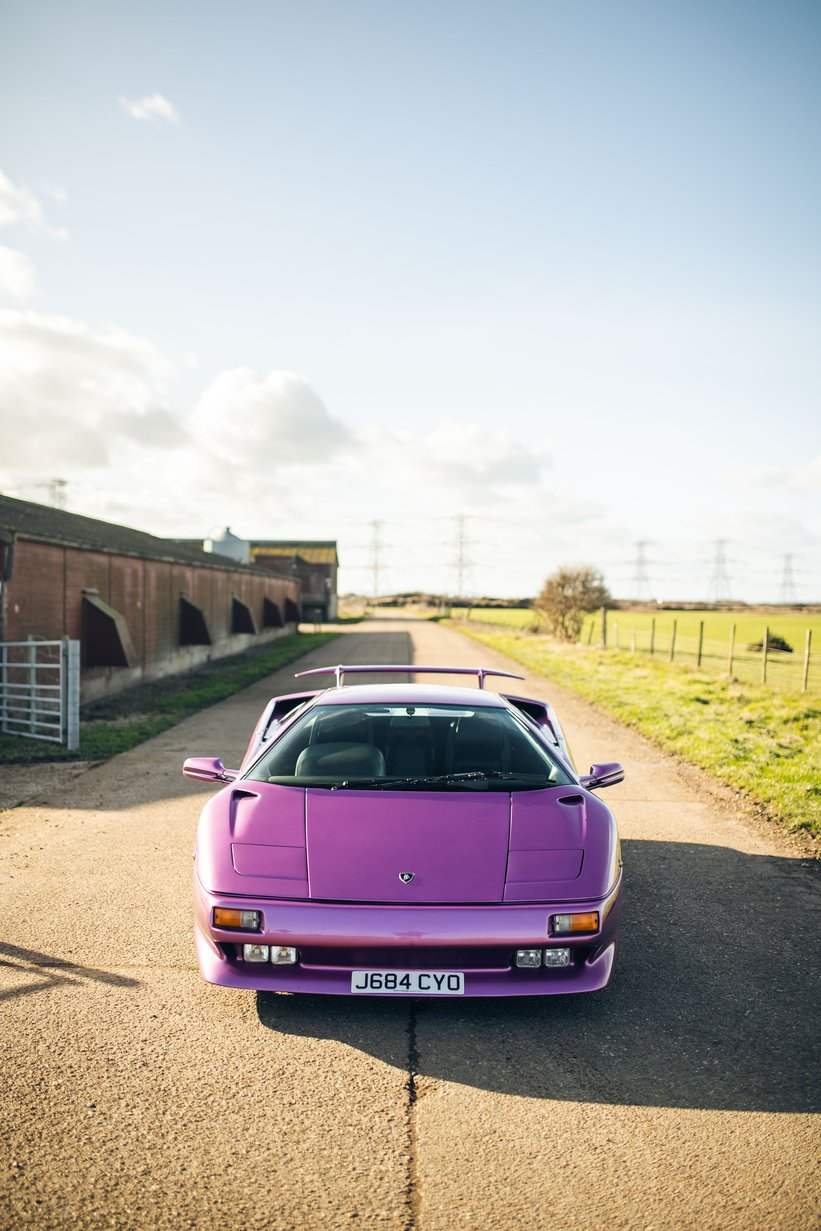 We're spearing towards Dungeness, the barren coastal plain that resembles a post-apocalyptic Wild West, with two loud and proud Lamborghinis: a flawless red Countach 25th Anniversary with magnolia hide and a Diablo that, with over 65,000 miles on the clock, has not lived such a sheltered life. And to give you some idea of the manner with which we're shattering the peace, the latter's de-catted 5.7-litre V12 is setting car alarms off left, right and centre and will at one point today cause one particular Nimby to actually phone the police.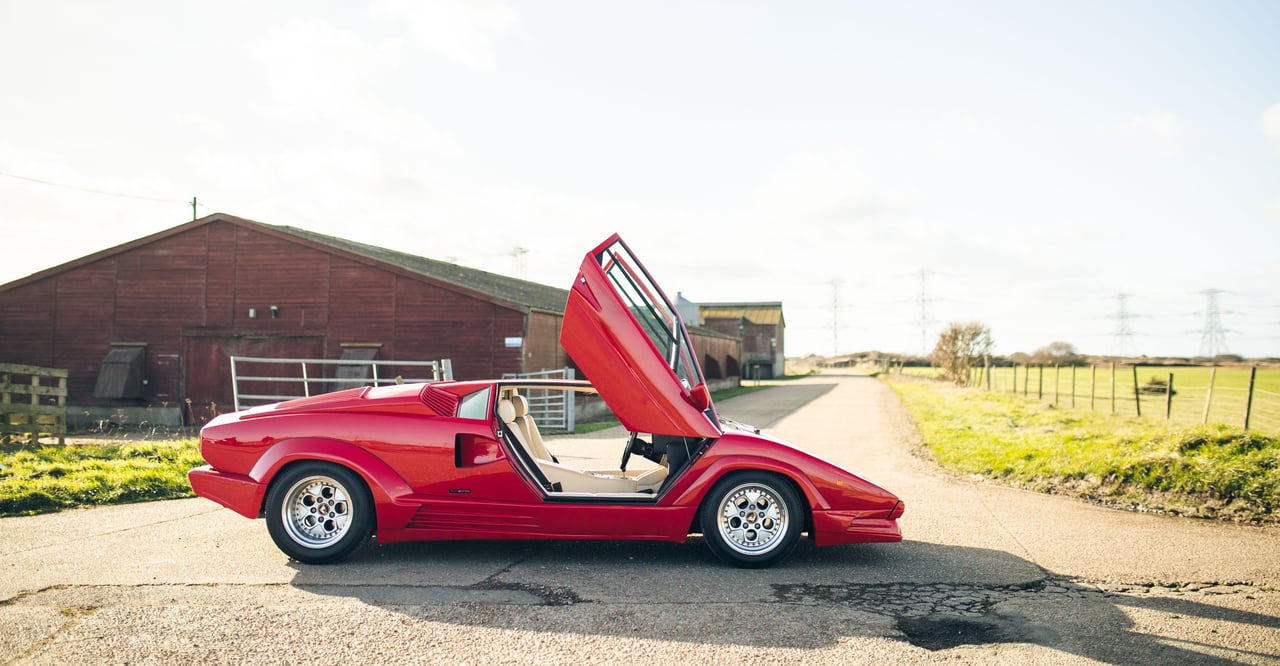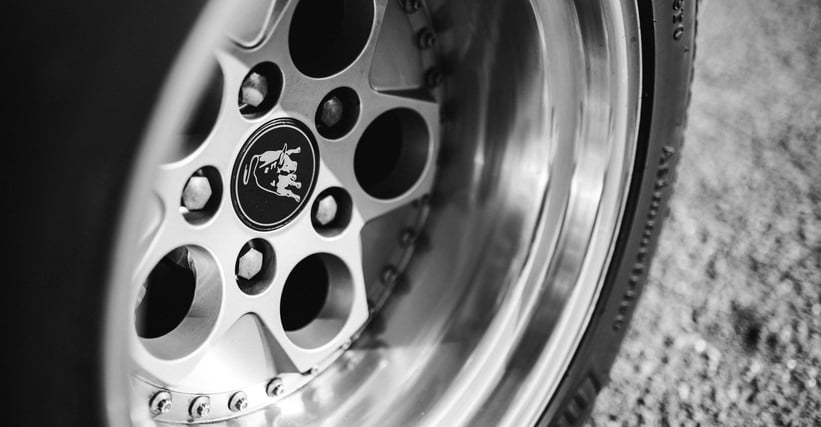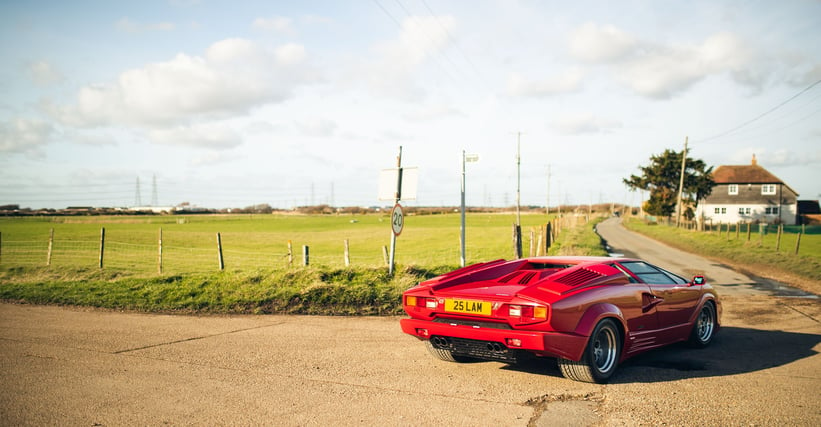 The invitation to spend a brisk but beautiful winter's day playing with these raging super bulls came from the supercar specialist Simon Furlonger. Historically best known for dealing with Ferraris, the Ashford-based outfit has begun to offer quality servicing, maintenance and restoration of classic Lamborghini models, from the 350 GT to the Murciélago. The Diablo with which we're terrorising rural Kent, a very early car that was among the first to enter the UK, has resided in the Furlonger stable for a decade now. The Countach, meanwhile, was one of the final 10 to leave the factory and was sold to its current owner by Furlonger in 2019. These two drastically different Lambos therefore left the factory within mere months of each other.
The Countach's reputation truly precedes it. But for all its aesthetic exuberance, the first thing that strikes us about the 25th Anniversary is its refinement and civility – it's quiet and comfortable by anybody's standards. That's perhaps unsurprising given Lamborghini had 17 years to fix the car's foibles in time for this run-out special, a car that was only really conceived by Chrysler's execs, who'd taken control of the business, because the new Diablo wasn't going to be ready in time for the company's landmark 25th birthday.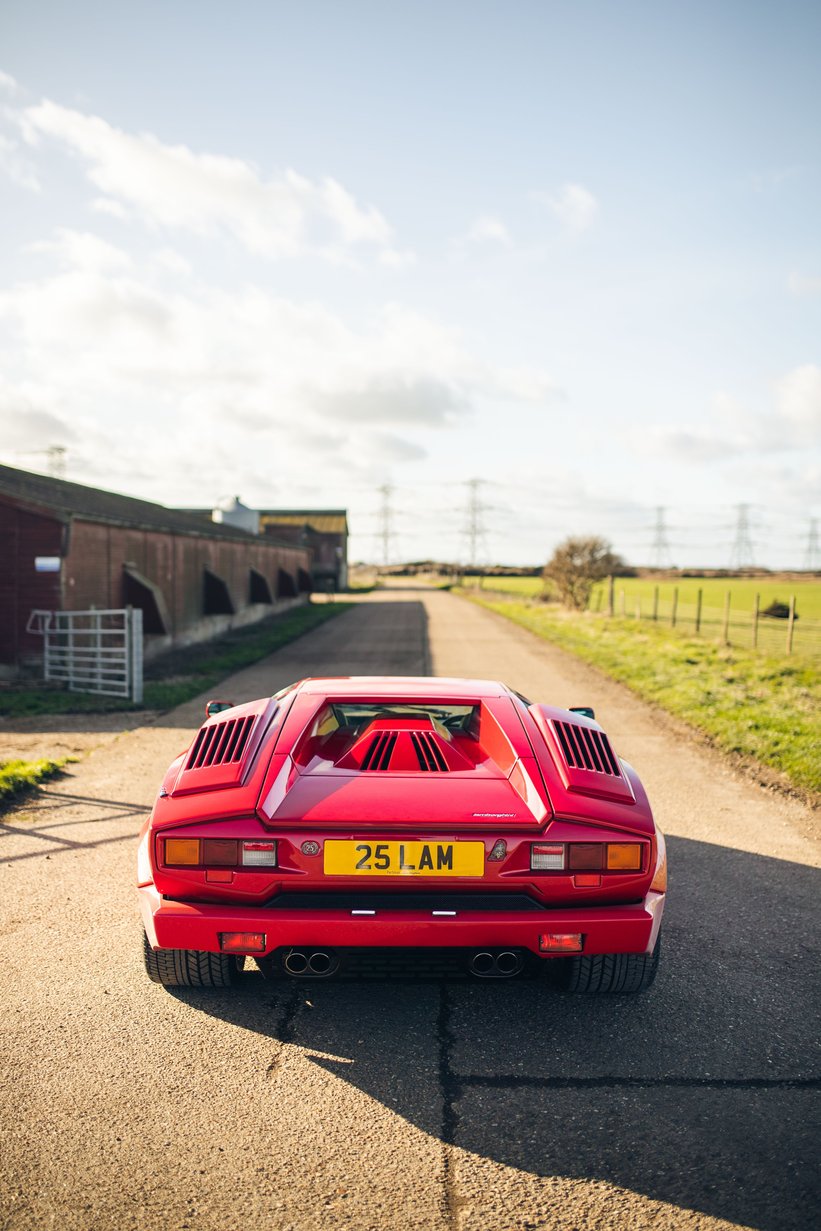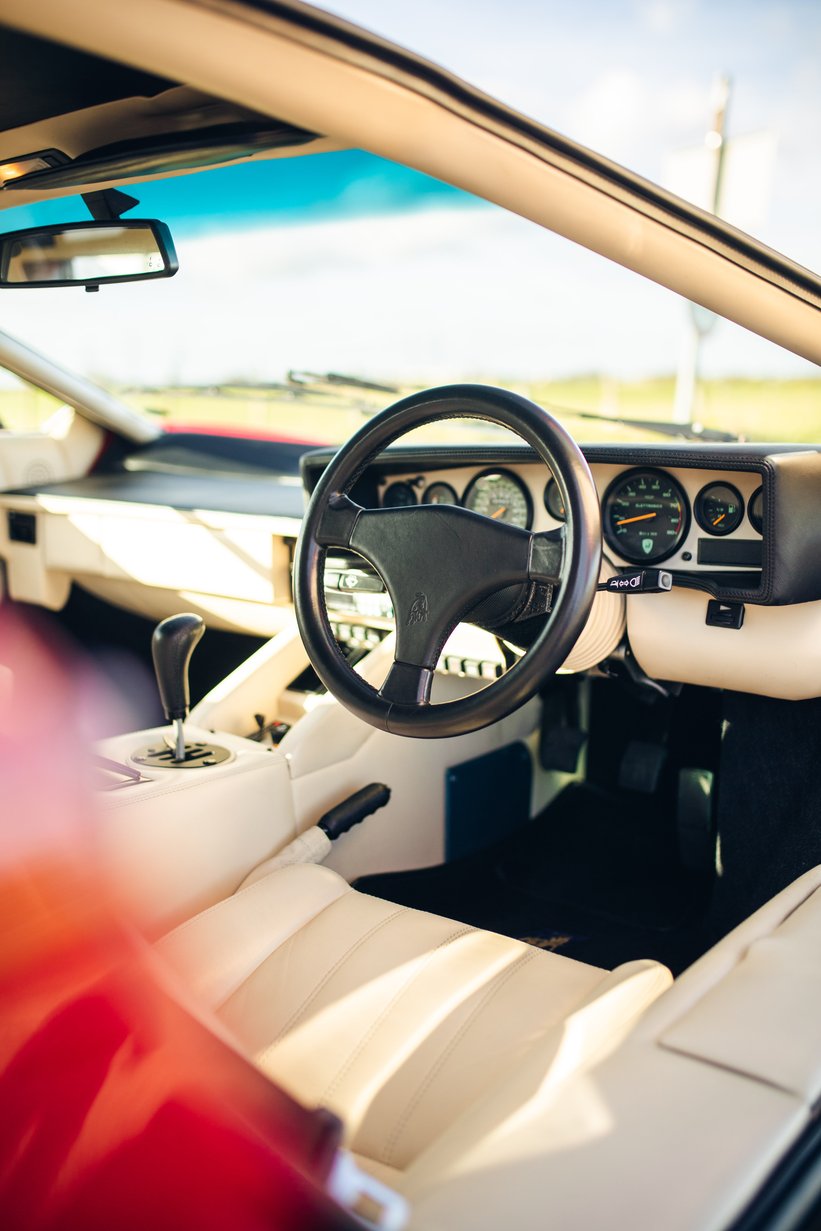 It's remarkable to think that this car evolved from Gandini's minimal LP400. But that's not to say it's not a beauty. The liberal addition of strakes on the 25th Anniversary, signed off by a young Horacio Pagani, was rued by Lambo loyalists at the time, who cited the styling as an attempt to mimic the Ferrari Testarossa. But today, it embodies all the pin-up drama a raging bull should. It's proudly, defiantly Lamborghini and oh so 1980s. Pagani was also behind the various carbon-fibre bits and pieces on the car, such as the engine cover, and rally legend Sandro Munari was drafted in to reconfigure the suspension.
Just 667 Countach 25th Anniversaries saw the Sant'Agata sunlight, of which 'our' right-hand-drive car was one of the final 10. Arguably the finest and most original example in the UK (and perhaps Europe), it was delivered new in 1989 to a persuasive car dealer who'd coincidentally met Lamborghini's sales director on an Italian ski slope and convinced him to sell him a Countach.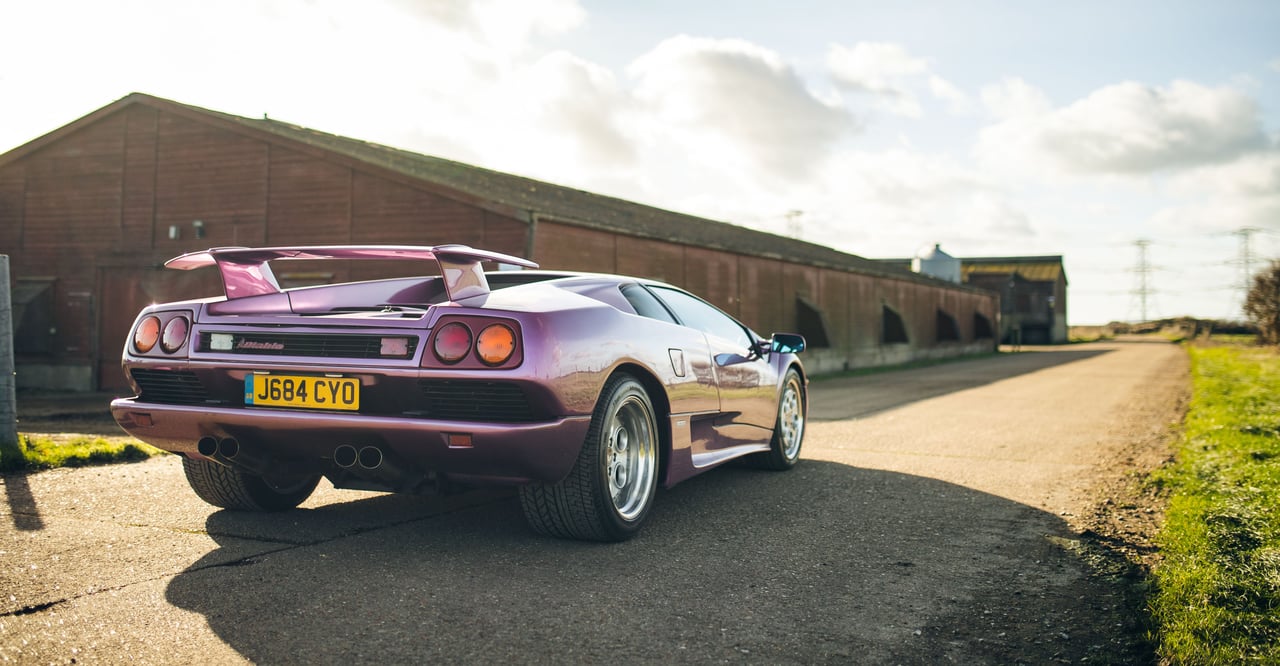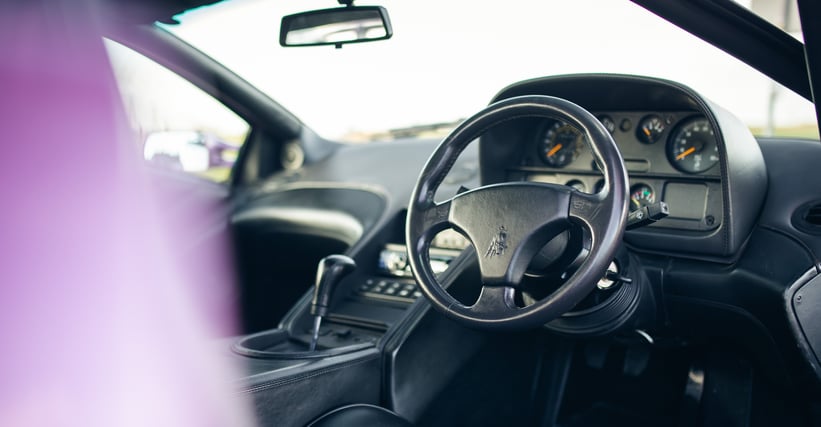 A car dealer being a car dealer, he sold the Lambo just six months later! Due to circumstances, its second owner was unable to drive his prized Lamborghini, so it remained in his garage in Essex for 27 years and was exercised only occasionally by his son to ensure everything was in check. With fewer than 7,000km on the clock, the car's originality is nothing short of extraordinary. "We've dealt with a lot of Countaches over the years, but I've never seen one like this," comments Furlonger's sales director Matthew Honeysett. "There are simply no stories with it."
The current owner proudly shows us some of the bits and bobs that, miraculously, still remain with the car – there's the original car cover from Portman Lamborghini, the UK's sole concessionaire at the time, the European service book, the Alpine stereo user guide and warranty and all the correspondence between the original owner, the dealership and the factory. The original factory film is even still on the pedals and the kickplates. "You just don't find these things anymore," continues Honeysett. "There's a reason why the car has already won trophies at Salon Privé and at the Lamborghini Polo Storico concours in Trieste last year."
The Diablo – that's 'devil' in Spanish – is a very different beast. Believed to be one of the first 20 cars delivered to the UK, it's fair to say this car has lived an eventful life. There's been one constant, however – it's always been cherished and enjoyed. Perhaps the most intriguing period in its history was when its engine suffered a major issue and, unable to get a replacement from an ailing Lamborghini, its owner displayed the Viola Metallic car and its engine in his new dentist surgery. That's one thing to take your mind off an impending filling! "The car came to us around 10 years ago, when we completely rebuilt the engine and reunited it with its original engine cover and high wing," comments Honeysett. "It's been thoroughly enjoyed and regularly driven all over Europe – it's like a big V12 go-kart in many ways."
Started by Marcello Gandini and finished by Chrysler committee, the Diablo is the quintessential 1990s supercar. It's enormous – those huge and desperately wide rear haunches are hilariously unsuitable for narrow British country roads, but the sense of occasion is accordingly great.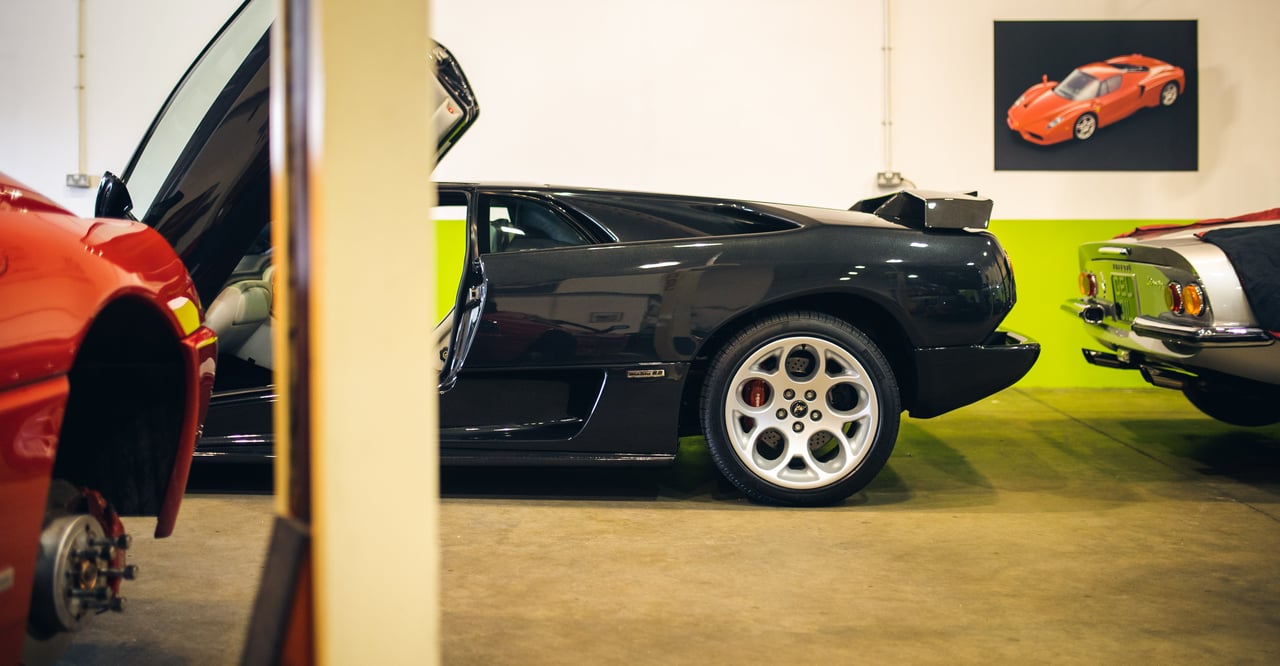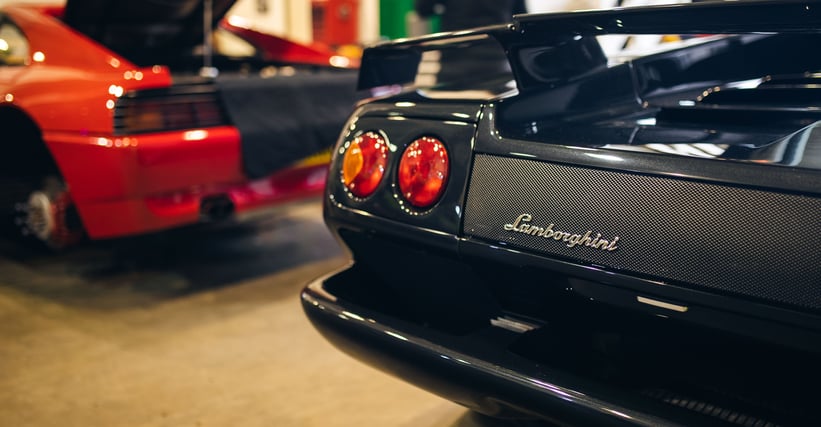 The roofline that sweeps from nose to tail in one perfect arc is masterful and accentuates the generous amount of glass, a welcome addition after climbing out of the Countach. Suffice to say, you needn't perch on the doorsill to reverse the Diablo (although, admittedly, it does look very cool). This one is also frankly offensively loud. Despite its crudeness, the cabin is in a different league to the Countach in terms of ergonomics and, for us, the famous 'cliff dash' is a quirky focal point.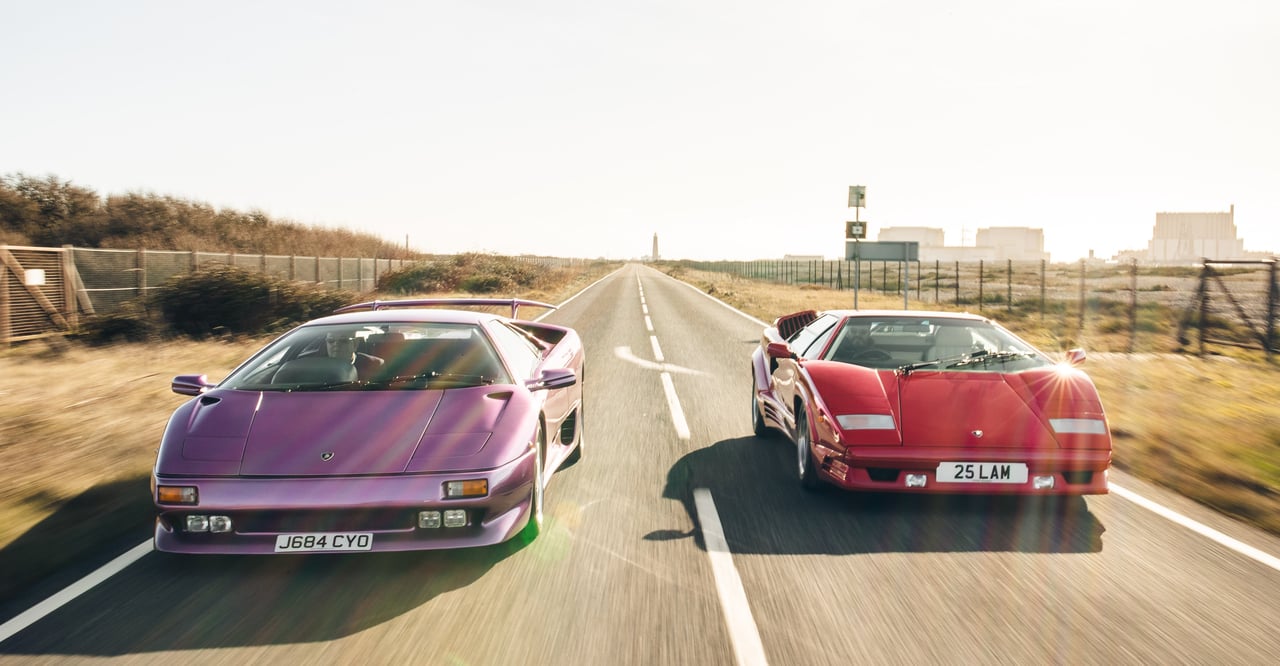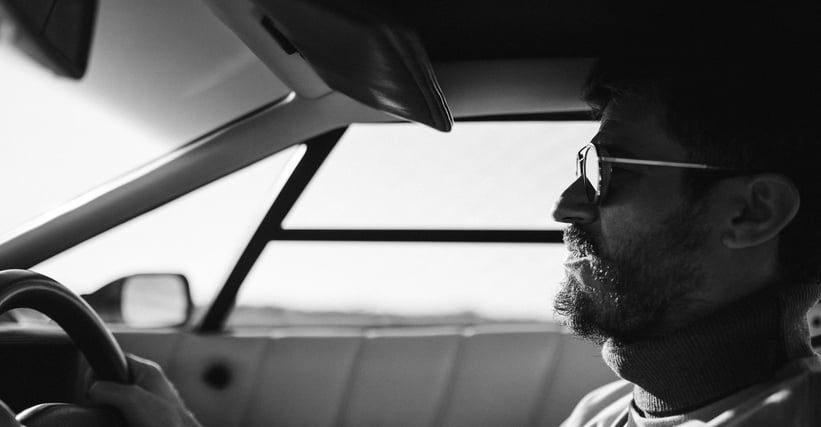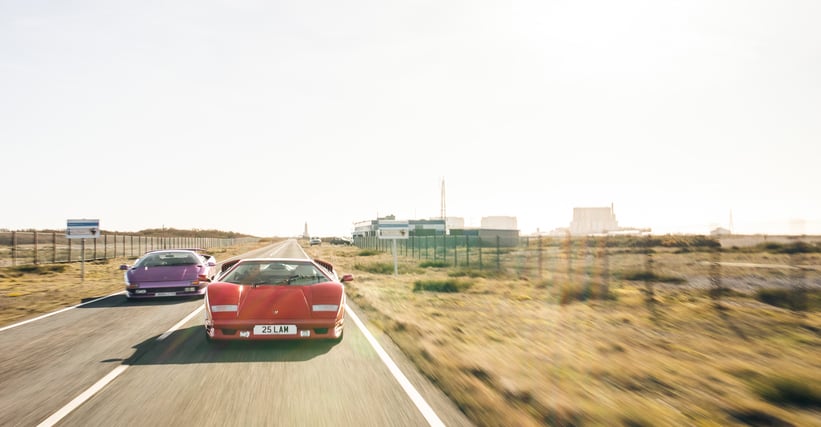 While these two V12 super bulls only share an engine timing chain and a smattering of switch gear, the way they go about their business is remarkably similar. They're intimidating cars to experience, but the overall theatre and intoxicating power is more than worthy of the concentration required to tame them. The residents of Dungeness don't really know what to make of our being here – expressions on the faces of passers-by range from livid fury to genuine confusion, as though aliens have landed in Kent. It all feels a bit naughty. These are bona-fide Lamborghinis, all right.
Photos: Tom Shaxson for Classic Driver © 2020
The production of this story was kindly supported by Simon Furlonger Specialist Cars. Whether you own a 350 GT, an Urraco, a Miura or a Gallardo, Furlonger now offers quality servicing, maintenance and restoration of classic Lamborghini models.
You can find the company's entire inventory of stock listed for sale in the Classic Driver Market.