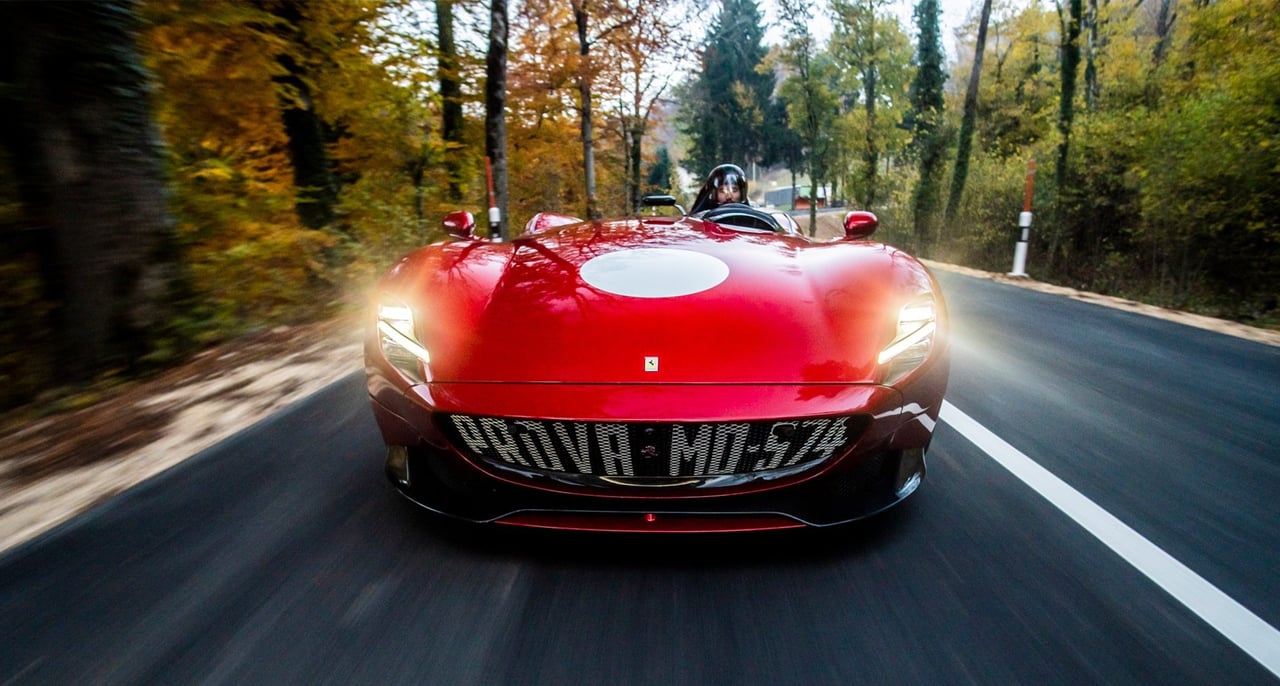 While soaking up the flamboyant Ferrari in the fresh, we had the chance to meet one of Drive Vintage's two founders, Jeremy Rollet, whose career path alone arouses interest. Jeremy is a true child of the mountains; born in Annecy in the French Alps in 1986, he grew up in Chamonix where he studied to become a high mountain guide. When he realised mountains were more of a passion than a proper career prospect, he then moved to Geneva to set up a private concierge company, where his job led him to manage classic vehicles.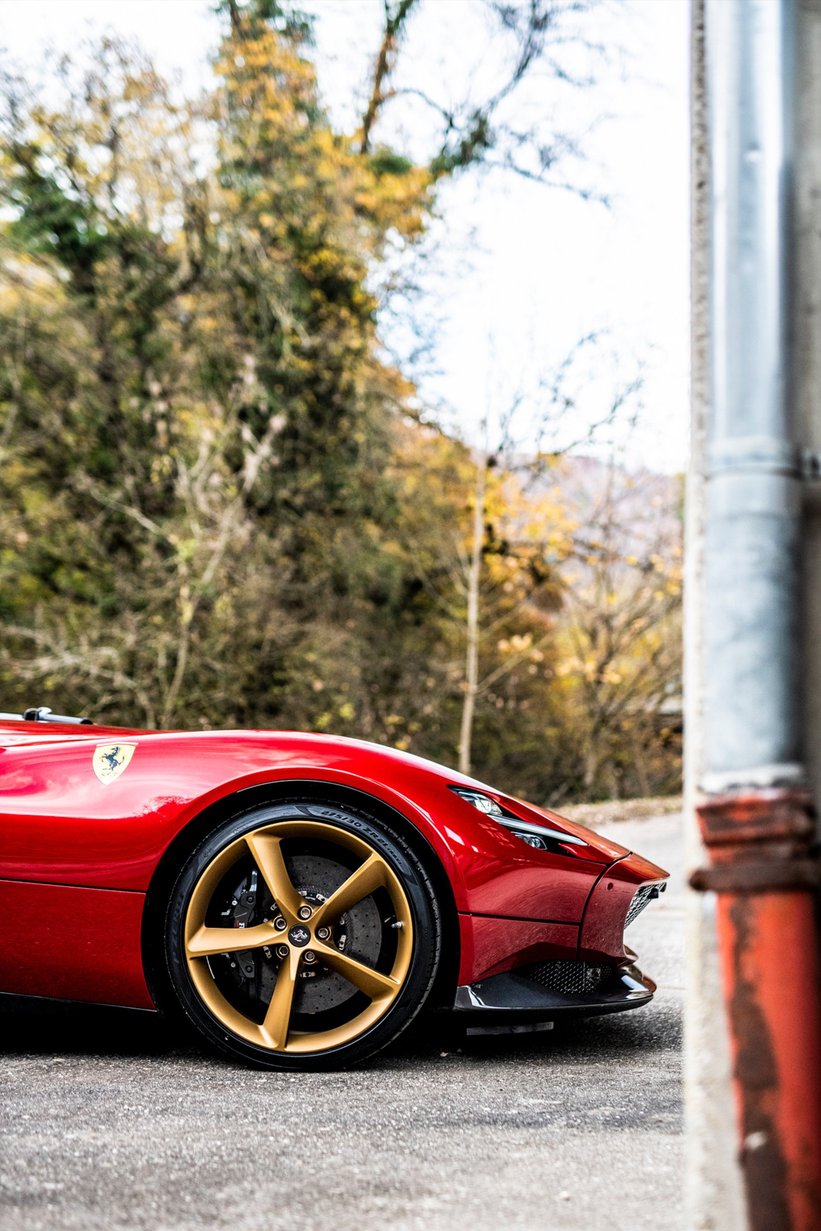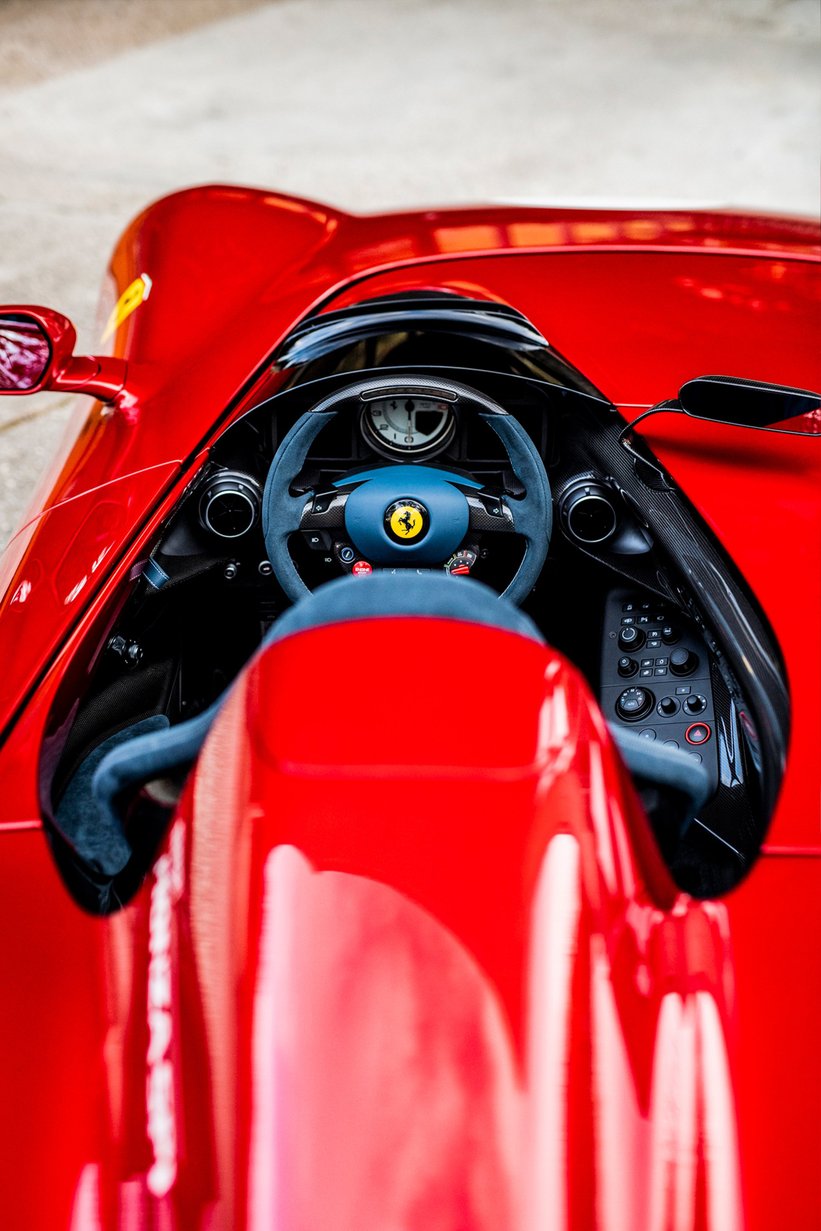 As he explains, "I wanted to specialise, so my business partner and I chose to manage car collections. Even though cars are not my first passion, I like to provide tailored services and accompany our clients with their cars, especially when they have an interesting history."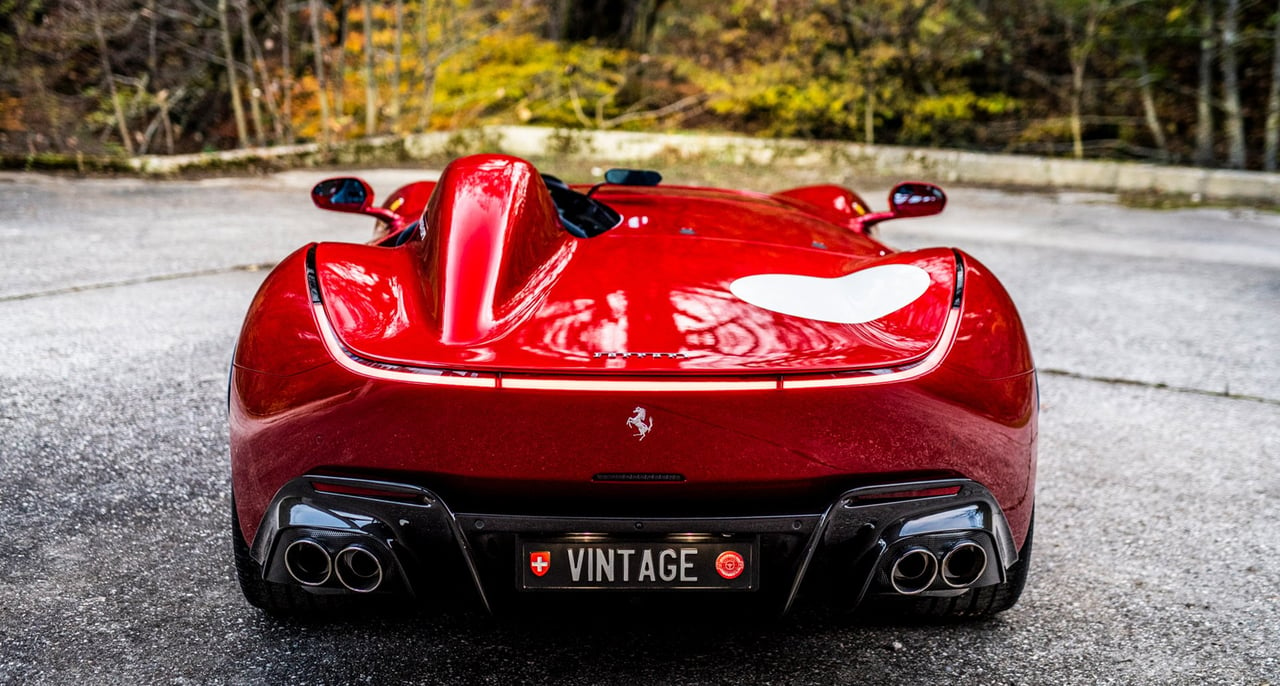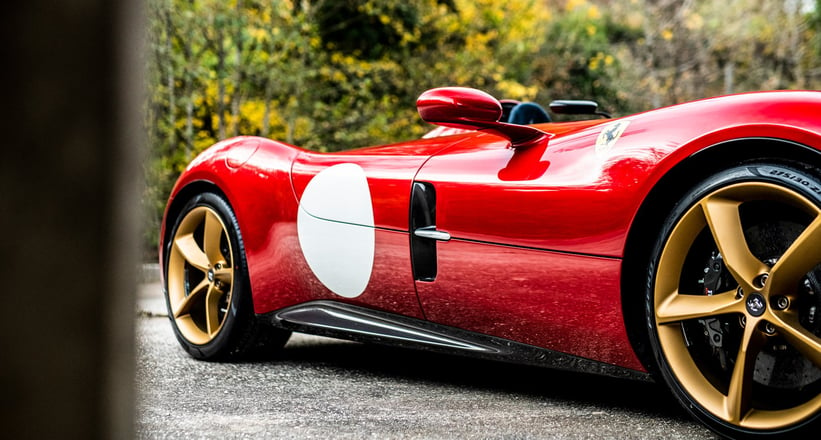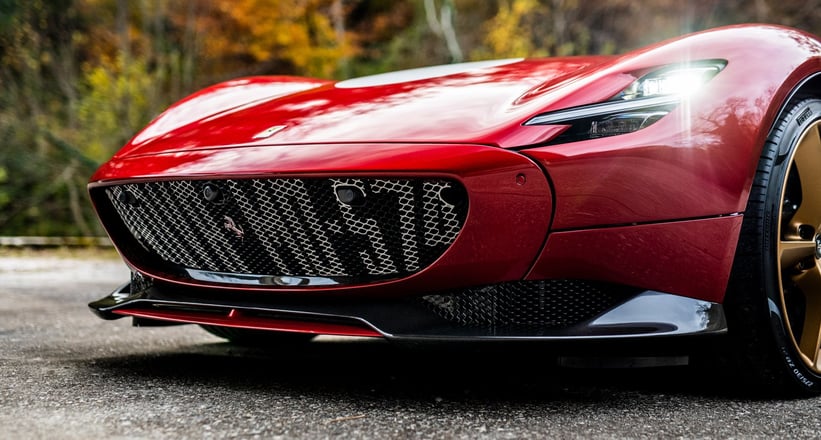 Founded in 2015 and located between Geneva and Lausanne, Drive Vintage offers a full range of services, starting with storage in their "Bunker Car Hotel" facility, a discreet and highly secure facility where each vehicle is kept in optimal conditions.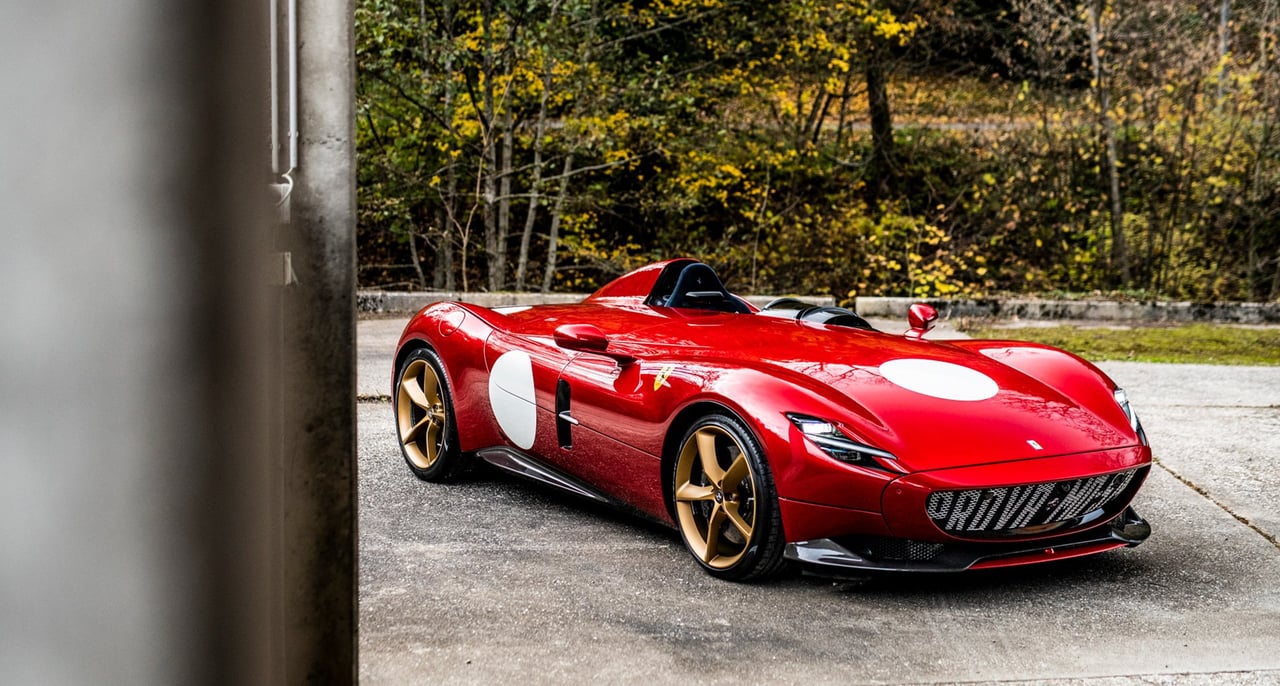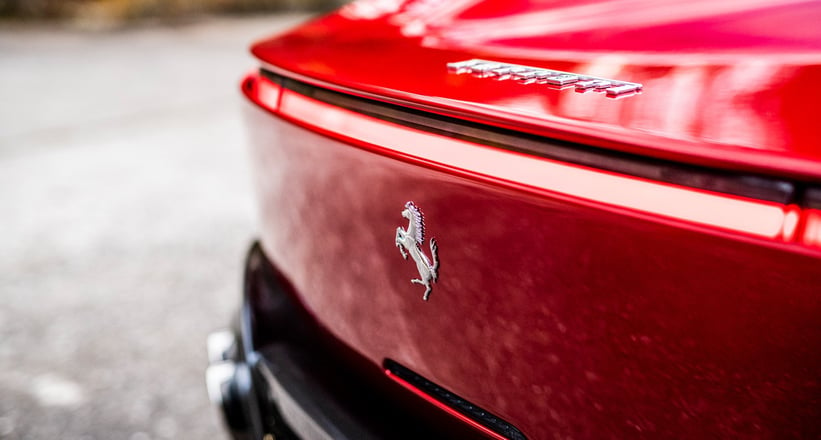 Drive Vintage's services do not stop there. They include advice and follow-up on acquisitions and sales, maintenance, transport, events, and even car rentals. For instance, if an enthusiast wanted to take part in next Tour Auto but didn't own an eligible car, Drive Vintage is able to either source or rent one. In both cases, in addition to registering for the event, Drive Vintage can transport the car to the start of the rally and provide full race assistance with one of their dedicated partners. With a team of six people, Drive Vintage now manages 300 vehicles. The majority of these cars belong to a circle of around thirty collectors, hailing from all over the world.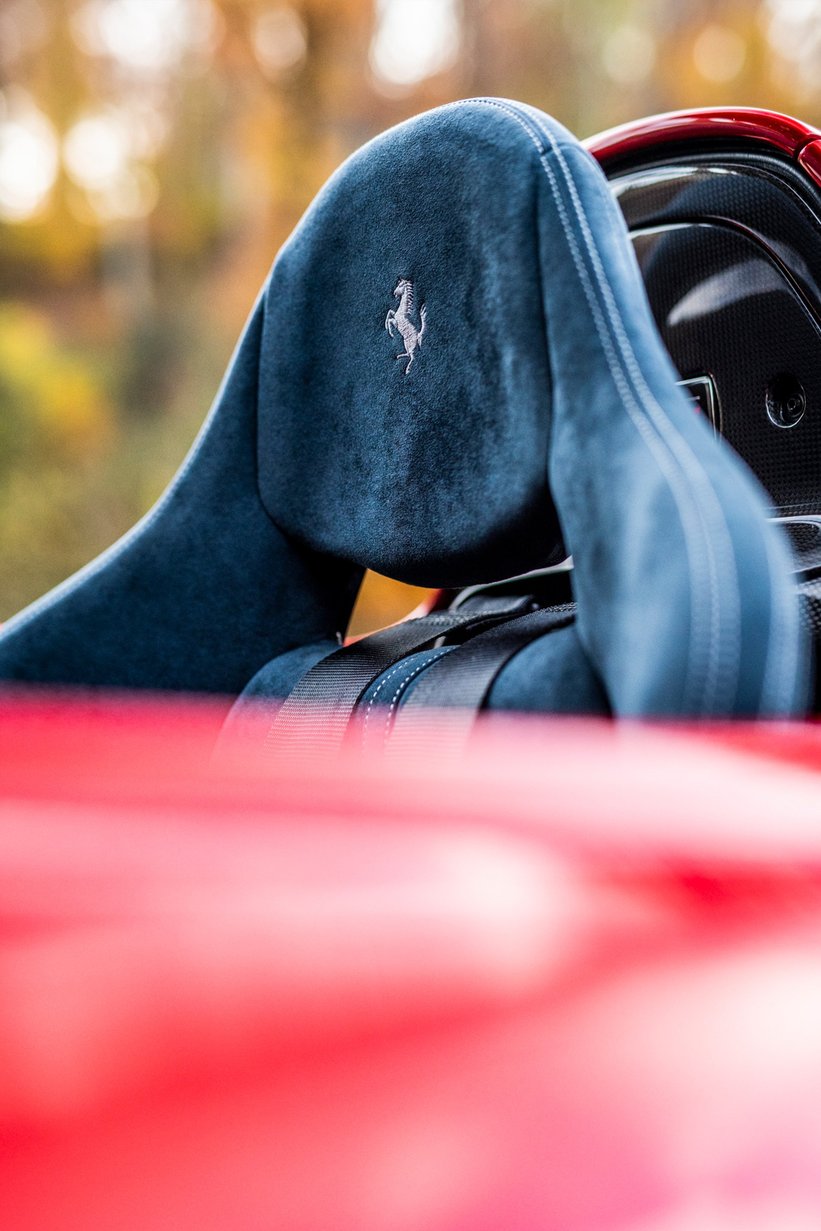 The Drive Vintage team has a keen eye for current trends in car collecting. In particular, they have observed "the arrival of new collectors who are younger, more demanding and more involved in the search for *good* cars, i.e. those with an impeccable history." Another strong, more recent trend is linked to the current sanitary situation: "Car enthusiasts want to enjoy their car(s) more. Although we unfortunately had to put on hold our events recently, we want to resume rallies, competitions, concourse and other gatherings in 2022."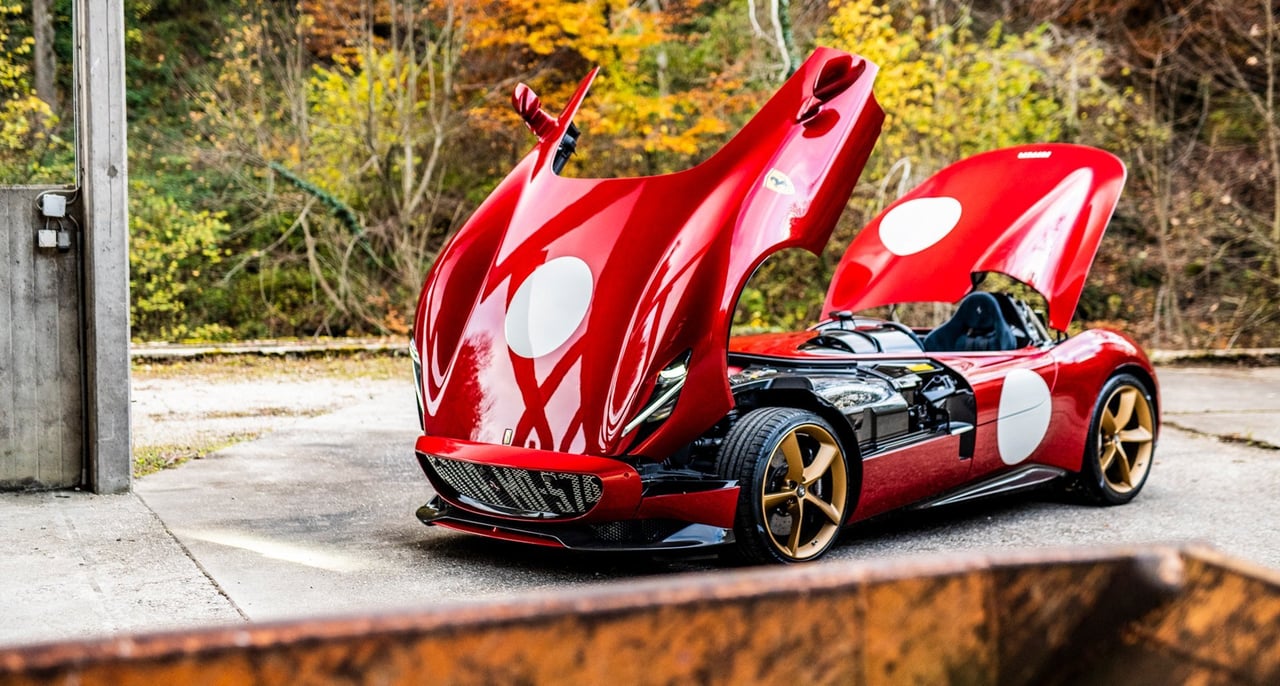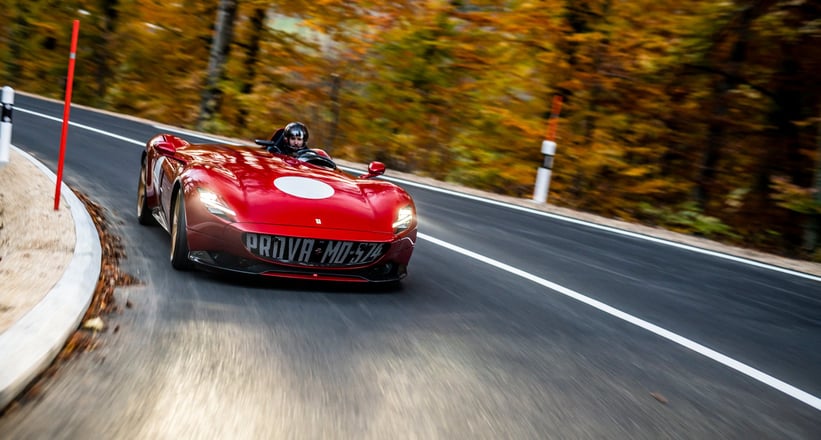 Among the remarkable cars that Drive Vintage hosts and manages is this sublime single-seater Ferrari SP1. The Ferrari Monza SP1 and SP2, two "barquettes" designed with pure futuristic lines, looking like they were drawn by wind, were presented in 2018 and released in 2019. They are both part of Ferrari's ICONA program designed to pay tribute to emblematic models of the past.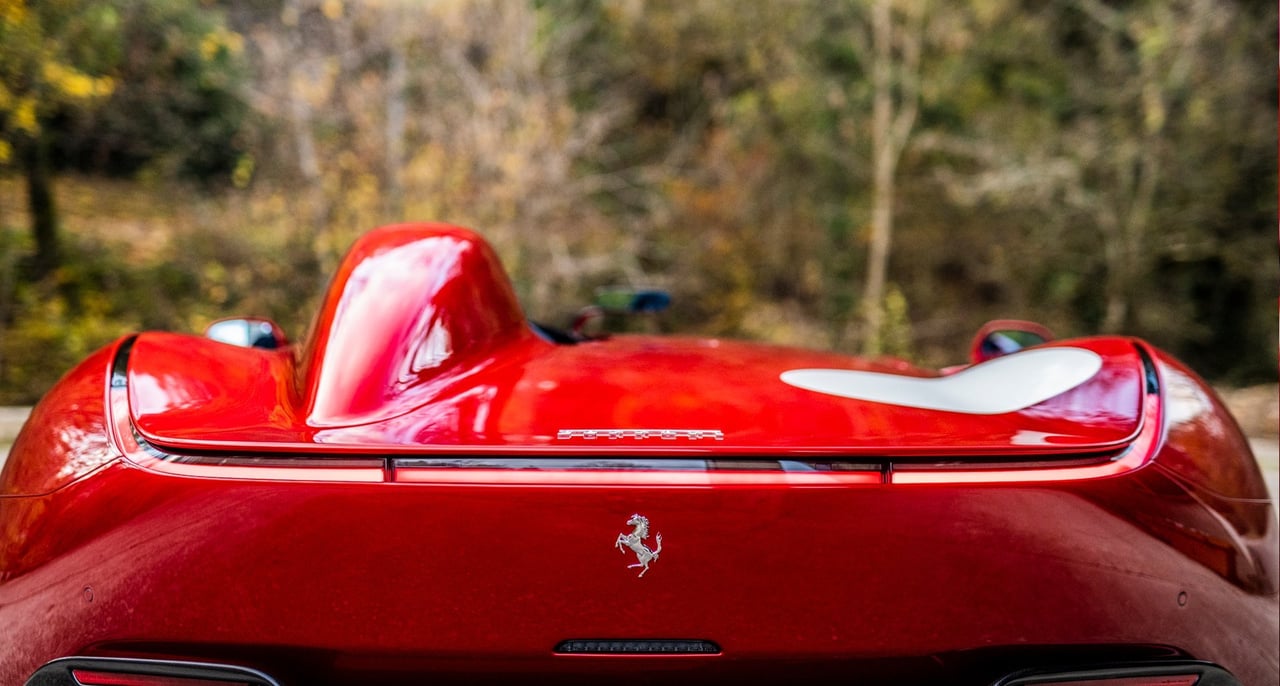 Produced in a limited series of 499 units for the SP1 and SP2 all together, the Monza cars were reserved for Ferrari's best customers. Sold with extra accessories made by Loro Piana and Berluti, both cars lack a real windscreen and are at the forefront of technology and performance. Thus, their bodies are crafted entirely in carbon-fibre, while their 810 hp V12 - the most powerful engine Ferrari had ever built at the time - propels the SP1 and SP2 from 0 to 60mph in only 2.9 seconds. As Jeremy says, the SP1 "is a very beautiful car which received the "Compasso d'Oro" design award when it came out."
For their loyal customer, a great lover of classic and modern Ferraris, Drive Vintage stipulated to Ferrari from the outset that they wanted to acquire an SP1, which they felt was more in the spirit of the Ferrari barchettas of the 1950s than the SP2. However, their request didn't stop there, since they also contractually stipulated that they wanted the very last one produced. To achieve this, they had to position themselves very early on. Jeremy explains, "We are lucky enough to have the trust of this faithful client since our start in 2015. We manage everything hand-in-hand with him, from the initial contract and invoices to the delivery of the car to his garage, not forgetting the communication and follow-up with Ferrari up to the Swiss registration process."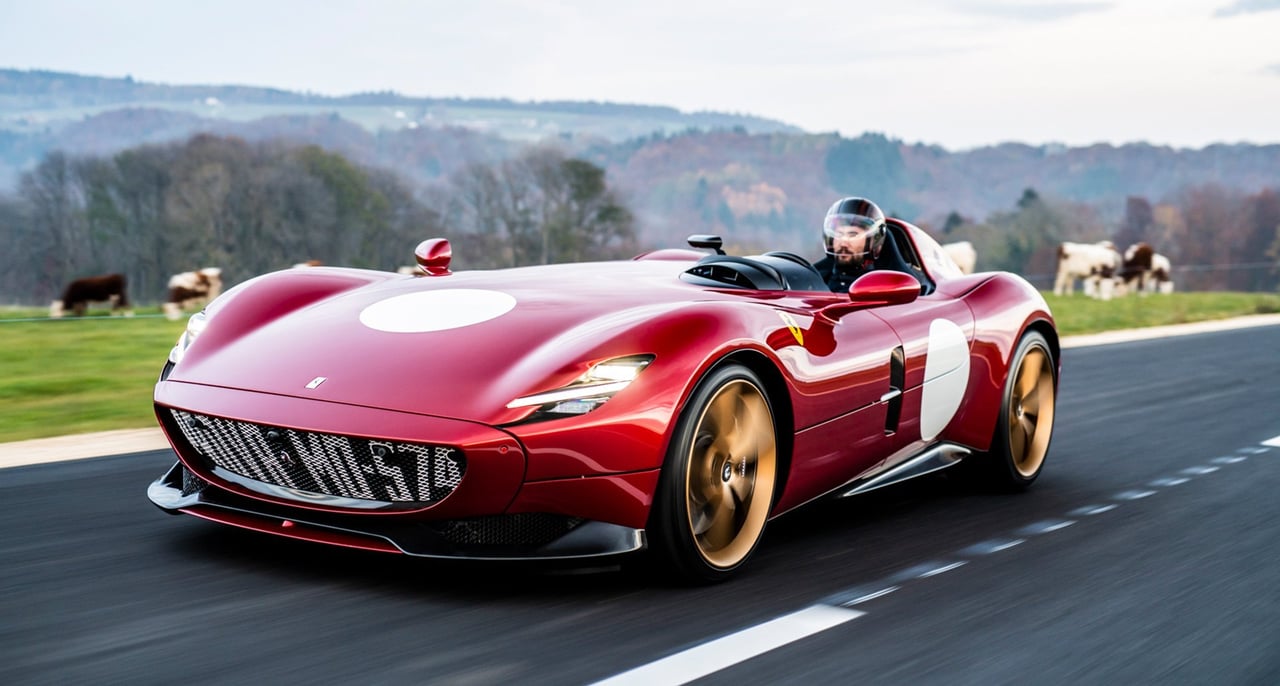 It took three years between the order and the final delivery. In this process, Drive Vintage and their client were granted a private tour of the factory and the museum, so as to immersed themselves with Ferrari's historic racing cars. It was then that "we met Ferrari's Tailor Made department in Maranello to decide the SP1's final configuration."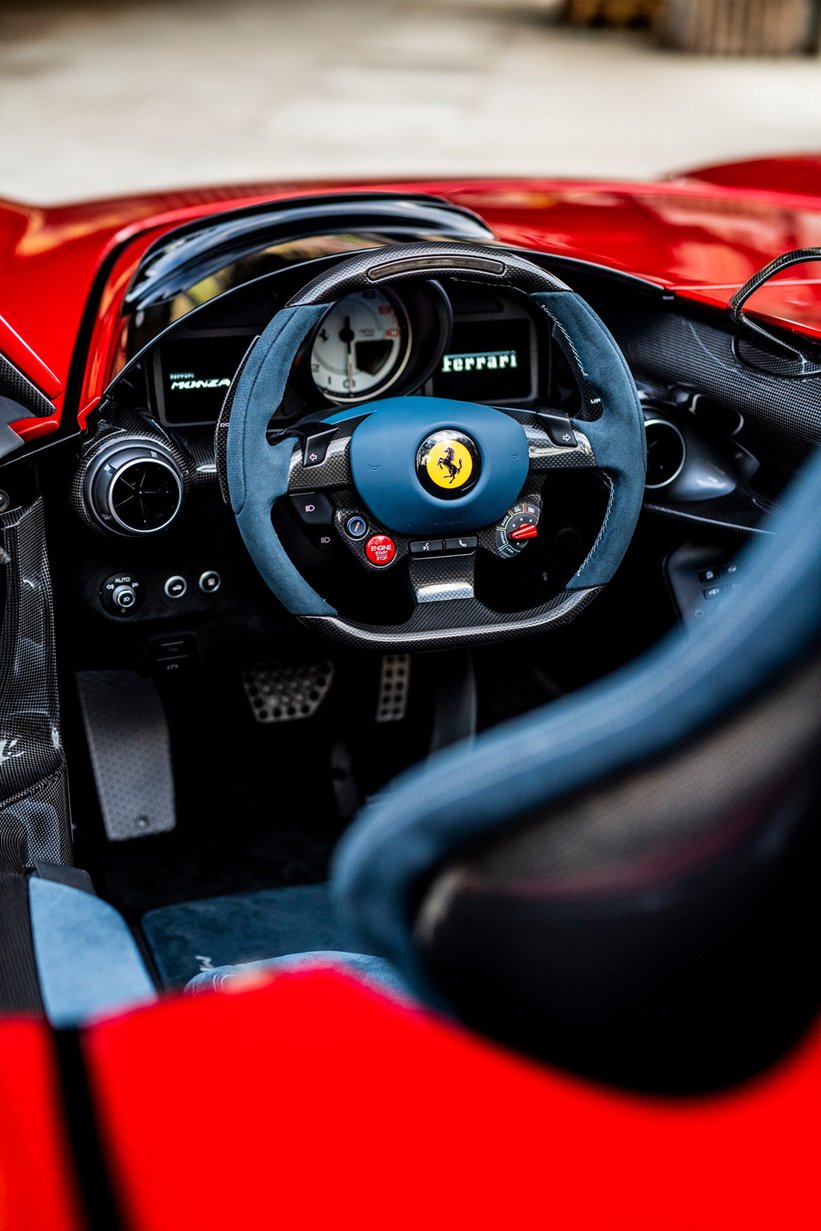 While some Monza cars may be similar, each Tailor Made car is unique. In this case, the SP1's livery is a clear tribute to Ferrari's glorious racing past with its red body paint, four giant white circles ready to welcome race numbers, and, last but not least, gold wheels. If the giant inscription starting with Prova on the grille is reminiscent of the famous provisional registration of Ferrari racing cars or prototypes, the owner's wish was also to register a personal code that is dear to him and specific to his collection.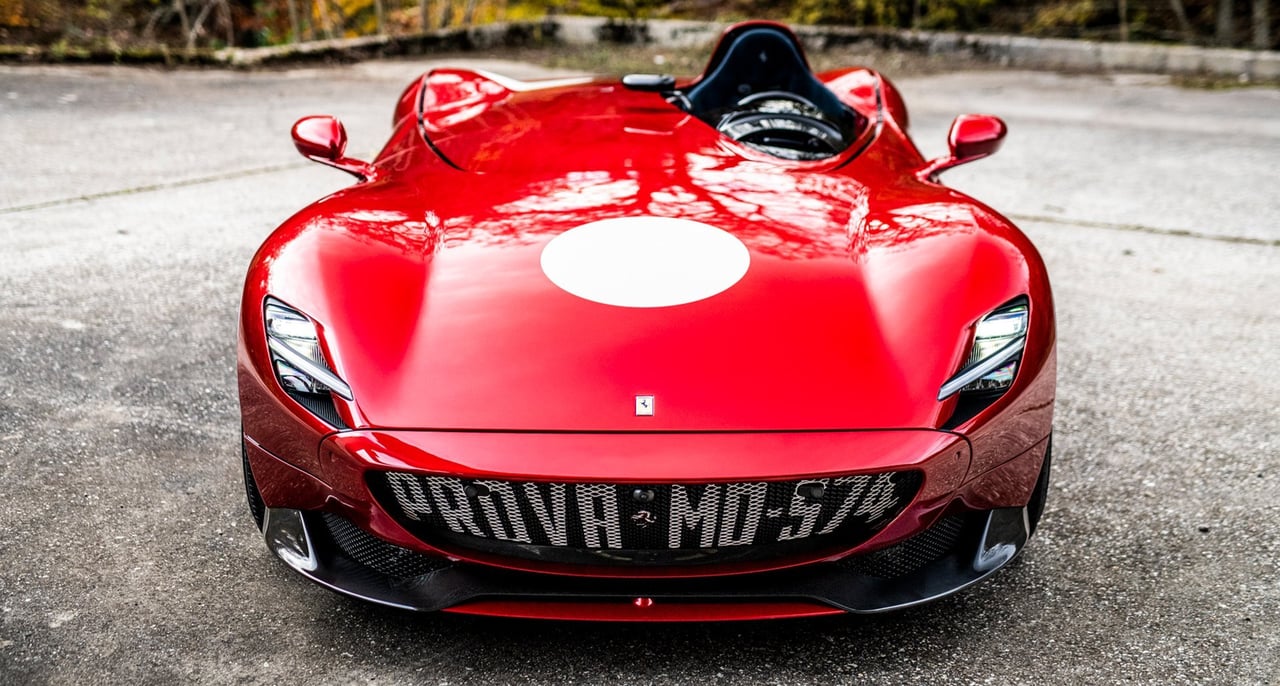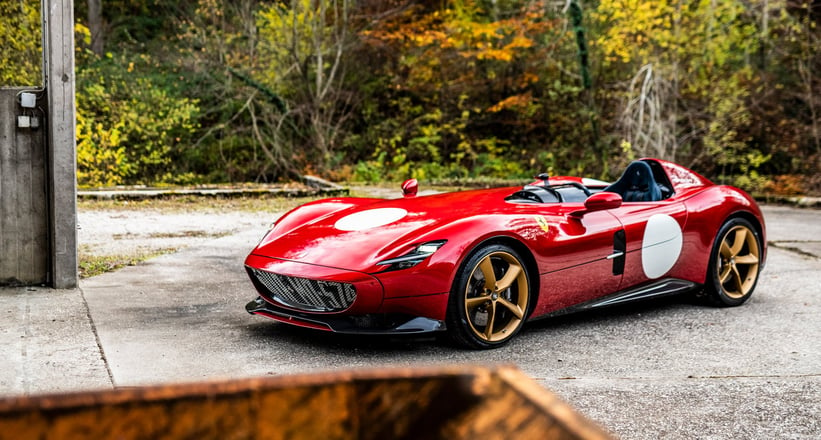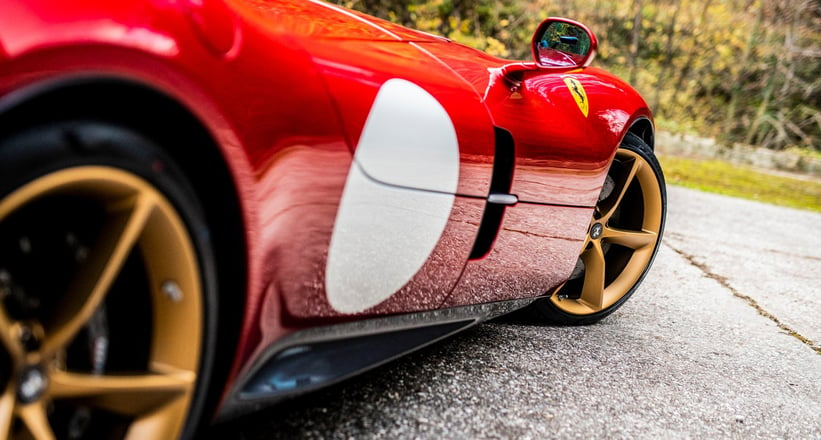 Of the 499 Monza cars produced by Ferrari, Jeremy estimates that only about 30% must be SP1s, and that about ten of them are now in Switzerland. This last figure fluctuates because quite a few SP1s have changed hands in the past months. It won't be the case with this one. If it has only covered thirty kilometres so far, before the cold sets in, the mission is clearly to drive it; something that is dear to the team of Drive Vintage for whom driving and having fun is the best way to celebrate a car.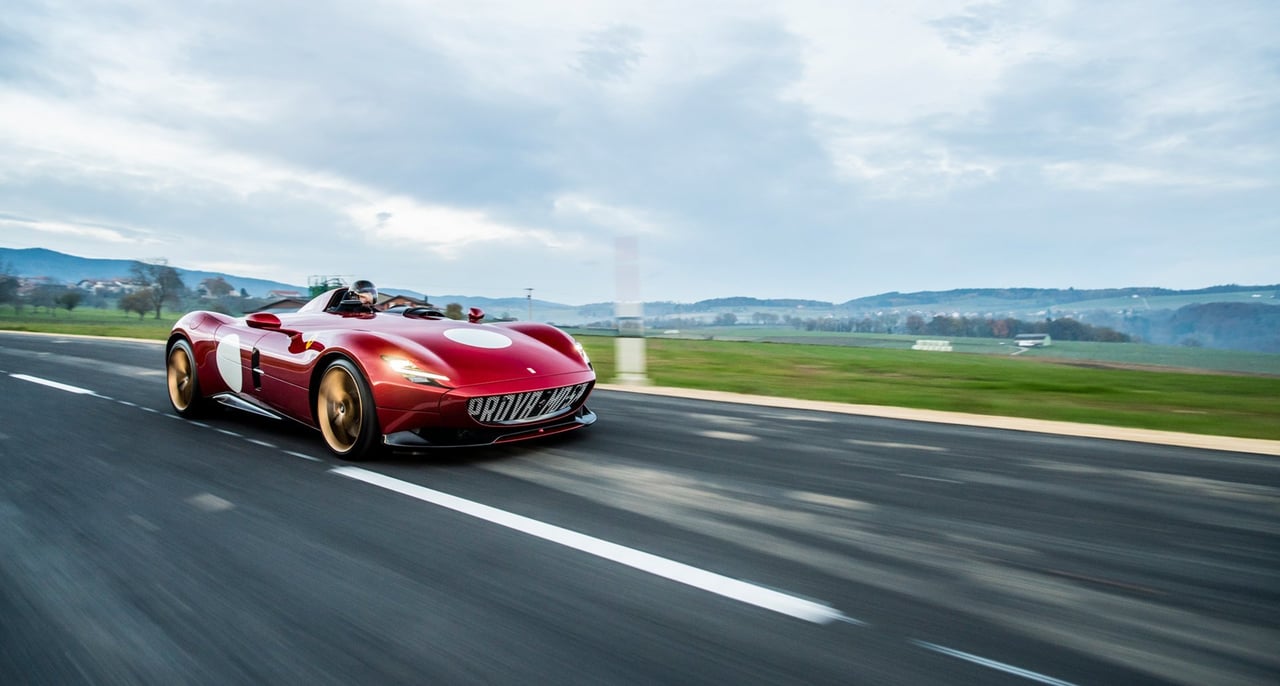 So, expect to see this one-off SP1 in rallies or even on track days in the near future. While wearing a helmet is only compulsory for track-driving, it remains, despite the SP1's virtual windscreen, "highly recommended", according to Jeremy, for driving on open roads. Especially if the Alps mountain roads are on the agenda!
Photos by Remi Dargegen