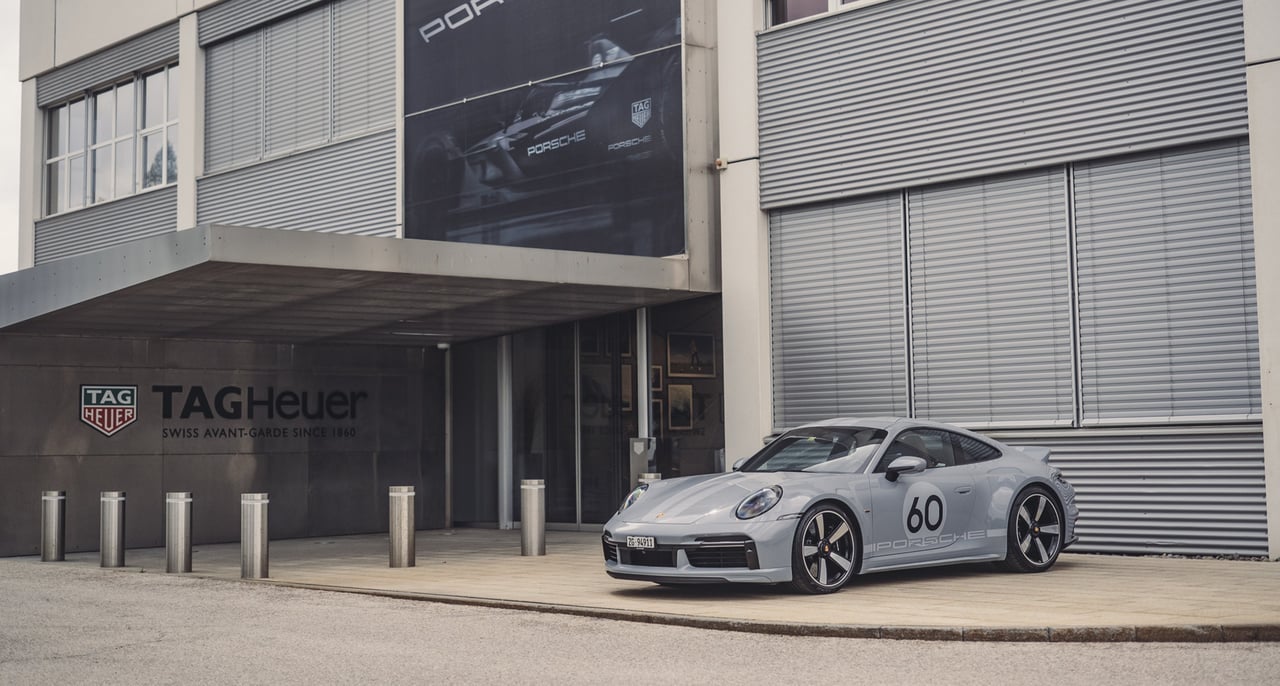 Zürich, Thursday, 10:00 am. We are back in the 911 Sport Classic. It is the exact same car we've already had the pleasure of driving twice this year. The first was in February, during a Porsche Winter Driving Event in Samedan, where it proved itself a great companion for sliding around an ice track. The second time was as recently as two weeks ago, during the Porsche Festival Mollis - a massive birthday party thrown by Porsche Switzerland to celebrate 75 years of Porsche and the 60th birthday of the 911.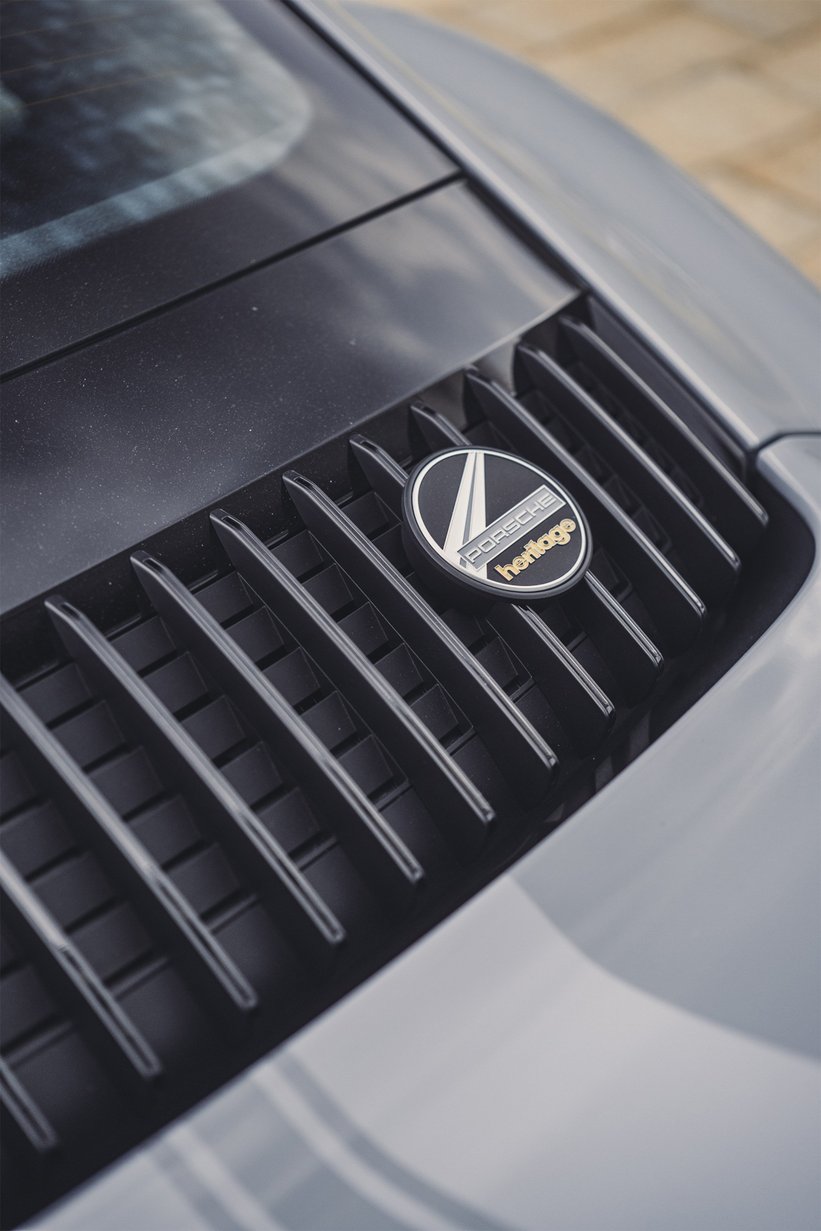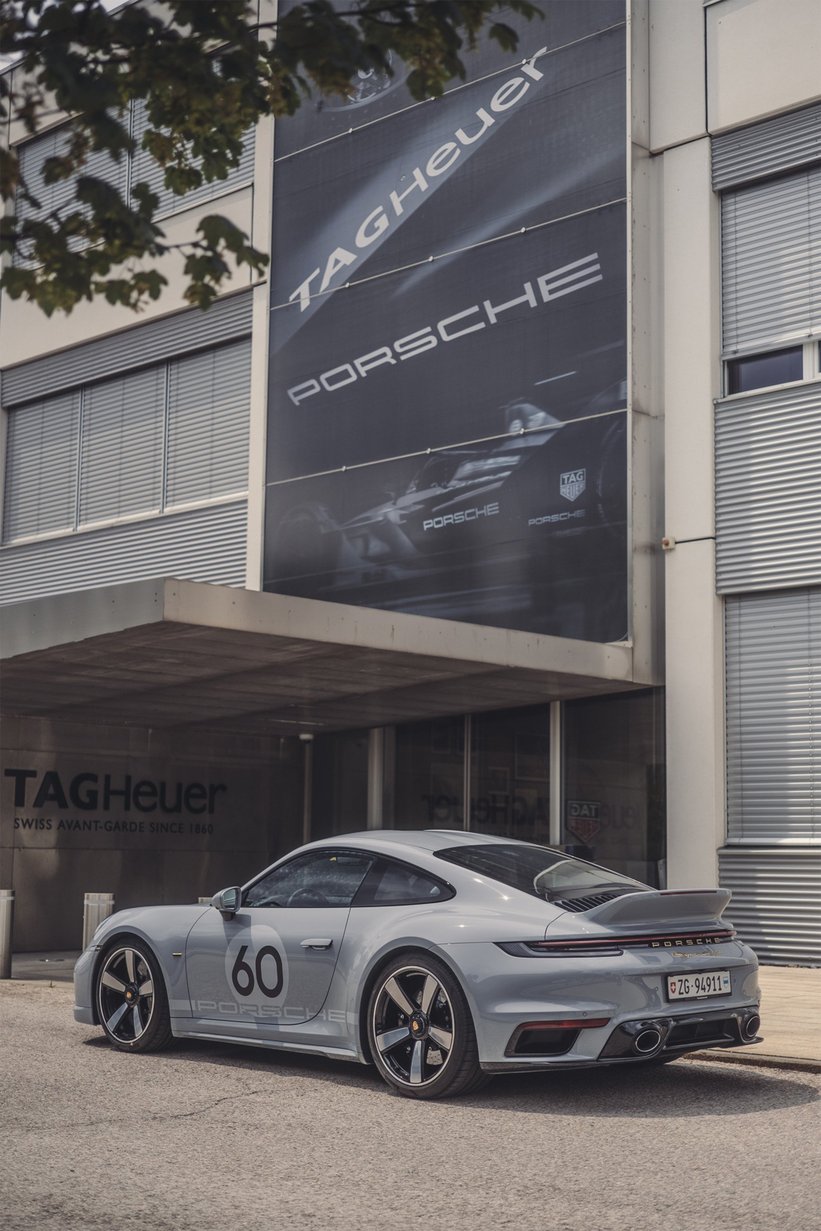 On both these occasions, we had brief stints behind the wheel of this limited—only 1250 examples built—edition car. Now we will get to know each other intimately as we cover over 1600 kms to Le Mans and back, with at least two stops along the way. The first stop? Tag Heuer's headquarters, museum and factory in La-Chaux-de-Fonds.
On the way there, the Sport Classic simply devours terrain and—driving well within the legal limit (as tickets are murderously expensive in Switzerland)—we pull up to the company's front door within two hours. For now, remarking only on how comfortable the car is. If you don't press the sports exhaust button and set the active driving modes to "normal", it is quiet, spacious and deals with any kind of uneven road surface with dignity and poise. This trip will be a breeze.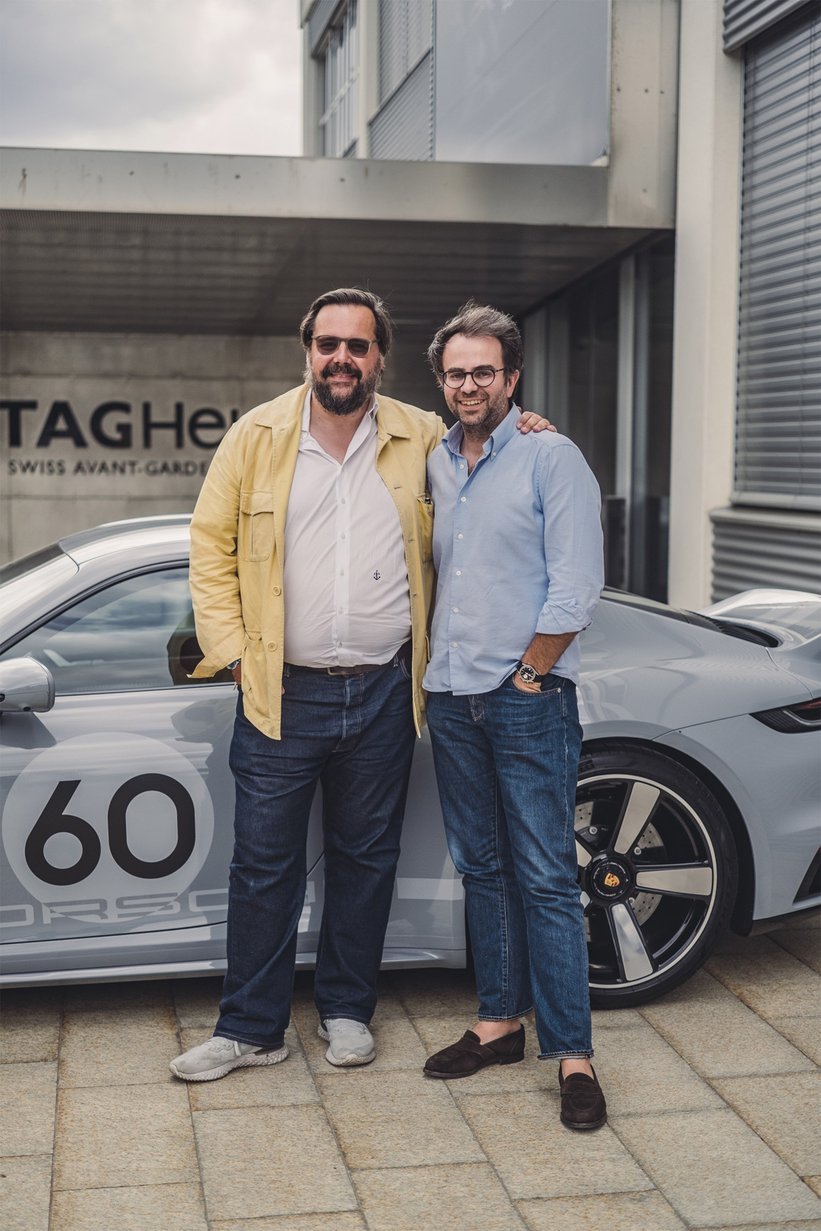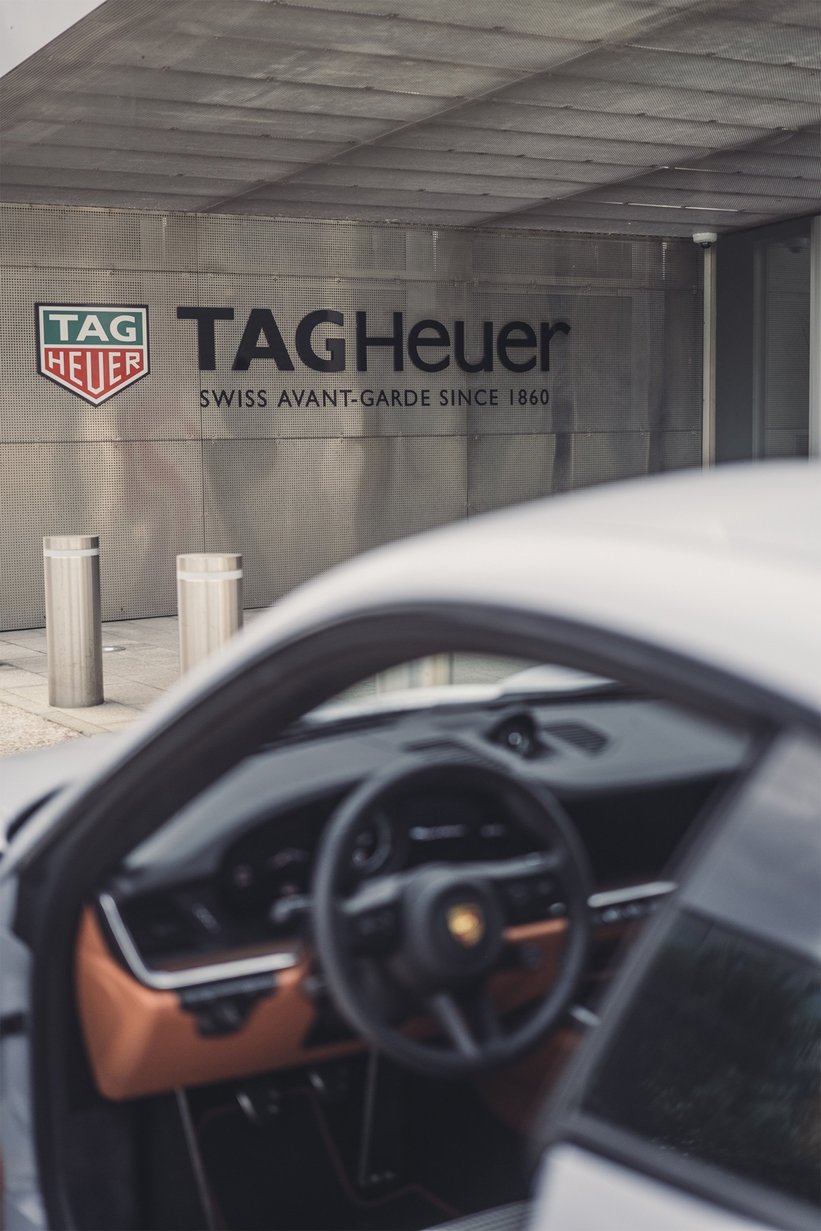 Sure of the fact that more driving impressions are to come, we step into the building to be given a tour of the museum and archive by Tag Heuer Heritage Director, Nicholas Biebuyck. Immediately we are overwhelmed with the rich motorsport-related history of the brand. We were, of course, well aware of its legendary status as the official timing partner of races, rallies and particular teams, including Porsche, McLaren and Ferrari. However, once you see the extent of the work done by Jack Heuer and the brand he founded (now under the LVMH wings of CEO Frédéric Arnault) and experience the timepieces as well other timing equipment first hand, your jaw drops the floor.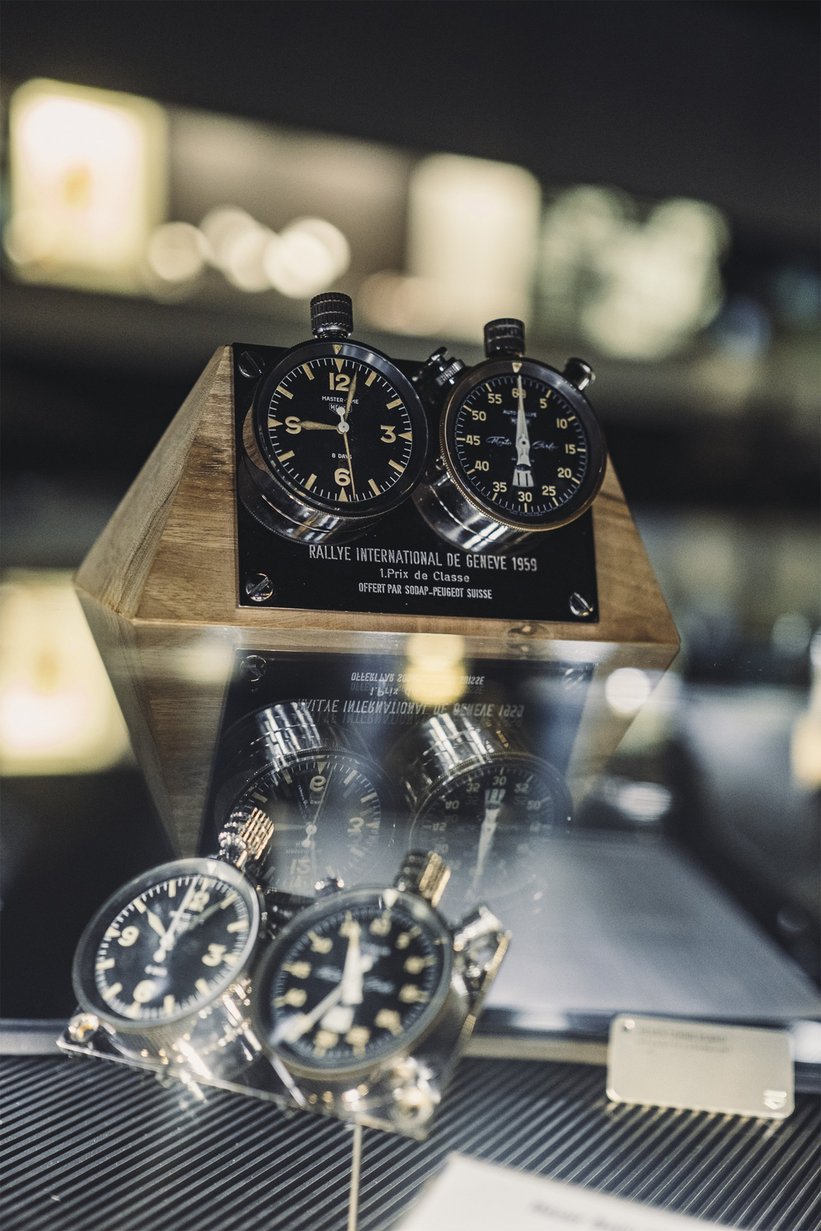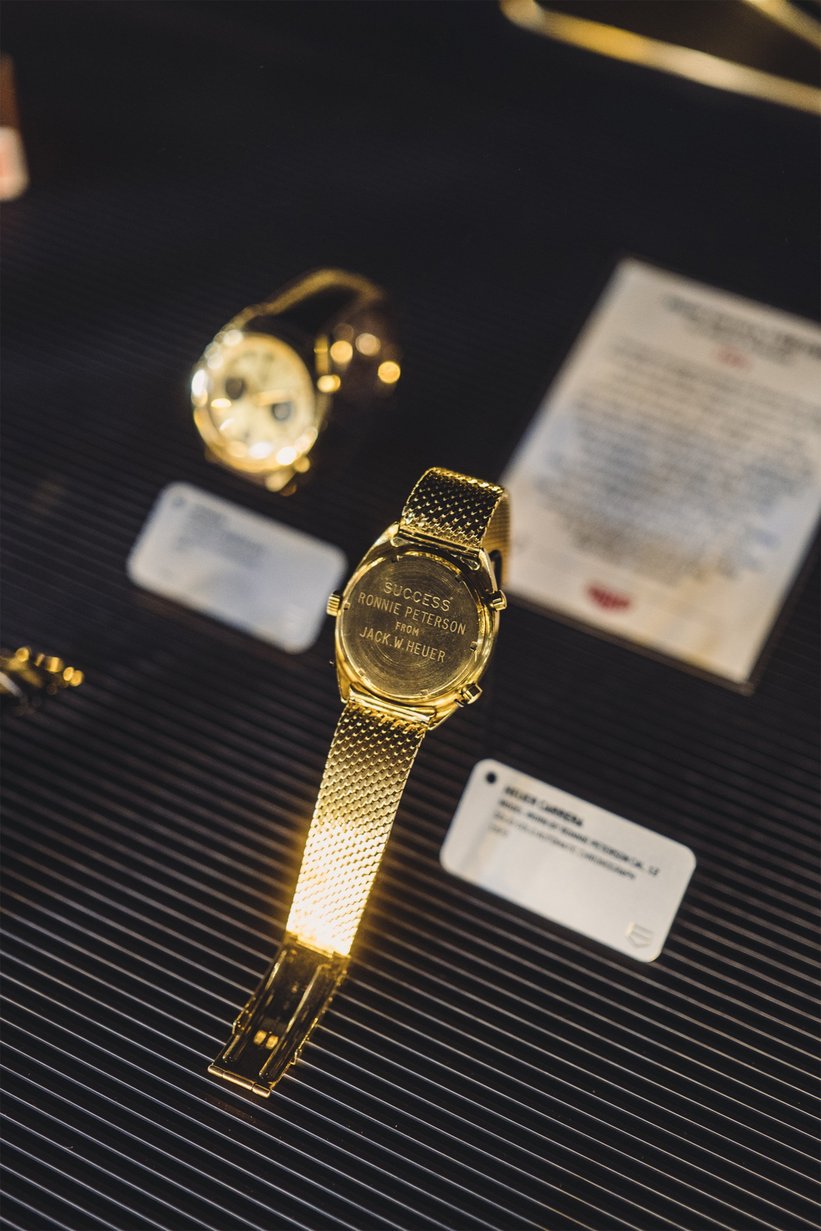 There lies Derek Bell's Heuer Autavia, and here is Jo Siffert's. Would you care to check out Ronnie Peterson's gold plated Carrera, engraved with a dedications from Jack Heuer himself? In the next cabinet, you'll find the personal watch of Jean Campiche— Scuderia Ferrari's official timekeeper—dubbed 'The Pianist' as he operated multiple "Centigraphs" at the same time during the Le Mans 24hrs races between 1971 and 1979. And then there is the holy grail: Steve McQueen's Monaco, one of the watches he wore during filming of the most revered cult racing movie.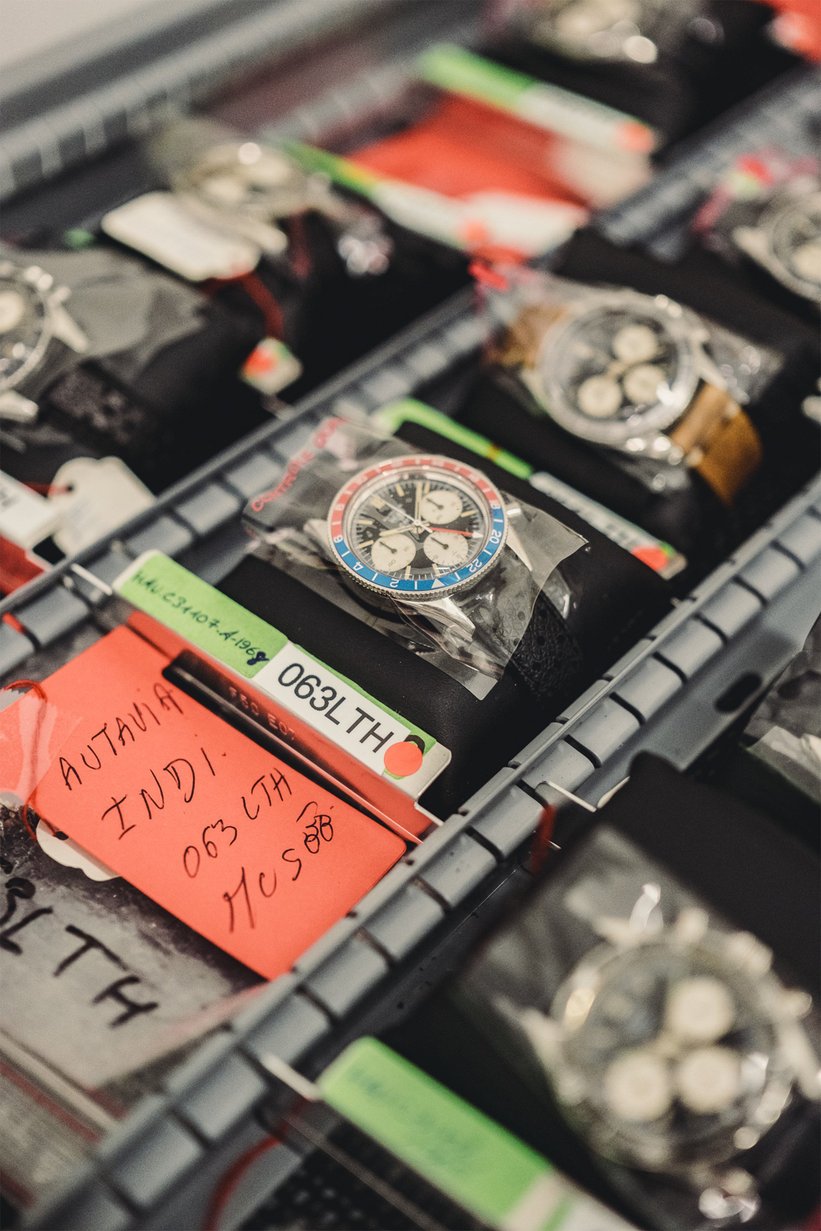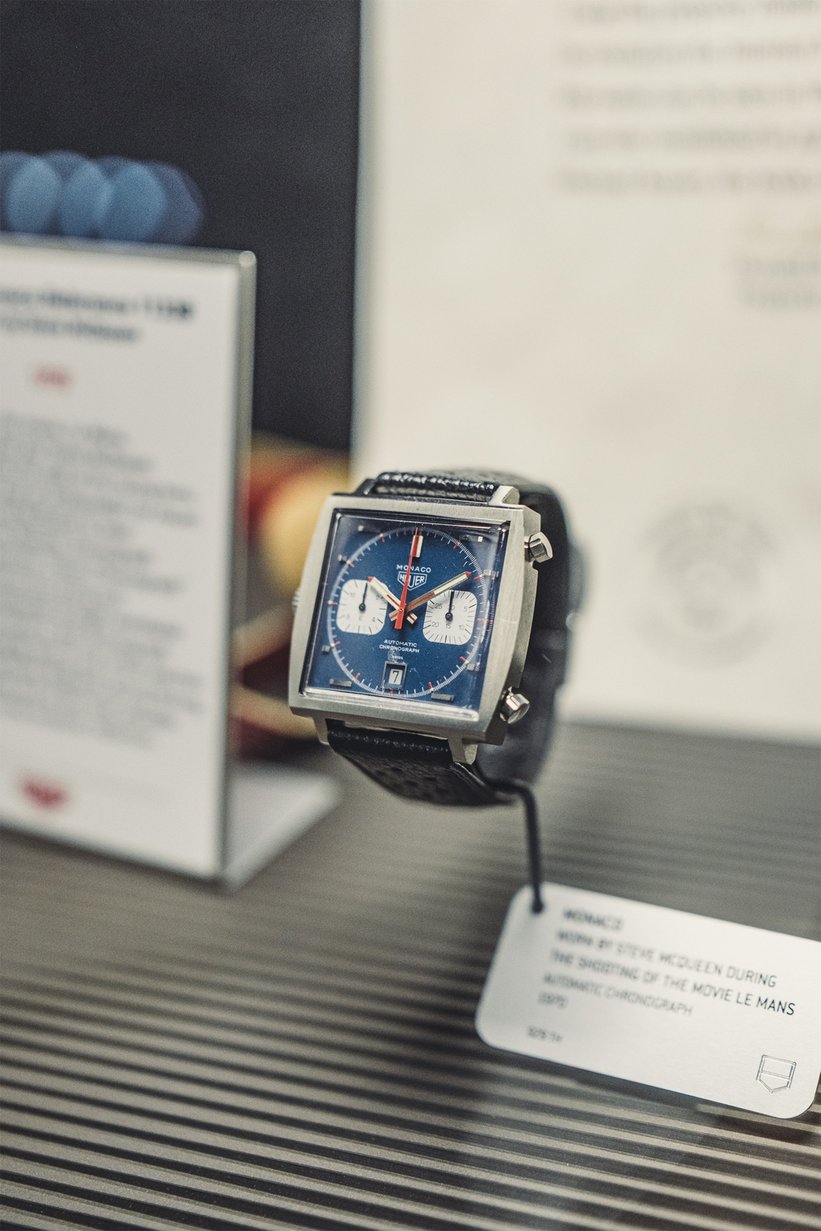 Where are the other watches Steve wore? Don't worry. Nicholas ushers us through a side door into the archive, where more than 3000 other timepieces are stored, and starts opening drawers. In one of them, another of McQueen's Monacos with original paperwork that says "Delivered to Le Mans 1970".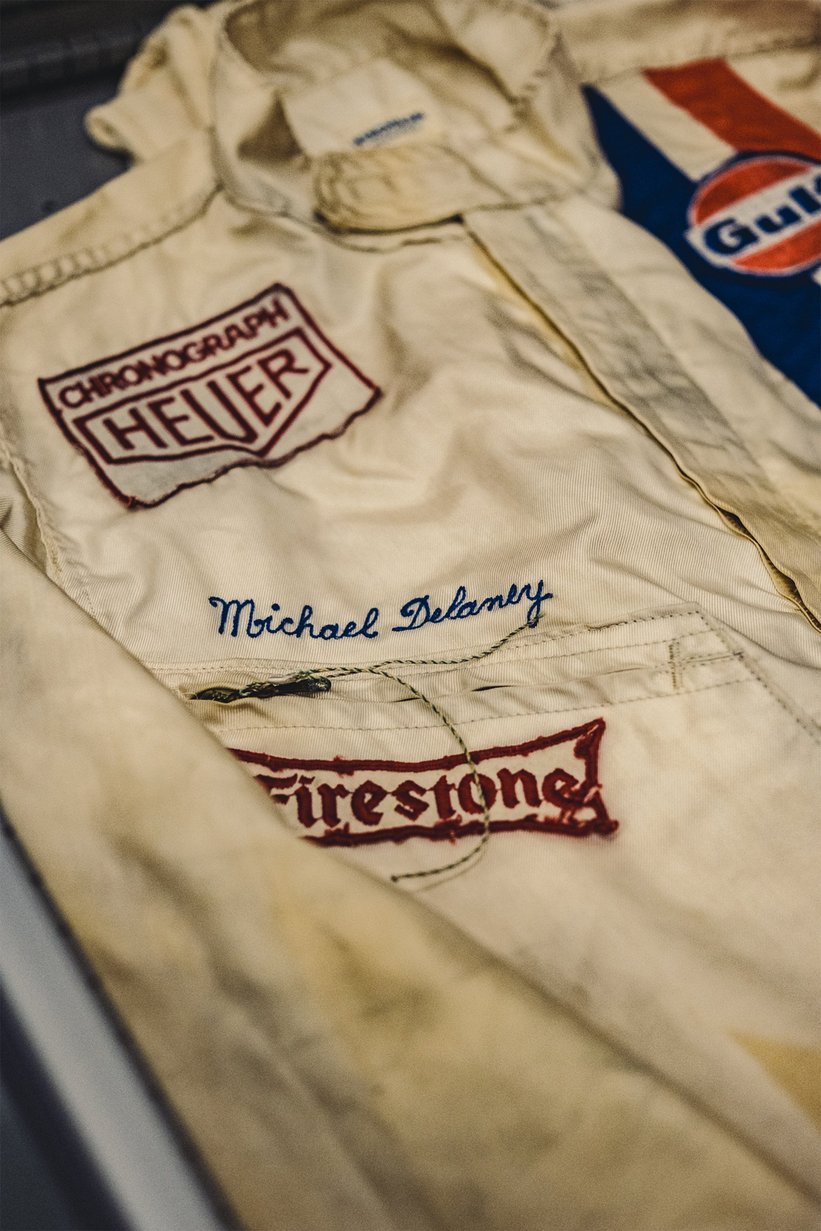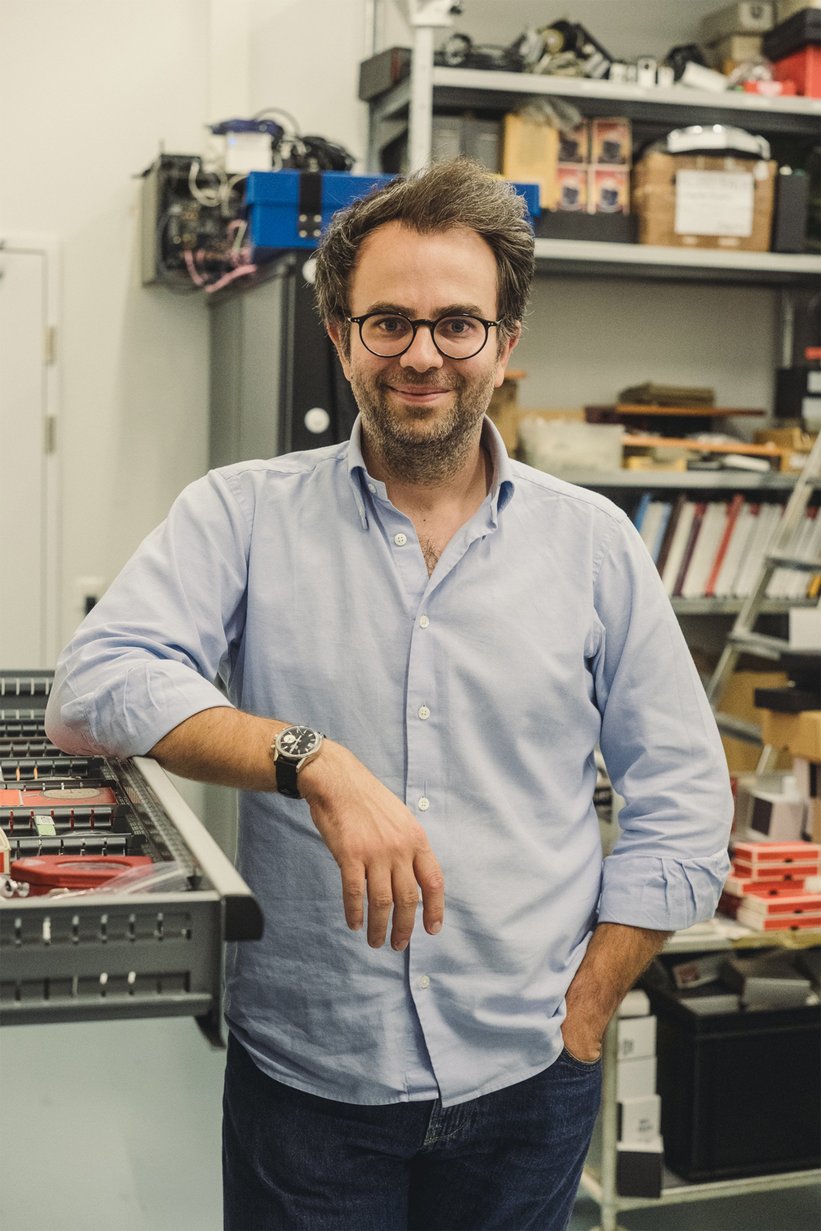 It lies in a cupboard right next to the one of the suits Steve wore while filming. Made by Hinchman of Indianapolis, it is a replica of a suit that Jo Siffert wore at the time of filming. Being trained to drive the 917 by Siffert and Derek Bell, Steve asked the costume department to deliver it so that his character—Michael Delaney—would look "like a real racing driver". Fun fact: as Hinchman still have the telegram with Steve's measurements, you can order an exact replica of this suit yourself. Nick pulls one out of another cupboard to demonstrate.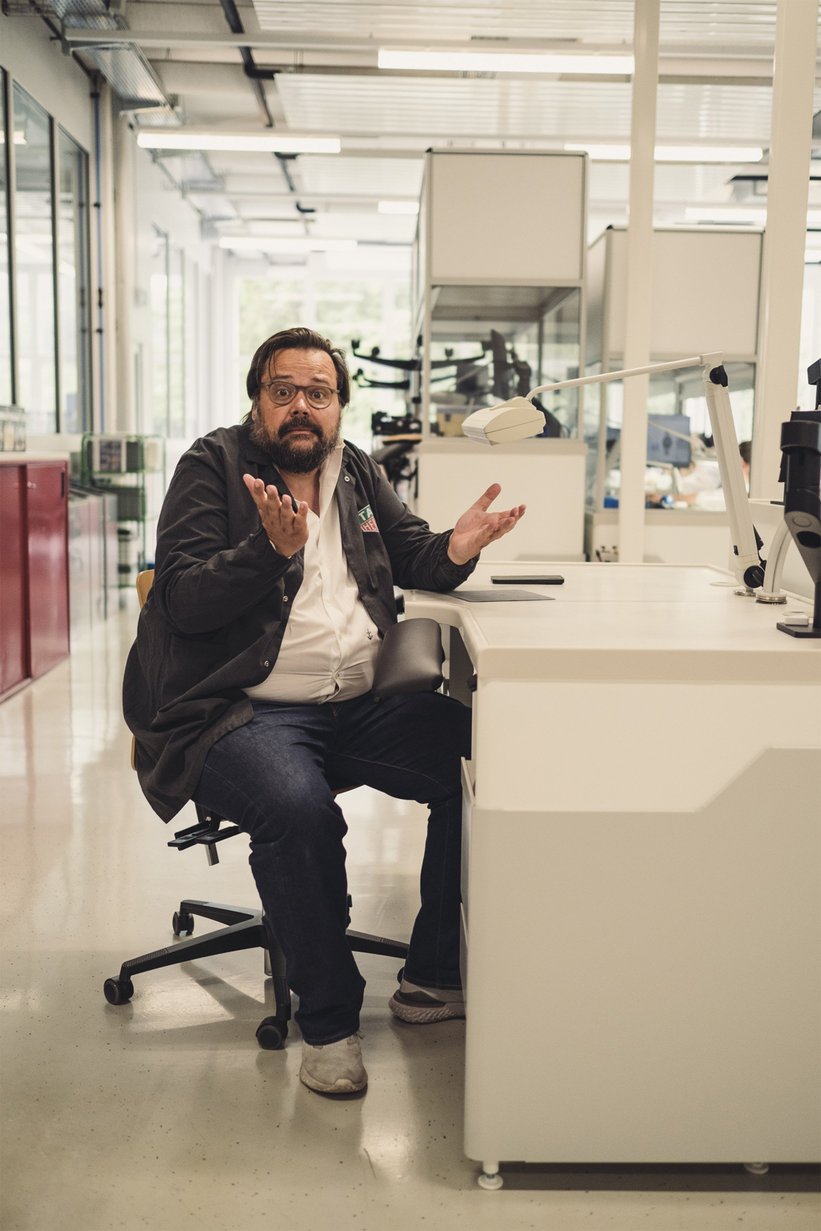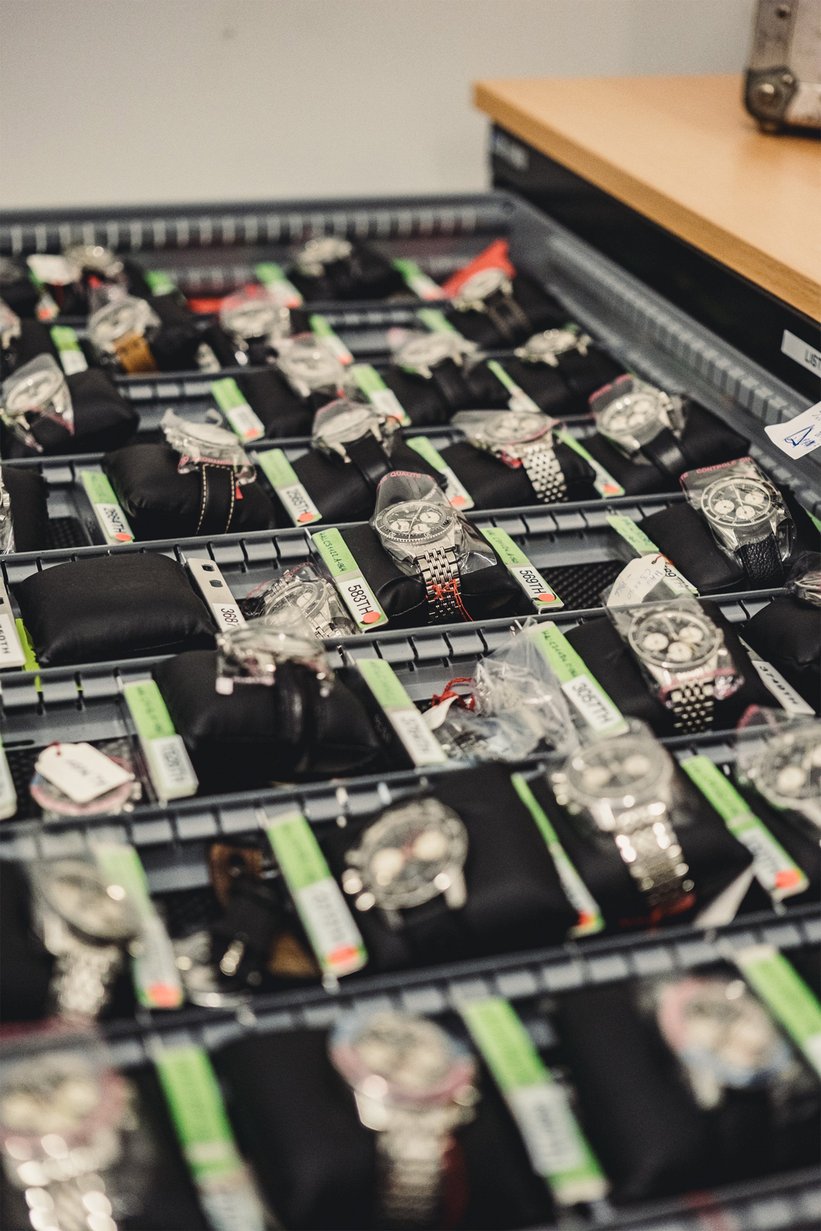 It would probably take a book to describe all the other various chronographs we saw during the visit. Some like the very early manual-wind Autavias are now worth up to 150,000 euros, others are priceless, like the watch that Jochen Rindt was wearing when he crashed into the harbour in Monaco, or James Garner's watch from John Frankenheimer's racing epic "Grand Prix".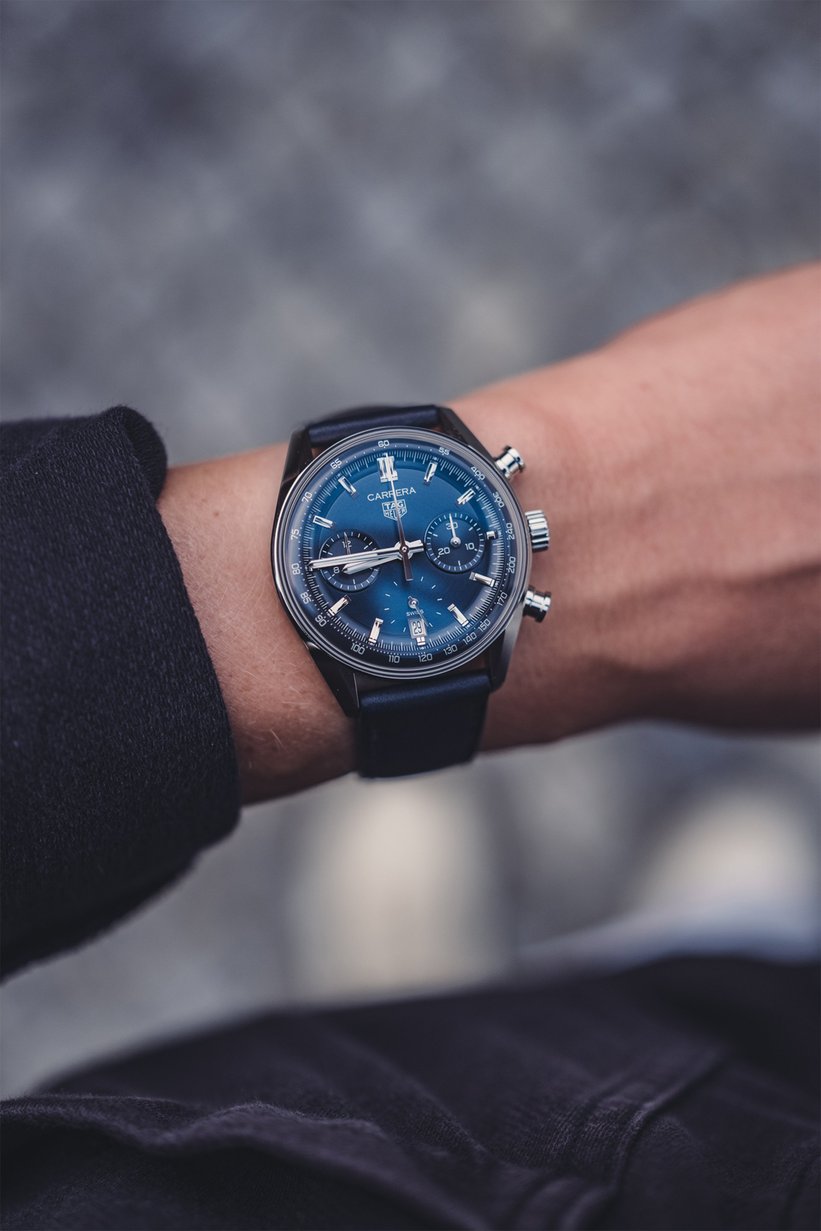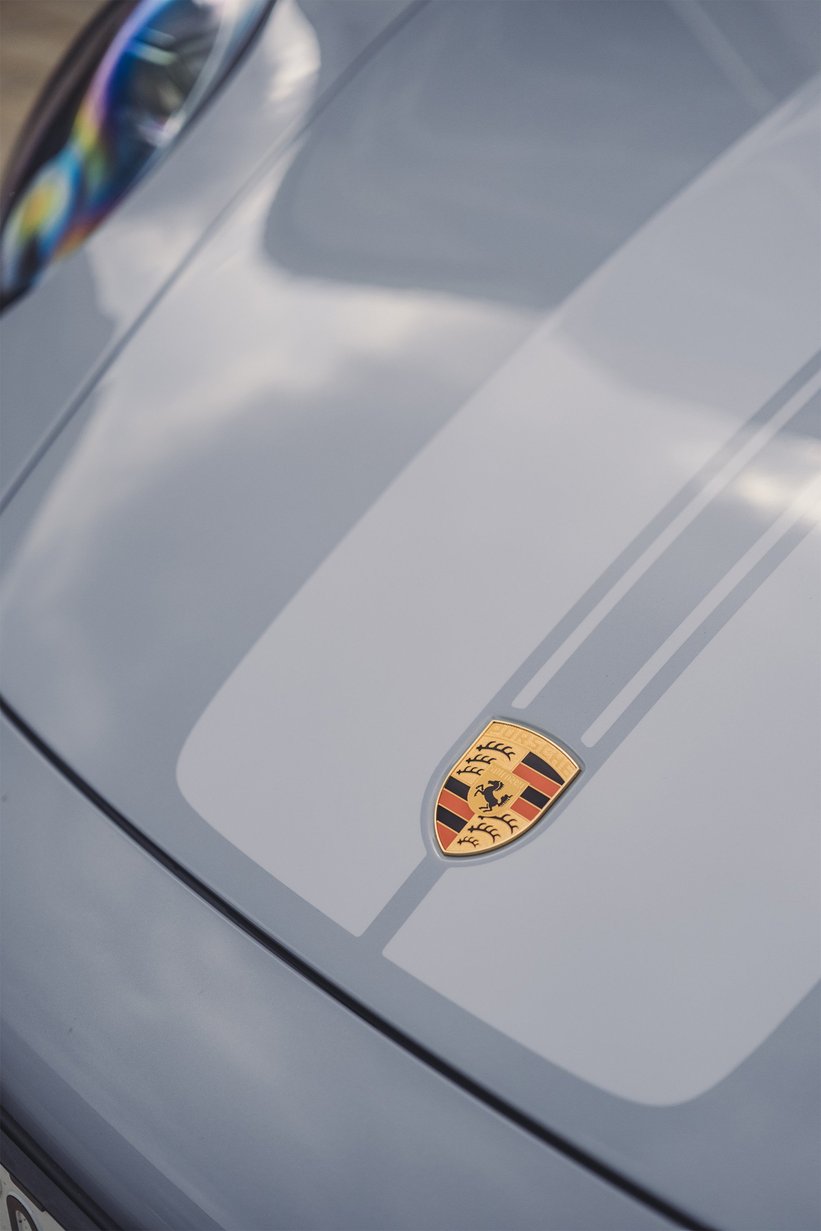 Inspired by all this heritage, we pick up our own timing partner watch for the journey. A fabulous, 39 mm, blue dial and steel Tag Heuer Carrera Chronograph "Glassbox", the exact same watch that Ryan Gosling wore in the brands latest campaign. With its domed sapphire crystal glass and automatic calibre TH20-00 movement, it is the ideal piece for my slender wrists and a watch that perfectly complements our 911 Sport Classic and the purpose of attending Le Mans Classic in style.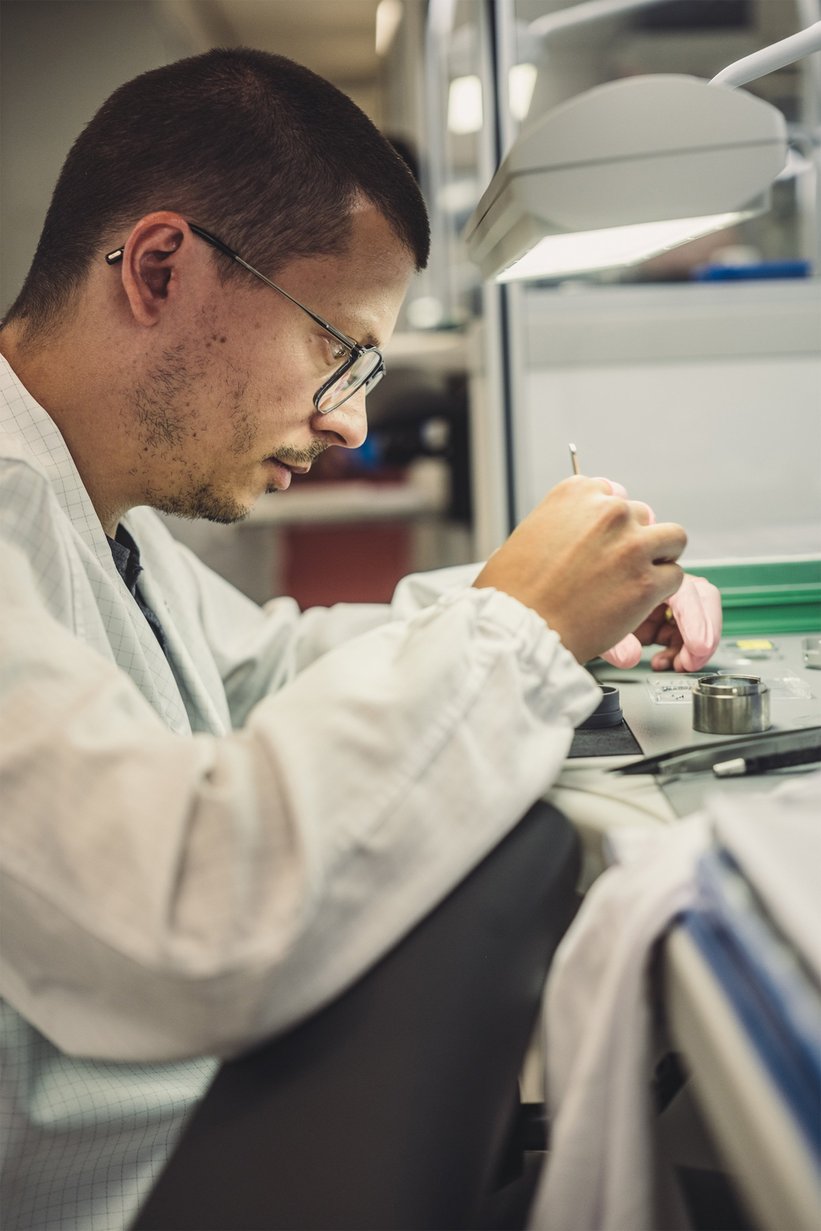 We quickly tour other parts of the factory. The prototype department, where cases and bracelets are designed and 3D printed to asses their aesthetic and practical merits. The assembly department, where men and women in lab coats put these timepieces together in a sterile environment. The testing room, where watches are put into pressurised tanks full of water to check for apparent leaks and are then heated up to 45 degrees. If there is condensation on the inside, that means there's something wrong. We visit the training and after sales departments, where all kinds of customer timepieces get repaired and, having nicked a stylish lab coat with the Tag Heuer logo on it, we make a run for the car and head to the border with France.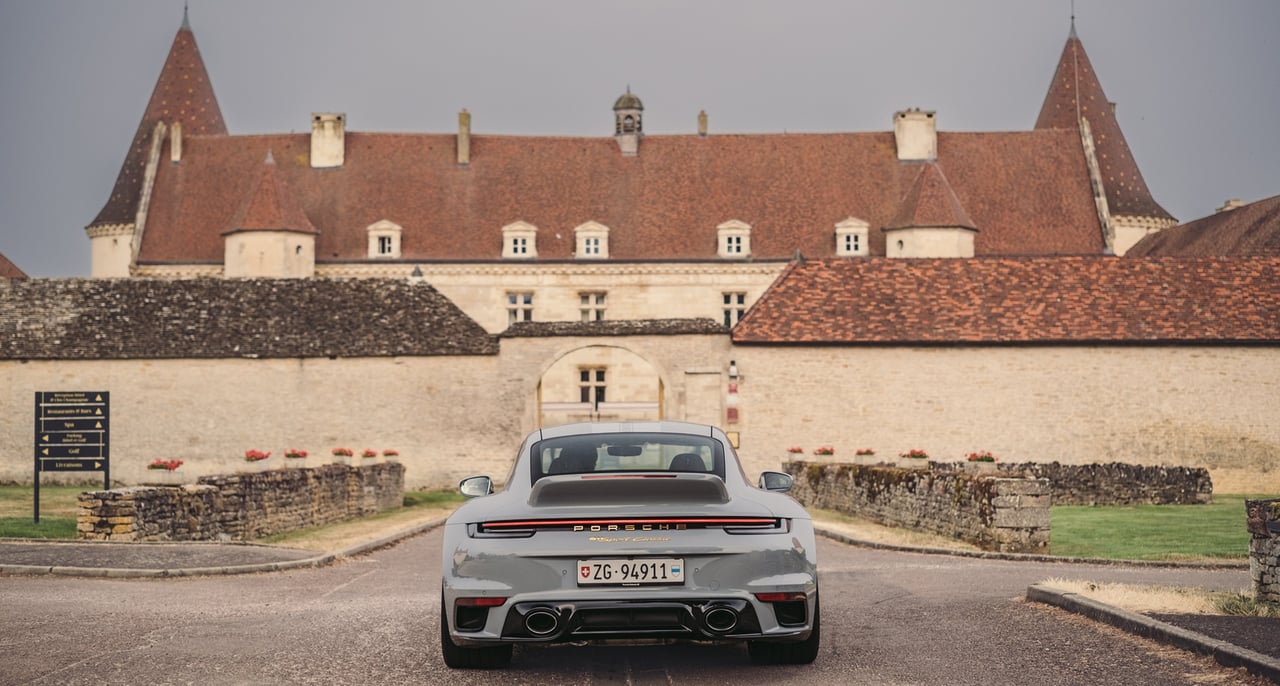 After an overnight stop at a château in Bourgogne, where we taste some excellent Chablis and Meursault at dinner, the next morning it's just a four hour dash to Le Mans over smooth French highways. The Sport Classic is as spacious as a regular sedan and still behaves like the perfect companion. It swallows our luggage with ease—two cabin bags, two laptop bags, camera gear, J.P's Loro Piana tuxedo—and is so comfortable on the inside that I manage to write this story while on the go. We don't sit shoulder to shoulder and can both use the armrest with "Porsche Exclusive Manufaktur" embossed into the Semi-Aniline Leather. It's also a pleasant place to simply sit in, with warm wooden finishes on the dash and lovely gold 911 badge adding an extra touch of theatre and quality.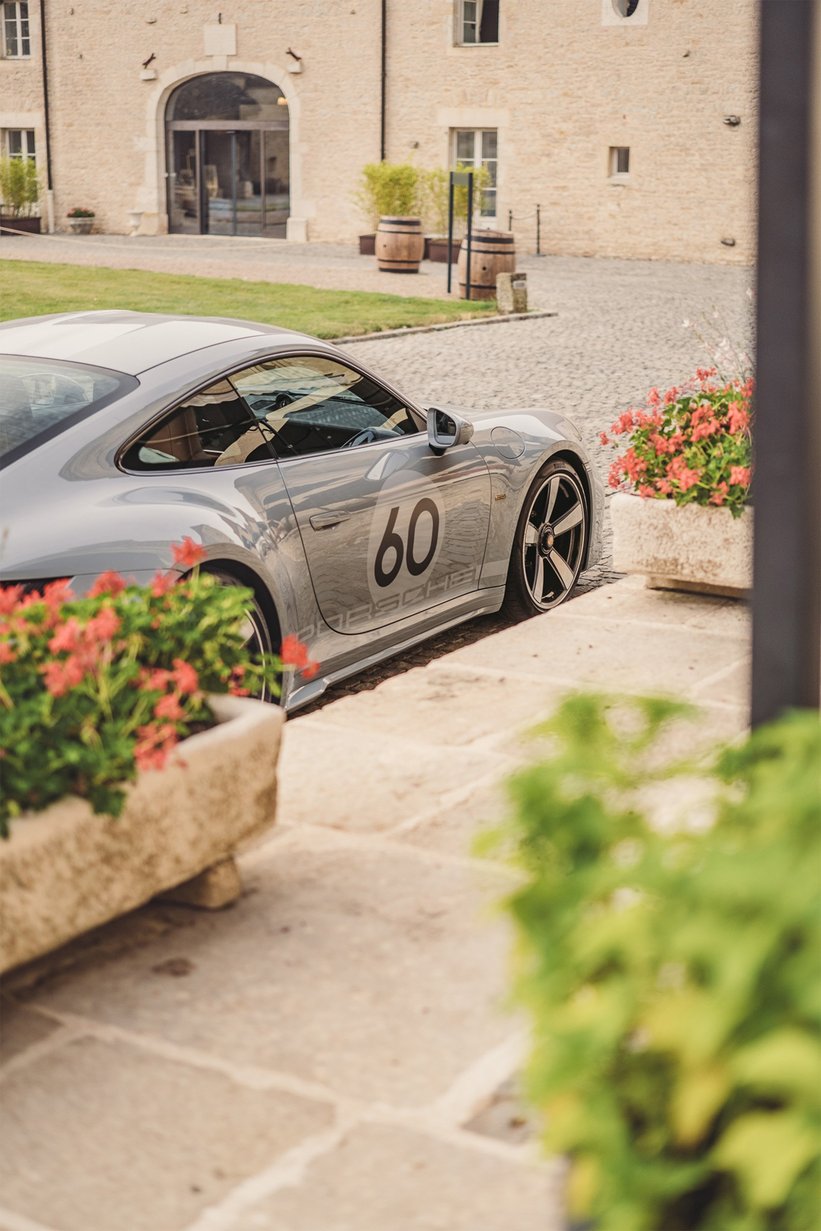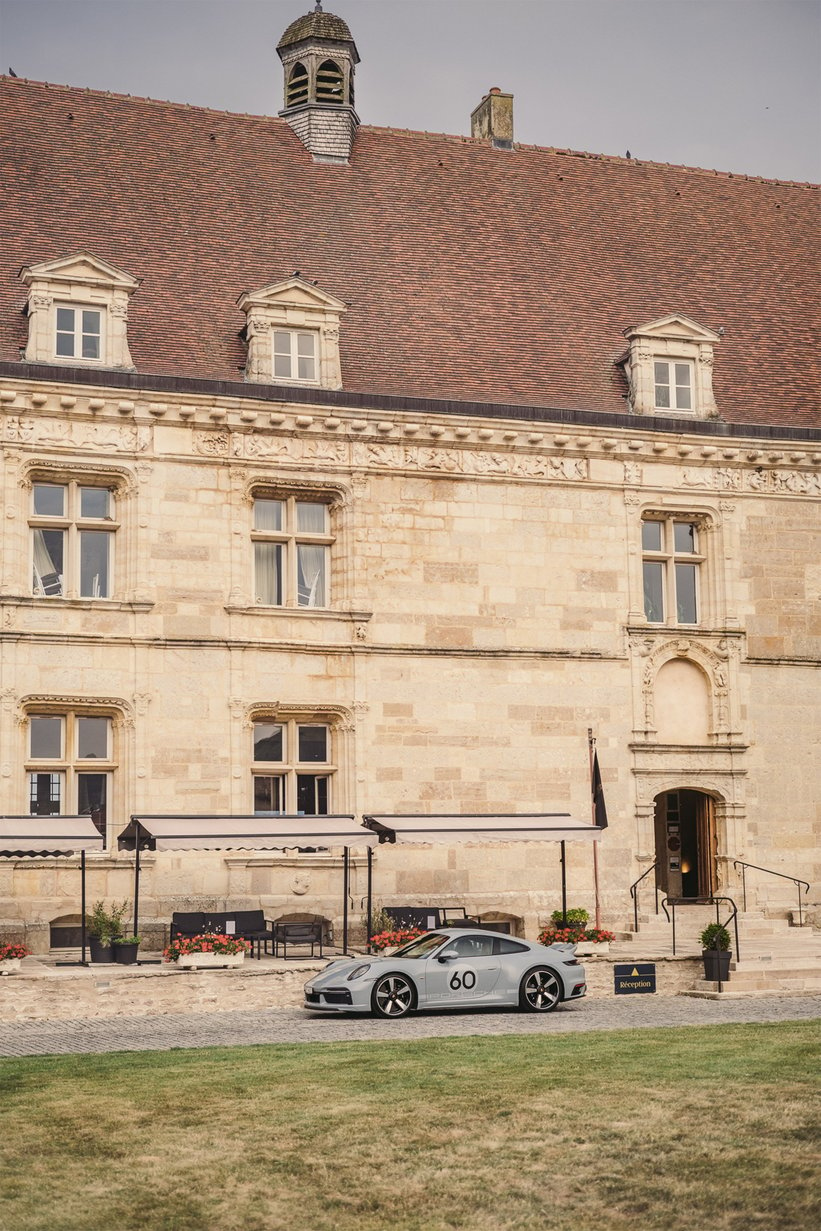 When we stop, we get a lot of compliments and people want to sit in the car or take pictures with it. We don't blame them and are happy to indulge their fascination. The ducktail spoiler, the racing decals, the fantastic five-spoke 21-inch alloys and double bubble roof all contribute to the swagger of the 992 Sport Classic. And just before we enter Le Mans, we decide to cover the last 50 km of the journey on country lanes, where we discover that—as any Porsche should—it has a second, very sporty nature.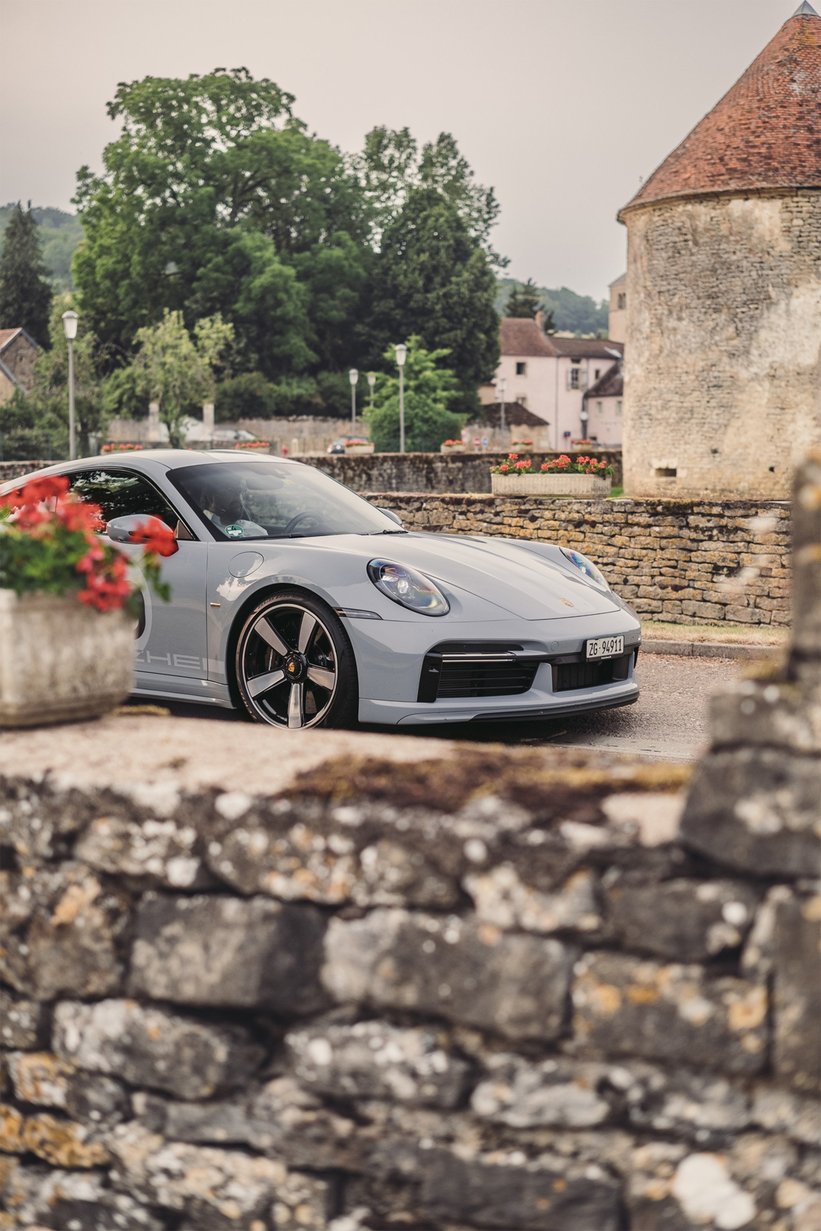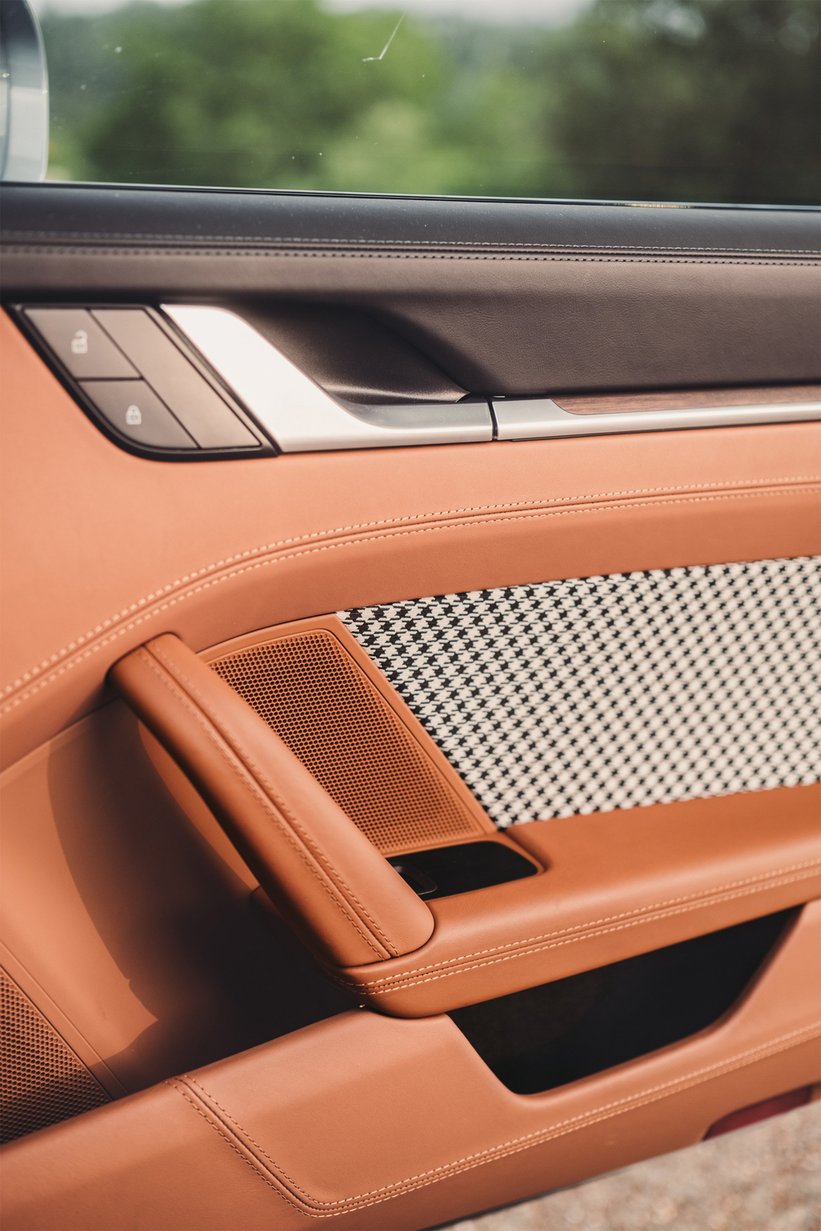 Now is the time for the Sport and Sport Plus modes (both enable the auto-blip function of the manual gearbox that matches revs on downshifts) and the loud exhaust function. The car immediately turns from 'autobahn stormer' to precise racing machine. It shoots out of the corners, catapulted forward by its 543 horses and 600 Nm of torque. With weight saving measures like a carbon fibre roof and bonnet, this monster's kerb weight is kept just over 1500 kgs. It doesn't feel particularly light, but thanks to massive brakes, wide and sticky Michelin tires and excellent steering, it feels planted even if you have slightly misjudged a corner and gives plenty of confidence.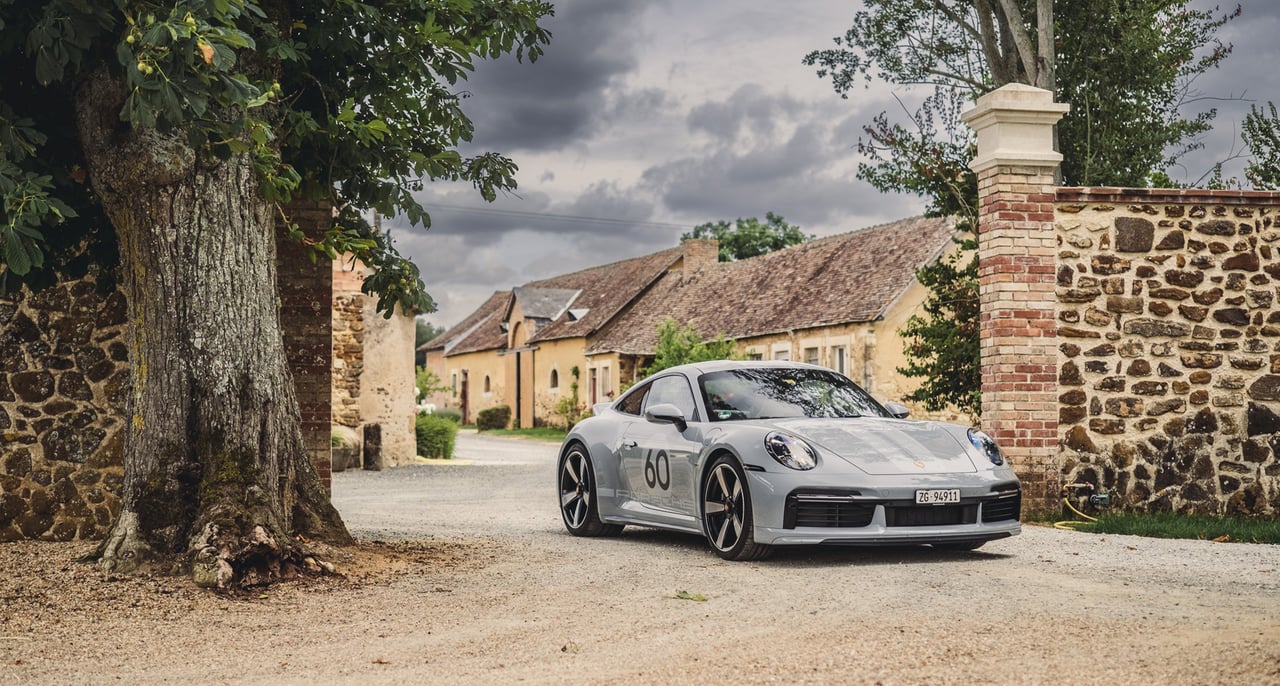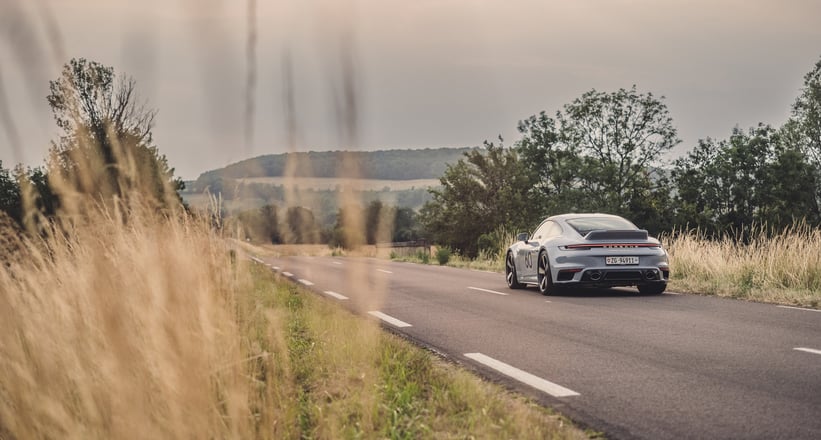 I keep the PDCC active suspension in soft mode, as the road surface isn't perfectly smooth, but even then it feels tight, like a proper sports car should. My only small criticism? I wish the manual gearbox was somewhat tighter and the clutch travel wasn't as long - it would make the experience of driving the Sport Classic hard even more pleasurable.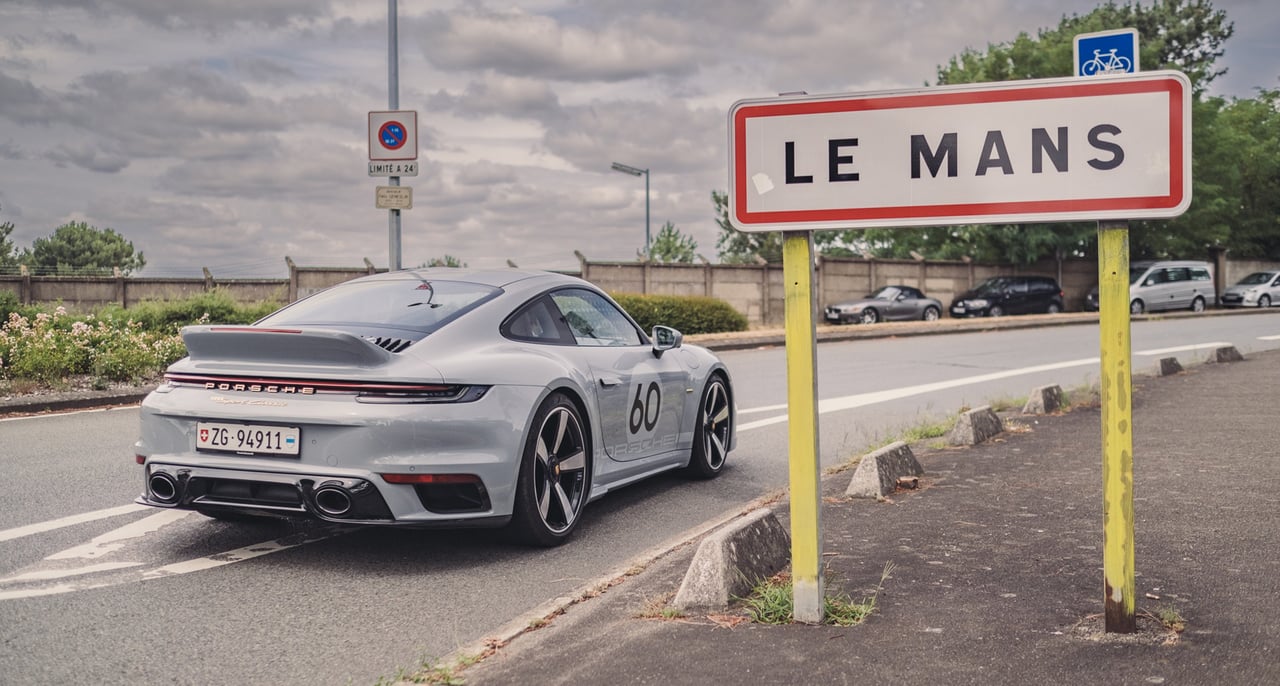 The 50 km stretch of back roads disappears behind us and we enter Le Mans. I check the time on the 'glassbox' Carrera. High Noon. The Endurance Racing Legends qualifying session is about to start. Wishing we were Steve McQueen and could participate ourselves, we leave the ticking 911 Sport Classic in the parking lot and hurry to the track to witness some real racing.
Photos by Błażej Żuławski