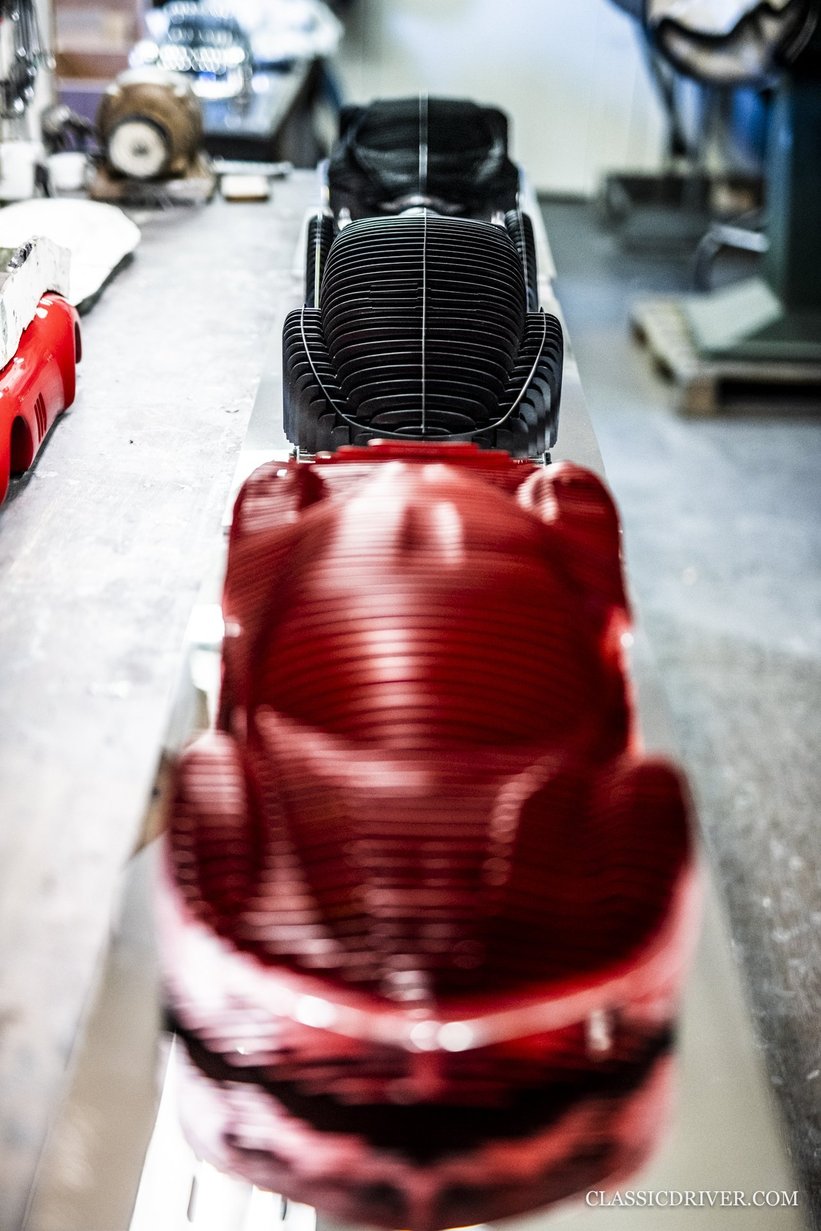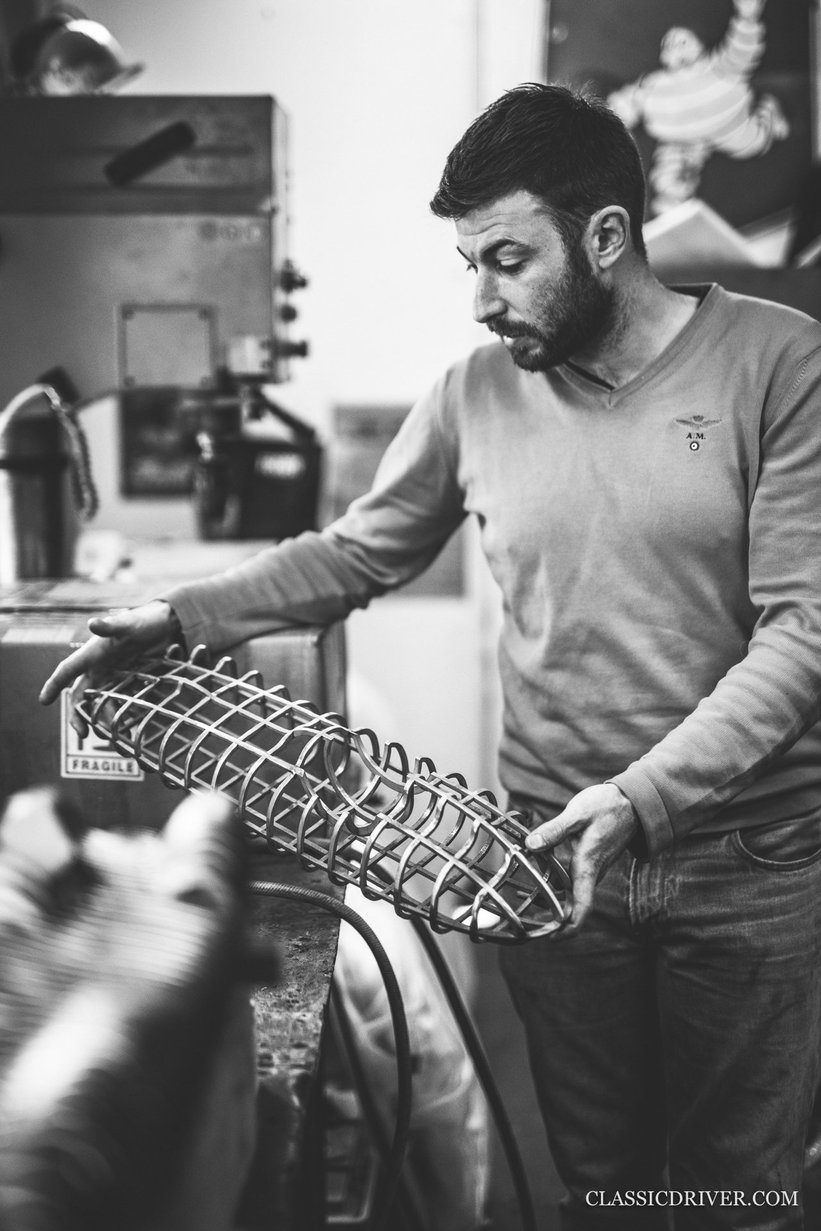 "I like to have the freedom to create what I find in my dreams," says the self-taught sculpture Antoine Dufilho as we meet him in a village on the outskirts of Lille in northern France, where his studio is located. Incidentally, his future home is located next door, formed of containers and various industrial parts in various states of assembly. "The studio and the house symbolise my need to create absolutely," he comments, "from the foundations right down to the furniture and even the door handles."
After three years of medical school and a degree in architecture, sculpture quickly became a major part of Dufilho's work. "I was introduced to sculpture and modelling at an early age by my great uncle, the actor Jacques Dufilho," he explains. "We went to fetch some clay from a nearby pond and that was how I started out."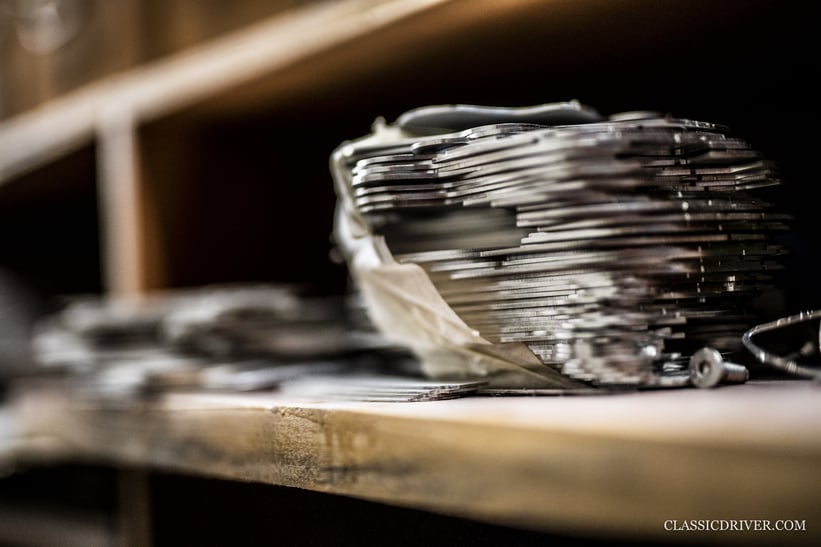 Bugatti was also at the root of Dufilho's art, for he was born into a family of prominent Bugattists. His great uncle was a pillar of the French Bugatti club and his father owned a Type 57 Ventoux and a Type 37 (he still drives his Type 35B and counts no fewer than three ultra-rare De La Chapelles in his collection).
It was on the occasion of his father's 60th birthday that Dufilho thus created his first sculpture, of a Bugatti no less. "My family liked it so much that it made me want to continue, to the point where I actually put my work as an architect aside. Being a DIYer, learning how to work with new materials and machines was a constant creative process." His daily life has become a constant to and fro between creative speed and meticulous and rigorous work of rare precision.
In 2011, Dufilho exhibited his work – just three pieces crafted from aluminium plates, hammered and welded – at the Rétromobile salon for the first time. It was a promising taste of things to come. In fact, one of Dufilho's earliest customers now owns 14 of his pieces! In 2013, he exhibited at the Grand Palais in Paris and several galleries promptly signed him up. Meanwhile, one of his first works sold for 5,000 euros at auction. It was at this point that Dufilho realised he could make a living from his art.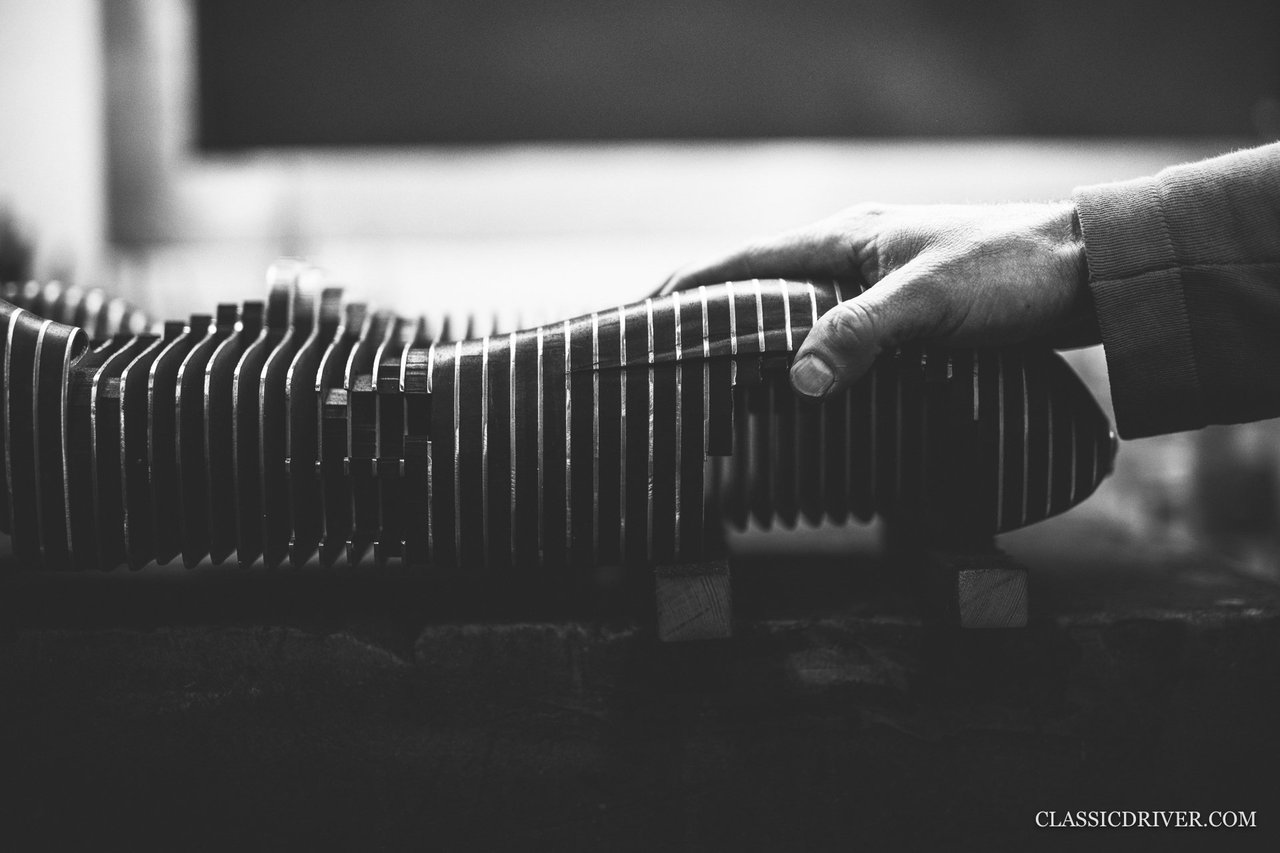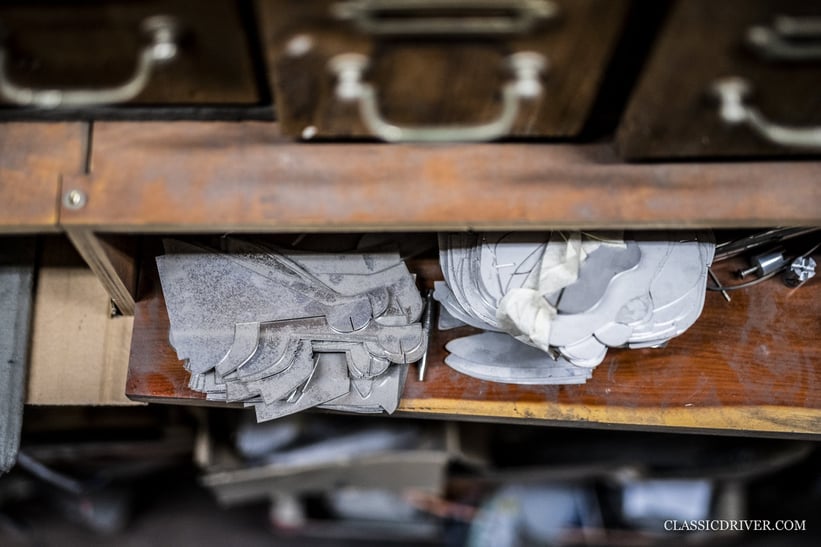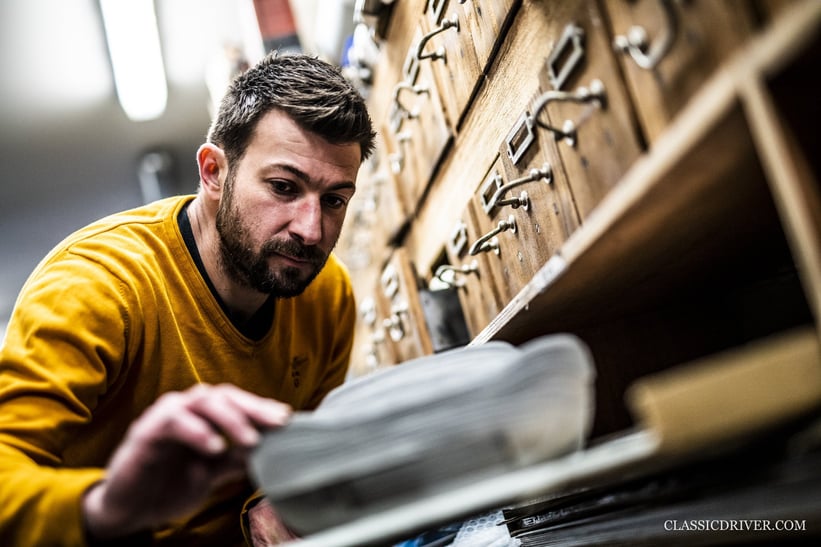 Today, Dufilho employs three people and produces between 20 and 35 pieces a year. It takes between seven and 30 days to build each sculpture, because each of the 60–300 components have to be cut, machined and finished to the nearest tenth of a millimetre. Each piece is made in an edition of eight, with four additional artists' proofs, making them incredibly sought-after around the world. MB&F exhibits Dufilho's works in its M.A.D. galleries in Dubai, Taiwan and Geneva, and his art can also be seen at galleries in Miami, Los Angeles and Paris.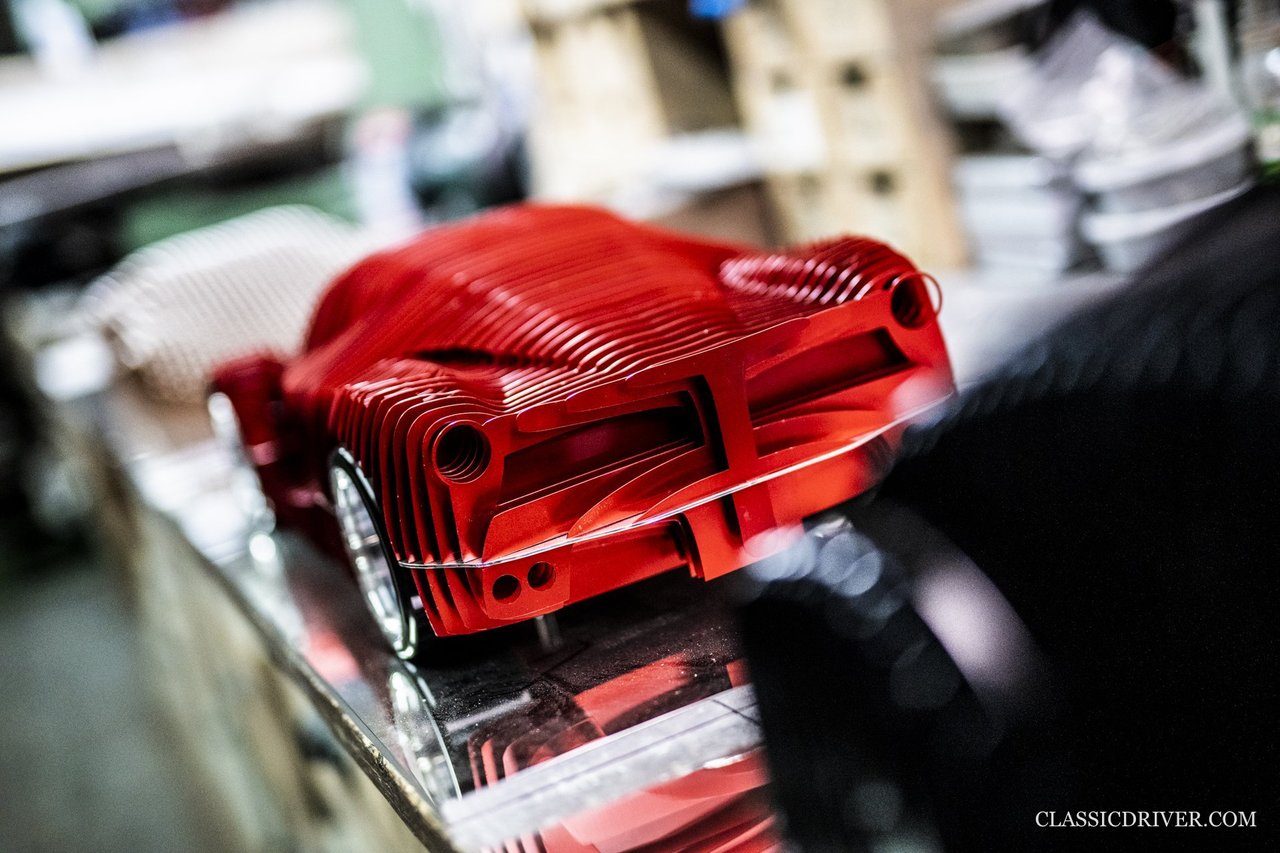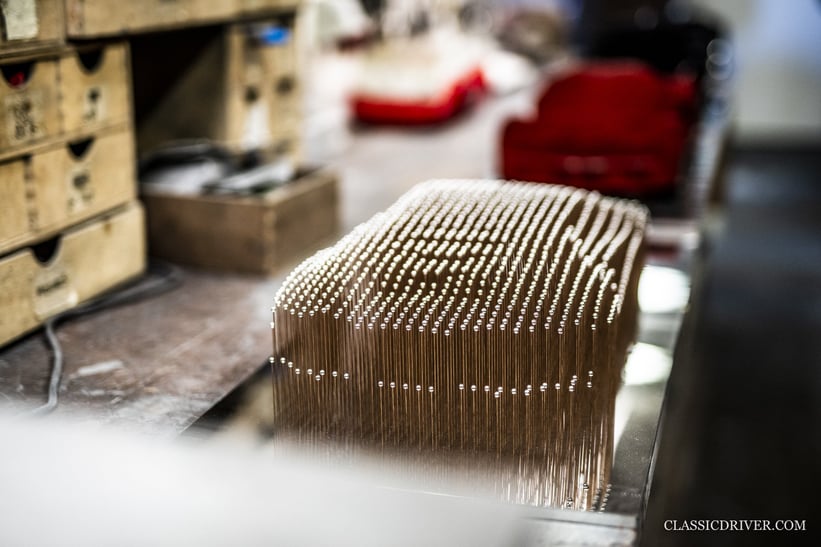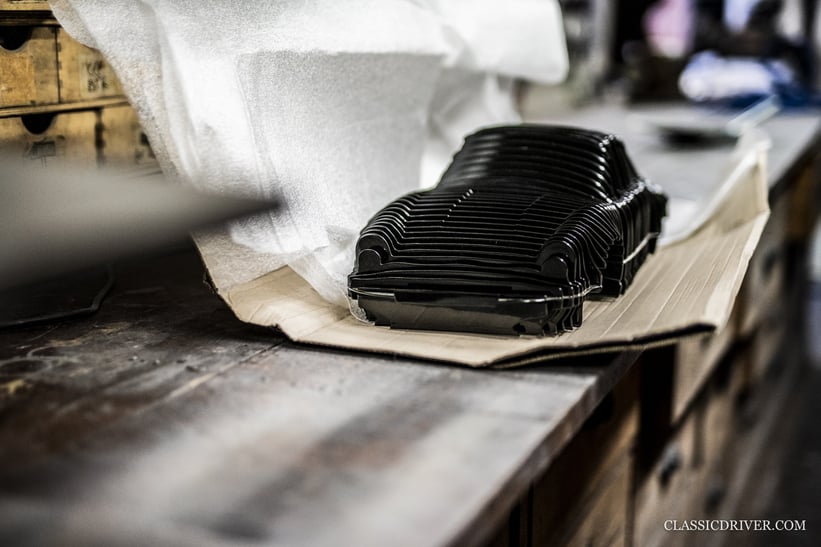 Dufilho's approach is clear: medicine has taught him human mechanics and the art and architecture of the skeleton. But cars are not his only source of inspiration. Architecture inevitably plays a great role as well and it takes no less than a month to build his Chrysler Building, New York's most emblematic Art Deco skyscraper, or Burj Khalifa. And for his interpretation of the Statue of Liberty, two months of work were necessary to finalise the 1,400 welding points connecting the 800 pieces of metal, which combined polished and brushed steel.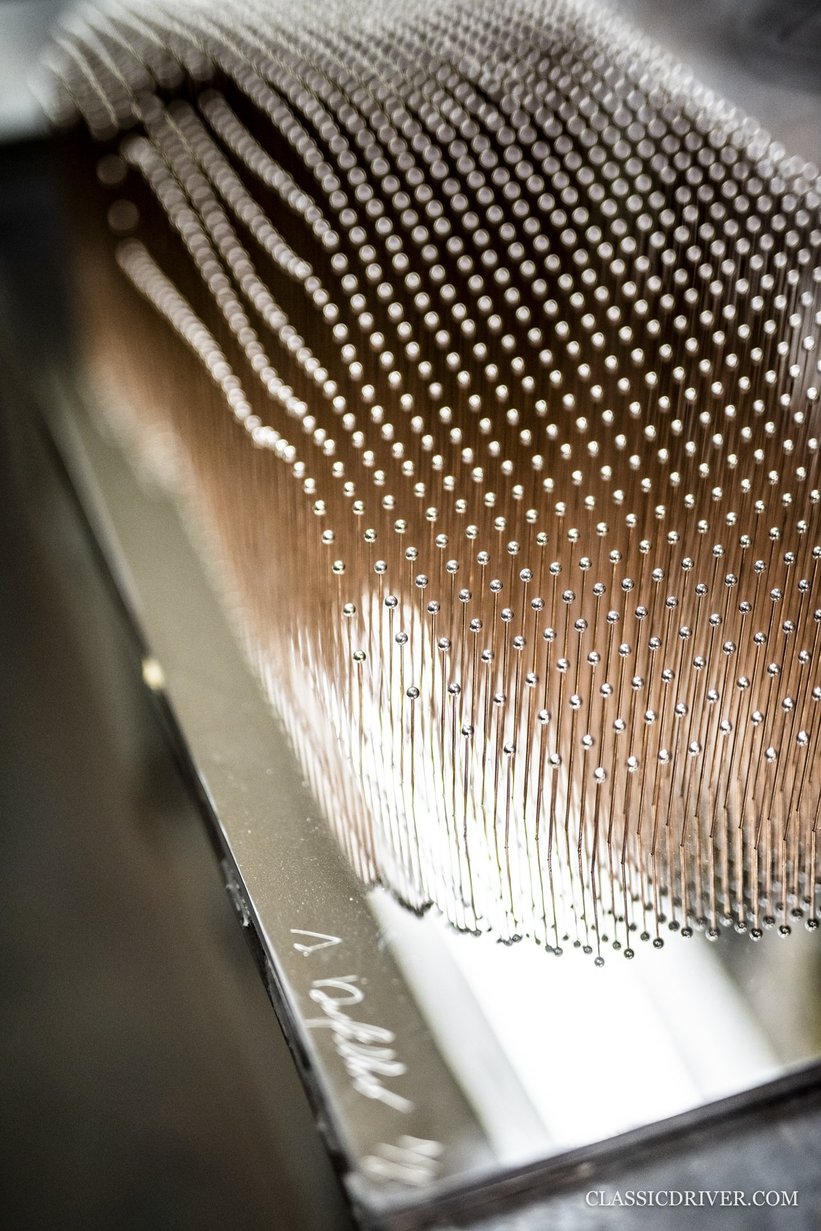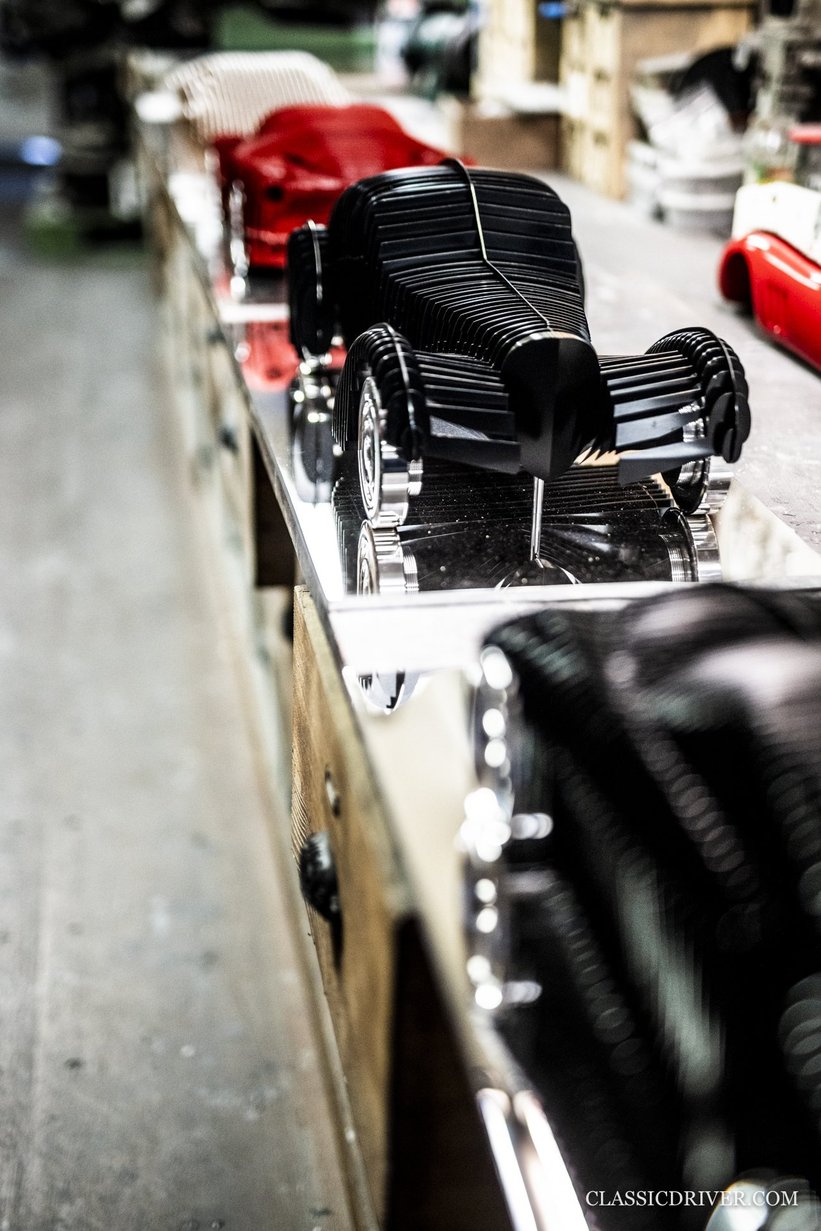 Naturally, Bugatti also holds a special place in Dufilho's heart. One of his most awe-inspiring works is that of the Type 57SC Atlantic, a car that can already be considered a sculpture in its full-size form. "It is formed of ultra-thin metal strata, creating a skeleton that reveals the car's lines, dynamism and movement." This kinetic vision of a static object is truly this artist's signature and magnifies the lines of these beautiful cars. It also offers radically different perceptions, depending on the angle from which you're looking at the sculpture.
At the esteemed collector Peter Mullin's request, Dufilho will create a unique stainless-steel sculpture on a 90cm aluminium base, to be exhibited alongside the real car at the Petersen Museum in Los Angeles. "I love movement and asymmetry is, by definition, movement! A flat cube is symmetrical and static, but by tilting it a few degrees and balancing it on one of its edges, it becomes asymmetrical. Our minds will then imagine it unconsciously falling to regain its balance. Movement is life."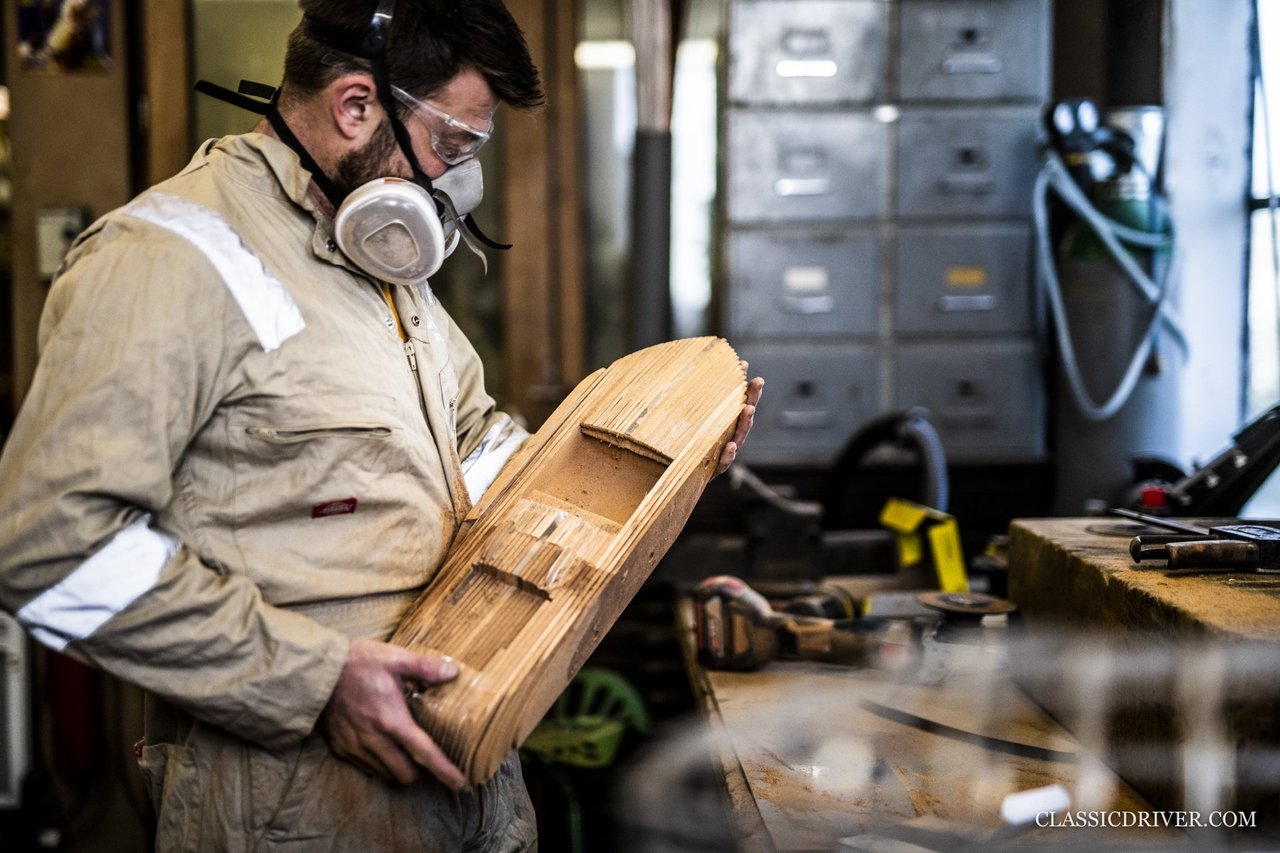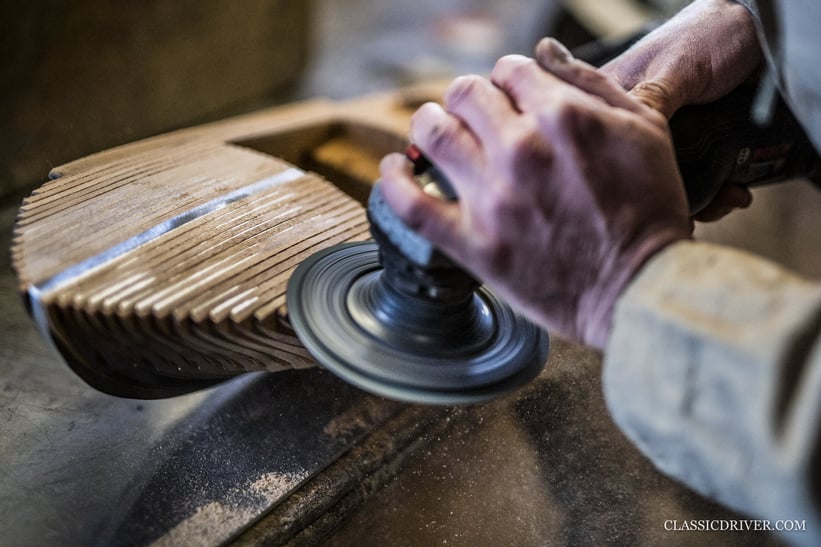 This is particularly noticeable on Dufilho's Riva, a blend of finely sanded mahogany and stainless steel, screwed together with incredible precision. "Each surface has its own distinct identity. I prioritise metal and I especially love Corden steel, which rusts on the surface and not at the core, making for a 'warmer' textured effect similar to wood. The polished metal, which is more striking, reflects everything that faces it, whereas matte steel is more homogenous and offers a contemporary look."
Dufilho has always played with materials – take the incredible Mercedes-Benz W196 Streamliner, for example, which mixes ebony with steel. "This was probably the sculpture that took the most time and the most meticulous approach," he admits. Arriving quite early in his artistic career, this piece is truly sensual, and you can't help picking it up and feeling its weight and the contrasts between the cold steel and the warm ebony. With time, the ebony will develop patina and naturally 'move'. The process is reportedly very interesting to watch.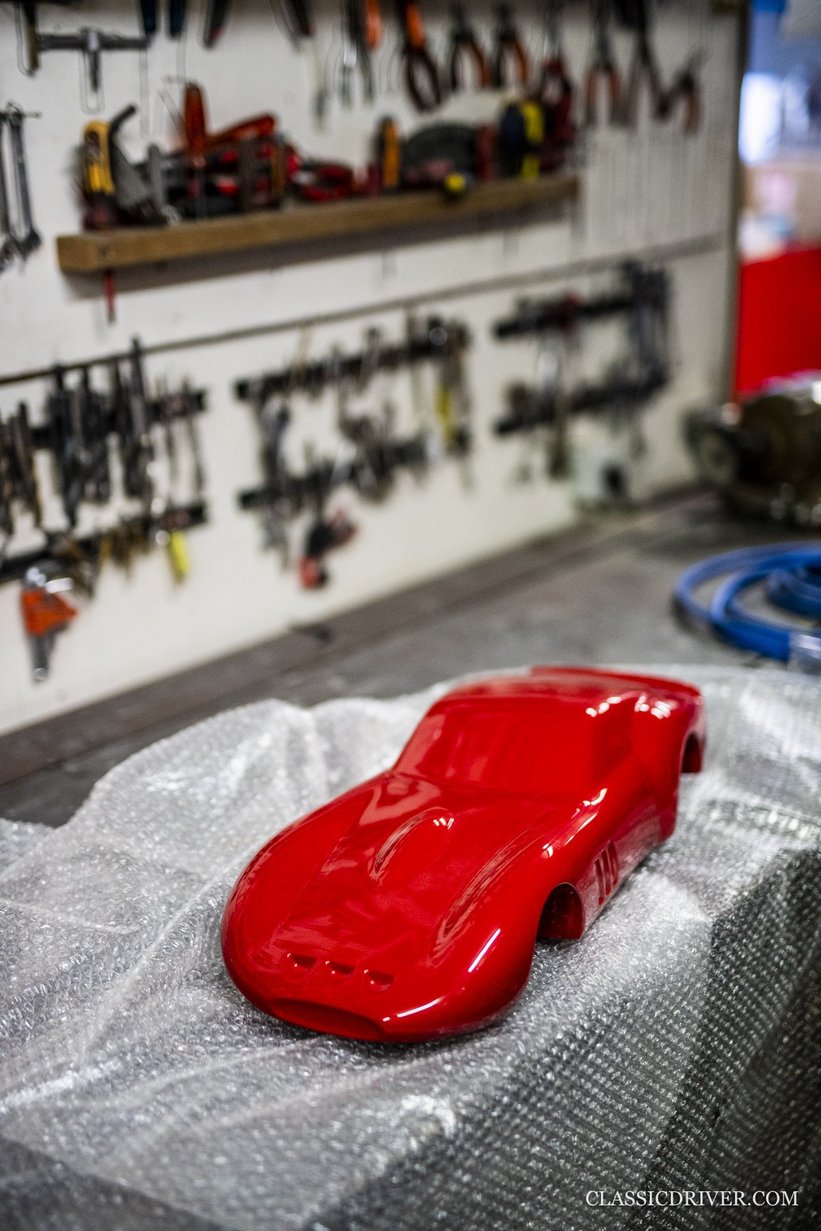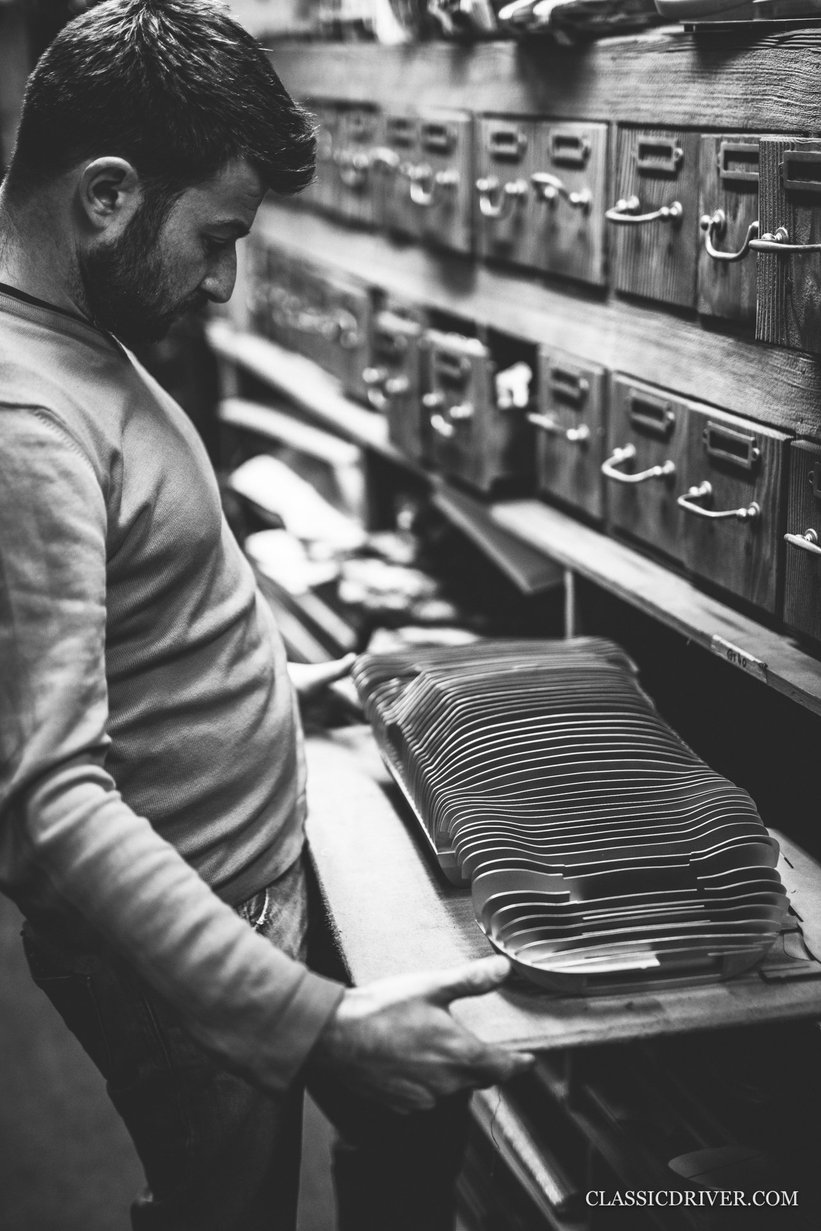 The artist recently ventured into a new field of expression, through the assembly of hundreds of thin bronze rods topped with small stainless-steel balls to sublimate the curves of a Lamborghini Aventador. And his latest innovation is the use of coloured anodised aluminium. This was apparently a great technical challenge because Dufilho first needed to find a workshop that would be able to produce such thin pieces, cut to a tenth of a millimetre, with an ultra-precise colour chart and in such small quantities. As for the carbon-fibre he's used to create a Ferrari 250 GTO, that's poised to be used for a Ford GT40.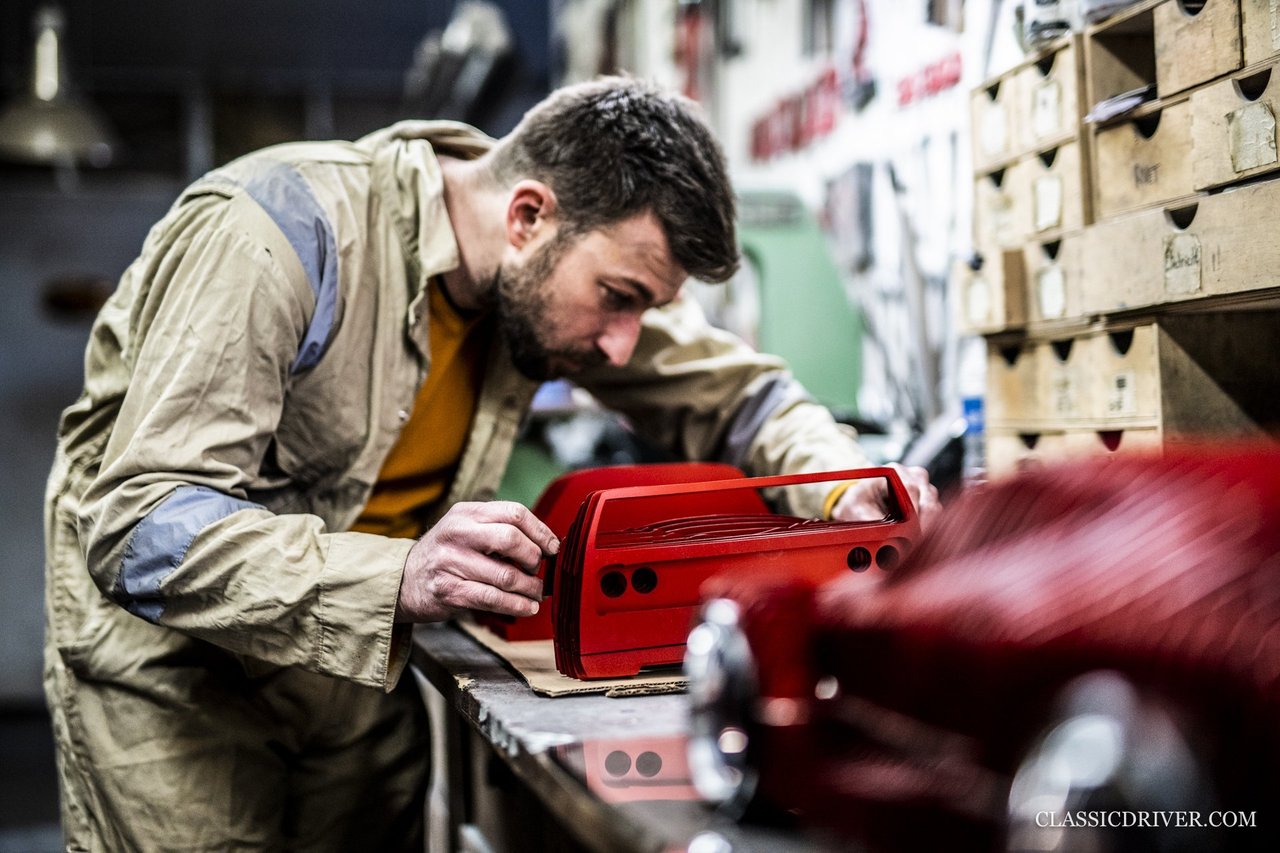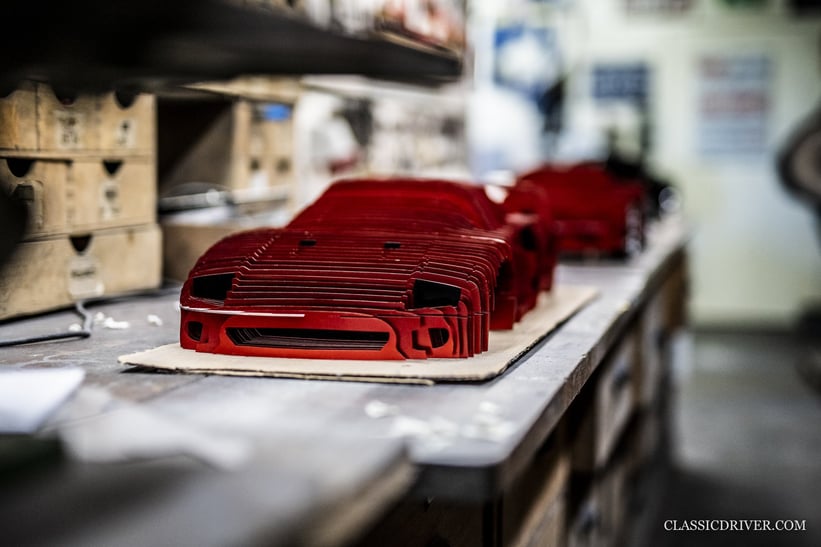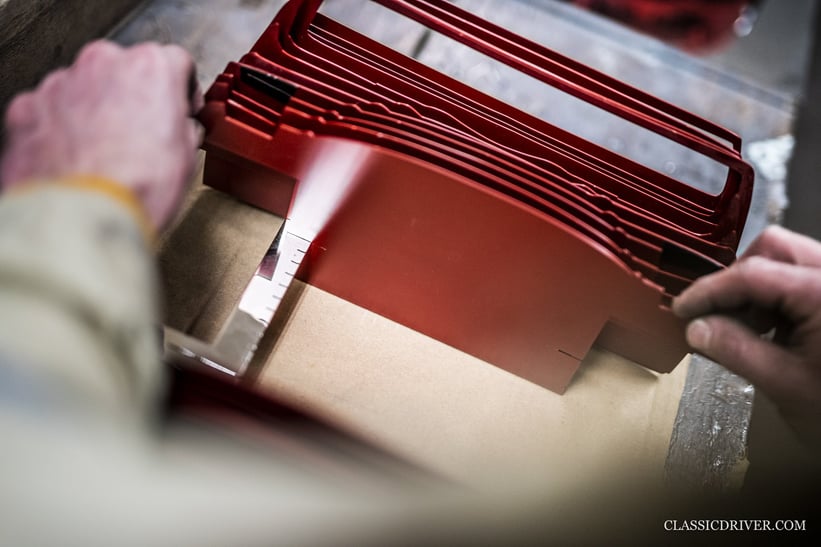 Incidentally, Ferrari and Ford serve as the inspiration for Antoine's next project. "The first sculpture will be inspired by the Ferrari 330 P4. It'll be a major piece four metres long by two metres wide, made from 100 red aluminium plates with different angles to fit the shape of the bodywork." Weighing in at 800kg, these plates are held in place by two large slats affixed to a 400kg base. The sculpture boasts a lighter look thanks to the alternation of full and empty and a set of plates with different spacing to accentuate the effect of speed. Three pieces are planned, before a GT40 is built in a similar manner to be exhibited at Ford's headquarters.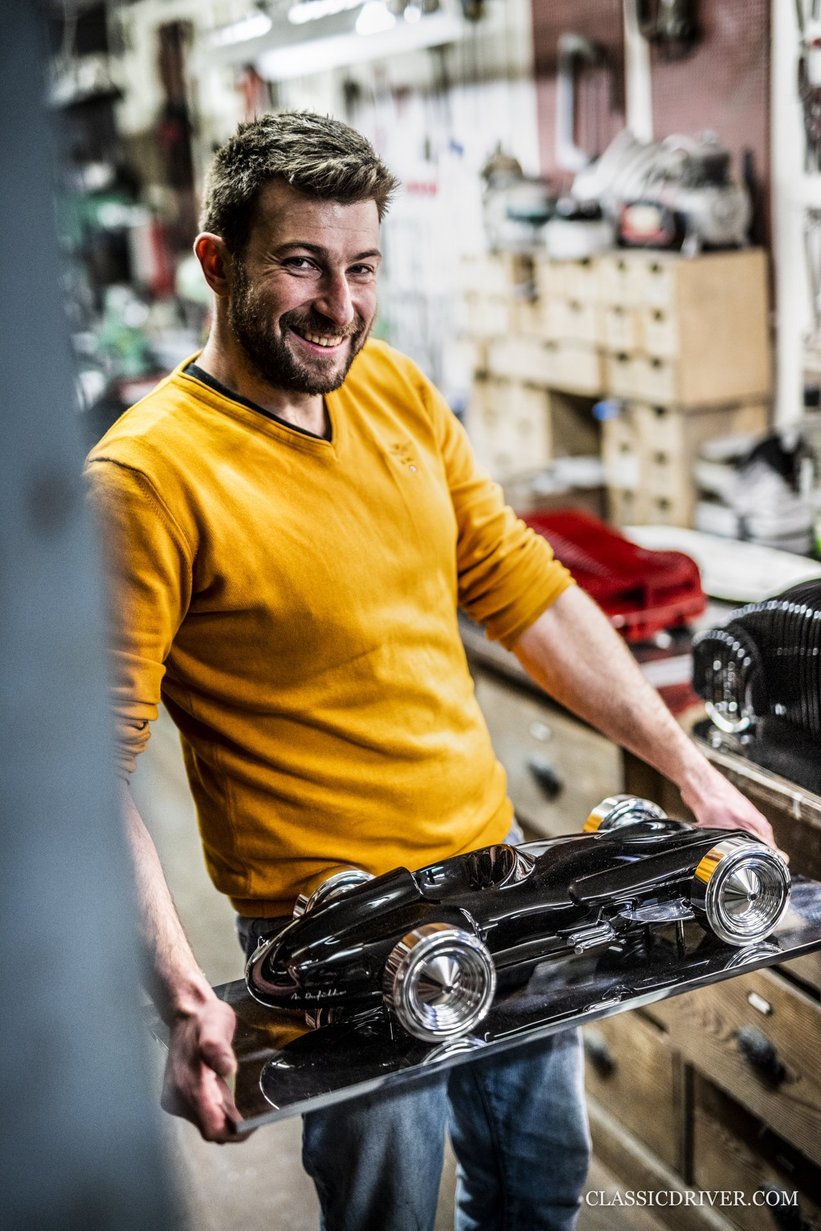 So, which ideas and desires does the future hold for Dufilho? "I plan to work on a sculpture inspired by Wally yachts, but also a train and no doubt other legendary automobiles," he concludes. "My other direction is to work on abstract sculptures, which is an avenue I've already begun to explore." Now those we can't wait to see.
Text: Etienne Raynaud / Photos: Rémi Dargegen for Classic Driver © 2020