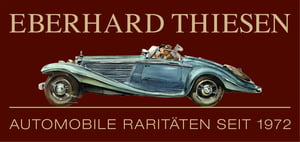 Eberhard Thiesen GmbH & Co. KG
Location

Performance

300 PS / 221 kW / 296 BHP
Description
• Zeitloses Farbschema in silber-metallic mit Leder schwarz
• Motor und Getriebe "matching numbers"
• Karosserie-Instandsetzung in 2017 mit Neulackierung
• Teil-Überholung von Technik-Komponenten
• Borrani Chromspeichen-Felgen und ANSA Classic Auspuffanlage
• Mehrwertsteuer ausweisbar (netto Export / Corporate-Erwerb)
• Stilvolles "Driver Car" zum Fahren oder gute Ausgangsbasis für weitere Optimierungen nach Wunsch zu einem attraktiven Preis
Dieser Ferrari 330 GTC wurde 1968 über den Ferrari Händler Crepaldi Automobili in Mailand, Italien, ausgeliefert. Das originale Farbschema war Argento Metallizzato (Grau-metallic) mit einem Leder Interieur in schwarz, das der Wagen heute wieder trägt. Später gelangte der Wagen in die USA und wurde dort in den 1970er Jahren in schwarz lackiert und mit einer roten Leder-Ausstattung versehen. Im Jahr 1979 wurde der 330 GTC über einen Händler in Kalifornien zum Verkauf angeboten und kam zu einem neuen Eigentümer (Name bekannt) in Santa Barbara, Kalifornien. Drei Jahre später (1982) wurde der Wagen an einen weiteren Eigentümer (Name bekannt) in Salt Lake City weitergegeben. Unter seiner Regie erfolgte 1986/1987 eine neue Lackierung in gelb und das Interieur erhielt seine ursprüngliche Farbe schwarz zurück. Zusammen mit neuen Borrani Speichenfelgen und einer neuen Auspuffanlage gelangte das Sportcoupé im Jahr1989 über eine Auktion in Scottsdale (USA) zu einem neuen Besitzer (Name bekannt) in Tucson, Arizona (USA). Anfang der 1990er Jahre gelangte das Fahrzeug dann in die Schweiz und war 1991/1992 dort zugelassen. Diese Zulassung liegt uns vor. Im Jahr 2014 gelangte der 330 GTC dann zu einem Oldtimer-Händler in Dänemark (Name bekannt) und wurde von diesem 2015 nach Deutschland an seinen letzten Eigentümer verkauft. Unter diesem wurde das Fahrzeug einschließlich Karosserie dann 2017 umfangreich instand gesetzt und in der Farbe silber-metallic neu lackiert. Dennoch ist der Wagen im Detail (noch) nicht perfekt. Die Lackierung verfügt über einen schönen Glanz ist jedoch nicht makellos. Der Zierrat ist komplett und in gepflegtem Zustand mit leichter Patina. Der Innenraum vermittelt insgesamt einen guten Eindruck mit einer erneuerten Lederausstattung und zeigt nur wenige Detail-Schwächen. Der Unterboden befindet sich in einem soliden Zustand, Teile des Fahrwerks und die Bremsanlage wurden bereits revidiert. Zudem ist eine neuwertige Auspuffanlage von Ansa Classic verbaut. Der Motor ist "Matching Numbers". Dieser Ferrari 330 GTC eignet sich insbesondere als "Driver Car" und bietet eine hervorragende und vor allem komplette Basis für weitere Optimierungsmaßnahmen, die man nach eigenen Wünschen und Bedürfnissen durchführen kann. Der zukünftige Eigentümer hat also die Wahl das Auto in einem gebrauchtüchtigen und ansehnlichen Gesamtzustand zu nutzen oder es in einen Top-Zustand zu versetzen. Der attraktive Preis lässt einen Spielraum für solche Maßnahmen.
Als der Ferrari 250 GT Lusso 1964 aus dem Programm genommen wurde, hinterließ er eine Lücke zwischen 275 GTB Berlinetta und dem 330 GT 2+2. Erst 1966 trat der 330 GTC de Nachfolge an, als er auf dem Genfer Autosalon präsentiert wurde. Das Design des zweisitzigen Coupés war wie üblich von Pininfarina (Designer: Aldo Brovarone), wo die Karosserie auch gefertigt wurde, und verband verschiedene Designelemente anderer Modelle. So war die Front mit dem schmalen, ovalen Kühlergrill und den zurückstehenden Scheinwerfern an den 500 Superfast angelehnt und das Heck orientierte sich am 275 GTS. Insgesamt wirkt der 330 GTC vergleichsweise unauffällig und dezent. Dazu trägt auch das grazile Dach bei, das mit seinen schmalen Säulen sowohl im Design als auch im Interieur für eine gewisse Leichtigkeit sorgt. Der Antrieb stammte vom 330 GT 2+2: Ein 4 Liter V12 mit drei Weber 40DCZ/6 Vergasern oder wahlweise 40DFI/2 Doppelvergasern, der satte 300 PS leistete. Das technische Layout – insbesondere Fahrwerk und Antrieb – übernahm er hingegen vom 275 GTB. Dazu gehörte auch das Transaxleprinzip mit Fünfgang-Getriebe sowie Einzelradaufhängung hinten mit Schraubenfedern, Querlenkern und Koni-Stoßdämpfern. Die Vorderradaufhängung hatte ungleich lange Querlenker mit Schraubenfedern und hydraulische Koni-Stoßdämpfer. Der Wagen war mit rund 600 Exemplaren in nur zwei Jahren ein beachtlicher Erfolg, so dass der Nachfolger 365 GTC (ab 1968) die Karosserie fast unverändert übernahm.
----------
• Timeless color scheme in silver metallic with black leather
• Engine and transmission "matching numbers
• Body reconditioning in 2017 with repainting
• Partial overhaul of technical components
• Borrani chrome spoke rims and ANSA Classic exhaust system
• VAT deductible (for net export sale or corporate purchase)
• Stylish "driver car" to drive or good starting point for further optimization as desired at an attractive price
This Ferrari 330 GTC was delivered in 1968 through the Ferrari dealer Crepaldi Automobili in Milan, Italy. The original colour scheme was Argento Metallizzato (grey metallic) with a leather interior in black, which the car wears again today. The car later made its way to the USA, where it was painted black and fitted with a red leather interior in the 1970s. In 1979, the 330 GTC was offered for sale through a dealer in California and came to a new owner (name known) in Santa Barbara, California. Three years later (1982) the car was passed on to another owner (name known) in Salt Lake City. Under his ownership, a new paint finish in yellow was carried out in 1986/1987 and the interior was returned to its original black colour. Together with new Borrani wire wheels and a new exhaust system, the sports coupé was sold at auction in Scottsdale (USA) in 1989 to a new owner (name known) in Tucson, Arizona (USA). At the beginning of the 1990s, the car came to Switzerland and was registered there in 1991/1992. This Swiss registration document is available. In 2014, the 330 GTC then came to a classic car trader in Denmark (name known) and was sold by him to its last owner in Germany in 2015. Under this owner, the vehicle including body was then extensively repaired in 2017 and painted in the color silver metallic. Nevertheless, the car is not (yet) perfect in detail. The paint has a nice shine but is not flawless. The trim is complete and in well-kept condition with a slight patina. The interior overall gives a good impression with a renewed leather interior and shows only a few detail weaknesses. The underbody is in solid condition and parts of the suspension and brake system have already been overhauled. In addition, a like-new Ansa Classic exhaust system is installed. The engine is "Matching Numbers". This Ferrari 330 GTC is particularly suitable as a "Driver Car" and offers an excellent and above all complete basis for further optimization measures, which can be carried out according to one's own wishes and needs. The future owner therefore has the choice of using the car in a used and respectable overall condition or to restore it to top condition. The attractive price leaves a margin for such measures.
When the Ferrari 250 GT Lusso was discontinued in 1964, it left a gap between the 275 GTB Berlinetta and the 330 GT 2+2. It was not until 1966 that the 330 GTC succeeded it, when it was presented at the Geneva Motor Show. The design of the two-seater coupé was, as usual, by Pininfarina (designer: Aldo Brovarone), where the body was also manufactured, and combined various design elements from other models. The front end, for example, with its narrow, oval radiator grille and recessed headlights, was based on the 500 Superfast, and the rear end was inspired by the 275 GTS. Overall, the 330 GTC appears comparatively unobtrusive and discreet. This is also helped by the graceful roof, whose narrow pillars add a certain lightness to both the design and the interior. The powertrain came from the 330 GT 2+2: a 4-liter V12 with three Weber 40DCZ/6 carburetors or optionally 40DFI/2 twin carburetors that produced a whopping 300 hp. The technical layout - especially chassis and drivetrain - was taken over from the 275 GTB. This included the transaxle principle with five-speed transmission and independent rear suspension with coil springs, wishbones and Koni shock absorbers. The front suspension had unequal-length wishbones with coil springs and Koni hydraulic shock absorbers. The car was a considerable success, with around 600 units produced in just two years, so that the successor 365 GTC (from 1968) adopted the body almost unchanged.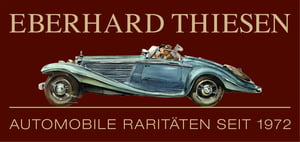 ---
Eberhard Thiesen GmbH & Co. KG
Contact Person
Kontaktperson
---