Celebrating 'The Art of Bugatti' from Paris to Los Angeles
Next month, Christie's will hold a thematic sale dedicated to the work of Rembrandt Bugatti, including 12 bronze sculptures from the collection of Alain Delon. Meanwhile, a comprehensive new exhibition at the Petersen Automotive Museum celebrates the Bugatti family's roots in art and design…
Art in the blood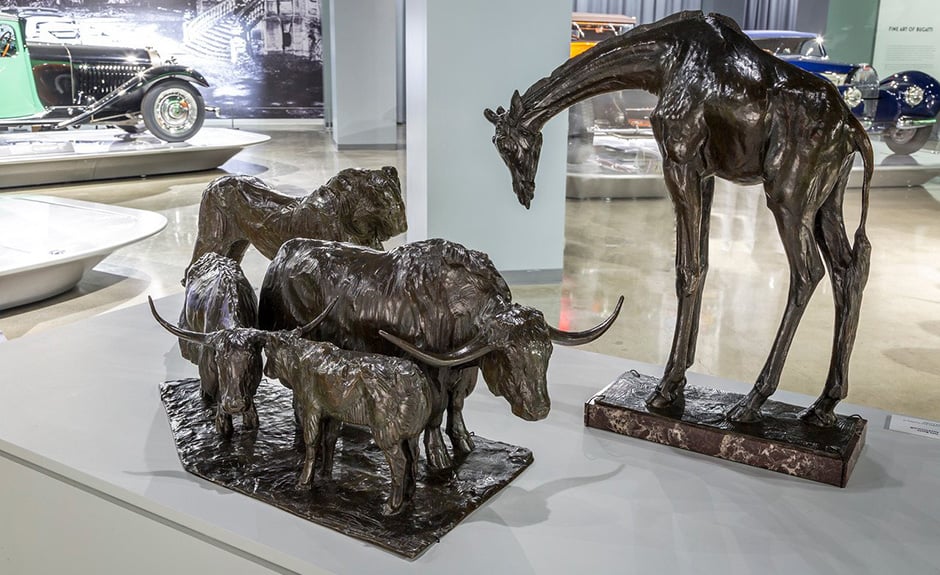 Aptly titled 'The Art of Bugatti', the Petersen Automotive Museum's latest exhibition comprises work from the entire Bugatti family, including cars, paintings, furniture, and design. It's the biggest collection of works from the illustrious family of artists ever seen in one place, from the extraordinary cars of company founder Ettore Bugatti and his son Jean, paintings and design objects by Ettore's father Carlo, sketches by Ettore's daughter Lydia, and fabulous sculptures crafted by Rembrandt, Ettore's brother. Incidentally, Christie's will offer 12 of Rembrandt's bronzes in Paris on 22 November formerly owned by Hollywood great Alain Delon, as part of a sale commemorating the 100th anniversary of his death. To truly grasp the appeal of Bugatti to the world's most significant connoisseurs and collectors, we heartily recommend visiting either of these special events.
Photos courtesy of the Petersen Automotive Museum © 2016
You can find more information about 'The Art of Bugatti' exhibition running now at the Petersen Automotive Museum in Los Angeles here.