Ski like James Bond this winter with her Majesty's secret Mercury Cougar
There are the obvious James Bond cars, the ones with the ejector seats. And then there are the ones that we almost forgot. Like this Mercury Cougar that starred 'On Her Majesty's Secret Service' and will now be sold by Bonhams – including the period-correct White Star skis.
Classic Driver readers of a certain age will recall the pre-internet days when classified advertisements in printed paper publications were the main source of interesting cars. Here in Britain, Thursday was always important for buyers, because it was when most local 'free ads' sheets were pushed through letterboxes and, more importantly, it was also the day when the bargain hunter's bible 'Exchange and Mart' hit news stands.
Made from newspaper and presented in promisingly thick, A4 format, Exchange and Mart was invariably packed with the sort of cars that would nowadays be snapped-up within seconds of being advertised on the 'net – such as the Candy Apple Red Mercury Cougar you see here. Bond buffs might recognise it as being the actual Cougar that featured in 1969's On Her Majesty's Secret Service, specifically in the barn scene where George Lazenby's 007 proposes marriage to the car's owner, Contessa Teresa Tracy di Vicenzo (Diana Rigg).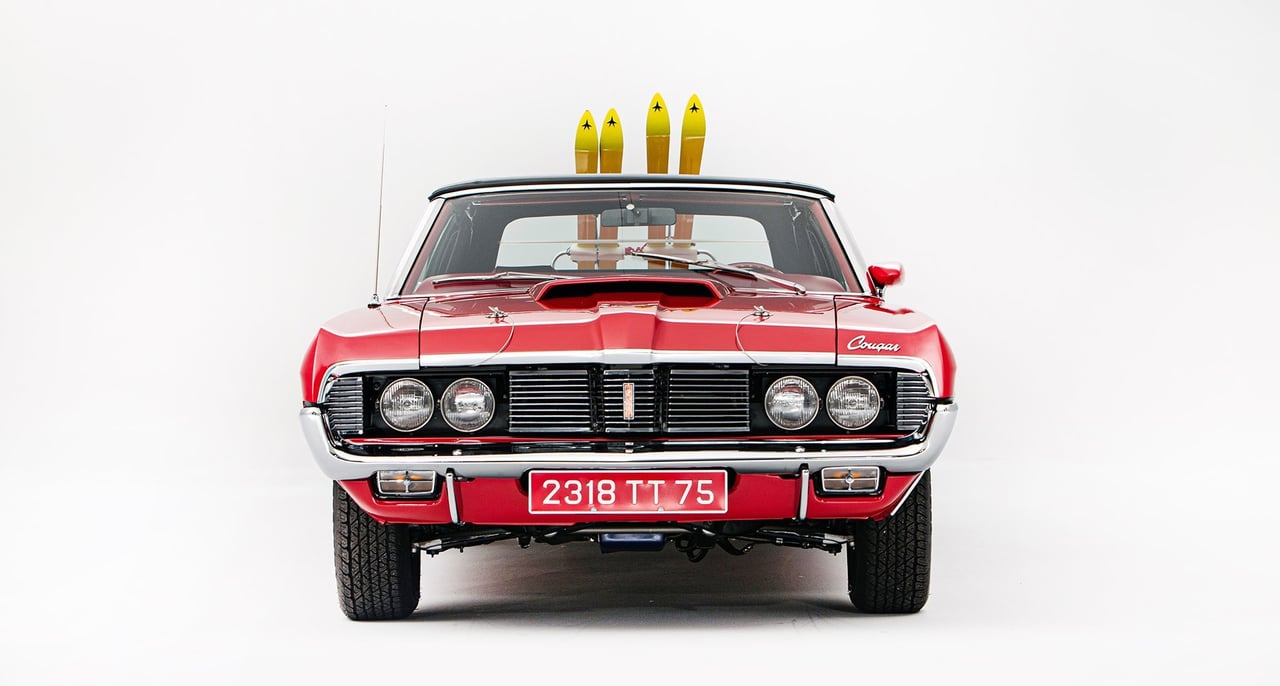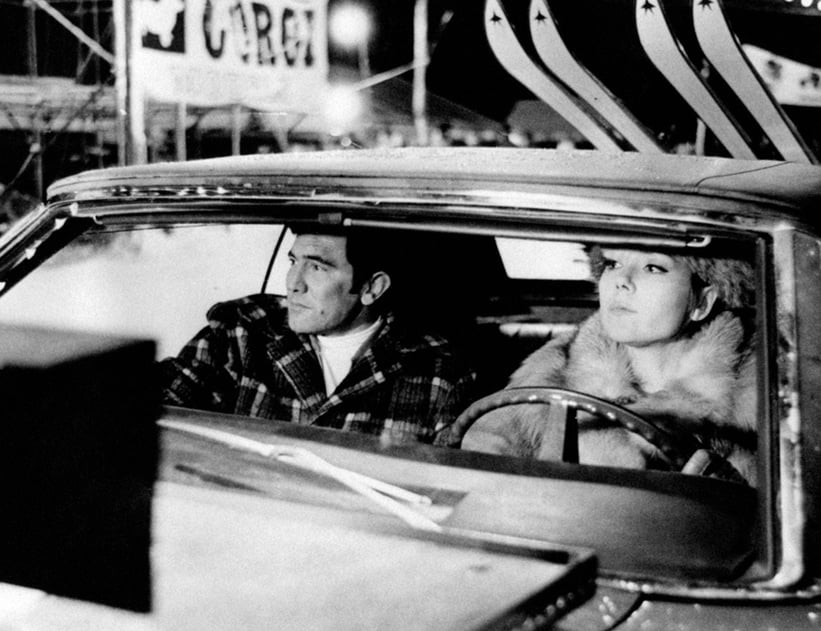 The snow-covered alpine hideaway was actually a set at Pinewood studios, to where the car had been hastily flown from Dearborn following its completion on February 6 of the same year. What happened to it immediately after the film 'wrapped' is unknown - but it ended up being advertised 'for spares or repair' in Exchange and Mart 21 years later, asking price £2,500.

The current owner, a Bristol-based Mustang enthusiast, responded to the ad and bought the Cougar because he wanted its rare, seven-litre Cobra Jet high-performance engine to drop into his 1969 Mach 1. But having learned of its cinematic history, he set about a 30-year restoration that returned the car to the exact condition in which it was delivered to Pinewood.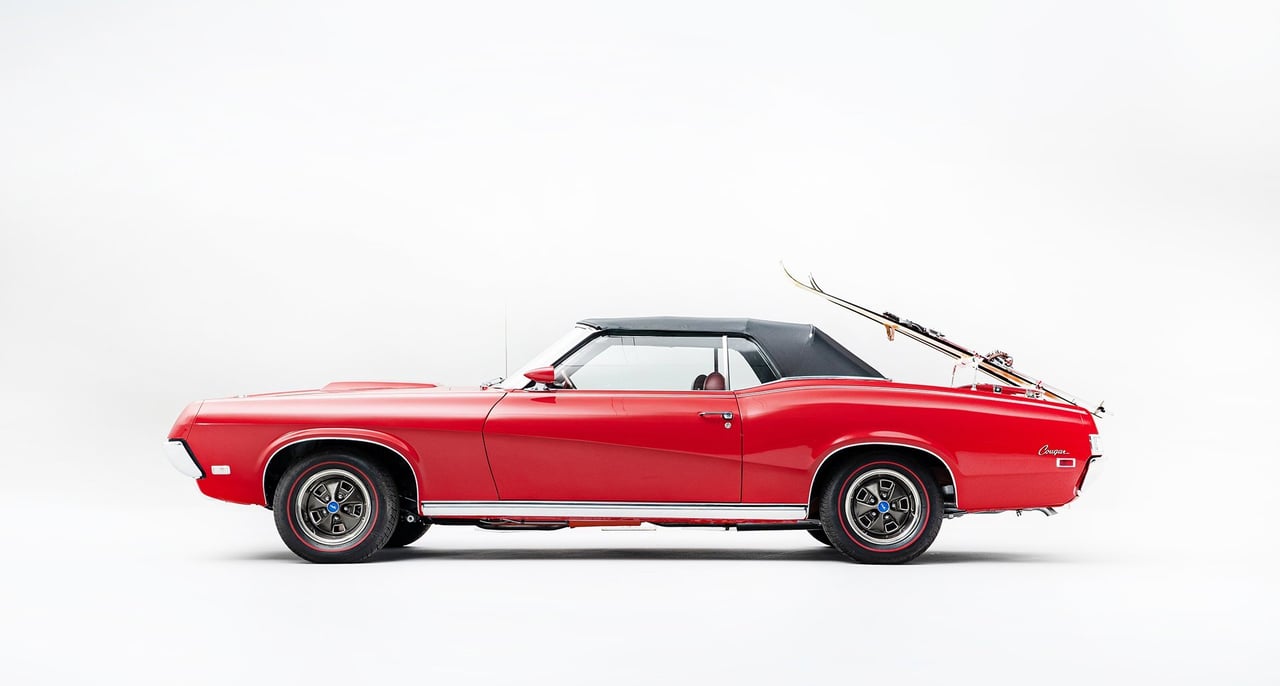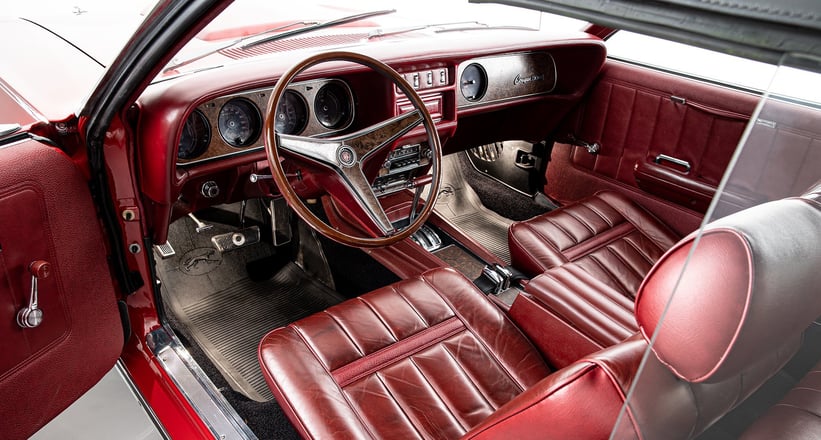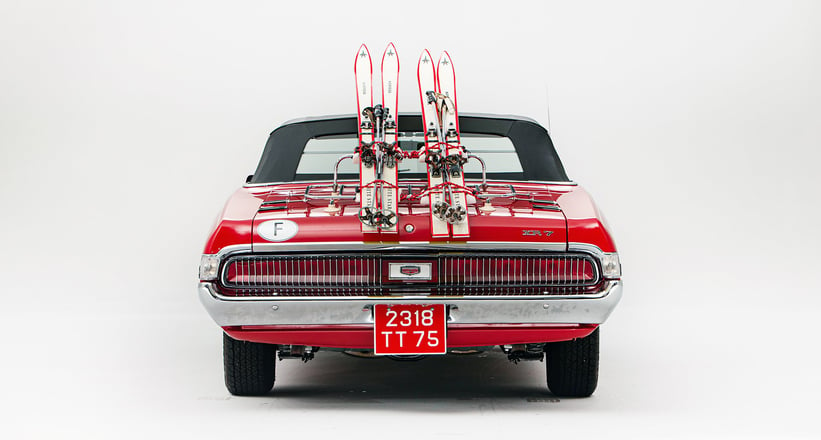 During the project, he discovered the remains of two of its original build sheets beneath the carpets, revealing it to be an ultra-rare car in its own right – of the 100,085 Cougars produced in 1969, it was one of just 127 convertible examples to be fitted with the Cobra Jet engine ( a $336.80c option ), one of 16 finished in Candy Apple red, one of eight trimmed in dark red leather, one of just three with an electric roof – and the only one in such specification to also leave the factory with 'hood pins.'
The restoration involved stripping the car down to the chassis, rust-proofing all of its steel components and re-assembling it with meticulous care. And, to add a final touch of authenticity, the owner even sourced a period-style ski rack and some of the exact same Kneissl White Star skis that are seen on the Cougar (and another clone car) both outside the barn and in a chase scene through the snow-covered Swiss village of Lauterbrunnen – during which Bond and the Contessa inadvertently become involved in an ice race.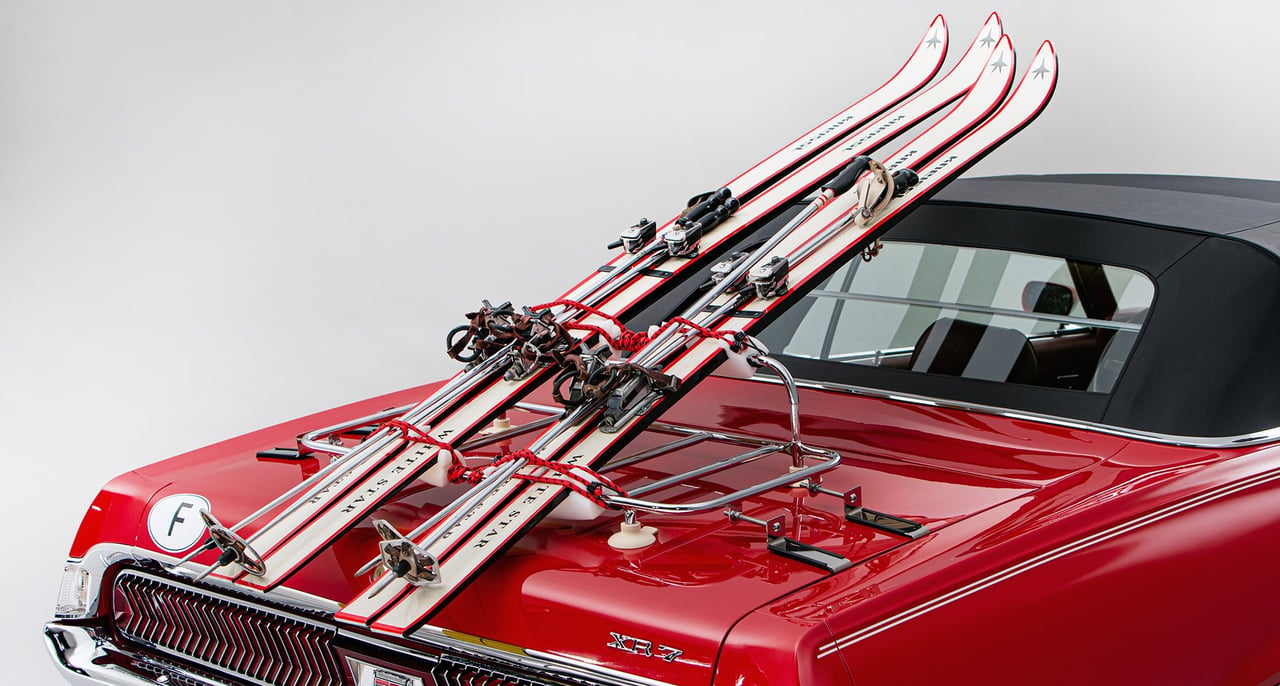 Now the car is set to cross the block in London at Bonhams Bond Street sale on December 16, where it will be offered with an estimate of £100,000 - 150,000. It would certainly make a jaw-dropping Christmas present for any Bond fan – and it's even ready for the ski season, too.
Photos by Bonhams, archive images: 007 Magazine © 2020