"Is a car significant because it is expensive, because it is culturally or socially important, or because it means something to you?"
On this particular morning of the three-day forum in Monterey, the panel had assembled to discuss the tantalising subject of 'What makes a car significant?'. Inside a white tent billowing in the coastal breeze and sequestering the audience beside an impossibly beautiful seascape framing the moors of Spanish Bay, the discussion was spirited yet focused, savvy yet accessible, and ultimately amusing for both the 'novice' and the experienced car guy or gal in attendance.
Guaranteeing a degree of laughter was the quick wit and clever commentary of forum moderator Jay Leno (you can add car-building expertise and a truly exceptional car collection to the comedian's credentials, too). Leno ignited the discussion with a leading question: "Is a car significant because it is expensive," he asked, "because it is culturally or socially important, or because it means something to you?"
Drawing upon a diversity of coming-of-age stories, the predominant response was nostalgia: "My first car"… "My grandfather's red convertible"… "Whatever my dad drove."
"Every car with a story becomes significant 50 years later"
"Every car with a story becomes significant 50 years later," said panel member Dr. Franz-Josef Paefgen. Nowadays a consultant for Volkswagen Group, Paefgen brought unrivalled luxury car experience to the panel, having helmed Lamborghini, Audi AG, Bentley Motors Ltd and Bugatti SAS. Nor was he the only impressive figure fielding Leno's question – with panel members including the likes of David Gooding, president and founder of Gooding & Company, the renowned auction house.
"While nostalgia for the car you had when you were young will always be significant," added Professor Gordon Murray (who joined McLaren Racing as technical director in 1988 and enjoyed three consecutive championship wins), "there is more to it than that." Leno agreed. "A significant car," he suggested, "is any car that's ahead of its time. Cars that were noble failures, that tried to be more than was required and thus were not well received, have become significant."
"Only," inserted Miles C. Collier (founder of the Revs Institute for Automotive Research in Naples, and the Stanford-Revs initiative), "if it had an impact on its successors."
"Like the Duesenberg," continued Leno, "a significant car but a decidedly noble failure in its day because no one could afford it."
The challenge of getting younger people interested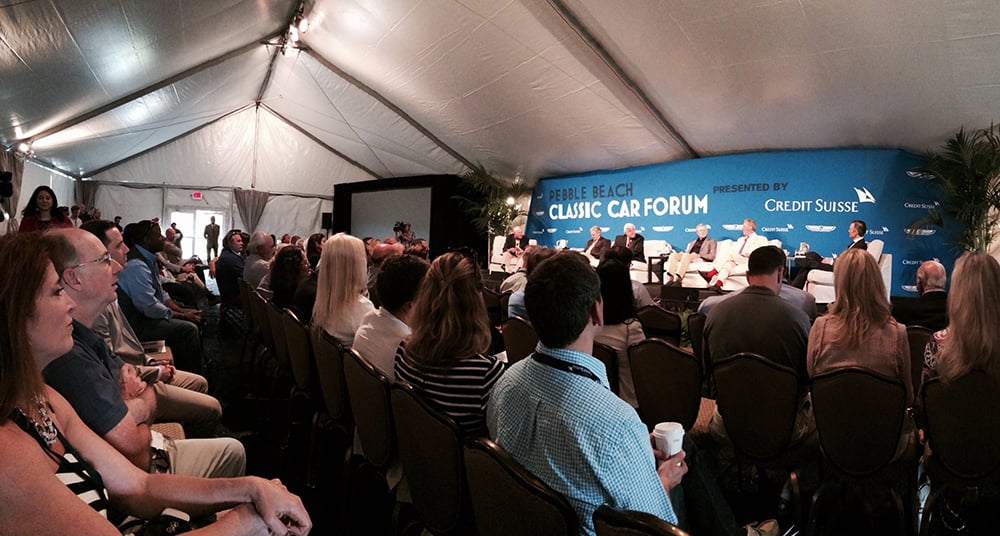 Toward the end of the panel discussion, conversation turned to the serious side of Leno's opening joke: the importance and the perceived challenge of getting younger people interested and involved in classic cars. Panel member Al McEwan (founder and director of the Pacific West Northwest Region of the Classic Car Club of America, and a man involved with the Pebble Beach Concours d'Elegance as an entrant and a judge since 1981) illustrated the point with a relevant anecdote: "I took out a Hispano-Suiza," he said, "and a kid came up and wanted to know every detail about what was under the hood. He asked questions. He was a joy, and I loved it. We need more of these kids, and I believe they're out there."
Leno shares McEwan's optimism. In 1976, McPherson College, a liberal arts college in Kansas, introduced an automobile restoration technology programme. In 1997, Leno established the Fred J. Duesenberg Scholarship and the Jay Leno Popular Mechanics scholarship at the school. Leno recalled receiving a letter from a boy who had told his friends that Leno was his uncle and let him ride around in his Lamborghini at the weekends. "It was a great letter," said Leno. "I remembered, when I was 9, I was pedaling my bike around and saw a 1959 XK120 Jaguar. Later on, that was the first car I bought when I had the means because that guy had let me sit in his car. There is definitely significance to a car that sells for $38 million. But I maintain it has to mean something to make it worth it."
Entrenched in the rarefied world of classic cars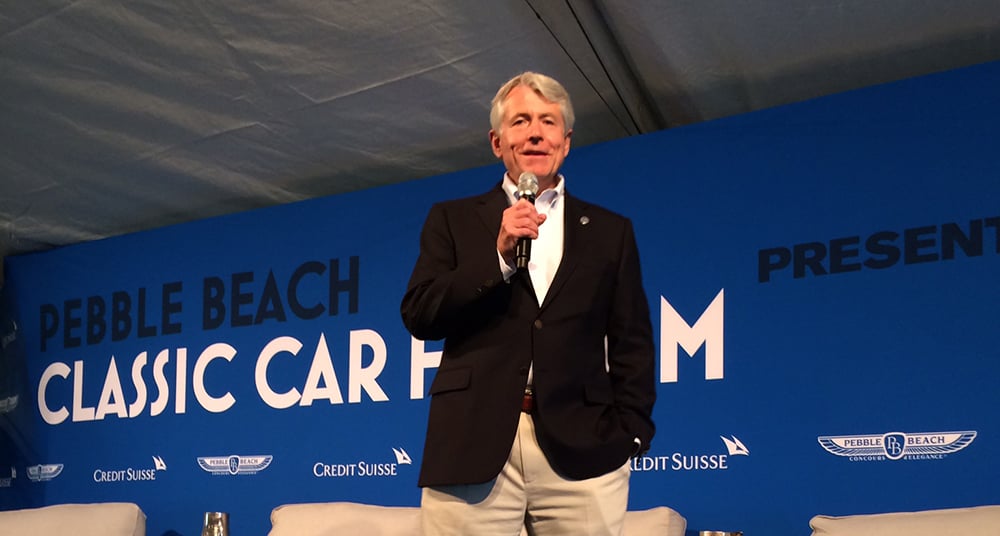 So, it seems that despite much jesting, the illustrious members of the five-strong panel in general agreed… and so did the audience. Even Rich Jaffe, CEO, Private Banking North America for Credit Suisse, who stated right at the start of the Forum that he was "a classic car novice", admitted by the end of the weekend that he had become entrenched in the rarefied world of classic cars.
"Credit Suisse is privileged to be the main sponsor at this year's Pebble Beach Classic Car Forum," Jaffe concluded. "We think it is critical to support the passions and interests of our clients, and are thrilled to have been able to bring together so many important individuals in classic car history to share with us their knowledge."