1968 Maserati Ghibli
Spyder 4,7 Campano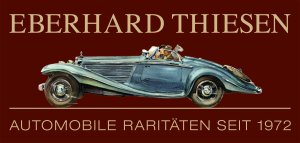 Eberhard Thiesen GmbH & Co. KG
Location

Performance

310 PS / 229 kW / 306 BHP
Description
• Authentische Restaurierung
• Über mehrere Jahrzehnte im letzten Besitz
• Hochwertiger Aufbau
• Äußerst geringe Fahrleistung
• Nur 3 Vorbesitzer
Dieser Maserati Ghibli 4,7 erblickte 1968, geboren als Coupé, in Italien das Licht der Welt. Der damals noch im Erstbesitz befindliche Wagen wurde bereits 1986 bei dem berühmten Karosseriebauer "Campana"in Modena gesichtet und war zu diesem Zeitpunkt schon viele Jahre als Spyder umkarosseriert. Ein Maserati Mitarbeiter aus Karlsruhe hatte den Auftrag, sich für einen gut betuchten Kunden aus Deutschland ein Bild von den exklusiven "Campana" Arbeiten zu verschaffen, da es schlichtweg unmöglich war, zu diesem Zeitpunkt einen Spyder als Werksfahrzeug zu erwerben.
Anfang der 90ziger Jahre wechselte dieser Spyder erstmalig seinen Besitzer und kam nach Deutschland. Zum damaligen Zeitpunkt zeigte das Zählwerk des Tachos gerade einmal 14.100 KM. Grund hierfür waren die jahrelangen Wartezeiten für den Umbau, was dem Zustand dieses seltenen Fahrzeugs heute zu Gute kommt. Der Wagen präsentiert sich in einem authentisch gereiften Erhaltungszustand. Das Leder hat eine schöne Farbgebung mit dezenter Patina und harmoniert mit dem in Würde gealterten Lackbildes des Fahrzeugs.
Der Chrom hat einen satten Glanz und lässt diesen Italo-Sportler in gutem Licht stehen. Technisch wurde der Wagen regelmäßig gewartet und auch unter seinem Dritten und vorerst letzten Besitzer lediglich zu kleineren Bewegungsfahrten genutzt. Heute hat der Kilometerzähler keine 17.000 KM erreicht.
Der derzeitige Eigentümer kann den Wagen seit 1992 sein Eigen nennen und somit hat dieser Wagen eine absolut vollständig dokumentierte Besitzerhistorie. Ein Campana Spyder ist keinesfalls ein Kompromiss. Kenner hielten die Arbeiten und später ausgereifteren Entwicklungen in ihrer fachlichen Ausführung häufig sogar für die besseren Fahrzeuge. Verkauft wird diese Stilikone mit einem deutschen KFZ Brief und neuem Service. Ein typgerechtes Lenkrad kann auf Wunsch ebenfalls beschafft werden.
----
• Authentic restoration
• Last ownership over several decades
• High quality bodywork
• Extremely low mileage
• Only 3 previous owners
This Maserati Ghibli 4.7 was born in 1968 as a Coupé in Italy. The car, which was still in its first ownership at the time, was spotted at the famous coachbuilder "Campana" in Modena as early as 1986 and had already been re-bodied as a Spyder for many years at that point. A Maserati employee from Karlsruhe was commissioned to get a picture of the exclusive "Campana" work for a well-heeled client from Germany, as it was simply impossible to acquire a Spyder as a factory vehicle at that time.
At the beginning of the 1990s, this Spyder changed hands for the first time and came to Germany. Back then, the speedometer showed just 14,100 km. The reason for this was the many years of waiting for the conversion, which is to the benefit of the condition of this rare vehicle today. The car presents itself in an authentically matured state of preservation. The leather has a beautiful colouring with a subtle patina and harmonises with the dignified aged paintwork of the vehicle.
The chrome has a rich shine and lets this Italo sports car stand in good light. Technically, the car has been regularly maintained and even under its third and for the time being last owner, it was only used for minor exercise drives. Today, the odometer has not reached 17,000 KM.
The current owner has owned the car since 1992, so this car has an absolutely fully documented ownership history. A Campana Spyder is by no means a compromise. Connoisseurs often even considered the works and later more mature developments to be the better cars in terms of their technical execution. This style icon is sold with a German KFZ letter and new service. A steering wheel suitable for the type can also be procured on request.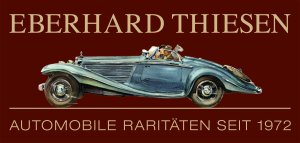 ---
Eberhard Thiesen GmbH & Co. KG
Contact Person
Kontaktperson
---