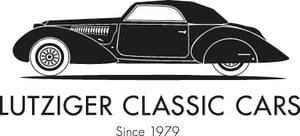 Location

Performance

190 PS / 140 kW / 188 BHP
Description
Jaguar XK 120 OTS
First registration 06.1954
Modified with 190 hp
FIVA Identity Card
Swiss road registration with veteran entry
This beautiful Jaguar XK 120 OTS was imported from Texas to Switzerland by a good friend of ours in 1990 and was in his possession for over 33 years. During this time the car was fully restored and modified to absolute perfection. Among other things, a Getrag 5-speed transmission is installed, the original one is present and comes with the car. This XK is so incredibly drivable and turns out to be an absolute fun to drive machine - ideal for rallies and other events! The car is very well documented since 1990, lots of invoices available, has a FIVA Identity Card and is veteran-approved. The Jaguar XK 120 OTS is in beautiful, top maintained collector condition.
The Jaguar XK 120 is a two-seater roadster that Jaguar launched in 1948 as the successor to the S.S.100.
In the Jaguar XK 120 OTS (Open Two-Seater) the engine with 3442 cm³ capacity has an output of 160 bhp (119 kW). It drives the rear wheels via a four-speed gearbox with a mid-range gearshift. It helps the Roadster to a top speed of 200 km/h. It is the first Jaguar engine with two overhead camshafts (dohc), which until then had only been ventured in very small series production. Nevertheless, it immediately became a masterpiece of reliability and performance, which was installed in the manufacturer's vehicles until 1992 and also in military vehicles.
Errors, mistakes and prior sale reserved.
Further, detailed pictures of this Jaguar XK 120 OTS can be found on our homepage www.lutziger-classiccars.com
DEUTSCH:
Jaguar XK 120 OTS
Erstzulassung 06.1954
Modifiziert mit 190 PS
FIVA Identity Card
Schweizer Strassenzulassung mit Veteraneneintrag
Dieser wunderschöne Jaguar XK 120 OTS wurde von einem guten Freund von uns im 1990 aus Texas in die Schweiz importiert und war sage und schreibe über 33 Jahre in dessen Besitz. Das Auto wurde in dieser Zeit nach und nach vollrestauriert und zur absoluten Perfektion modifiziert und verbessert. Unter anderem ist ein Getrag-5-Gang-Getriebe verbaut, das originale ist vorhanden und wird mit dem Auto mitgeliefert. Dieser XK ist so unglaublich fahrbar und entpuppt sich zur absoluten Fahrspass-Maschine – ideal für Rallyes und sonstige Veranstaltungen! Das Fahrzeug ist seit 1990 sehr gut dokumentiert, sehr viele Rechnungen vorhanden, hat eine FIVA Identity Card und ist Veteranen-geprüft. Der Jaguar XK 120 OTS befindet sich in wunderschönem, top gepflegtem Sammlerzustand.
Der Jaguar XK 120 ist ein zweisitziger Roadster, den Jaguar 1948 als Nachfolger des S.S.100 auf den Markt brachte.
Im Jaguar XK 120 OTS (Open Two-Seater) hat der Motor mit 3442 cm³ Hubraum eine Leistung von 160 bhp (119 kW). Über ein Vierganggetriebe mit Mittelschaltung treibt er die Hinterräder an. Er verhilft dem Roadster zu einer Höchstgeschwindigkeit von 200 km/h. Er ist der erste Jaguar-Motor mit zwei obenliegenden Nockenwellen (dohc), was bis dahin nur in kleinster Serienproduktion gewagt war. Dennoch gelang damit auf Anhieb ein Meisterwerk an Zuverlässigkeit und Leistungsfähigkeit, das bis 1992 in Fahrzeugen des Herstellers und außerdem in Militärfahrzeugen verbaut wurde.
Irrtümer, Fehler und Zwischenverkauf vorbehalten.
Weitere, detaillierte Bilder von diesem Jaguar XK 120 OTS finden Sie auf unserer Homepage www.lutziger-classiccars.com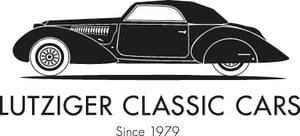 ---

---