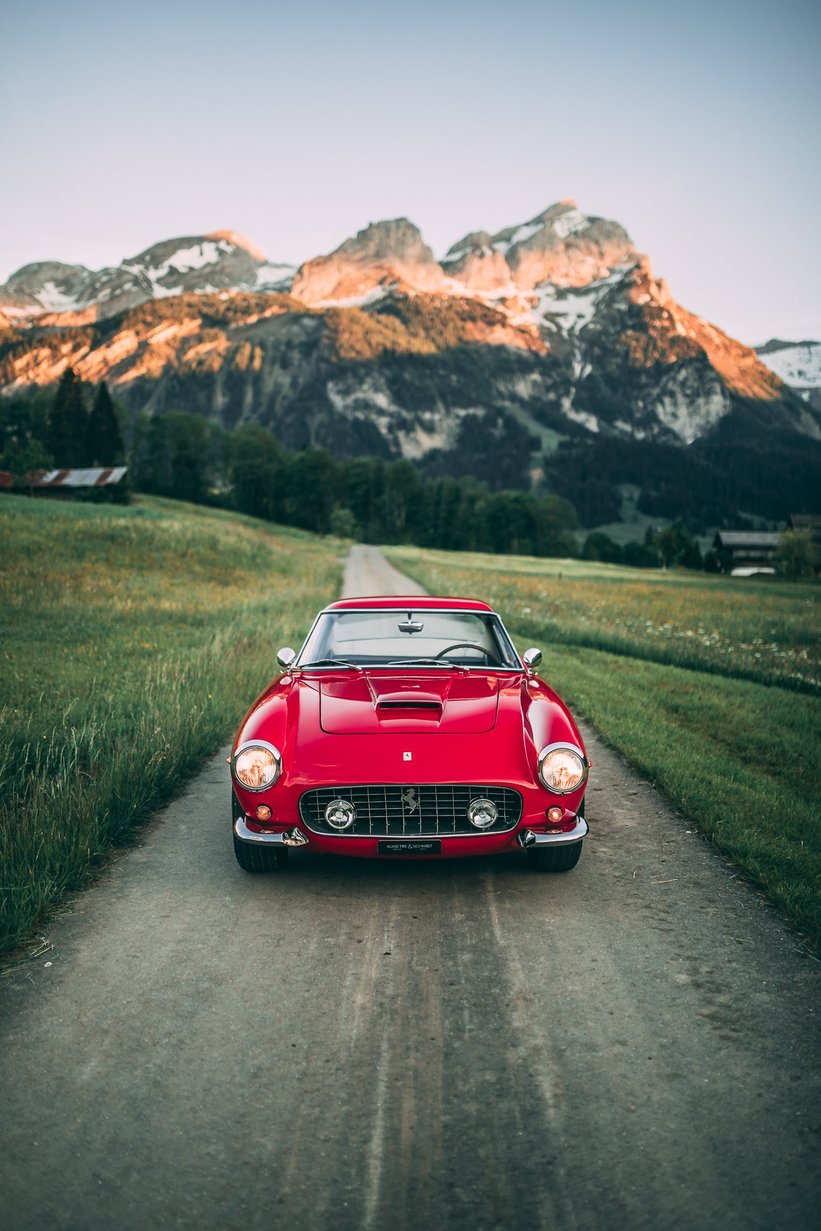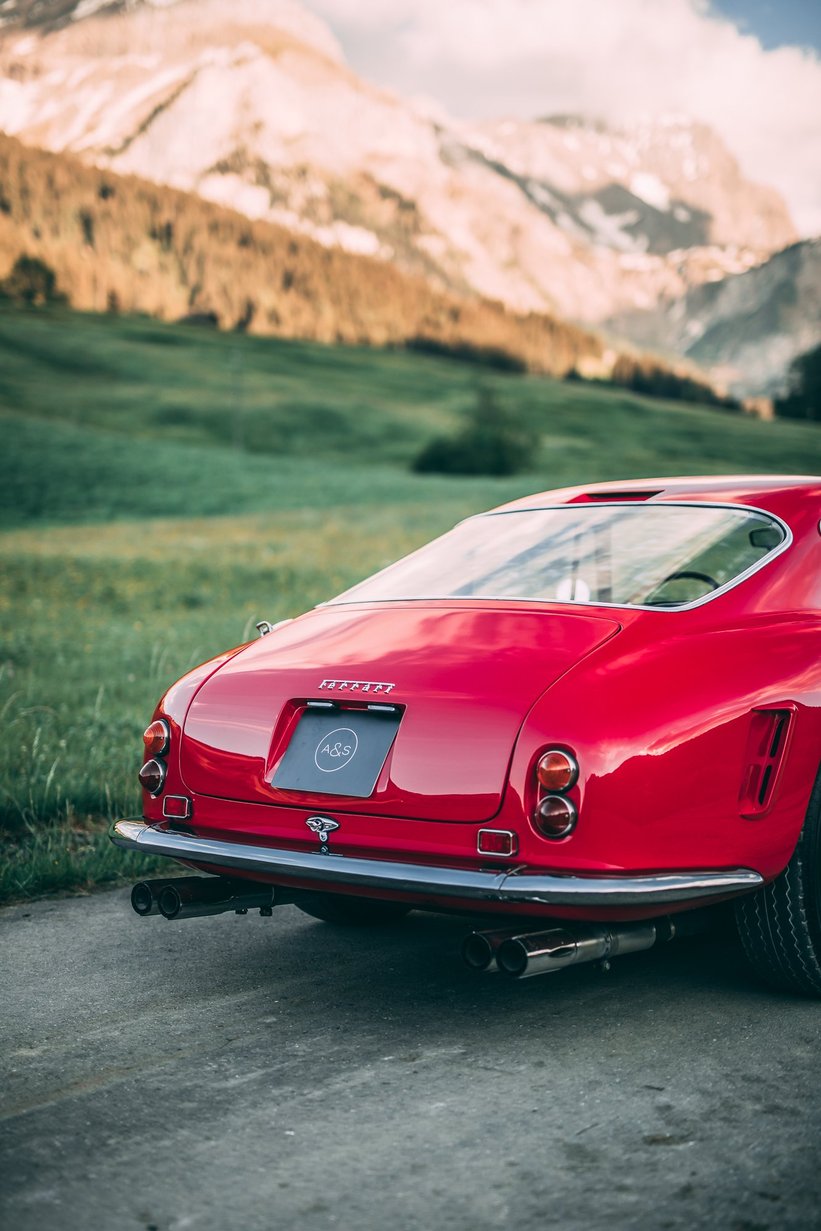 Grainy black-and-white images of racing legends such as Stirling Moss, Graham Hill and Willy Mairesse effortlessly drifting Ferrari's all-conquering 250 GT 'Short Wheelbase' – it's the golden era of GT racing, right? Goodwood, Le Mans, the Targa Florio, the original Tour de France – there wasn't a speed-lover's playground in which the squat and sultry Pininfarina-designed, Scaglietti-built V12 didn't vanquish the opposition. That the car was equally at home on the glitzy boulevards of Paris and Beverly Hills is merely another string to its bow. Dual-purpose Grand Tourers really don't get any better. Or more beautiful, come to think of it.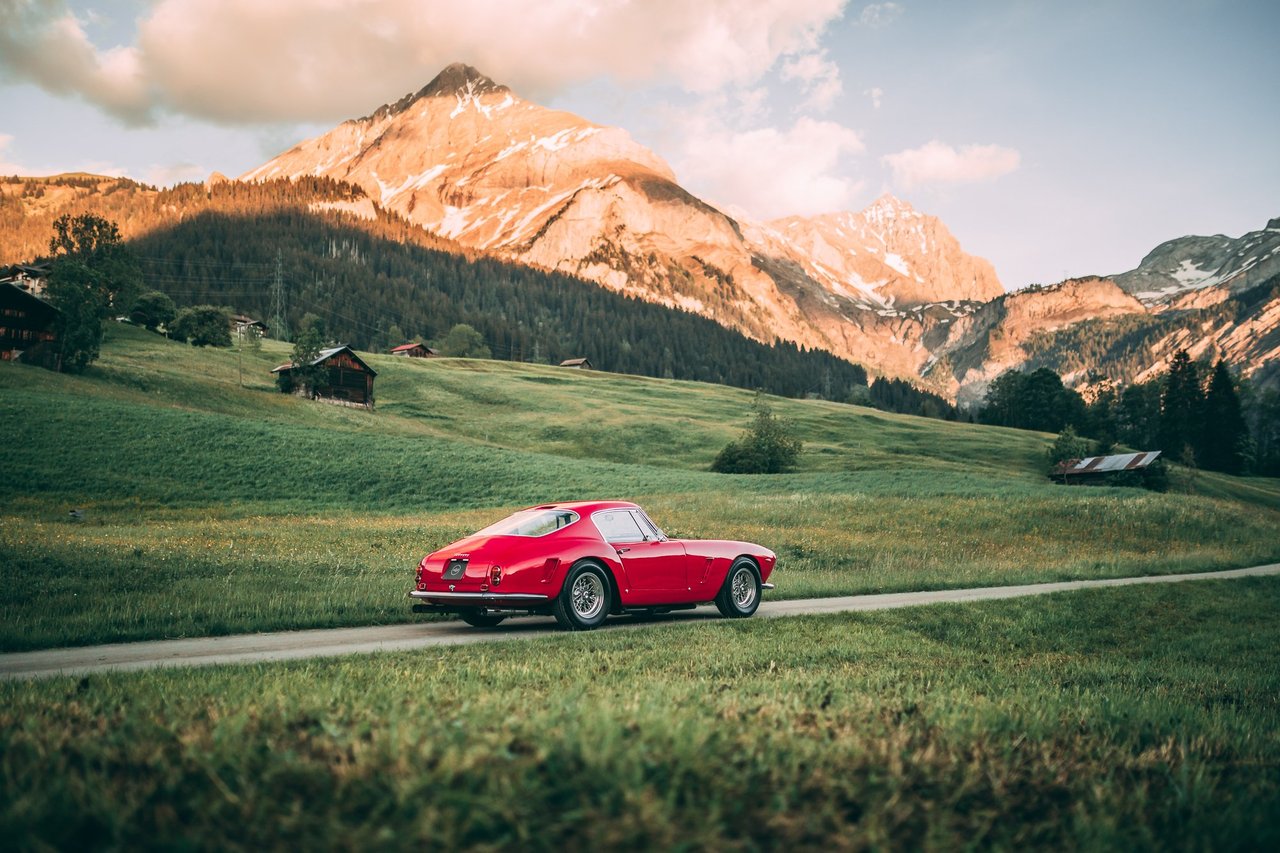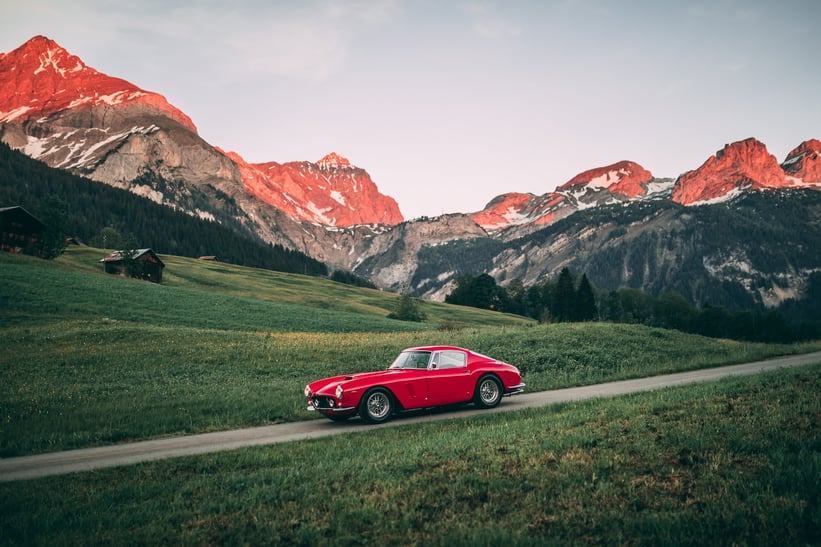 There is simply no angle from which the Ferrari 250 GT SWB doesn't look proportionally perfect. Sure, the fabled GTO is a slightly curvier proposition, but we think the SWB looks more purposeful, particularly with its abrupt and aggressive snout. The SWB you're ogling is chassis 2563GT, a Lusso-spec steel-bodied car that was delivered to an Italian collector on 15 May 1961. It was originally painted Grigio Conchiglia, or Shell Grey, though there is no shade that doesn't flatter that swooping, sensuous bodywork.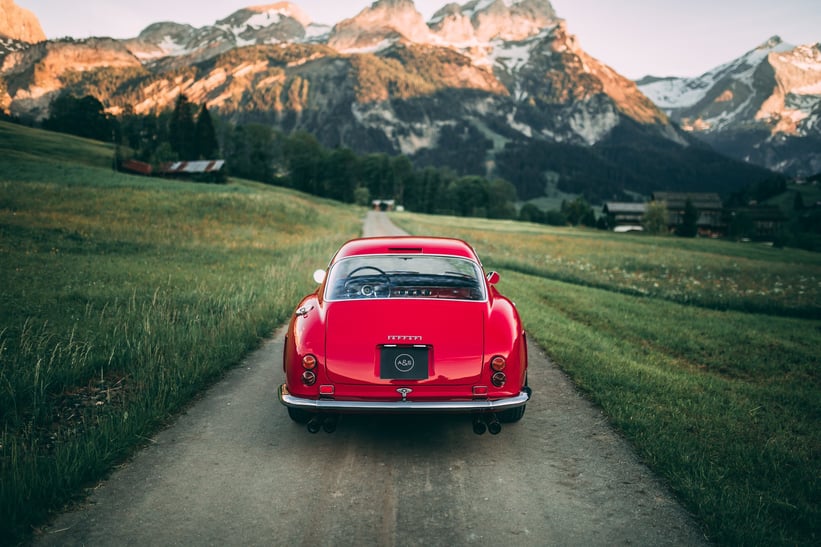 Don't let the sumptuous quilted leather and eye-catching brightwork fool you. With its lightweight shortened chassis, mighty 3.0-litre Colombo V12 (with Testa Rossa cylinder heads) and all-around disc brakes, this car was born to perform. This SWB's second owner, a Swiss gentleman driver by the name of Daniel Siebenmann, recognised the car's competition credentials and entered several high-profile races in 1963. First up was the Trophée d'Auvergne at Circuit Clermont-Ferrand, where on a grid that included such racing legends as Lorenzo Bandini, Lucien Bianchi and David Piper, Siebenmann finished 23rd overall. A month later he contested the Ollons-Villars hill climb, finishing an impressive seventh in the GT class.
The Sierre-Crans-Montana hill climb in Bern, Switzerland, followed, before the Ferrari was sold and exported to Los Angeles. We can only imagine how it must have felt in the 1970s to prowl along Sunset Boulevard or Mulholland drive in this magnificent car, windows dropped with the V12 purring away. Chassis 2563GT returned to Switzerland in 1979 and has since resided in several high-profile Ferrari collections. One of those collections' owners stabled the car from 1984 until 2001, entering the Tour Auto in 1998.
And that's certainly not the only taste of historic racing the car has enjoyed. Its next owner (also a Swiss) exercised it in a number of prestigious events including the Le Mans Classic and the Ferrari Historic Challenge. Today, 2563GT resides in yet another important Ferrari collection, boasts all-important Classiche certification and presents beautifully, its ravishing rosso paintwork glimmering in the golden summer sunshine.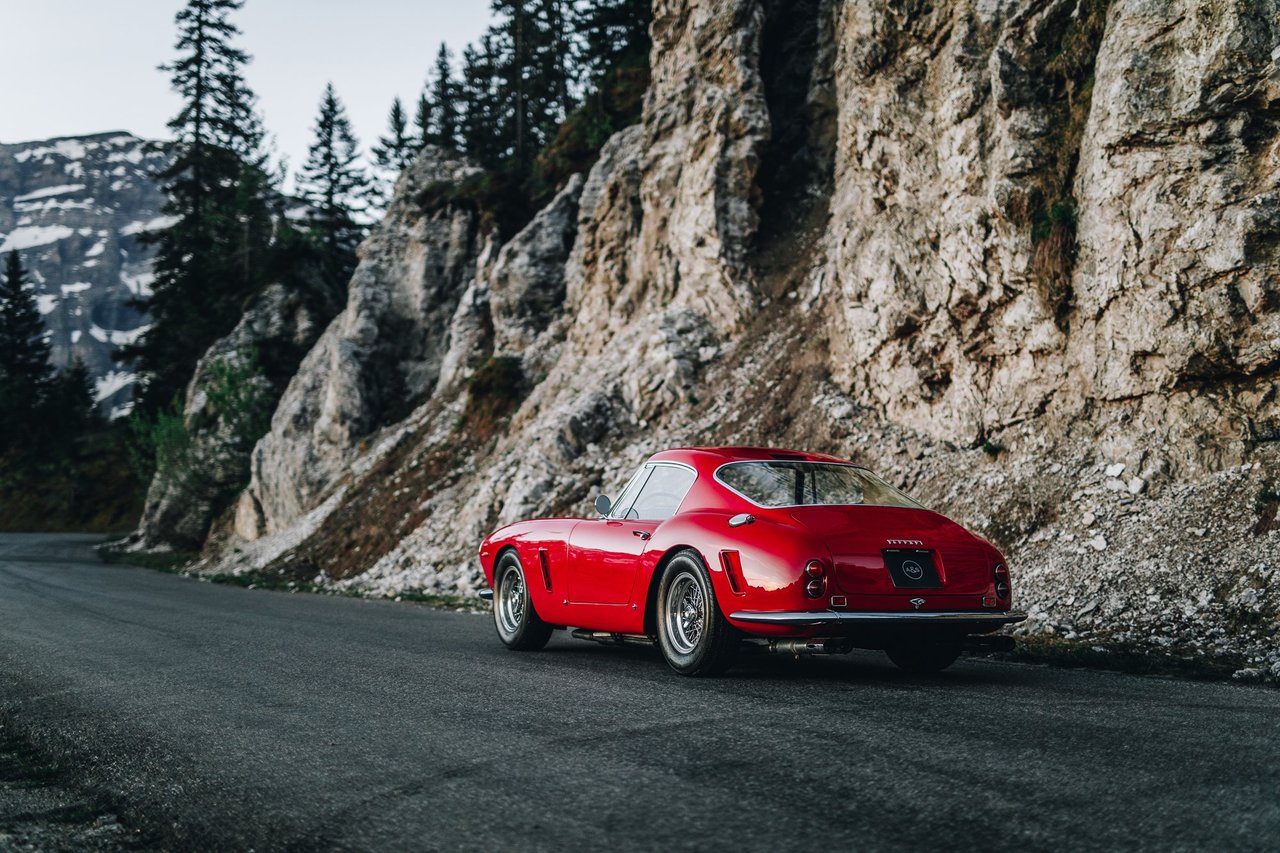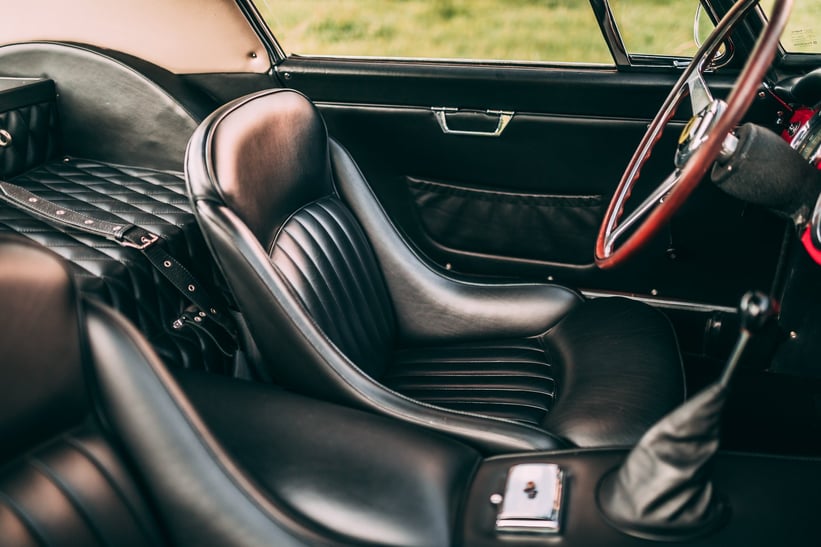 Out here on the twisting mountain roads the Ferrari comes into its own, handling with the majesty, poise and balance of a ballerina. It's no wonder why all the greatest drivers rated the SWB so highly. "I've just driven the car and I'm so overwhelmed," comments Laurent Auxietre of Auxietre & Schmidt, the Classic Driver dealer charged with selling this fantastic Ferrari. "This really was the golden age for Ferrari – it's so user-friendly yet it just wants to give more and more and more. The chassis is so planted. Once you drive it, you want to own it."
The last of the real road racers, it's more civilised, spacious and comfortable than the hardened GTO, while almost as quick. For many, the 250 GT SWB is Ferrari's finest racing car and embodies the quintessential dual-purpose Grand Tourer. There are not many rungs higher on the collector car ladder, let us tell you. With its rarity (just 165 SWBs were built), clear history and, even rarer for a Lusso-spec car, period competition record, chassis 2563GT would be a crowning addition to any collection. Just look at it.
Photos: Stephan Bauer for Auxietre & Schmidt © 2020