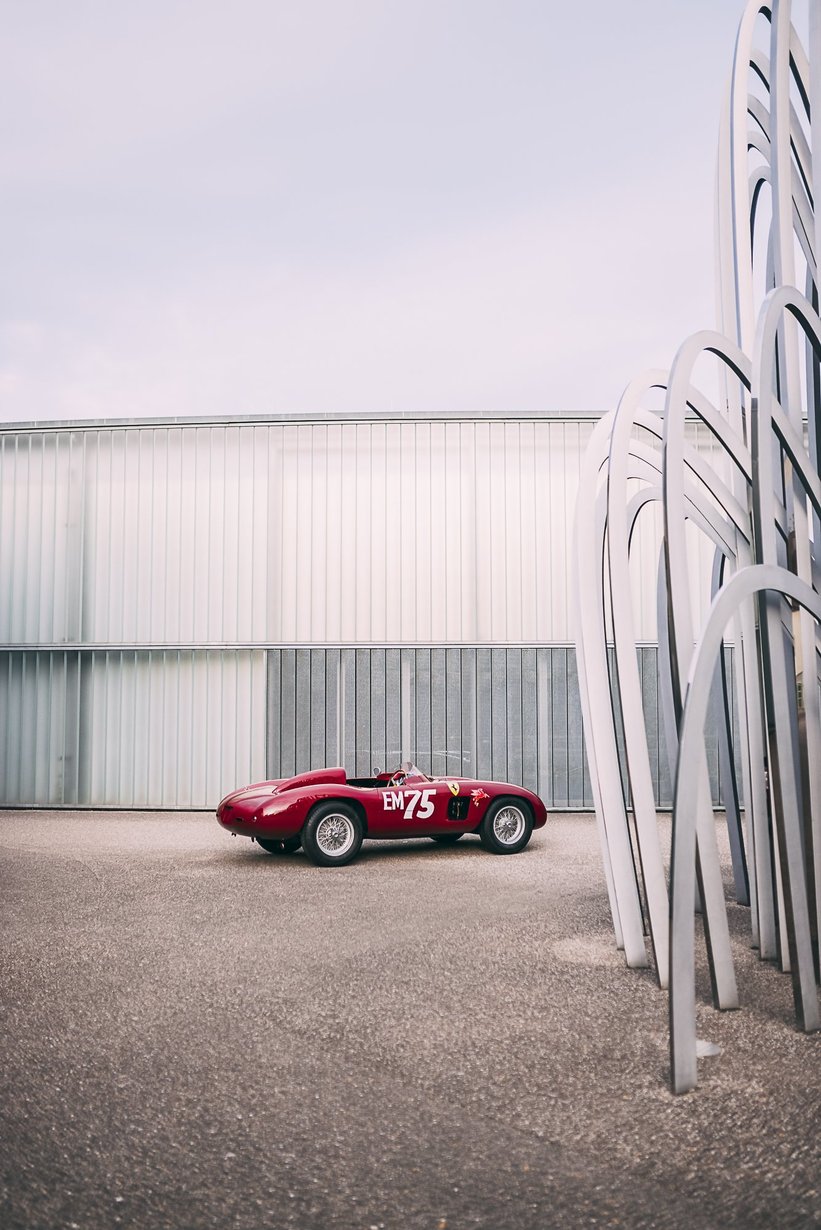 The quintessential competition Ferrari? Everyone has their own idea about what that is, but it's fair to say no shortlist would be complete without mention of the 500 TR. As shown by photographer Stephan Bauer's superb shots of this example on offer with specialist German restoration house Mechatronik, the 500 TR looks small and jewel-like in its flowing Scaglietti skin – but it's also a swift and nimble giant killer that's very much part of Ferrari's early racing history.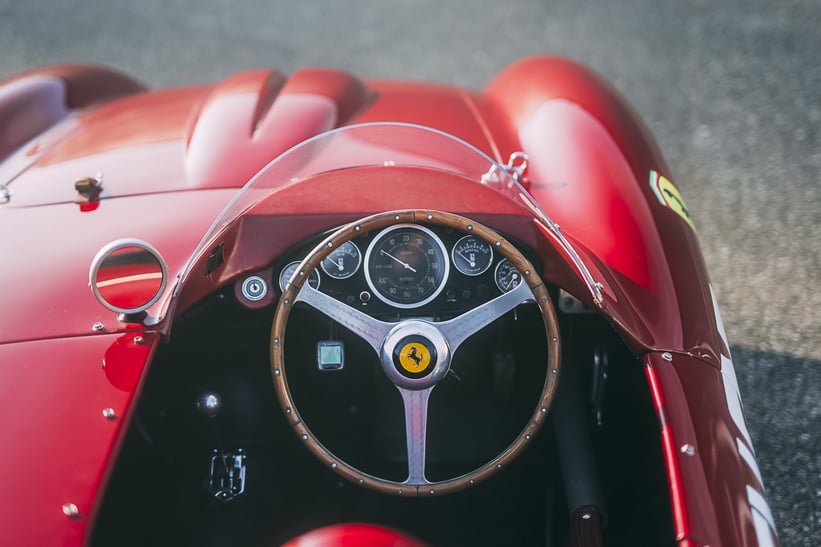 Monday, 26 April marks precisely 65 years since the wraps were pulled off the launch version of the 500 TR at the New York Auto Show. The car attracted crowds both because of its appearance and what lay beneath its hood: not one of Gioacchino Colombo's already-ubiquitous, small-bore V12s, but an example of the simpler, lighter, gruntier four-pot format designed by Aurelio Lampredi in 1951 at the behest of Il Commendatore.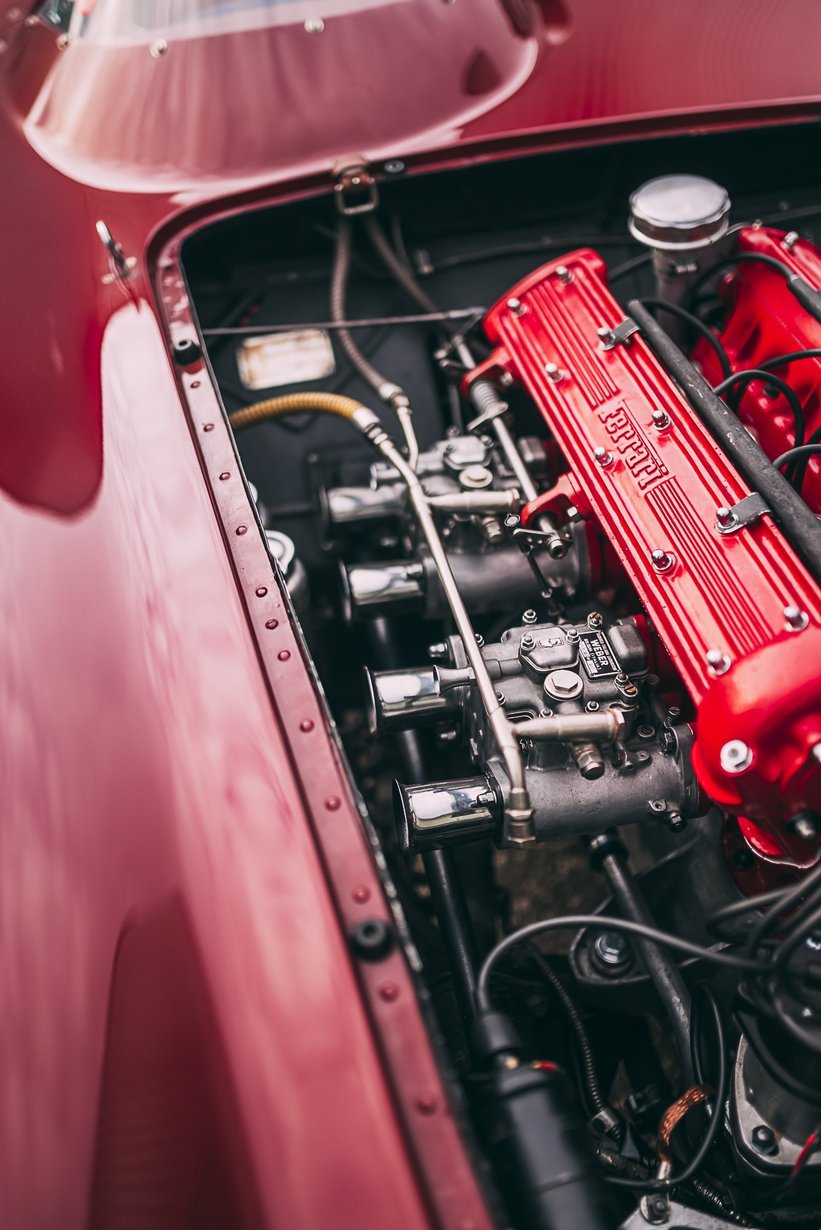 With its red cambox covers, the 500 TR was the very first Ferrari model to carry the name 'Testa Rossa'. It arrived when the marque had been around for less than a decade and the tally of cars bearing its name had yet to exceed 100. All the same, the Prancing Horse had already made an impression in all areas of motorsport, from the Grand Prix category to long-distance GT racing, with its single-seaters quickly achieving impressive results in both Formula 1 and Formula 2 thanks to Lampredi's four-cylinder engines. True giant killers, these powerplants enabled Ferrari to beat the might of Mercedes to the 1954 World Sportscar Championship manufacturer's title and took it to within a single point of victory the following year, too.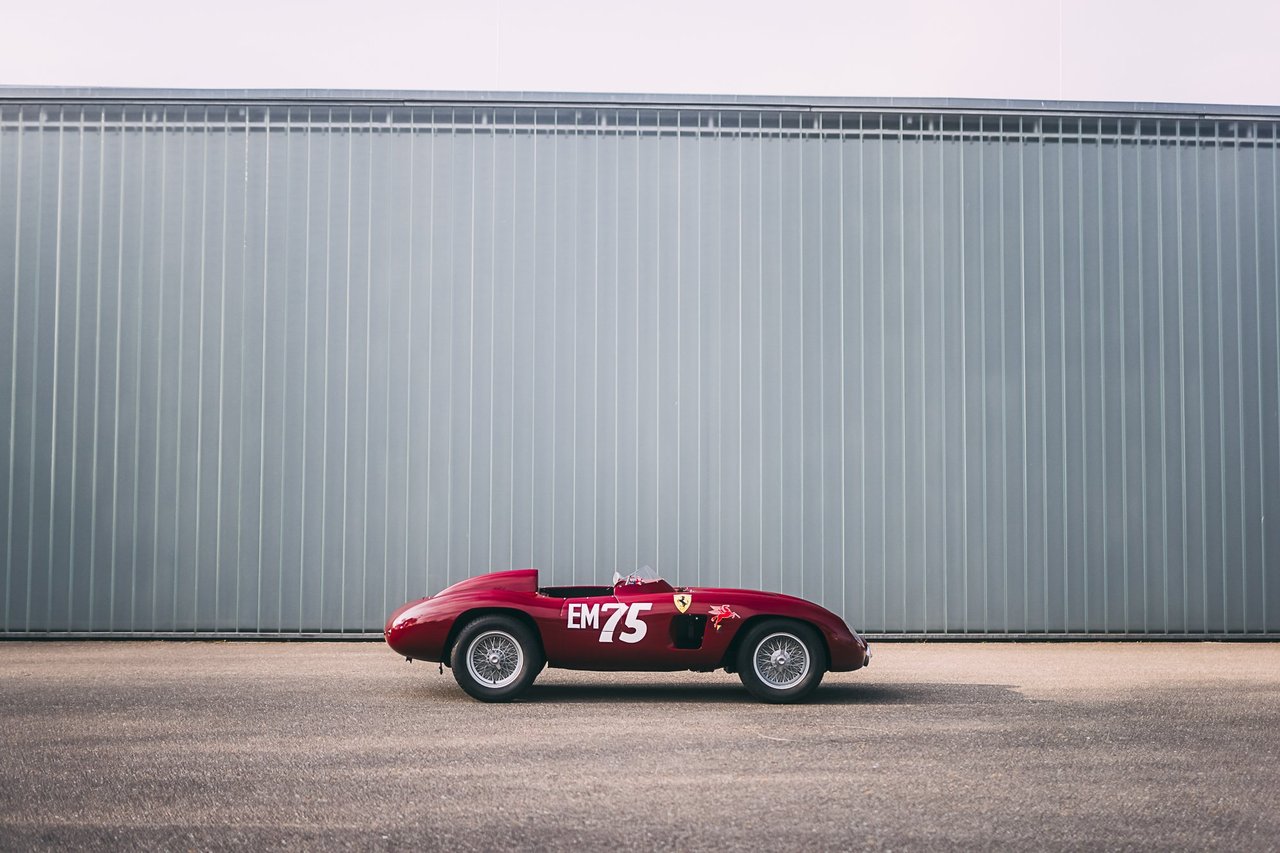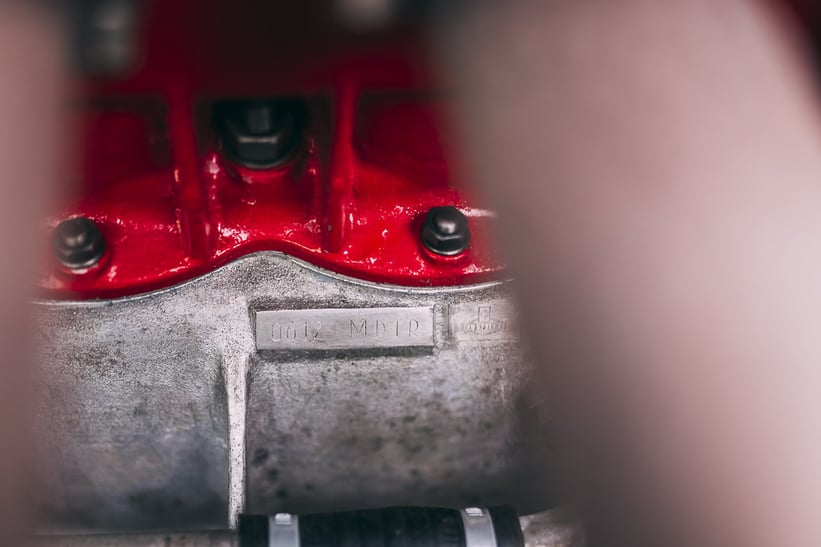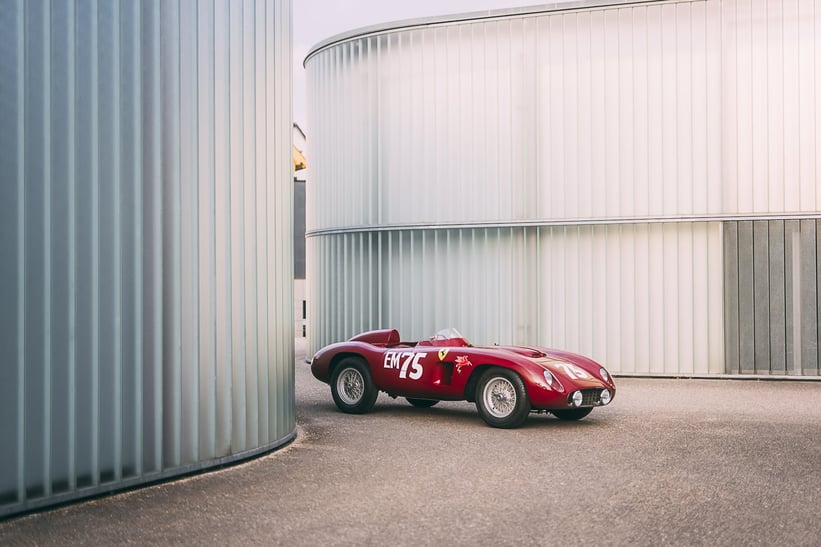 Although he left the firm in 1955, Lampredi's legacy famously lived on – and it was a version of the 2.0-litre twin-cam that had already proved its worth in the 500 Mondial and 750 Monza customer cars that found its way into the 500 TR, but this time upgraded to near-GP specification. Since the car weighed just 680kg and the engine produced 140bhp, the diminutive 500 TR offered a winning combination of quick acceleration, nimble handling and a top speed of 140mph – sufficient for it to hold its own against bigger, heavier, more powerful contemporary rivals such as Maserati's A6GCS and Jaguar's D-Type.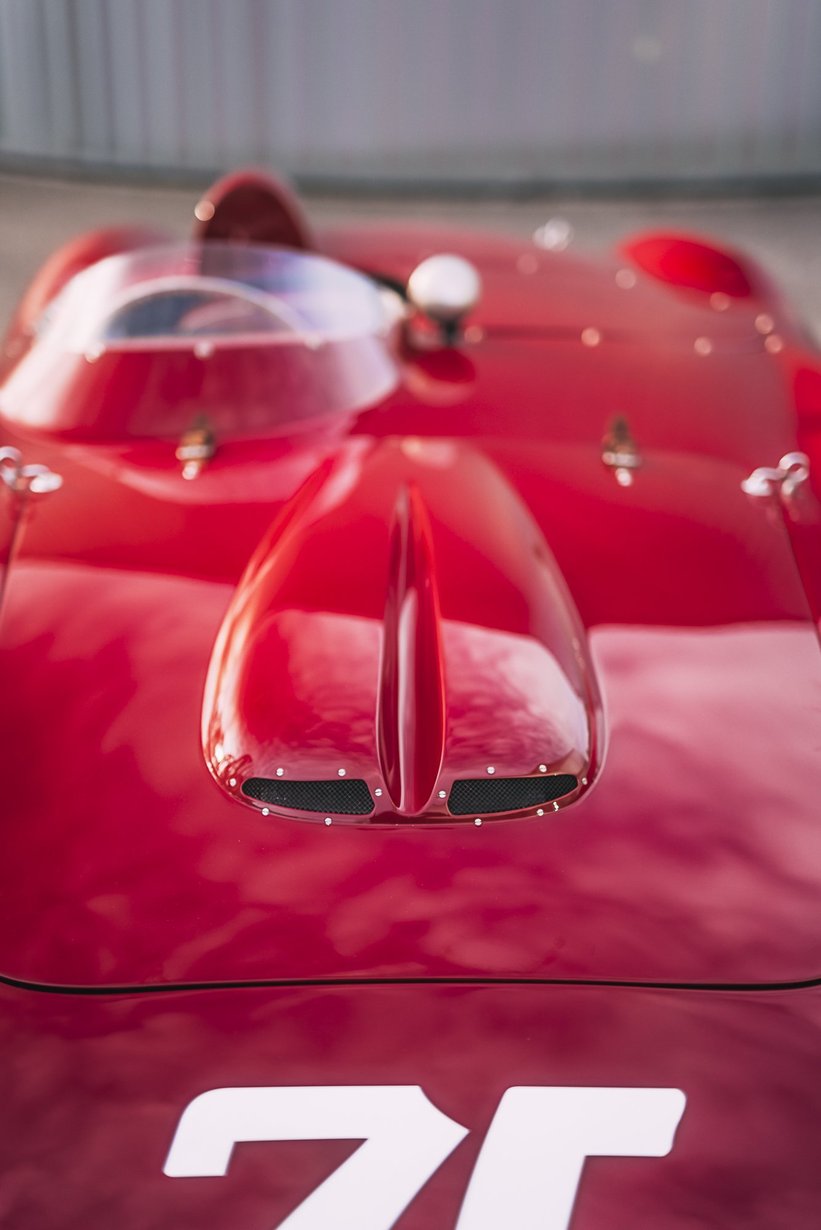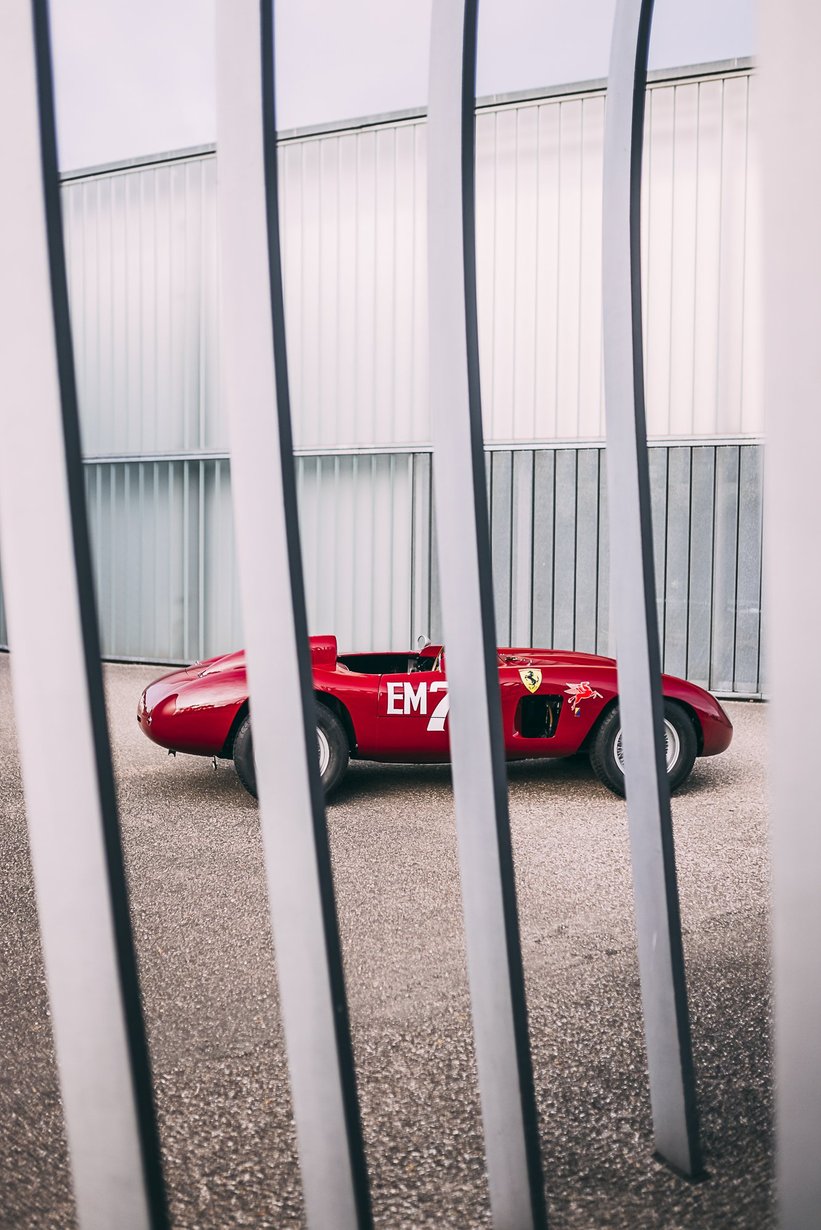 Launching the 500 TR in New York suggested that Ferrari's target market was the well-heeled American 'gentleman driver' and it was just such a person who became the first owner of this car, chassis number 0634MDTR. Rejoicing in the name of John V. Quackenbush, he'd cut his racing teeth on MG TCs and Austin-Healeys before upgrading to a Ferrari 250MM for the 1955 season. The first half of the following year saw him achieve limited success with a 500 Mondial, but it was when he got behind the wheel of his new 500 TR in June that Quackenbush's results began to pick up, with a fourth and a second achieved during his first weekend with the car at the Lawrenceville Nationals.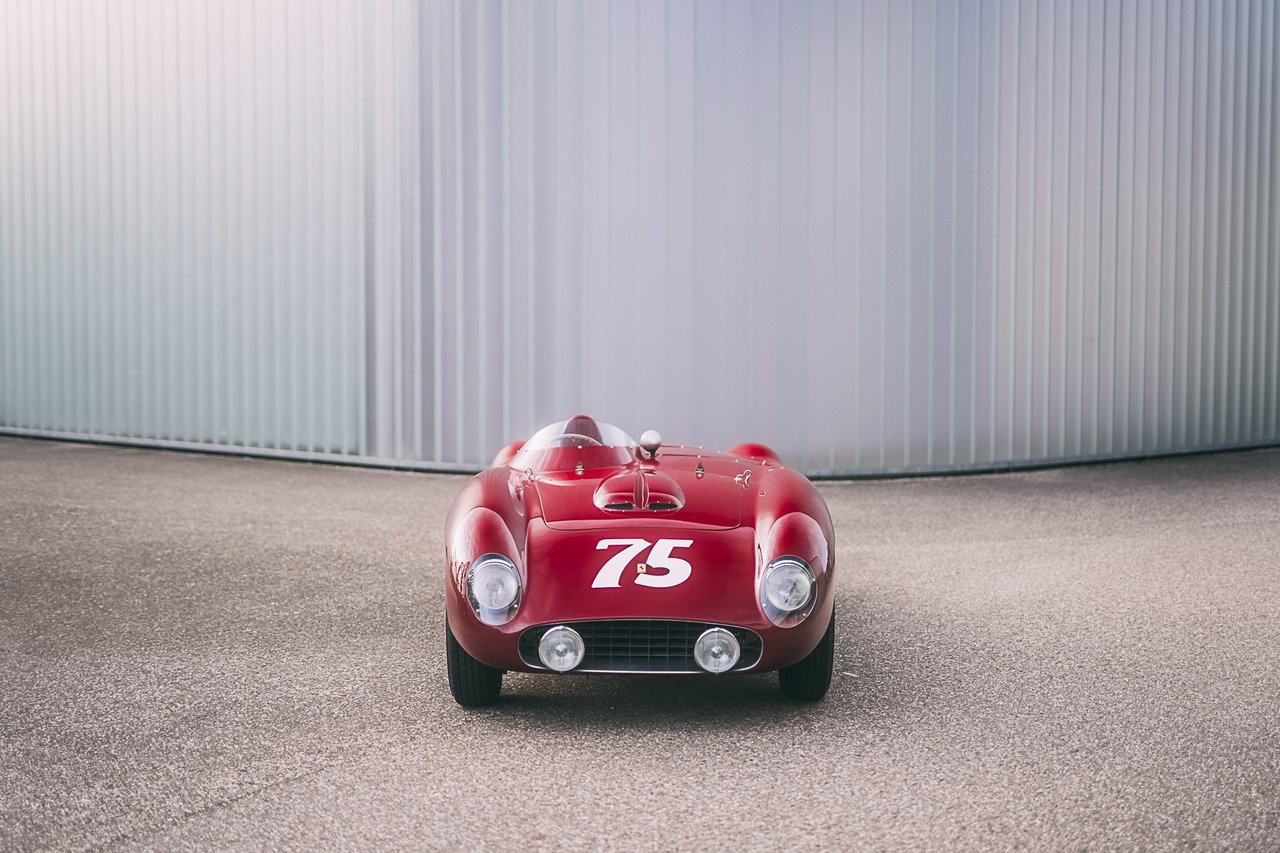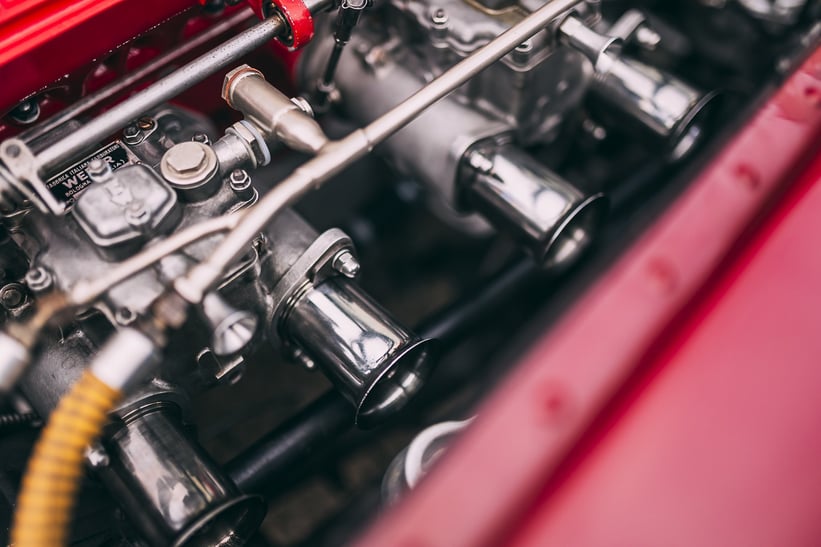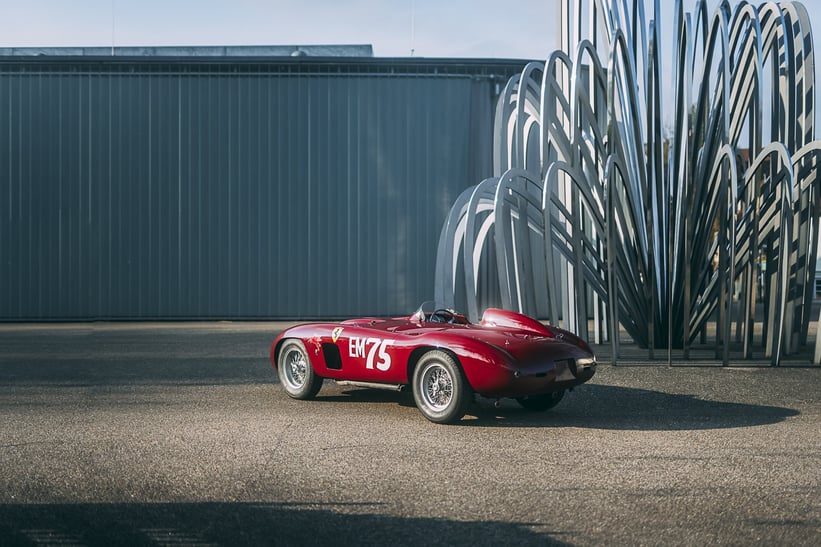 After that, Quackenbush raced the car most enthusiastically for the following 12 months, competing at events such as the Elkhart Lake Sprint (second) the Lake Erie GP (first) and the Road America Six Hours (second in class). But during another Road America event, the hard-pressed engine finally gave up the ghost. Ferrari supplied a correct replacement – which has remained in the car ever since – enabling Quackenbush and fellow drivers Dick Hogue and Graham Shaw to carry on competing in the beloved 500 TR for a further two years before it was sold to a new owner in Canada.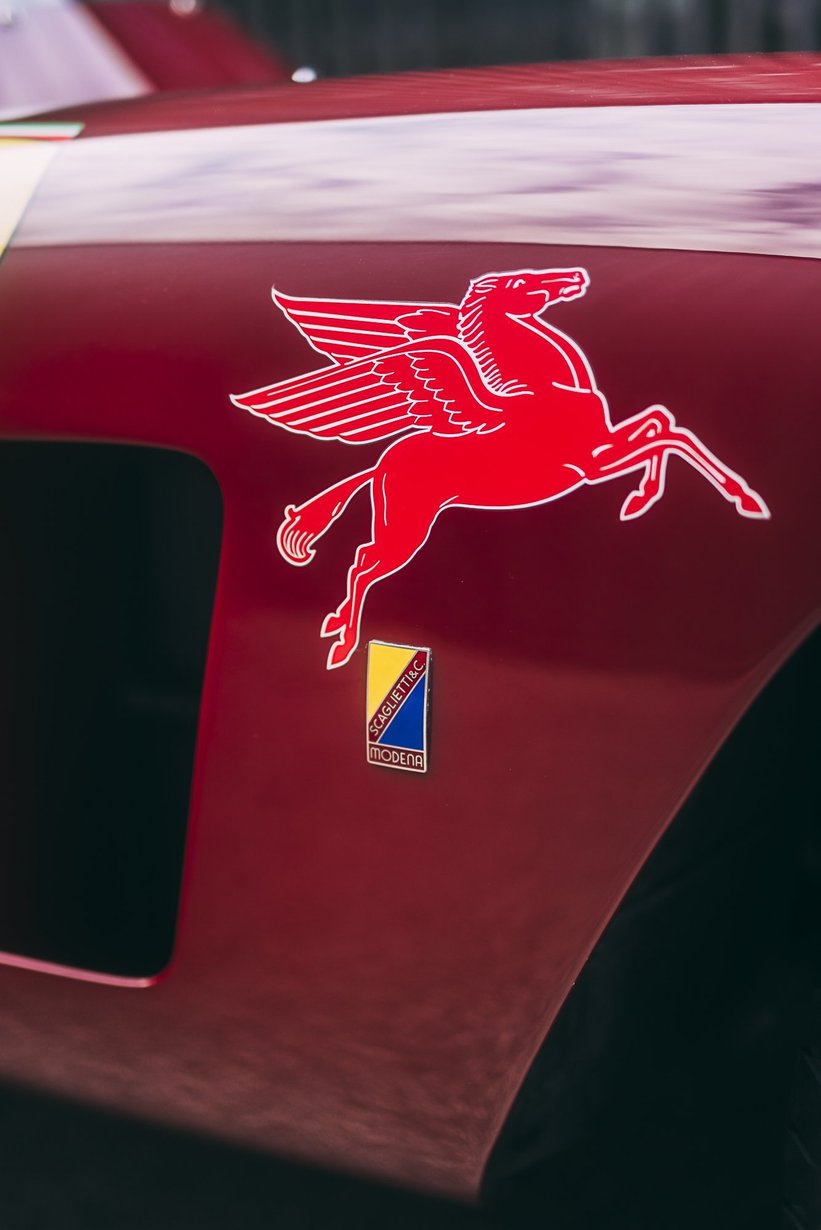 The car remained relatively dormant for the next 20 years before being treated to a high-quality body restoration by noted New York State Ferrari specialist Tom Selby of Grand Prix SSR, with a full mechanical rebuild being carried out in 1984-85 by top-flight Denver engineer Mike Depudja. By 1999, however, the 500 TR had come full circle, ending up back in Italy where it emerged from its long but temporary retirement to resume a hectic competition schedule that subsequently saw it take part in no fewer than seven editions of the Mille Miglia, as well as the Oldtimer Grand Prix at the Nurburgring and the Maserati Ferrari Historic Challenge at Mugello. After a full engine rebuild last year by Ital-Auto of Koengen, Germany, this remarkable warrior is now being offered by Mechatronik in full running and race-ready condition.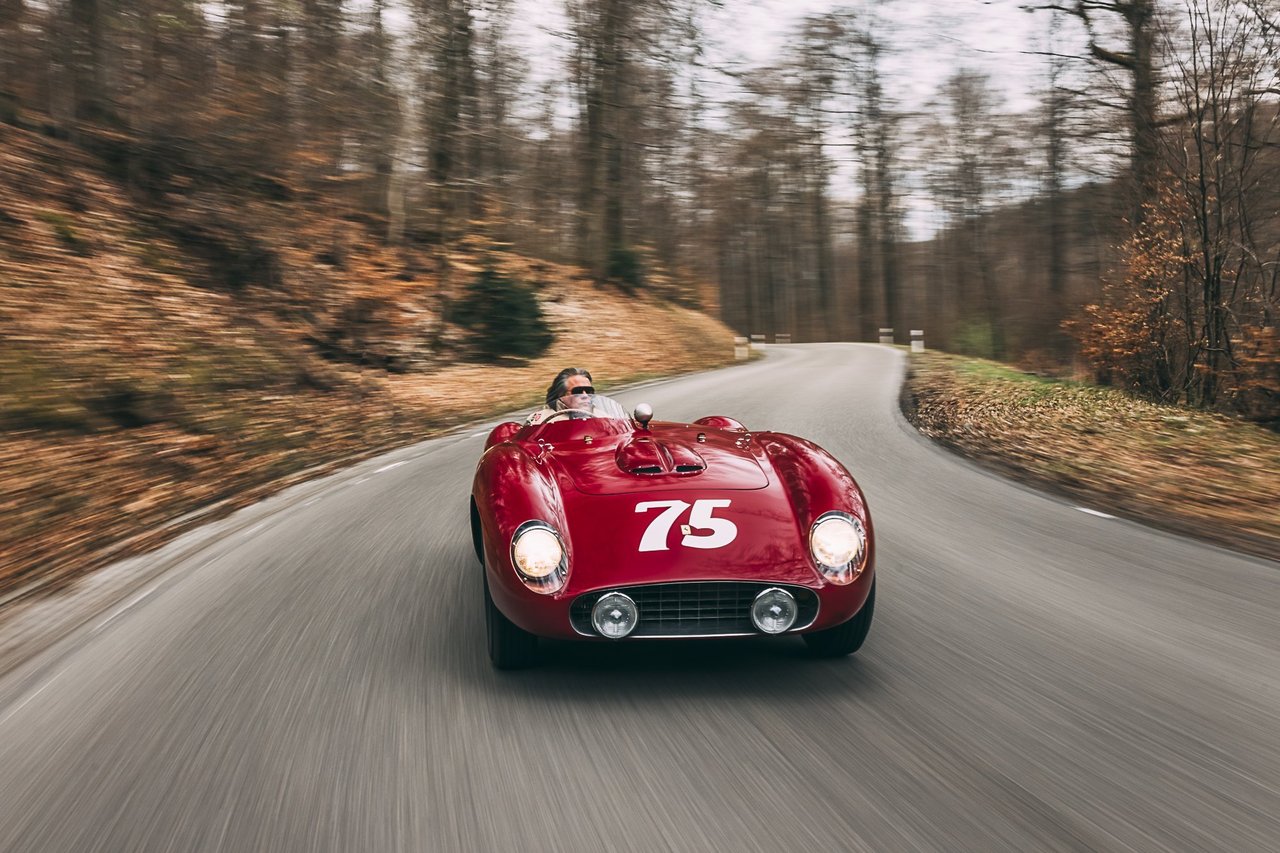 "With only 19 500 TRs ever made, it's a very rare car in its own right – even more so because it retains its original body, chassis and gearbox as well as the correct, replacement engine that has been in place since 1957," says Mechatronik's Pascal Stephan. "Importantly, its originality was certified by Ferrari Classiche in 2009 and, as well as proving itself as a capable historic race car, it has also been successful at various concours events."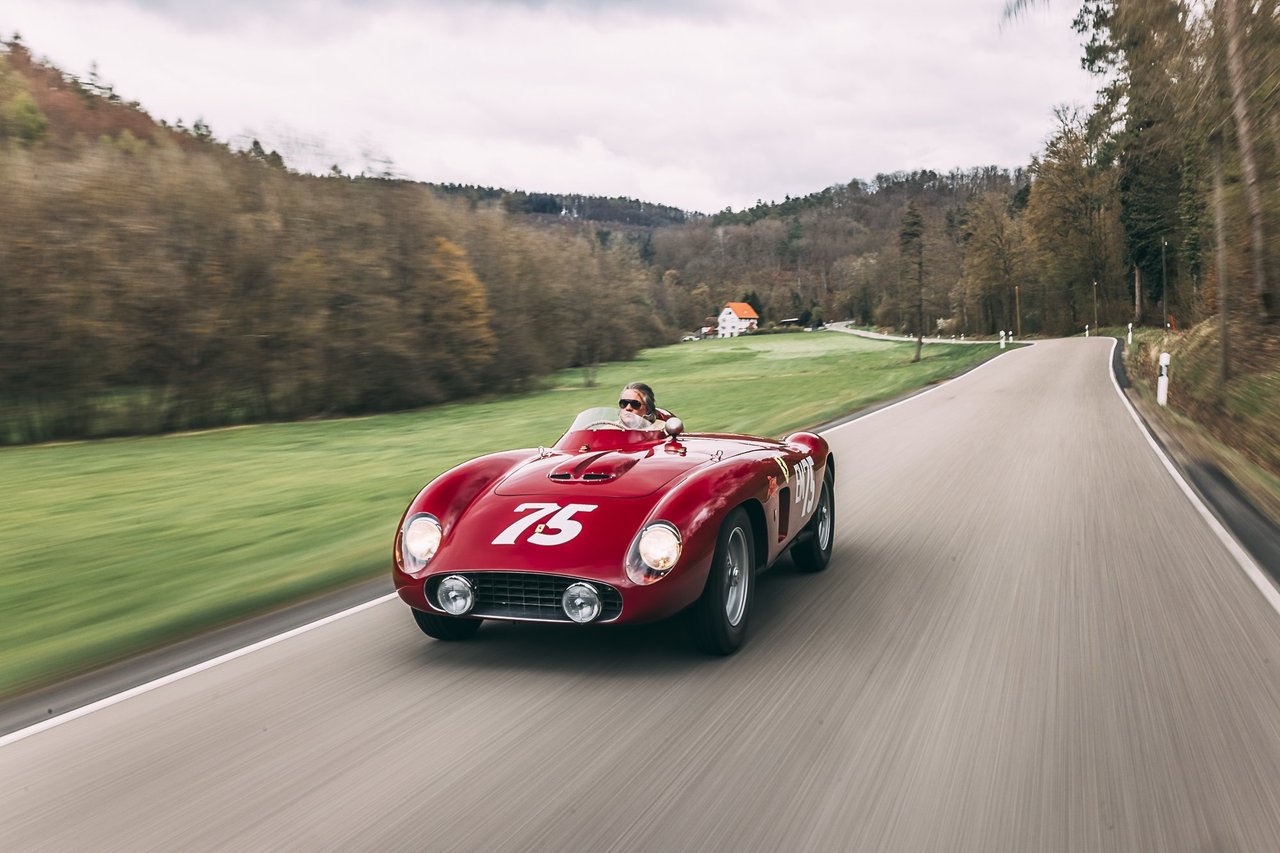 Looking resplendent in its factory 'Rosso' paint – darker and more subtle than the more common Rosso Corsa – the car wears decals from some of its recent outings with pride and is clearly a prancing horse that's champing at the bit to get back into the fray of competition. And what do you need to do in order to find yourself nestling behind that minimalist windshield in the 500 TR's beautifully trimmed cockpit? Just pick up the phone and speak to the good people at Mechatronik – they will let you know exactly what to do. And we are sure it'll be worth it.
Photos: Stephan Bauer © 2021