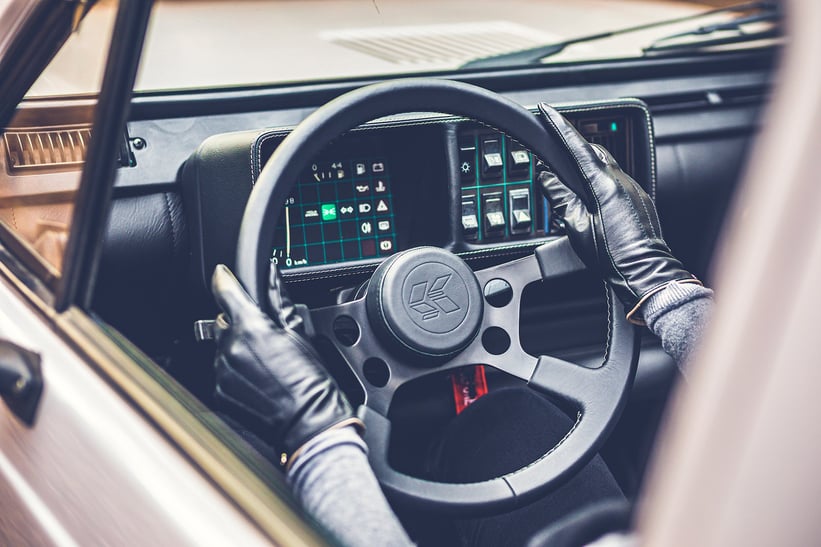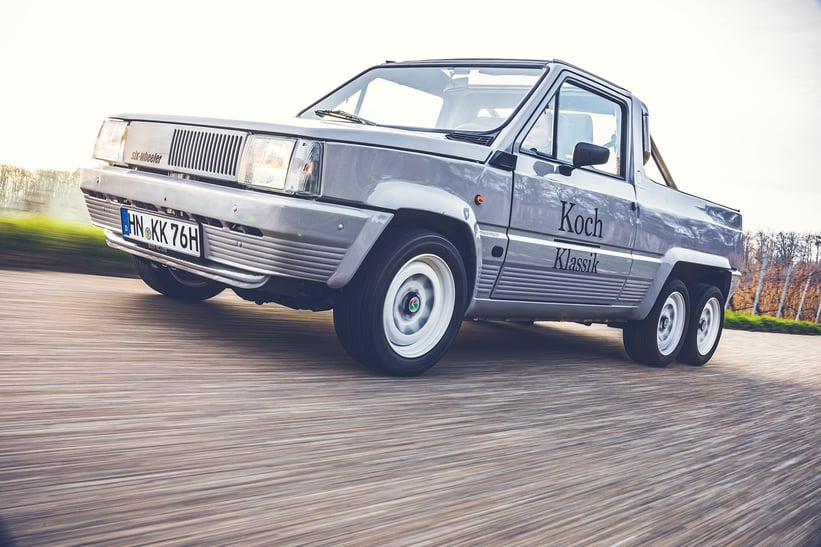 Do you think Gianni Agnelli had any idea what cult potential the small, every-day, Fiat Panda would hold in the future? Classic Driver dealer Horst Koch obviously did. Back in the eighties, he was still an authorized dealer in Heilbronn for Fiat, Lancia and Ferrari and had the wild vision of ​​turning the all-rounder into a pickup. It was to be produced as a small run of vehicles at Autohaus Koch and used, among other things, as a promotional tool for companies. Sadly, the partner for this project passed away and so it seemed the dream was over before it started. But, a single six wheeled Panda was built, which has recently been subject to a comprehensive restoration and once again causing Panda mania!
"A Mercedes-Benz G-model in miniature," says Linda Koch with a smile. The Fiat Panda as a pickup with six wheels was created in 1986 and was developed completely in-house at the Koch workshops. The driver's cab corresponds to a standard Panda, but with an attached loading area. That's why 'he' got his very own badge - KK. "The plan at the time was to create an advertising vehicle with a practical loading area." In the same year, the pickup even made its appearance in front of large audiences at the Geneva and Frankfurt motor shows.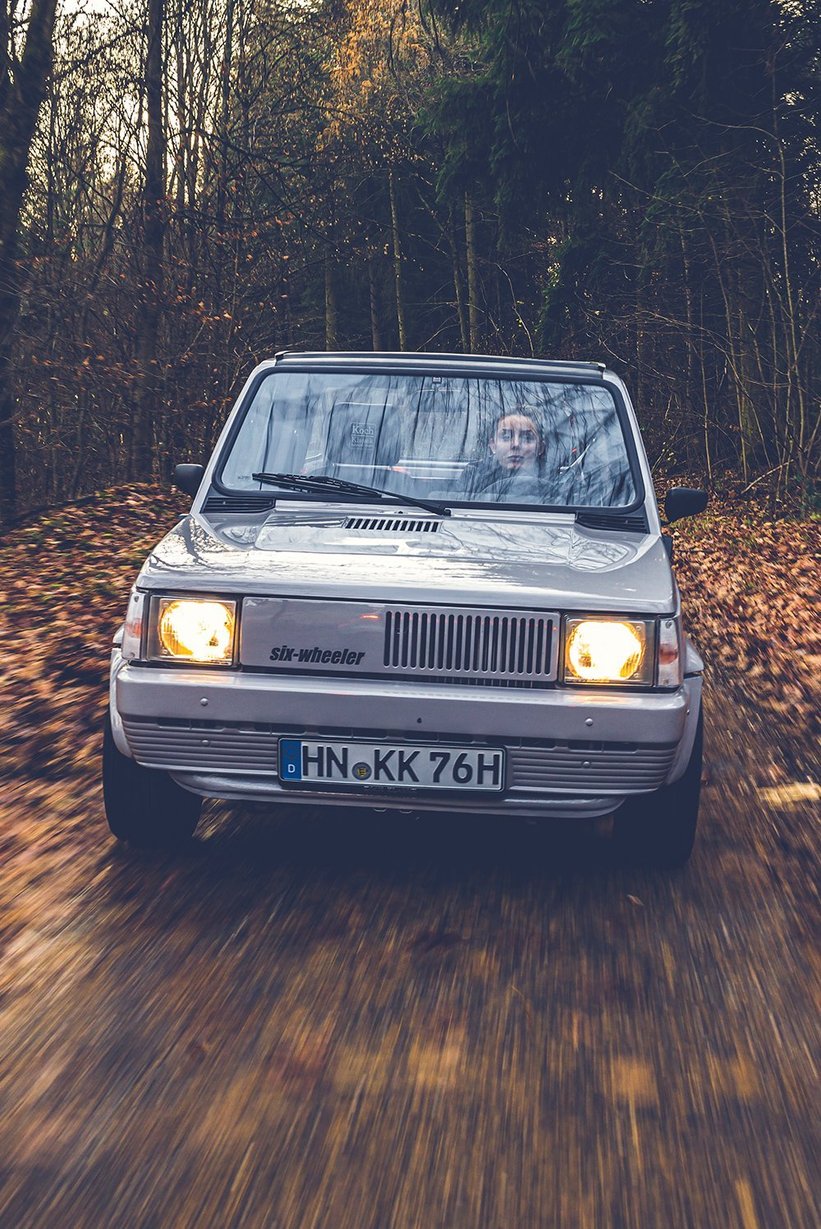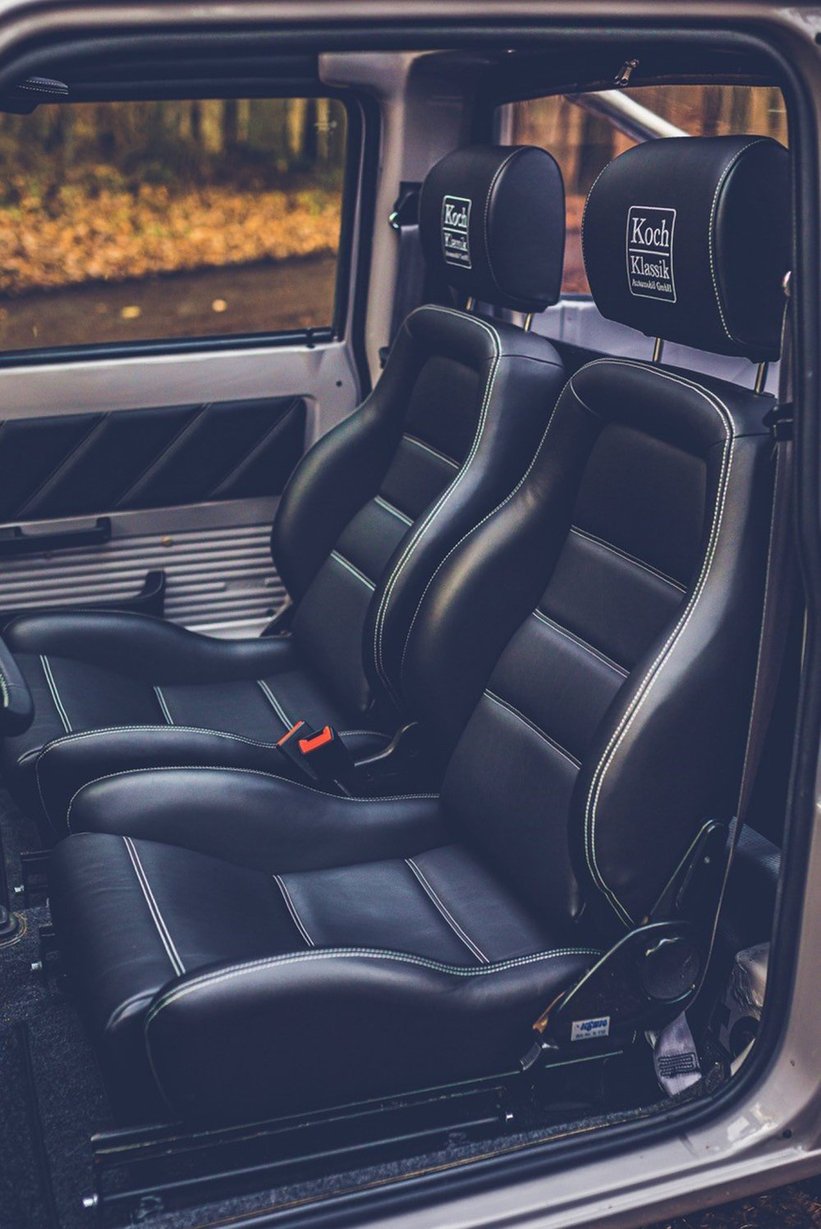 The pickup truck wasn't Horst Koch's only conversion. While he was still a Fiat dealer in the eighties and before he moved on to trading and restoring classic vehicles, he also had the idea of​​tailoring the Panda into an affordable convertible. There were few of them on the market and the demand was high: around 250 units were built, including the 4x4 version. "The envisaged series of Pandas with three axles were never designed as all-wheel drive," says Linda Koch, "the technical effort would have been enormous and would have pushed us over budget."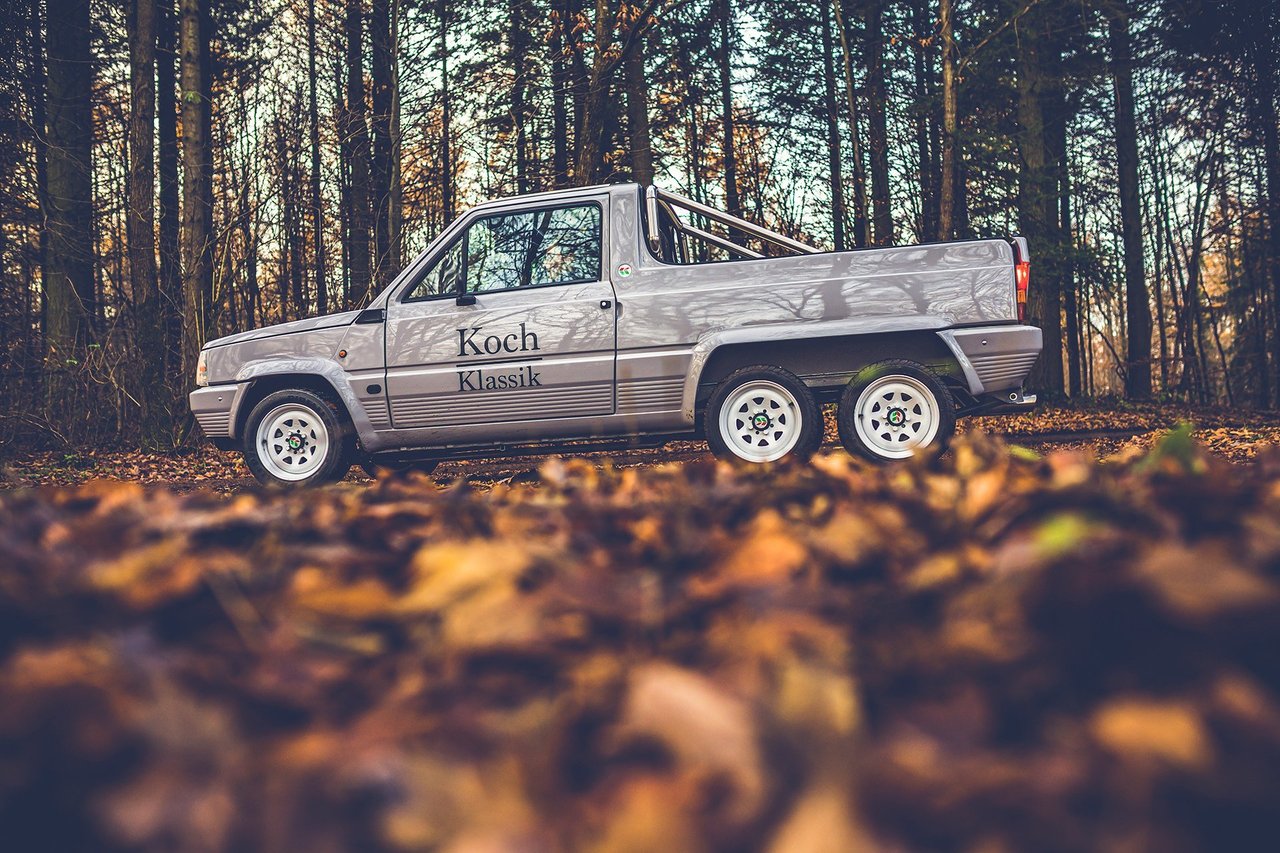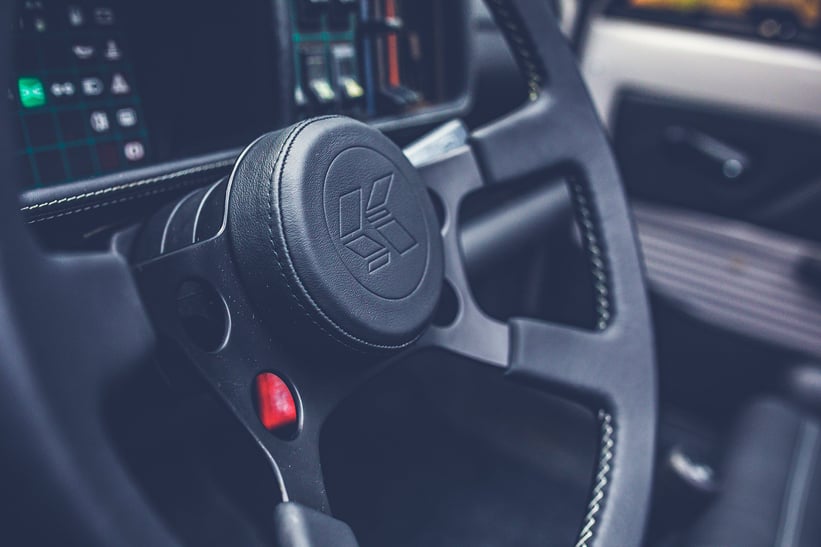 Originally the flatbed Panda was sprayed blue with a contrasting red interior. "We wanted to make it more modern and at the same time more subtle when we discussed the restoration. That's why we chose a shade of grey on which possible foiling presents well .We retained as much as possible of the original car, such as the white rims with the KK emblem, which were also available as part of an in-house tuning kit at the time. The finishing touches include the black leather seats with decorative stitching matching the grey paintwork. The old KK stamp on the horn button and the new Koch Klassik logo embroidered on the headrests strike the historical link between Koch then and Koch Klassik today. This Panda celebrated its premiere in its freshly restored condition last year at the Concours d`Elegance in Schwetzingen.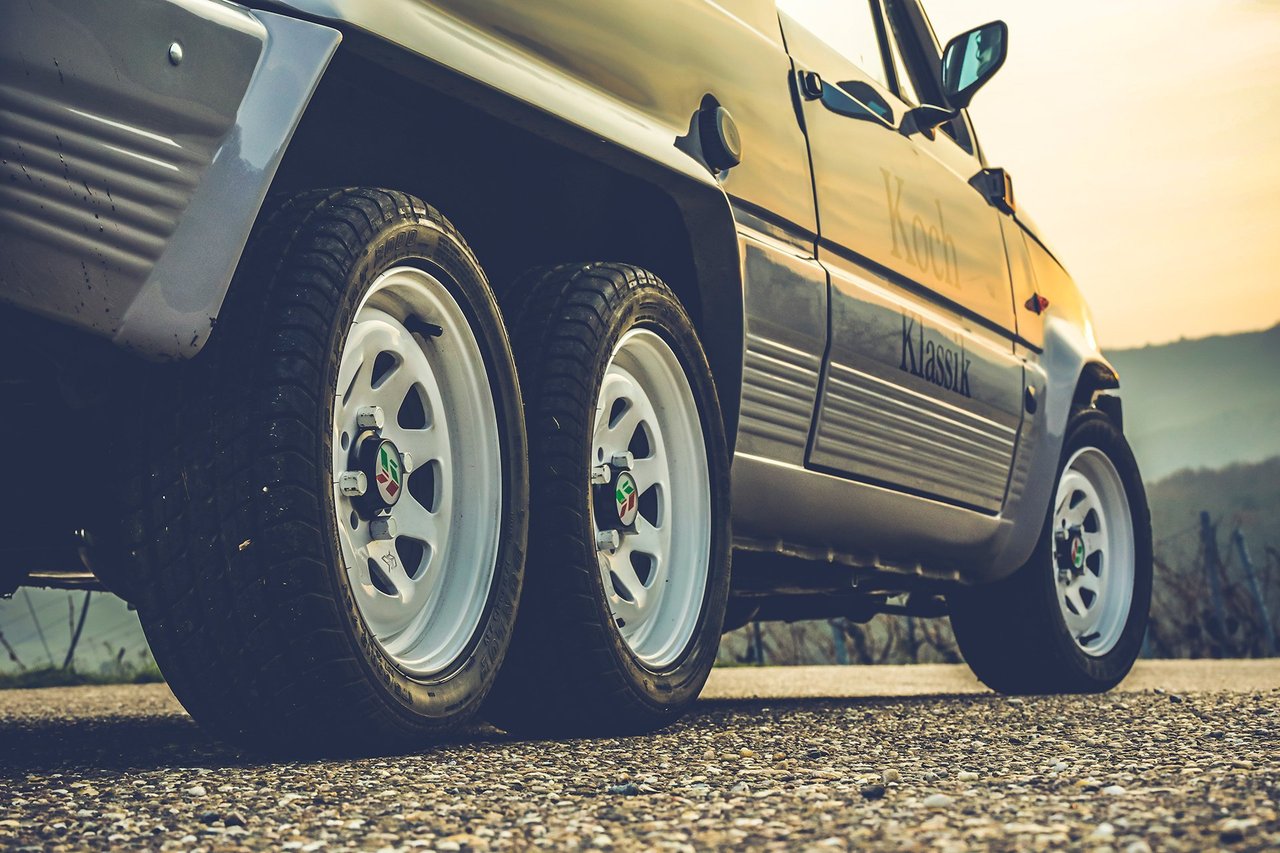 "It drives like a completely normal car," says Linda. "You get in and experience the typical Panda feeling." She is also enthusiastic about the road holding of the 70hp four-cylinder front-wheel drive. "Now it is being kept inside, but when the weather improves it will stand proudly in front of our company buildings. In addition, we will use it as a normal transport, because the loading area is lined with a rubber mat that can be easily hosed down. For example, you can drive an engine to a specialist and don't have to worry about dirt or oil residues."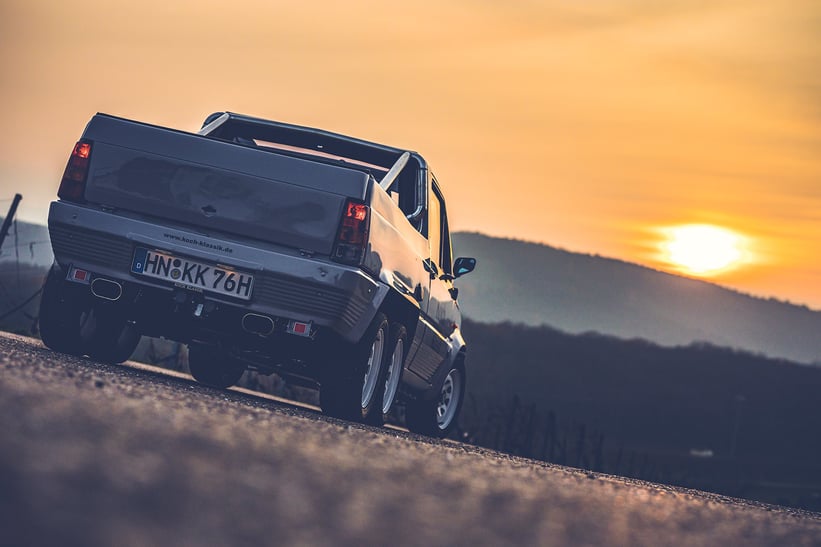 To say that Linda has petrol in her blood would be an understatement, she represents the fourth generation of a family dedicated to cars. Her grandfather was a motorcycle racer for NSU, her father a passionate participant in classic rallies with his Lancia Stratos, Fiat "Otto Vu" and a Bentley 4½-litre. Linda had her first rally experience at the age of two, wearing a balaclava and protective goggles in an open Bentley harnessed into a child seat specially made by her father. "I have great parents and like my father I grew into this business." Today she is responsible for advertising and marketing as well as the social media presence - where the Panda six-wheeler has already found a fan base.
Hopefully the public reveal of the Panda pickup should take place this year. Can there be a better stage for him than the Panda 4x4 meeting in St. Moritz? "Last time he wasn't ready!" The Kochs plan to travel from Heilbronn to the Engadin in a miniature convoy. A Fiat Panda 4x4 Sisley is also ready to join the party. Just getting there should be an adventure that everyone is looking forward to. And of course, the luggage issue has already been resolved!
Photos: Dino Eisele © 2021