Scottsdale auctions: An upswing for the Mercedes 300 SL?
The Scottsdale auction week is regarded as the grand opening of the classic car season, and provides an early insight into the price trends of ever-popular cars such as the Mercedes 300 SL. We have asked the experts whether Stuttgart's legendary sports car is about to experience an upswing…
A total of nine 300 SLs will be auctioned this week by four major auction houses – Bonhams, RM, Barrett-Jackson and Gooding & Company – with their combined lotlists comprising five 'Gullwing' coupés and four roadsters. This provides a barometer by which to look at the car's potential market performance over the coming year.
No saturation in sight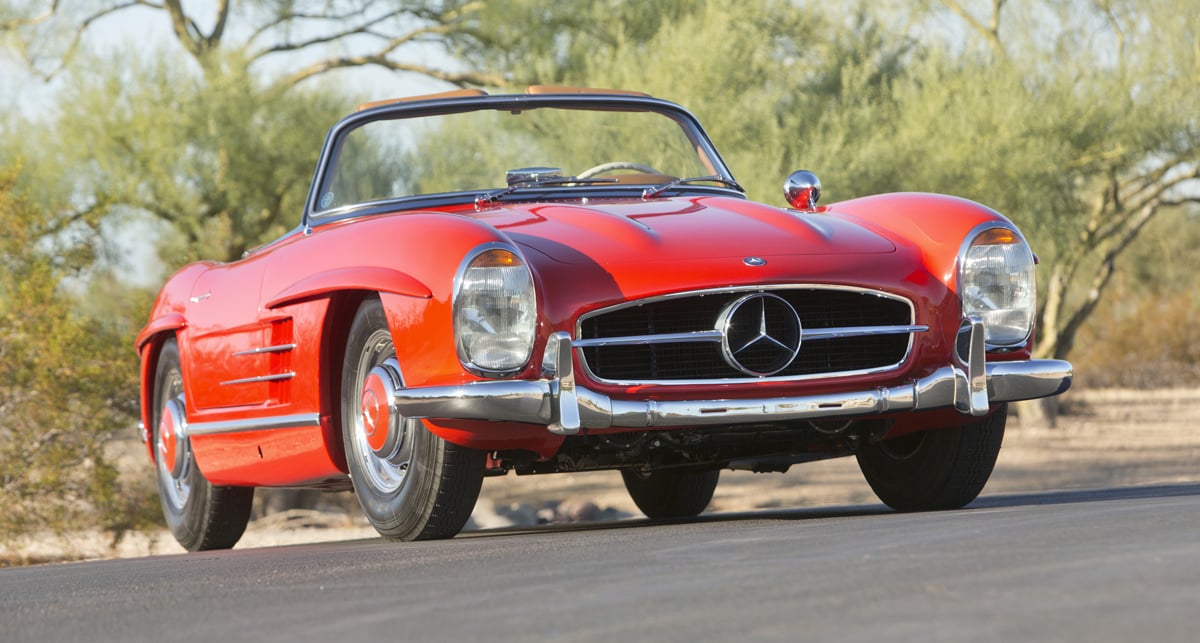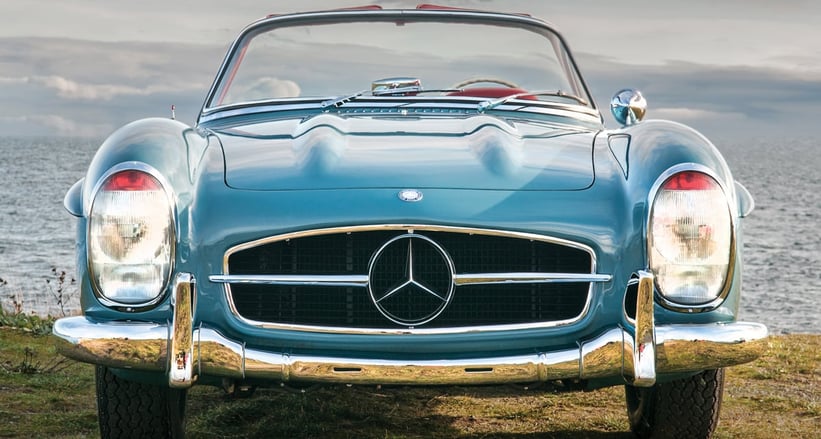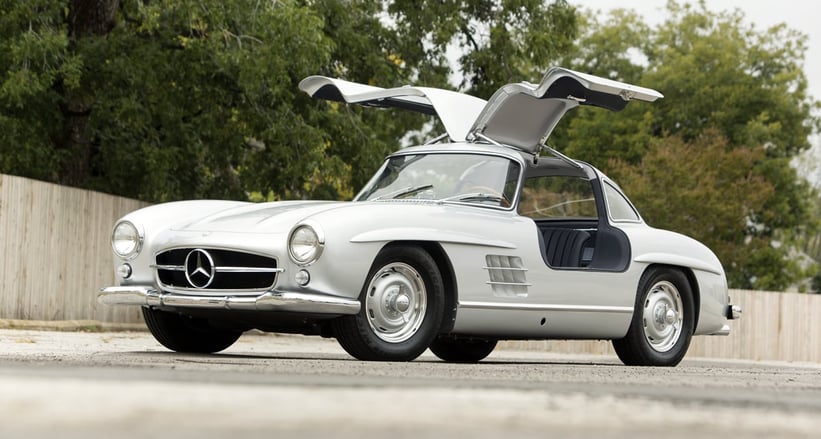 A wide range of 300 SLs on offer at Scottsdale is not unusual – quite the contrary, in fact. Most notable classic car sales have at least one example, but the market is far from tired. There are many factors keeping the 300 SL relevant: an instantly recognisable design, good handling characteristics and a strong racing pedigree being just a few.
But what about prices – is now the time to buy? We have asked Johannes Kleissl, owner of 300 SL specialist HK Engineering, and Christian H. Kramer, a vehicle inspector for F.I.V.A. and the publisher of enthusiast website 300sl.org. "A Gullwing in reasonable condition now commands around one million euros," explains Kramer. "Looking back over recent years, the price level has risen almost 20 per cent annually; and you're unlikely to find an investment that offers as much driving pleasure."
A trend of stable values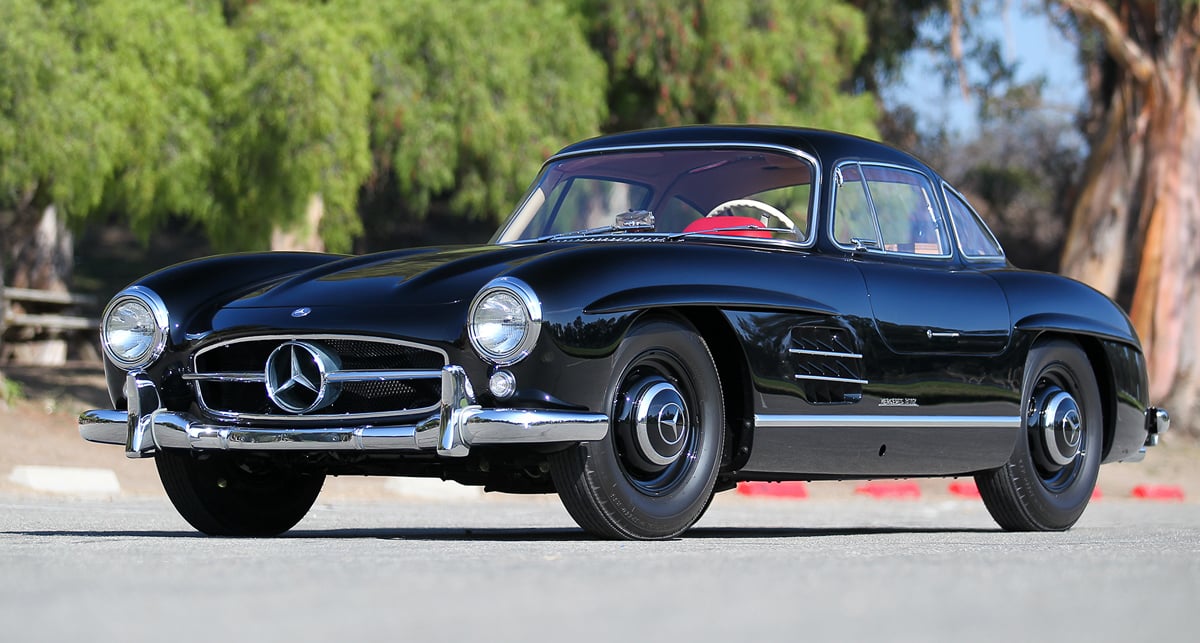 The estimates at Scottsdale start at $800,000 - $1,000,000 for a red roadster, and rise to $1.35m – $1.7m for a 'Gullwing' coupé finished in black with red leather. "Prices at auction tend to be 10% or 15% higher than those asked by a dealer, and that's before you add in the auction house's premium, but of course this depends on the condition and history of the car," says Kramer. "Therefore, a daily driver with incomplete history and a mediocre restoration will sell for less than an untouched original or well-restored example with a fully documented history."
While the marketing departments of the auction houses attract a huge customer base, the general mood at the auction, or simply the right colour combination, can have an effect on the price level. Kleissl tells Classic Driver: "You only need to look at the record price of $1.65m (including premium) achieved by the mittelblau ['middle blue'] roadster sold by RM in New York in November 2013. The open car was 'merely' a drum-braked car, which would usually achieve less than its disc-braked counterpart. However, the roadster had a nice, if not original colour combination and, among other things, boasted class wins at the St. John's and Amelia Island concours events of 2011."
Of course, bidding battles push the prices up, too. One shouldn't underestimate the appeal of the kudos and recognition bestowed on the eventual bid-war winner. "If you compare the price of a 300 SL in New York with the expectations at Scottsdale, it's apparent that these prices are stable," says Kleissl. "Even so, I think the auction houses have been intentionally modest with their estimates this year, so there's a strong prospect we'll see a new record set."
One chance to preserve originality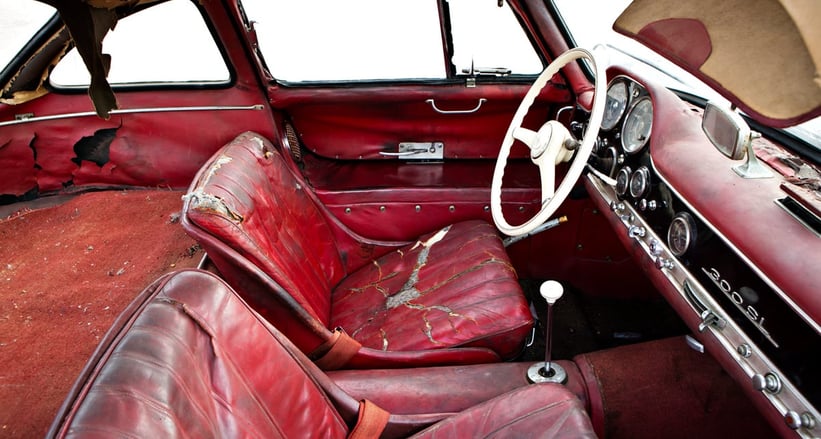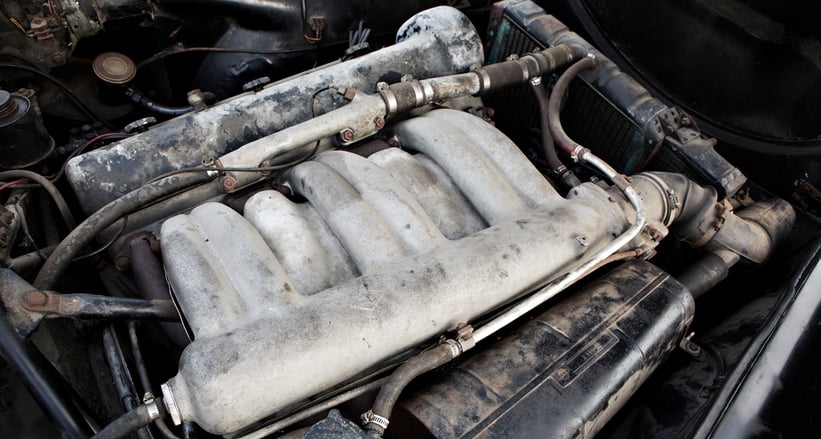 "When China finally enters the classic car market in a big way, prices should rise significantly," Kleissl continues. "Then, examples such as the Gullwing being offered by Gooding in an unrestored condition – my personal favourite – should become even more sought-after. So always remember ­– you only have once chance to preserve originality."
Photos: RM Auctions, Bonhams, Gooding & Co., Barrett-Jackson
RM Auctions
1958 Mercedes-Benz 300 SL Roadster / $900,000 - $1,200,000 (Lot 20)
1956 Mercedes-Benz 300 SL Gullwing / $1,100,000 - $1,400,000 (Lot 83)
Bonhams
1961 Mercedes-Benz 300 SL Roadster with Hardtop / $1,000,000 - $1,250,000 (Lot 125)
1955 Mercedes-Benz 300 SL Gullwing / $1,100,000 - $1,400,000 (Lot 194)
Barrett Jackson
1955 Mercedes-Benz 300 SL Gullwing / Schätzpreis nicht angegeben (Lot 5044)
Gooding & Company
1960 Mercedes-Benz 300 SL Roadster / $800,000 - $1,000,000 (Lot 132)
1959 Mercedes-Benz 300 SL Roadster / $1,000,000 - $1,300,000 (Lot 18)
1956 Mercedes-Benz 300 SL Gullwing / $1,100,000 - $1,400,000 (Lot 42)
1956 Mercedes-Benz 300 SL Gullwing / $1,350,000 - $1,700,000 (Lot 122)