---
LaFerrari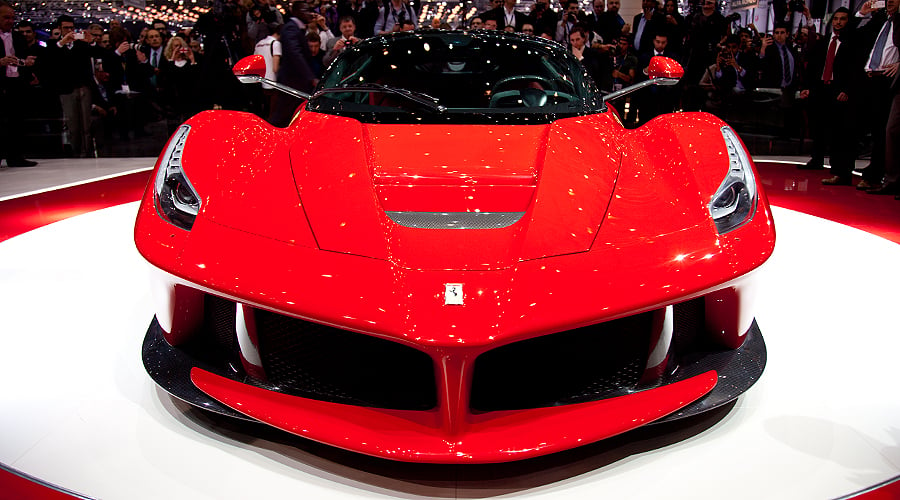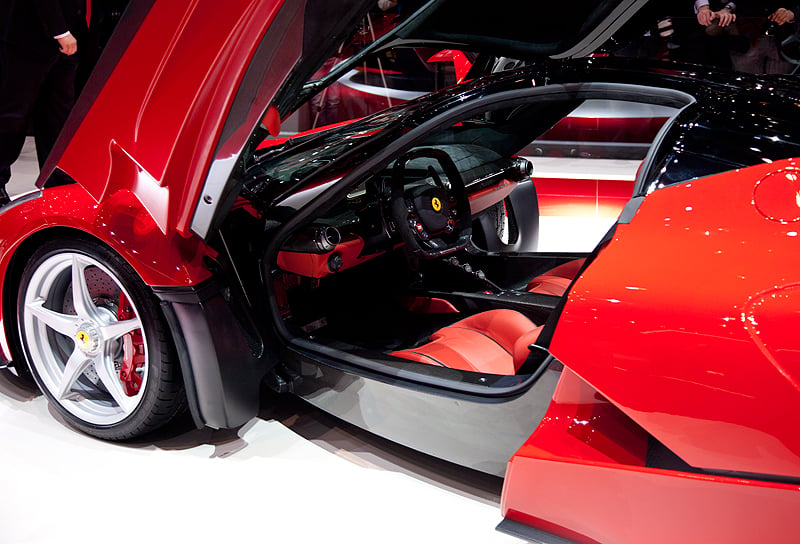 The name is probably one of the most audacious and controversial in automotive history – but at least the numbers on the spec sheet justify calling it the Ferrari. A combined power output of 950bhp from its electrically aided V12 is reason enough to raise eyebrows (and heart rates, no doubt), but more surprising is the 0-124mph sprint time of under seven seconds (a clear two seconds faster than its predecessor) and, even more so, the weight of just 1255kg – apparently more than 150kg under the weight of the P1. However, Ferrari cunningly used the dry weight for its figure where McLaren used kerb weight; an understandable tactic, given the magnitude of such an epic battle.

LaFerrari's wonders continue when walking around the car; the hint of the active rear spoiler when at rest, and the anatomical view of the carbonfibre monocoque with its butterfly doors raised being fine examples. Everything about the car screams theatre – just as well, given LaDrama promised by the name.

Go to article >>

---
McLaren P1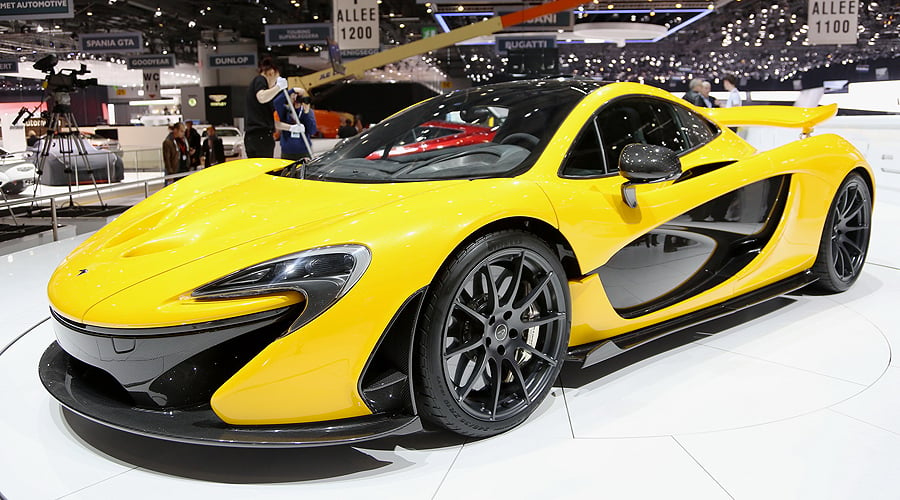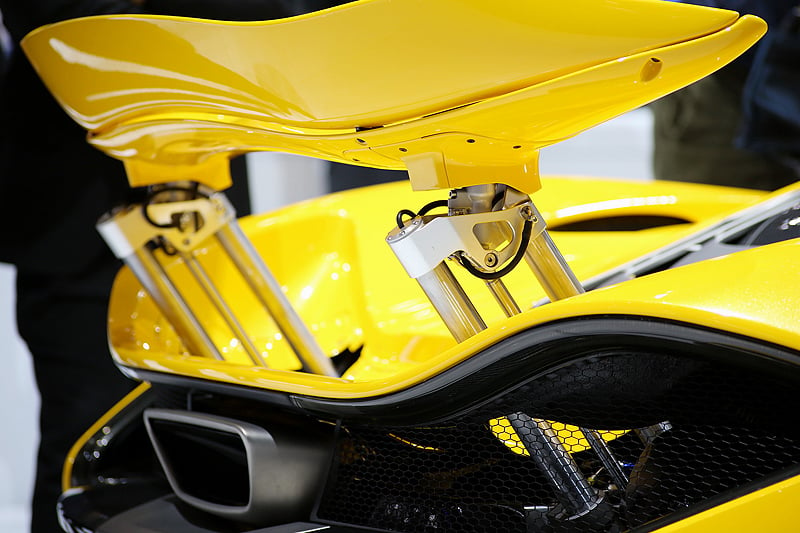 LaFerrari's bitterest rival is also its closest relative – in terms of architecture at least. Sharing a carbonfibre structure, supplementary electric power, near-1,000bhp performance and million-euro price tags (give or take a ticked option box), the two cars are as similar in concept as they are different in execution.

LaFerrari delivers outrageous figures that trump the McLaren's in every aspect (though we'd venture so far as to say the P1 would in fact be lighter than a LaFerrari brimmed with necessary liquids, considering the former's small V8). Meanwhile, McLaren insists the P1's pièce de résistance is being the best driver's car ever made – a brave statement, but one which confirms the importance of wheeltime, rather than the analysis of claimed figures, before deciding which heads the new hypercar hierarchy.

Go to article >>

---
Lamborghini Veneno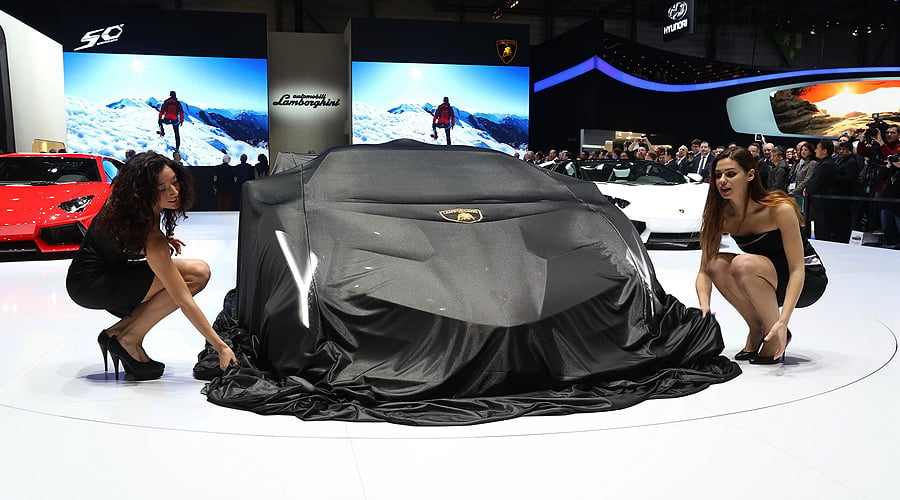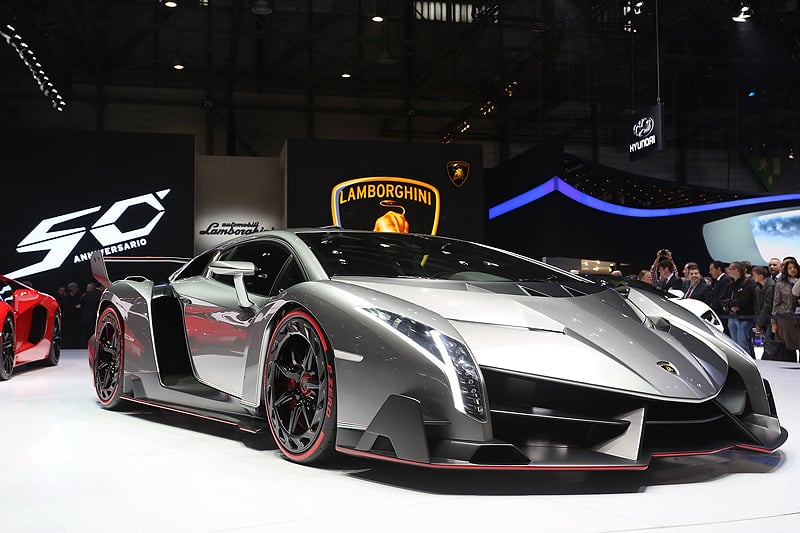 You could see the design cohesion behind all the Aventador's aggression, but the Veneno which shares its structure appears to have more in common with a beard trimmer: just look at all those blades, wings and spoilers. No doubt they give the Veneno excellent aerodynamic properties, but the new offerings from Ferrari and McLaren do the same – at a third of the price, and with 200-odd more horsepower. Still, beauty is in the eye of the beholder, and Lamborghini has already managed to find three buyers (the fourth is Lamborghini's 50th birthday present to itself) with the required 'taste'.

Go to article >>

---
Porsche 911 GT3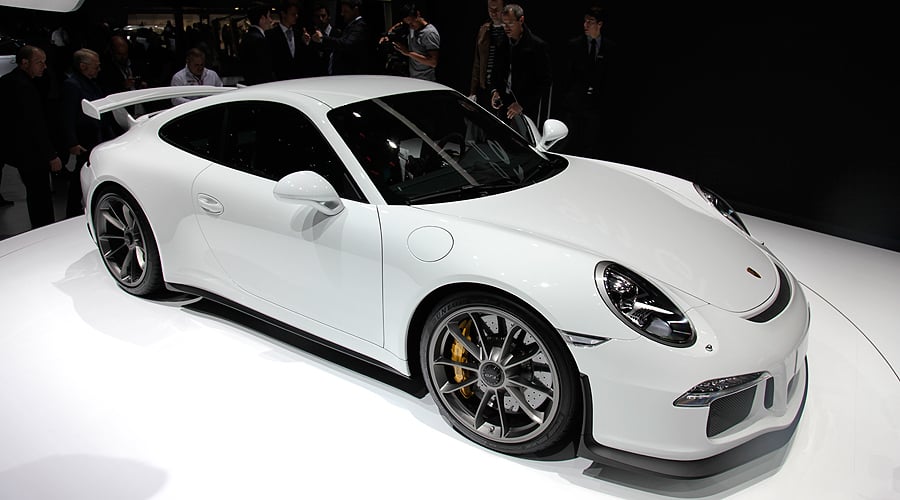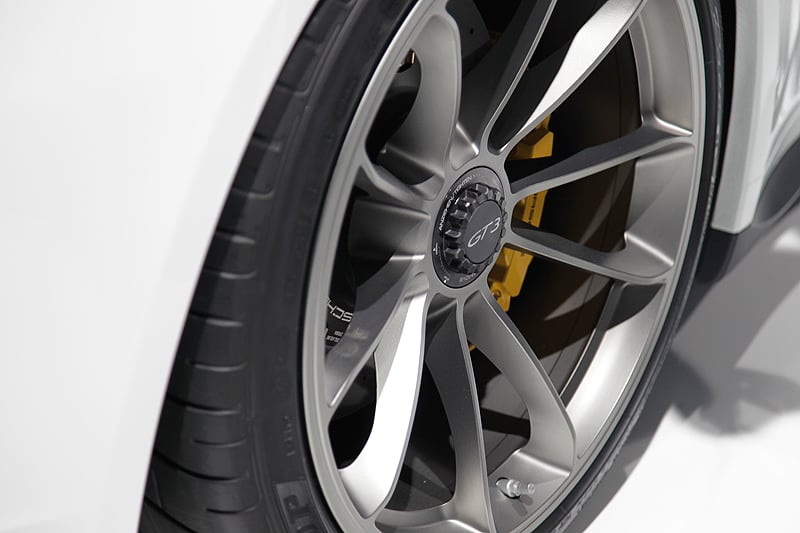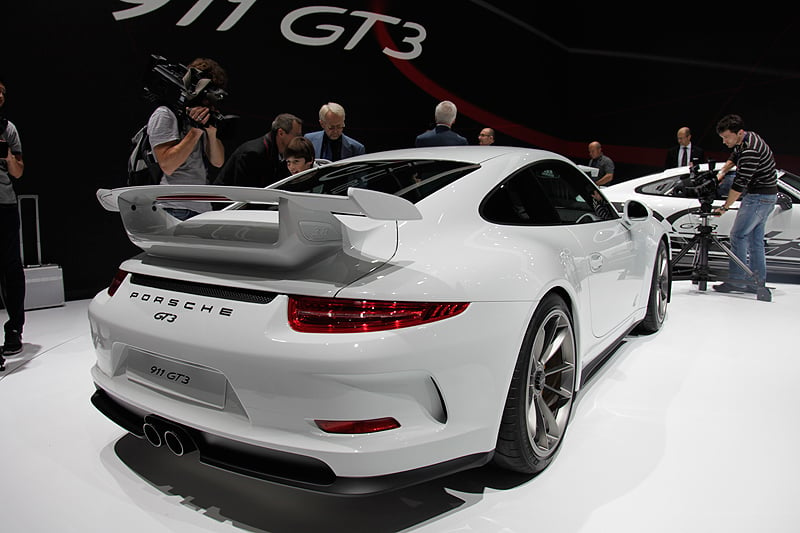 The automotive community has applauded previous generations of the GT3 for their near-perfect driving experience. The latest iteration promises to build on this achievement, with the inclusion of rear-wheel steering, active engine mounts, a rapid-fire double-clutch gearbox and other Teutonic engineering goodies. Our only wish is that the 469bhp track goddess had more than a beefy spoiler and a little carbon addenda to indicate its expected dynamic excellence.

Go to article >>

---
Alfa 4C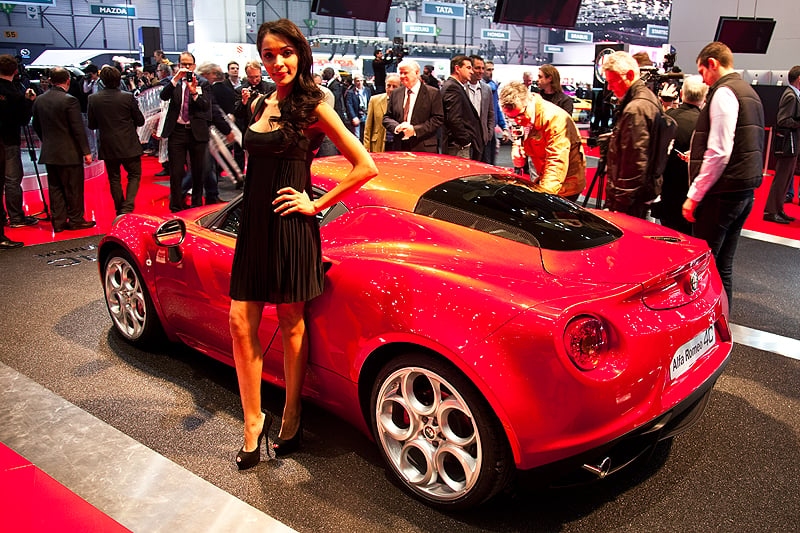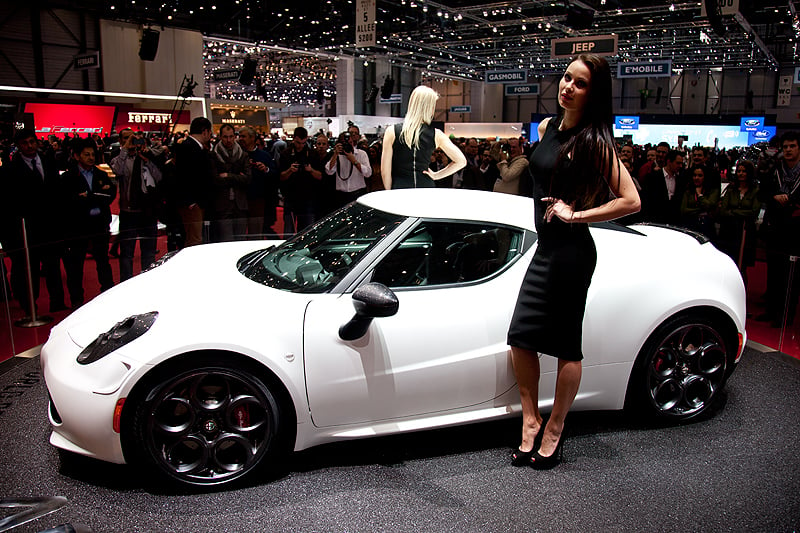 At last, here's a modern Alfa which can justify the old 'everyone must own an Alfa in their lifetime' adage; the marque has finally revisited the agile, rear-wheel-drive sports car formula which made that statement so true in years gone by. It's largely remained faithful to the concept first shown in Geneva two years ago – with the unfortunate exception of its headlights. Perhaps a DVD of David Cronenberg's 'The Fly' was stuck on an endless loop in the Alfa design studio during the revisions? Whatever the reason, the fact that Alfa has managed to keep the weight below 1000kg provides vindication a thousand times over; such a pretty car will need something changing for a facelift in a few years' time, anyway…

Go to article >>

---
Morgan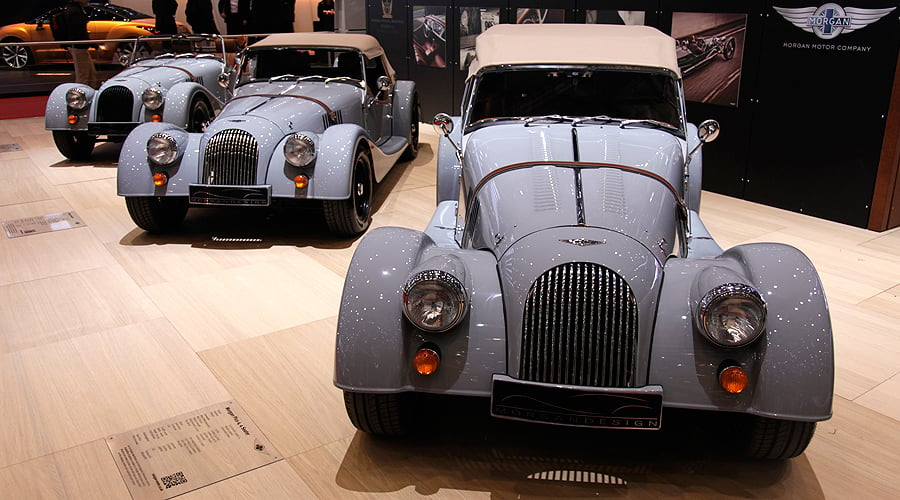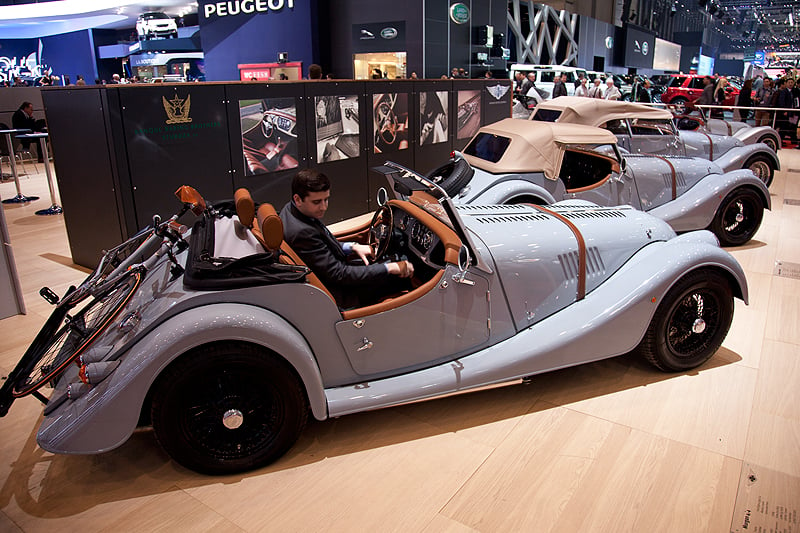 There were no debuts for Morgan at the Geneva Show, yet we believe the British manufacturer firmly deserves to be in our top ten for just one reason: its choice of colour palette. While many other manufacturers chose the 'look at me' hues of yellow and red, Morgan's entire range appeared in the restrained, limited-edition 'Dove Grey', tastefully countered by caramel leather interior materials and bonnet straps – even the boot-affixed bicycle wore the two-tone ensemble. It makes a welcome change to British Racing Green, after all… who said Morgan was stuck in the past?

---
Aston Martin Anniversary Models / Q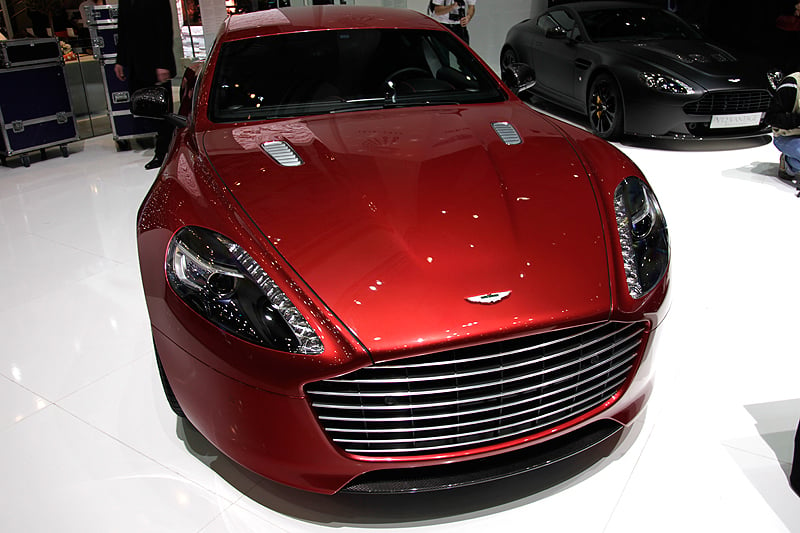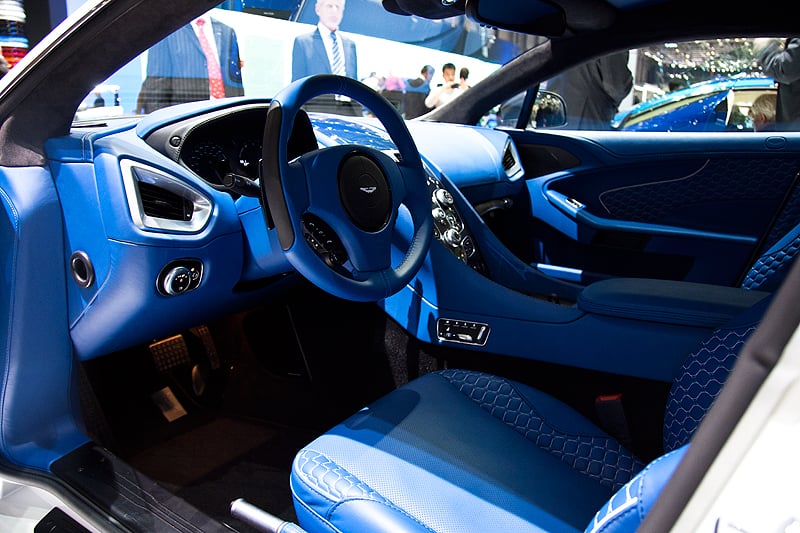 It was another round of birthday celebrations for the famous British manufacturer enjoying its 100th in 2013. As a result, a special 'Centenary' edition of the new Vanquish joined the new-for-Geneva 2013 Rapide S. The latest Rapide gains a larger 'shark mouth' and a big V12 now toting 558HP. We can't wait to drive it later this month. Both cars were accompanied by examples of Aston Martin's 'Q' programme, a bespoke process whereby owners can let their imaginations run riot in their choice of colour and trim. On display was a Vanquish by 'Q', gleaming in Morning Frost paintwork plus a blue-with-white-stitching interior.

Go to article >>

---
Jaguar XK 120 and F-type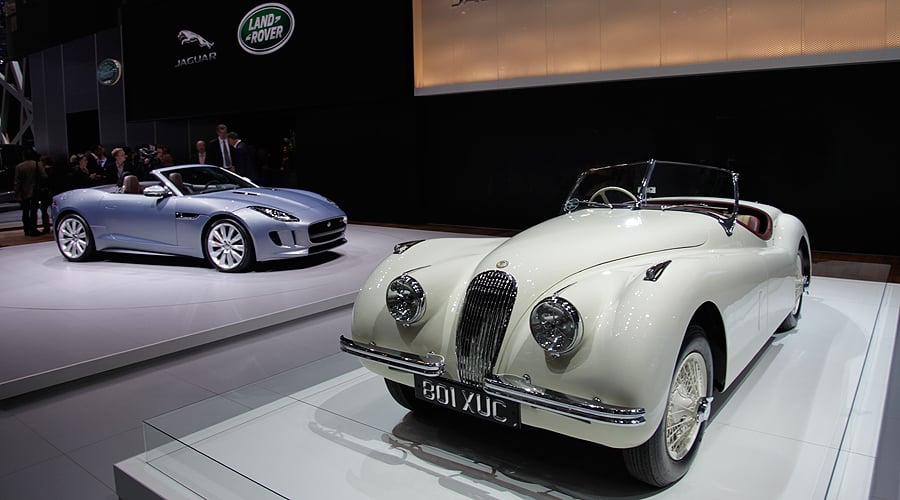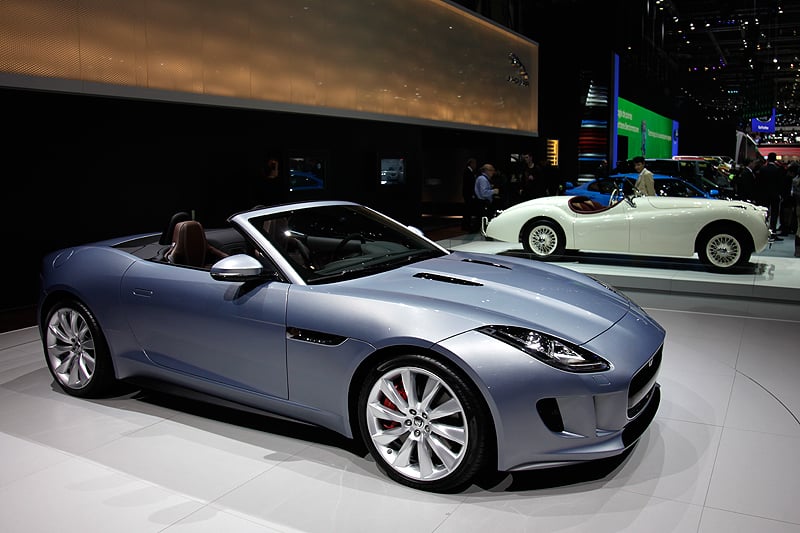 It was exactly 60 years ago that factory test and racing driver Norman Dewis set speed records on a closed section of the Belgian motorway at Jabbeke. He was at the wheel of a specially prepared XK120 with a streamlined 'bubble' roof and achieved the impressive maximum speed of 172.4mph. It made the car the fastest in the world. Just before Geneva, Jaguar took one of its latest F-types, somehow managed to close the roads again, and professional driver Andy Wallace wound a supercharged V8 version up to 179mph – a touch short of its claimed 186mph. Still impressive, though – as was the colour of the XK120 on Jaguar's stand.

Go to article >>

---
Land Rover Electric Defender
Despite its dour appearance, there's a great story behind the Electric Defender. You can read the full road test elsewhere on Classic Driver but, in short, it's a development of an experimental car built specially for a South African game reserve requiring a 'silent' vehicle in which to creep up on unsuspecting wildlife.

It would also – if correctly sealed – be capable of running totally under water: something the usually generous engineers from Land Rover weren't quite so keen on allowing members of the press to attempt in Lake Geneva…

Go to driving report >>

---
Rolls-Royce Wraith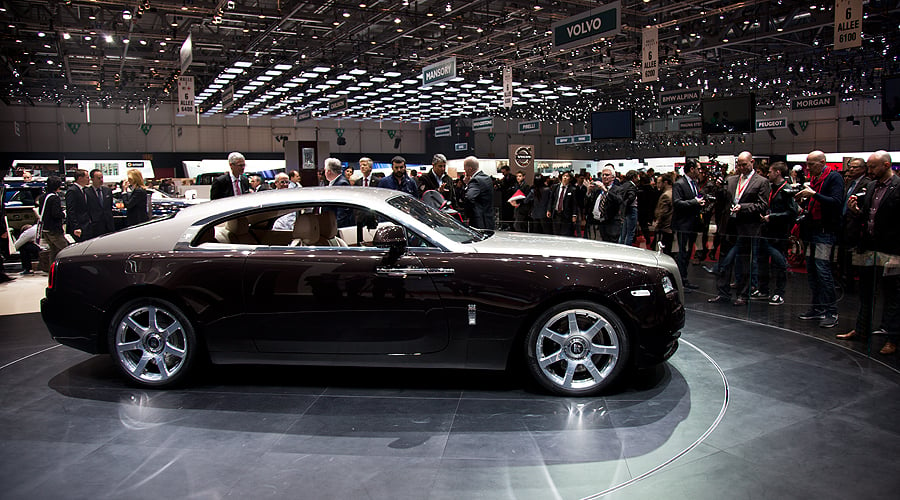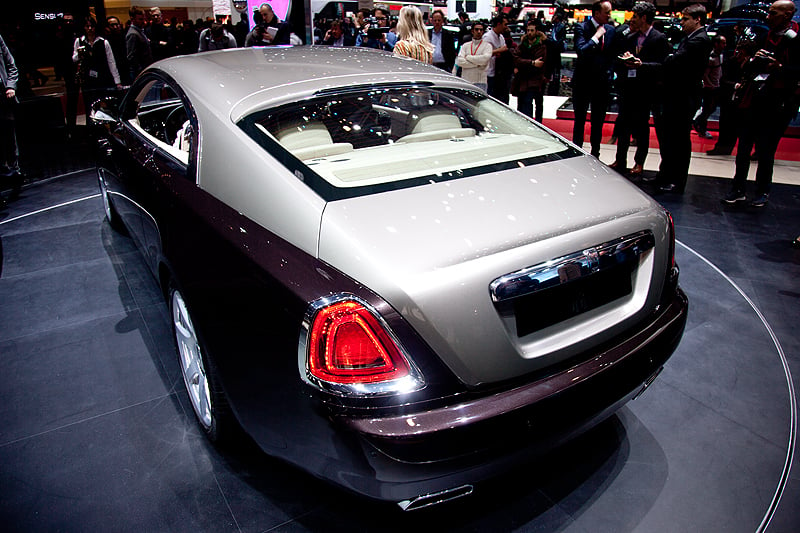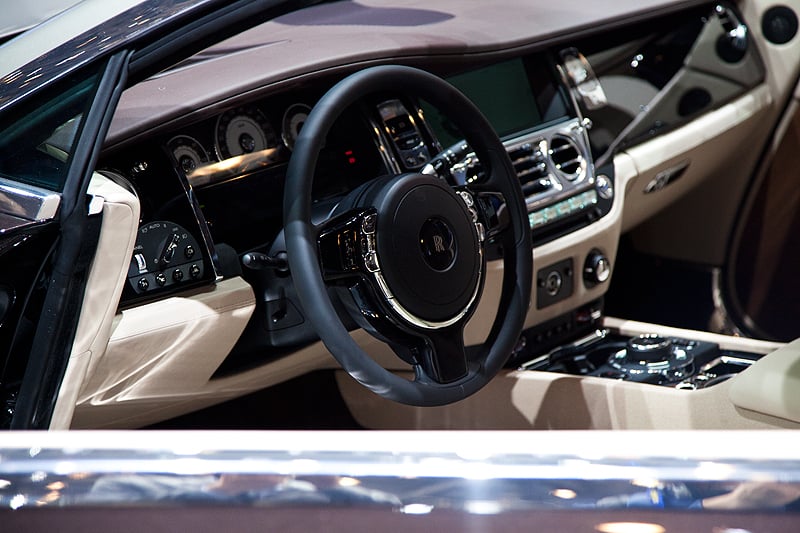 It would be tempting to fall into the all-too-easy journalistic trap of describing this extravagant car as suitable for either a) British aristocrats with silly double-barrelled names or b) Middle Eastern oil-rich potentates straight from Central Casting. Well, let us tell you that the former are far more likely to be behind the wheel of a Subaru or Audi VIP Programme-supplied A6 allroad than a Roller.

As far as the latter is concerned, we are sure the car will go down a storm in the Middle East and North America, particularly in two-tone colour schemes. It's the most powerful Roll-Royce motor car ever built (its 624bhp V12 generating 590lb ft of torque) and it has a satellite navigation system that 'speaks' to the brilliant ZF 8-speed automatic transmission ensuring that the correct gear is selected for every twist and turn. So, needing first for that right halfway up Rodeo Drive? You got it.

Go to article >>

---
Ferrari Sergio Concept by Pininfarina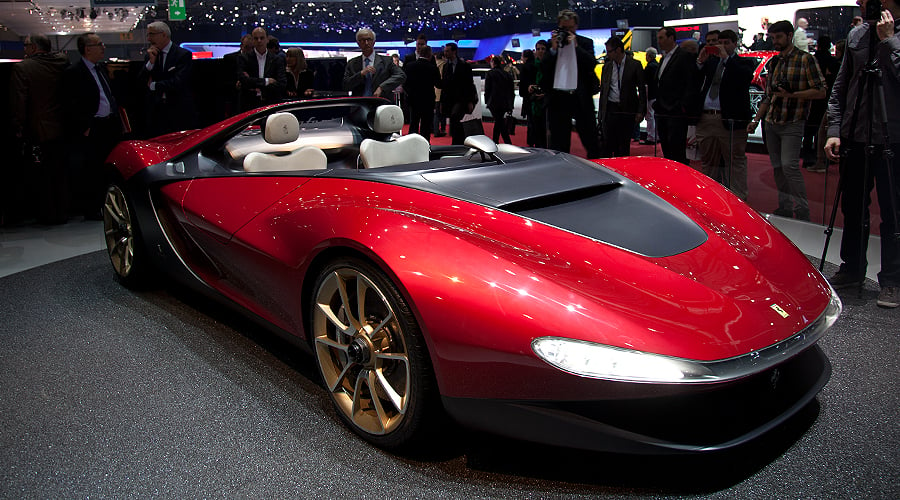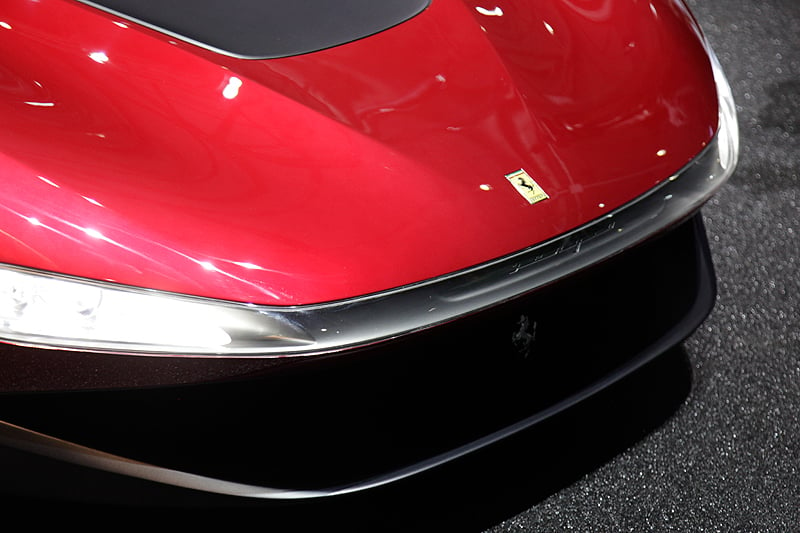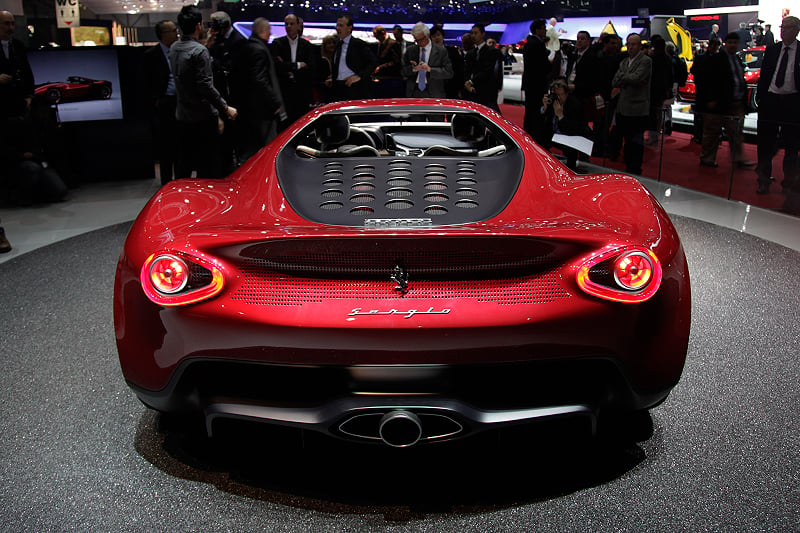 Geneva remains the single most important show for the designer. Only at Geneva can small design houses show one-off concepts to the most discerning and appreciative audience in the world.

Legendary house Pininfarina presented a breathtaking Ferrari barchetta as a tribute to Sergio Pininfarina. His Ferrari Dino Berlinetta Speciale, a car that wowed the crowds in 1965, was displayed next to the latest design.

Go to article >>

---
Giugiaro Parcour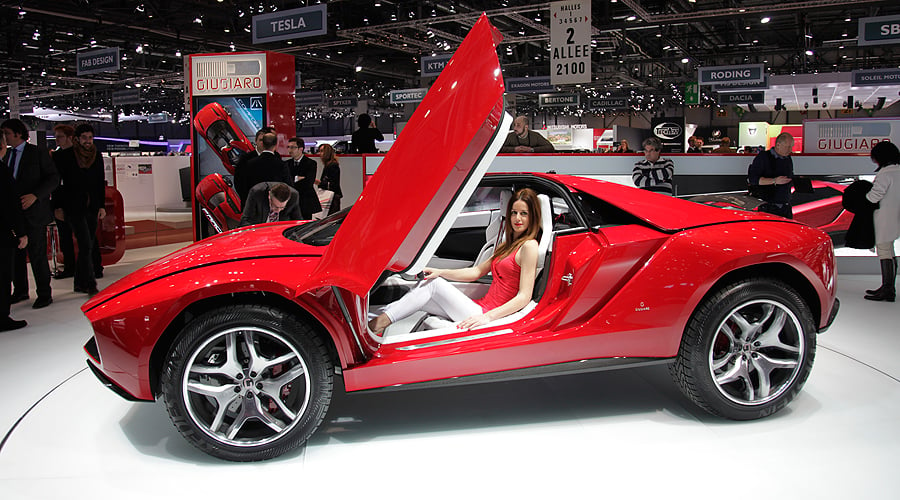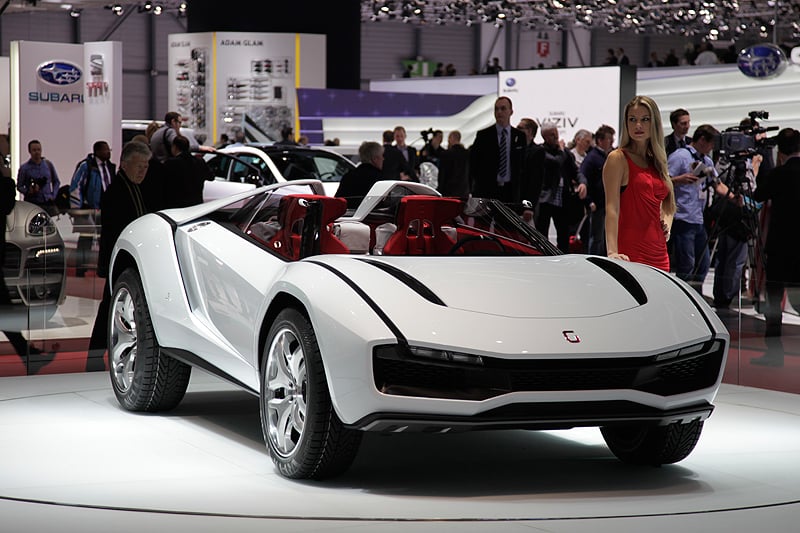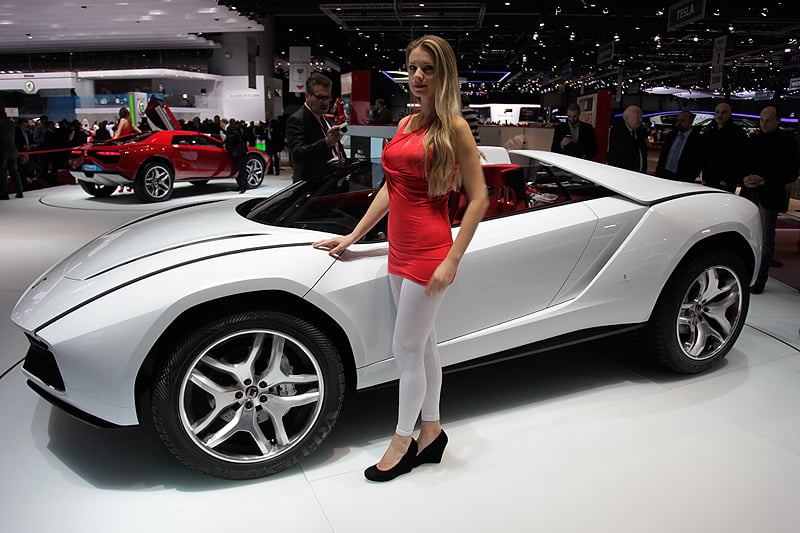 With the luxury of his company ItalDesign now under the wing of the Volkswagen Group, Giorgetto Giugiaro and his son, Fabrizio (who heads it up) can afford to let their imaginations run riot. And let someone else pick up the bill. ItalDesign is a regular at all the major fairs, producing interesting concepts based on VAG products. This Geneva Show, the subject was Lamborghini, and the concept was rally-car-cum-1970s-dune-buggy.

'Parcour' is, of course, the sport where young bearded people in shorts and hats run up the sides of buildings and then jump onto improbably narrow ledges. Its connection with the new ItalDesign concept is, one assumes, twofold: getting down with the kids, and emphasising its can-do, bold and obstacle-crossing capabilities.

---
Aston Martin Jet 2+2 by Bertone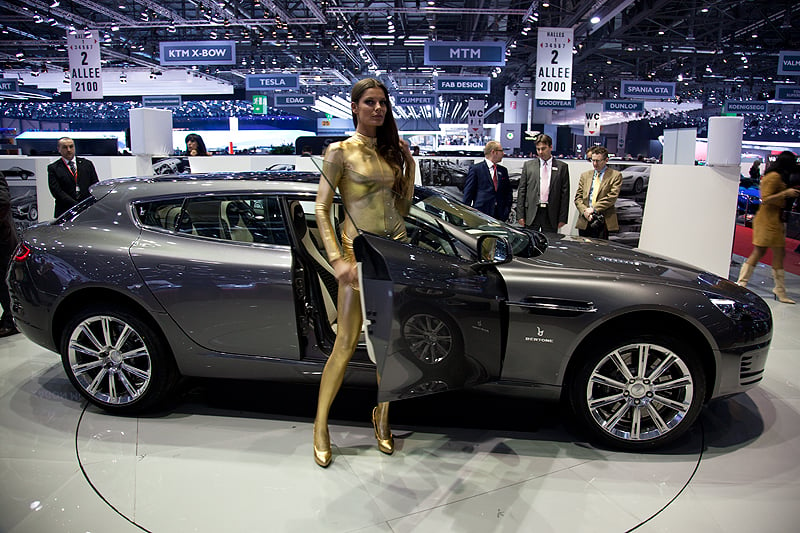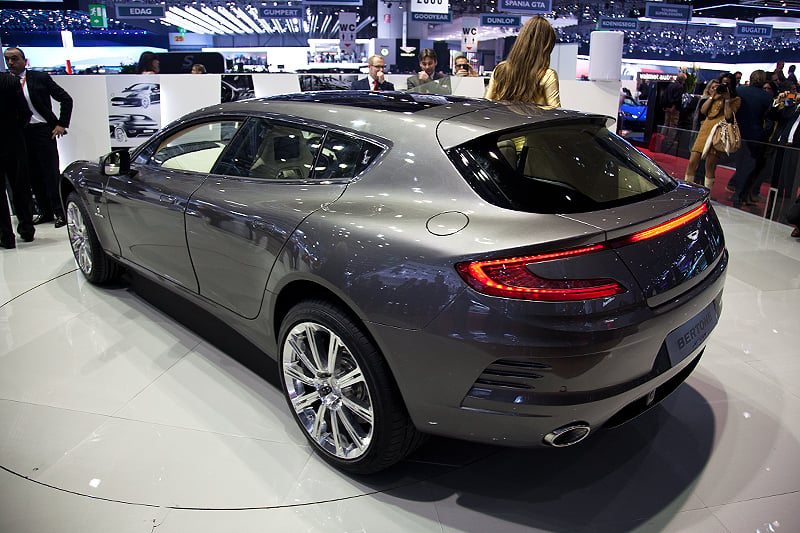 Taking Aston Martin's four-door Rapide as a base, Italian styling house Bertone has produced another shooting brake (its previous one was in 2004) for the discerning sporting driver. It's based on the current 470bhp version of the Rapide and is, in our eyes, one of the stars of the show.

Go to article >>

---
Spyker B6 Venator Concept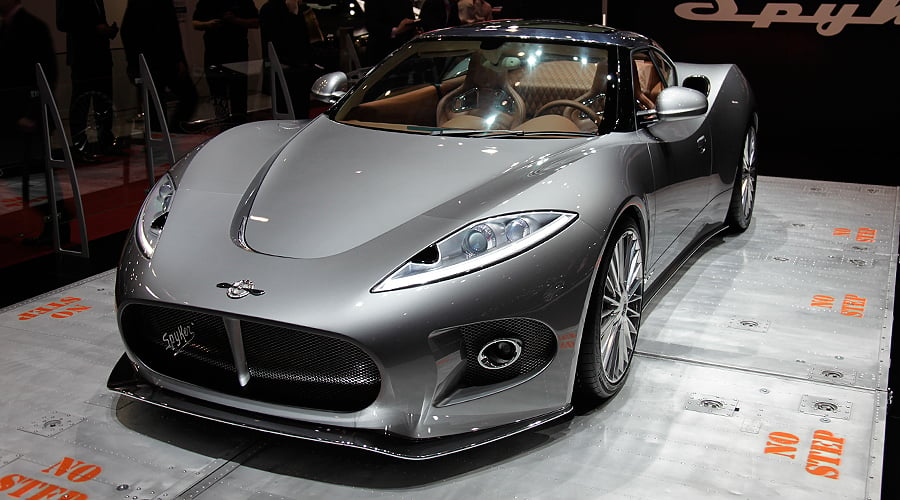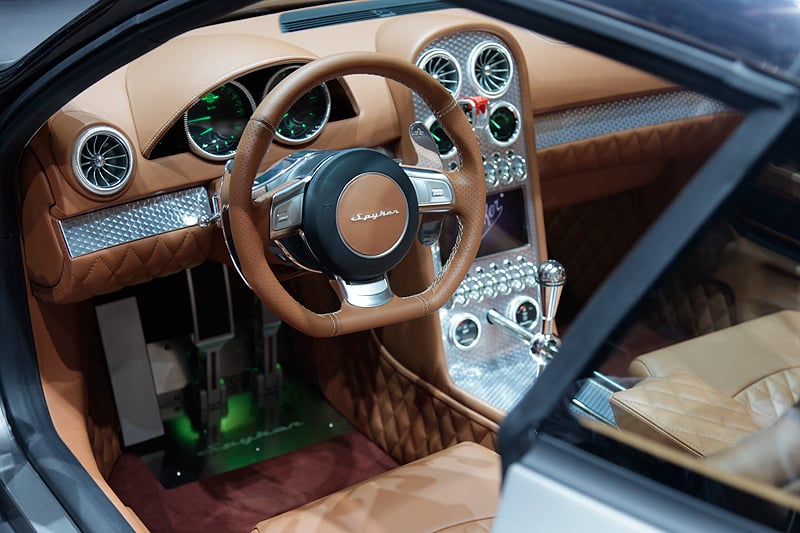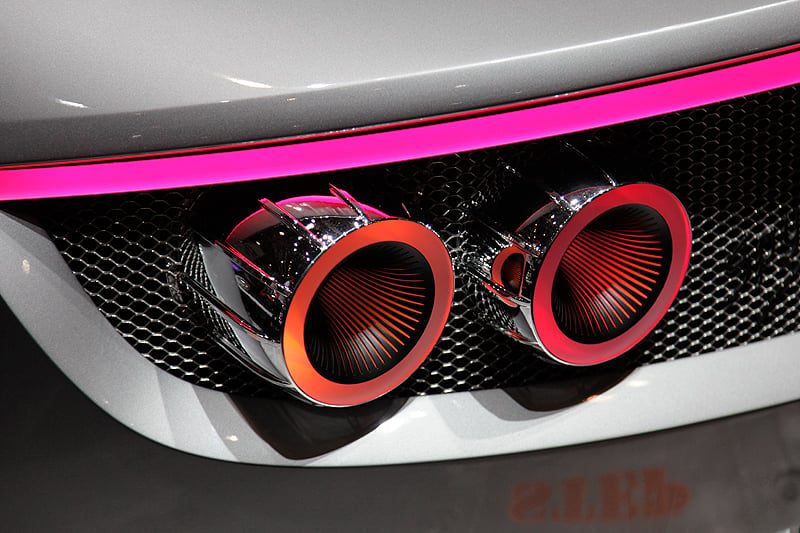 Well, the best thing you can say about this is that, at a likely price of 100,000 – 115,000 euros, your best mates will tone down their shrieks of "You paid HOW MUCH for that?!". Also, for "You could have bought a Ferrari F12berlinetta for that money!" you can now substitute "new 911". There will be people out there who like this car, we are sure – we just don't particularly fancy spending time with them.

---
Carrozzeria Touring Disco Volante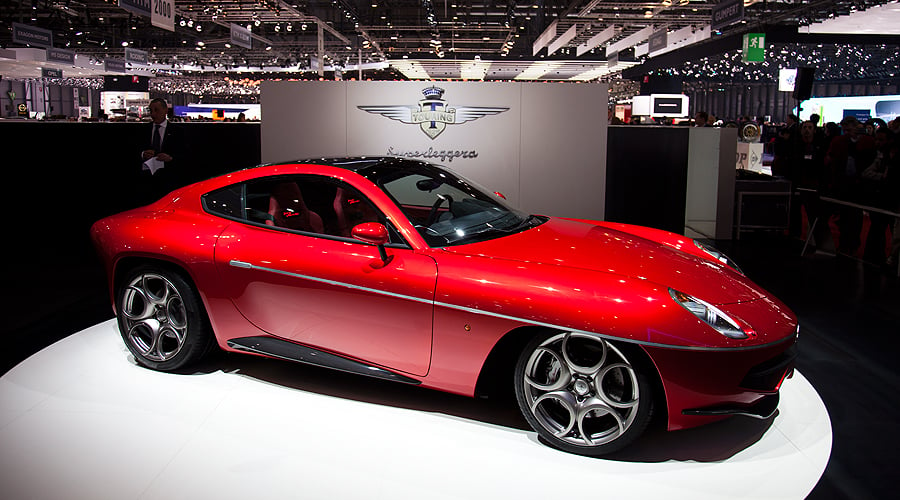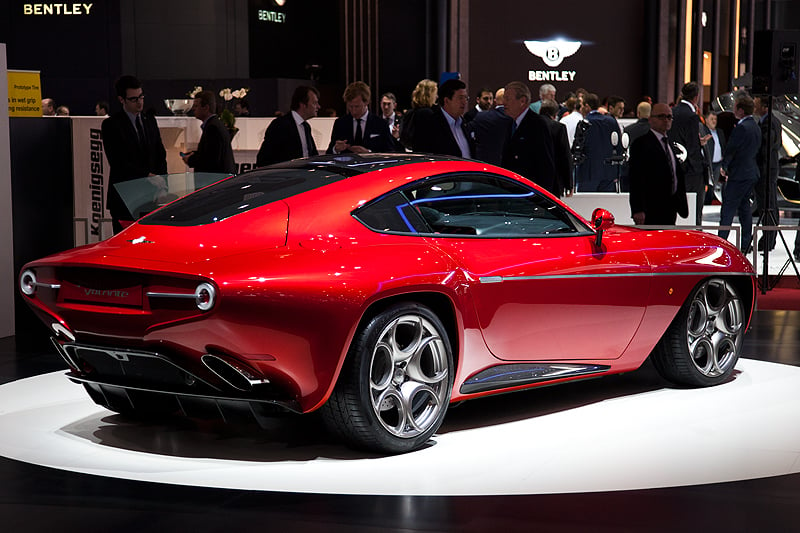 What more can we say about this beautiful piece of design and Italian coachbuilding craftsmanship? We've covered the building of the Geneva Show car from its very first stages right up to a drive in the stunning, 'Flame Red – Touring Superleggera' painted coupé only last week.

The new take on the classic 'Flying Saucer' gained admirers from far and wide, and the company will undoubtedly have a commercial hit on its hands. How do they follow that? We can't wait to catch up with Louis de Fabribeckers, Head of Design Carrozzeria Touring Superleggera, later this year.

Go to our Disco Volante dossier >>



---
Photos: Jan Baedeker / Nanette Schärf