Fire up the Sport Quattro and let's paint the town red
Red supercars are more commonly represented by super fast, low-slung Italian beauties rather than four-wheel-drive German coupés. Yet this ultra-rare Audi Sport Quattro packs all the punch (and more) of an offering from Italy; it's quicker than a V12 Lamborghini of the era…
Audi built 200 road-going Sport Quattros to homologate its Group B rally car in the 80s, though there's much debate as to whether that many were actually delivered.
The Sport Quattro looks awkward from whichever angle you look at it...
The Ingolstadt-based engineers created the production version by chopping over a foot out of the wheelbase of the standard car, adding countless vents and louvres to aid cooling and bulging the bodywork to almost comical levels. It's not what you'd call pretty, and the new, steeply raked windscreen – a direct request from the Audi Sport rally drivers to reduce internal reflections from the dashboard – ensures the Sport Quattro looks awkward from whichever angle you look at it.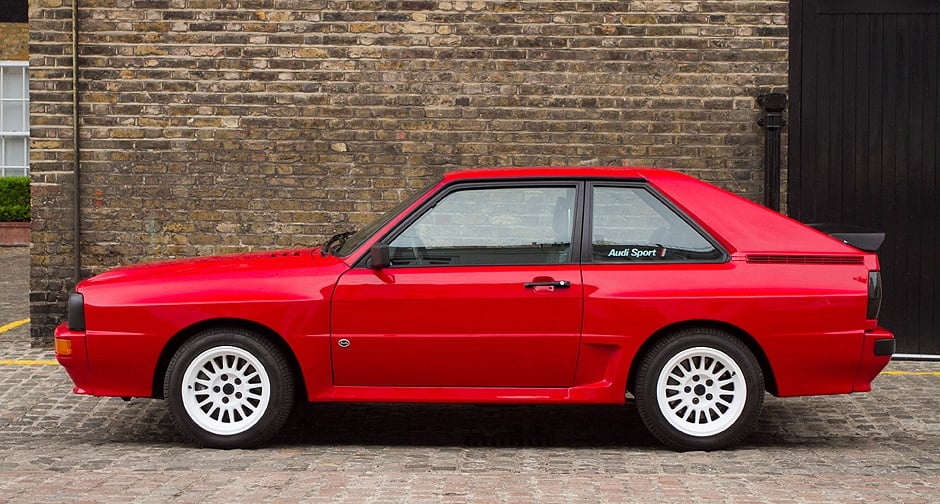 There's no denying its epic performance, though. The Sport Quattro was fast (0-60mph in 4.8secs) and can still hold its own today. Using weight-saving techniques learned from Audi's top secret 'Group S' project, and state-of-the-art technology, it was easily a more accomplished road car than its Group B rivals (Lancia 037 Stradale, Peugeot 205 T16 etc.).
And whereas those other Group B homologation specials have all the road-going functionality of the snarling rally cars they resemble, the Quattro was different. It had ABS, four-wheel-drive and a sophisticated leather interior built to Audi's typically obsessive levels of quality. You really can use it everyday.
More to the point, it's a seriously special, immensely exclusive car with a rich and successful motorsport heritage. Though Sport Quattros were often specified in dark green, black or white, this exceptional example is offered in Tornado Red. One thing's for sure: you're not going to pass another red Sport Quattro on the road. We're not sure the same could be said of a red Ferrari…