Editor's Choice: 1964 AC Cobra
This left-hand-drive Mark II AC Cobra was bought directly from a well-known ex-racer and team owner, who in 2007 sold his 427 'Super Snake' for a world record (at the time) $US5.5m. Now, this 289 is up for sale by Hexagon Classics, based in London's 'South Ken'.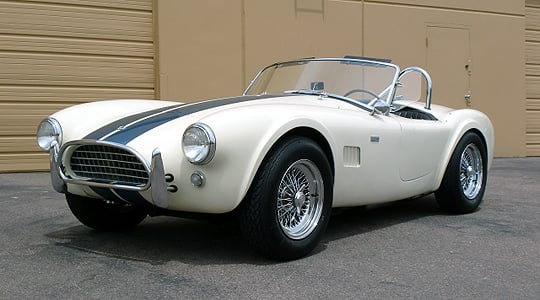 It was in September 1961 that Texan entrepreneur and racing driver, Carroll Shelby, first approached AC Cars Ltd to suggest that the new Ford 'small block' V8 might fit rather well into the successful AC Ace sportscar. The timing couldn't have been better. AC had just adapted the Ace to take a tuned version of the British Ford Zephyr engine and all it needed to accept the mighty American Ford V8 was a simple steering adjustment.
Unseen but significant improvements for the 1963 Cobra Mk II included rack and pinion steering, which replaced the steering box of the old Ace. The Mk II also had bigger disc brakes all round than the Mk I and, more noticeably, wider wheels and tyres. The classic Cobra engine was the then-new Ford '289', a 4.7-litre V8, to give a claimed 300bhp and 155mph top speed. Later, a 7-litre Cobra was introduced but it was less successful and it was the Cobra 4.7, in racing form, which gave Ford the 1965 World GT Championship for Manufacturers.
The car for sale (in Wimbledon White with twin, Guardsman Blue stripes), chassis CSX 2281, was sold new in 1964 as a standard, alloy-bodied road car, and now claims "near-concours originality" while being "slightly modified for spirited driving". In the 1970s it was upgraded with a period correct Paxton supercharger, chrome roll bar and wider, racing-style wire wheels. In 1990, it was again upgraded as part of a nuts and bolts restoration, this time with a new, balanced and blueprinted Ford Motorsports SVO 302ci engine, plus fabricated exhaust manifold and larger aluminium radiator. But fear not, the original 289 engine (no. 3983) and parts come included with the car. It even retains the original set of keys.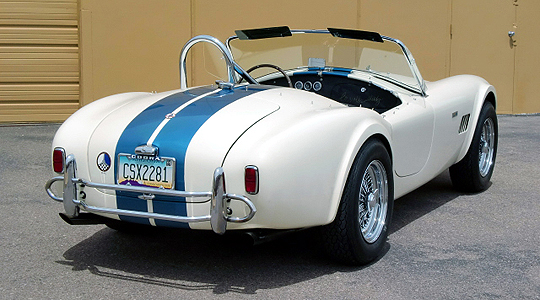 Photos: Hexagon Classics