The Exec 550 by Kott Motorcycles is the Classic Driver's café racer
Café racers are enjoying something of a renaissance, with many companies reviving antiquated vintage bikes, blending modern levels of performance with incredible bespoke craftsmanship. California-based Kott Motorcycles is one such example, and this is its latest creation, the Exec 550…
Based on a 1974 Honda CB550 (the company favours Seventies Hondas), the Exec 550 has been stripped of any superfluous or extravagant features, boasting a simple-yet-functional design that is, for want of a better phrase, plain cool.
Almost all aspects of the original bike have been redefined with performance firmly in mind. Modifications include an adapted frame to accommodate the Honda 750SS's slightly larger fuel tank, a stainless-steel four-into-one header and the addition of a second drilled brake disc up-front.
Simple, functional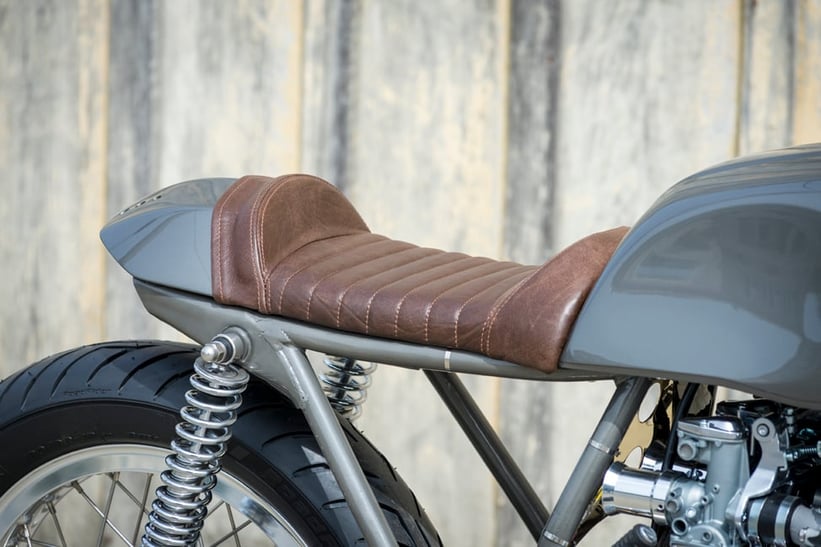 There are cosmetic features, too (though only where absolutely necessary), such as the tasteful brass highlights, a Sixties-era pressed-steel Honda headlight, and a chic, hand-built leather seat that neatly doubles as a tailpiece to house the LED taillight and battery.
Peer a little closer at the extremely well-packaged internals, and the four stainless velocity stacks are just visible, peeping out of the back of the 544cc Honda engine, guarded sensibly by a custom removable splash-guard for when the going gets wet.
The Kott Motorcycles Exec 550 took best custom motorcycle at the annual Friends of Steve McQueen show. And if they think it's fit for McQueen, we think it's fit for every Classic Driver.
Photos: Kott Motorcycles