The move into unfamiliar waters stemmed from a conversation with the eventual owner, who insisted the bike should lean heavily towards functionality. "I wanted to recreate the feel of a 1960s Ferrari," says Deus Ex founder Woolie. "When you opened up the hood, all you found was a motor, coils, distributor and a battery. Just what you need, and no more." Using this philosophy as a basis, Woolie sourced a 750cc V-Twin from a Monster – but rather than simply building around the existing frame, he instead chose to create a custom frame from scratch, hence the absence of the familiar trellis arrangement. What's more, the fancy Ohlins suspension is set up specifically for the weight of its new owner, taking the bespoke aspect of the build well beyond mere aesthetics.
Sitting up, looking back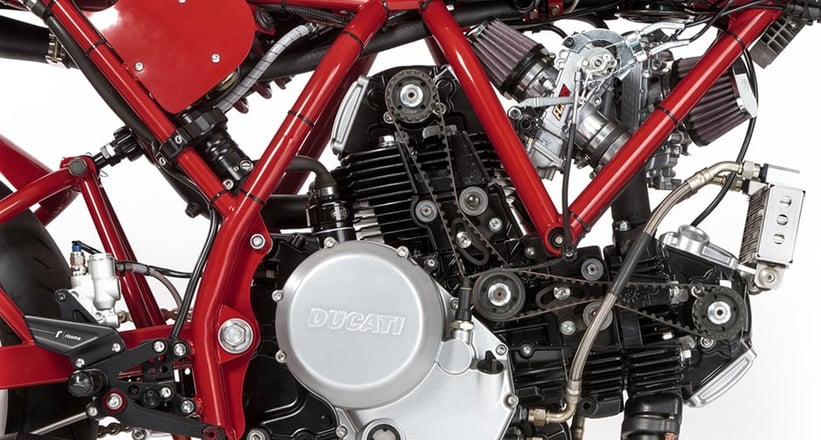 Despite this, Woolie claims the basic geometric set-up is similar to that of a 916RS, and that the bike's spartan makeup lends it a dynamic character closer to that of a 250 GP bike. Further nods to classic Ducatis include asymmetrical exhaust headers inspired by the 1970s Imola Desmo racing bike, while the beautiful hand-rolled tank harks further back to those worn by Italian bikes of the 1950s. Even with all this Italian inspiration, the Dreamliner has a distinct American persona: where outsourced custom work is necessary, Woolie uses nearby specialists in order to support local trade.
Photos: Deus ex Machina