1981 Porsche 924
Carrera GT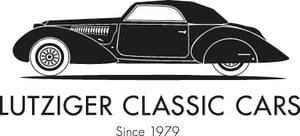 Location

Performance

210 PS / 155 kW / 208 BHP
Description
Porsche 924 Carrera GT
First registration 03.1981
Swiss delivery
Only 400 built
Swiss road registration
"The bang and the brute power delivery comes at just under 4500 revs - the steering wheel gripped tightly, you're glued to the seat, a smile sets in and spreads to a grin all over your face. That's what a four-cylinder turbo from the '80s feels like."
The Porsche 924 Carrera GT offered here is one of only 406 built (including 6 prototypes) and was delivered by Porsche in Winterthur. The original warranty and delivery card from Porsche is present as well as the service booklet and the exhaust maintenance document, which are kept without any gaps.
This beautiful Porsche 924 Carrera GT has always been perfectly maintained, all necessary work has been done and is in absolute top collector condition.
This special model, limited to 400 pieces, has undisputed rarity value and is, in our opinion, a currently undervalued collector's item.
The prototype of the Porsche 924 Carrera GT (factory code 937) was presented at the IAA in Frankfurt in 1979. It was intended to underline the performance of the 924 and at the same time give a preview of the body shape of the planned Porsche 944.
The Porsche 924 Carrera GT was only built in 1981 in an edition of 400 units. Since the vehicle did not meet the strict emissions regulations in the USA, it was not allowed to be sold there. With the six prototypes together, the total number of Carrera GTs built is 406.
The car served as the basis for the development of the Carrera GTS, GTP and GTR racing car models, which were successfully entered in World Sports Car Championship races such as the 24 Hours of Le Mans in the early 1980s.
Errors, mistakes and prior sale reserved.
More, detailed pictures of this Porsche 924 Carrera GT can be found on our homepage www.lutziger-classiccars.com
DEUTSCH:
Porsche 924 Carrera GT
Erstzulassung 03.1981
Schweizer Auslieferung
Nur 400 Exemplare gebaut
Schweizer Strassenzulassung
«Der Knall und die brachiale Kraftentfaltung kommt bei knapp 4500 Touren – das Lenkrad fest umklammert, man klebt im Sitz, ein Lächeln setzt ein und breitet sich zu einem Grinsen übers ganze Gesicht aus. So fühlt sich ein Vierzylinder-Turbo aus den 80ern an.»
Der hier angebotene Porsche 924 Carrera GT ist eines von nur 406 gebauten Exemplaren (davon 6 Prototypen) und wurde von Porsche in Winterthur ausgeliefert. Die originale Garantie- und Auslieferungskarte von Porsche ist vorhanden sowie das Serviceheft und das Abgas-Wartungsdokument, welche lückenlos geführt sind.
Dieser wunderschöne Porsche 924 Carrera GT wurde immer perfekt gepflegt, alle nötigen Arbeiten ausgeführt und steht in absolutem top Sammlerzustand da.
Dieses auf 400 Exemplare limitierte Sondermodell hat unbestrittenen Seltenheitswert und ist unserer Meinung nach ein derzeit noch unterbewertetes Sammlerstück.
Der Prototyp des Porsche 924 Carrera GT (Werkscode 937) wurde 1979 auf der IAA in Frankfurt vorgestellt. Er sollte die Leistungsfähigkeit des 924 unterstreichen und gleichzeitig einen Ausblick auf die Karosserieform des geplanten Porsche 944 geben.
Der Porsche 924 Carrera GT wurde nur 1981 in einer Auflage von 400 Exemplaren gebaut. Da das Fahrzeug die strengen Abgasvorschriften in den USA nicht erfüllte, durfte es dort nicht verkauft werden. Mit den sechs Prototypen zusammen ergibt sich eine Gesamtzahl von 406 gebauten Carrera GT.
Der Wagen diente als Grundlage für die Entwicklung der Rennwagenmodelle Carrera GTS, GTP und GTR, welche Anfang der 1980er-Jahre erfolgreich in Rennen der Sportwagen-Weltmeisterschaft wie z. B. dem 24-Stunden-Rennen von Le Mans eingesetzt wurden.
Irrtümer, Fehler und Zwischenverkauf vorbehalten.
Weitere, detaillierte Bilder von diesem Porsche 924 Carrera GT finden Sie auf unserer Homepage www.lutziger-classiccars.com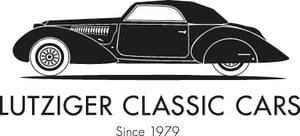 ---

---