This listing is no longer available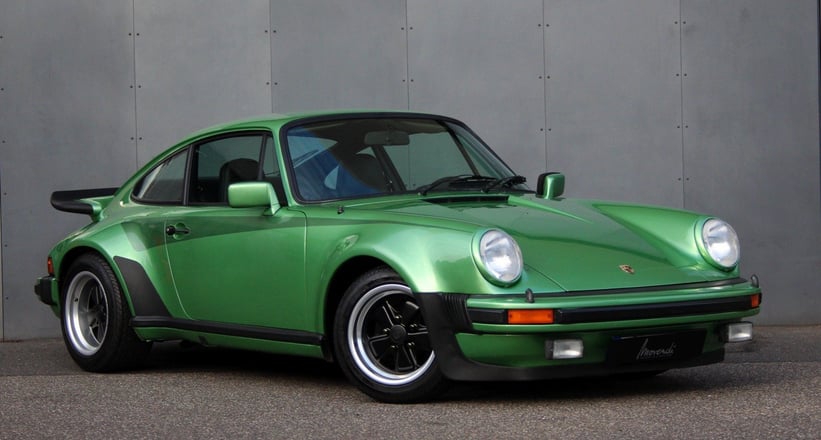 1975 Porsche 911 "Turbo"
930 3.0 Ur-Turbo
Exterior brand colour

Emerald Green Y9 - Viper Grün
Location

Performance

260 PS / 192 kW / 257 BHP
Description
- Deutsche Erstzulassung
- Matching Numbers & Colors
- Umfangreich überarbeitet im Jahr 2017 für ca. 22.000 €
- Sehr frühe Version des Ur-Turbo
- Original Farbe Emerald Green Metallic Y9 - Viper Grün
Fahrzeughistorie:
Im September 1975 übernahm ein deutscher Unternehmer aus Kaiserslautern diesen Ur-Turbo in der Farbe Viper Grün bei der Porsche AG in Zuffenhausen. 2016 kaufte ihn ein deutscher Sammler aus den USA zurück und ließ ihn in den Jahren 2016 und 2017 aufwendig technisch überarbeiten. Heute ist der Turbo mit der seltenen Farbe in hervorragendem Zustand und präsentiert sich wie damals im Herbst 1975. Für die ab 1976 gültige Gruppe 4 der Sportwagen-Weltmeisterschaft plante Porsche einen Leichtbau-911er. Dieser Rennwagen sollte den mit einem Turbolader ausgerüsteten Sechszylinder-Boxermotor des Porsche 911 Carrera RS 3.0 erhalten. Kurzfristige Änderungen der FIA im Reglement reduzierten die Gewinnchancen. Daher stoppte Porsche die Weiterentwicklung der Serie. Die gewonnene Erfahrung nutzte Porsche, um einen Sportwagen zu konstruieren, der an Ferrari und Lamborghini heranreichte. Um den Auftrieb und die Fahrstabilität bei höheren Geschwindigkeiten zu erhöhen, wurde ein Front- und ein Heckspoiler verbaut. Der große Heckspoiler wurde das Haupterkennungsmerkmal dieses ikonischen Sportwagens.
- German first registration
- Matching Numbers & Colors
- Extensively reworked in 2017 for about 22.000 €.
- Very early version of the original Turbo
- Original color Emerald Green Metallic Y9 - Viper Green.
Vehicle History:
In September 1975, a German entrepreneur from Kaiserslautern took delivery of this Ur-Turbo in the color Viper Green from Porsche AG in Zuffenhausen. In 2016, a German collector bought it back from the USA and had it extensively technically overhauled in 2016 and 2017. Today, the Turbo with the rare color is in excellent condition and presents itself as it did back in the fall of 1975.
Porsche planned a lightweight 911 for Group 4 of the Sports Car World Championship, which was valid from 1976. This race car was to receive the turbocharged six-cylinder boxer engine of the Porsche 911 Carrera RS 3.0. Short-term changes to the regulations by the FIA reduced the chances of winning. Porsche therefore stopped further development of the series. Porsche used the experience gained to design a sports car that came close to Ferrari and Lamborghini. To increase lift and driving stability at higher speeds, a front and a rear spoiler were installed. The large rear spoiler became the main distinguishing feature of this iconic sports car.