This listing is no longer available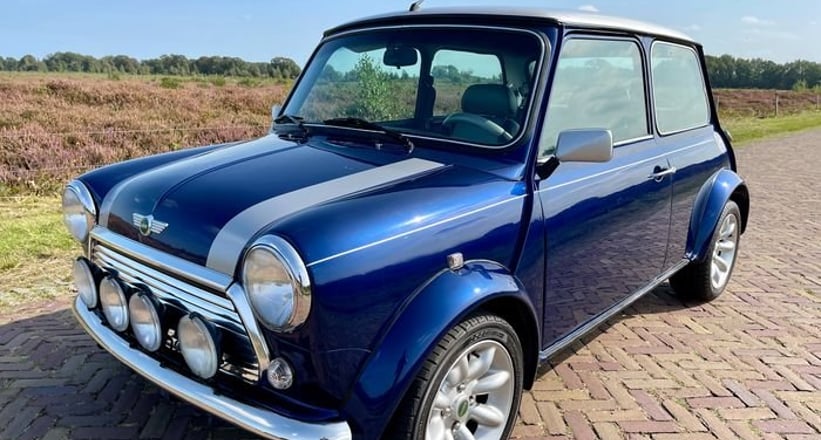 Summary
Location
Description
This classic car is for sale on Catawiki. To have more information or to place a bid click on the "BID NOW" button. .Beautiful Mini Cooper Sport from 2000 up for auction.
This Cooper S with over 70 HP is an exclusive version of the Classic Mini and one of the last built in 2000.
This version was built as a limited edition and is very exclusive! Tahiti Blue metallic with a Platinum Silver roof and details.
The Mini is in absolute superb condition and was maintained in great detail, it has beautiful Tahiti Blue metallic paint with platinum silver roof striping and mirrors.
A feast for the eyes in combination with the luxurious full-leather interior in the same colour scheme!
This Mini is a real eye-catcher with the black and silver leather, a final edition Cooper S dashboard made of aluminium and wide 13" Sportspack rims.
This model is one of the most exclusive models ever built and a very stable investment.
Exterior:
Perfect paint in Tahiti Blue with a metallic platinum silver finish on the roof and mirrors, the sheet metal is perfect and fits well. The bottom and subframes are immaculate and undamaged.
This Mini is standard equipped with a new stainless steel sports exhaust system from Fletcher. Also included are 4 ex factory high-beam headlights and stainless steel bumpers.
The chrome is new, the rubbers and window strips have been replaced.
Fitted with the sought after 13" original Sportspack rims with very good Dunlop tyres.
Side striping in silver with John Cooper S Laurel badges on both sides.
The whole Mini Cooper is truly in mint condition! Only driven 61,000 km and it comes from the 2nd owner.
Interior:
The interior features two luxurious black/silver leather front seats, rear bench, black door cards with stainless steel Cooper handles, a leather Cooper Sport steering wheel and Cooper Sport 500 gearstick knob. The dashboard is made of brushed aluminium and is in mint condition, the dashboard panels are fitted with leather.
With 6 magnolia Smiths gauges, a new set of mats, immaculate headliner and a radio/CD player with the original speakers.
The black carpet is neat, the Mini features new CW mats and a leather gearstick cover.
Mechanics:
The bottom is in original, neat and good condition, the suspension is like new and the Mini has perfect disc brakes.
This Mini has a powerful 1.3 MPI Cooper S engine with over 70 BHP.
The whole Cooper is in excellent condition, the engine runs perfectly and was well maintained.
This Mini Cooper Sport is perfect, undamaged and without rust, various documents available (photos and a user manual, a sales folder and the original, new S Key fob).
The mechanics work perfectly, the Cooper 1275cc engine was well maintained and completely overhauled, it looks neat.
The Mini shifts properly and had a major service recently including new radiator heater oil, filters and seals.
The Mini is equipped with a Fletcher stainless steel exhaust and downpipe.
Exterior:
Tahiti Blue / Platinum Silver
Original Cooper Sport version
Tinted glass
Sportspack spacers
Perfect Sportspack rims 6 x 13"
Perfect Fletcher sports exhaust
New chrome grille
Good stainless steel bumpers
KONI shock absorbers (red)
New rubbers
Four original high-beam headlights
No rust and undamaged!
Protected with ML Tectyl
In very good condition
Interior:
Full black/silver leather interior
Silver piping
Original leather Sport steering wheel
Aluminium dashboard
Full leather steering wheel
Aluminium Sport500 gearstick knob
JVC audio system
New set of CW mats
Six magnolia gauges
Smiths gauges
Seat belts in the back
Black carpet set
Interior in mint condition
Mechanics:
1275cc MPI Cooper S engine
70bhp (BHP)
Original Cooper S
Technically perfect!
Immobiliser
Alarm (remote control)
With an ML Tectyl treatment
Two sets of keys with alarm and remote control.
This is a unique Mini in absolute excellent condition, the Cooper Sport 500 is a museum piece and a very good investment, we rarely come across them and we guarantee a considerable rise in value over the coming years!
Including:
New (Dutch) periodic vehicle inspection
Maintenance service prior to delivery
Export documents (if necessary)
Full tank of petrol
Major check prior to delivery
Valuation available!
You're welcome to come and view this beautiful Mini and take it for an extensive test drive! Please contact Catawiki to schedule an appointment.
The Mini is in Rogat, the Netherlands.
If necessary, we can arrange transport throughout Europe. Your Mini will then be delivered to your door.
Interested? Contact us for a shipping quote to your address.
The Mini is in Rogat, the Netherlands.