This listing is no longer available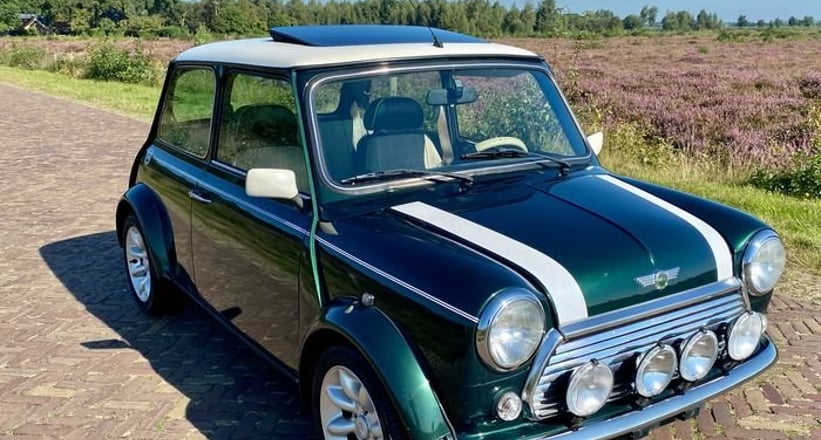 Summary
Location
Description
This classic car is for sale on Catawiki. To have more information or to place a bid click on the "BID NOW" button. .First owner!
This original Mini Cooper S is in very good condition.
It comes from the first owner! With a lot of history and even the original purchase invoice.
From purchase invoice to all other invoices and the original sales booklets, this is a unique Classic Mini Cooper S.
Up for auction because of the owner's age.
The original mileage is 119 900 km, this Mini is equipped with
a powerful 1300 MPI S engine with over 65 HP.
The Mini Cooper is finished in British Racing Green with an Old English White roof and an original, electric Webasto sunroof. This special version
of the last series of Classic Minis is very rare and was delivered in the most sought after colour combination.
This Cooper S is very neat and undamaged! The first
owner maintained the Mini well, Cooperworld has done the annual maintenance for the past 13 years.
Exterior:
Beautiful original ROVER MINI British Racing Green metallic paint with an Old English White roof and an electric sunroof,
it has the original 13" Sportspack rims with new Yokohama A539 tyres!
The paint is neat with minimal signs of wear and age, no
damage and / or dents, but some age spots under the paintwork. The mudguard
spacers are original and neatly sprayed along with the rest of the car, they have
original rubbers. The chrome is like new, it has two neat stainless steel
bumpers, a new chrome grille with 9 slats, 4 extra original high-beam headlights and
green tinted windows with heating.
The Mini Cooper has
the original badges, a bonnet wing badge, a wing badge on
the boot lid, John Cooper bonnet striping, Cooper side striping, John Cooper laurel badges on the side wings and new window rubbers and strips.
Interior:
Very neat, in very good condition and completely original! The interior
has black half-leather seats and rear bench with beige
piping and finishing, the carpet is like getting into a new car, spotless
and with a new set of original CooperW mats. The gearstick and handbrake cover
are also made of leather! The dashboard itself is made of walnut and was newly fitted in 2018, the Smiths gauges have
magnolia white dials. The steering wheel with airbag is made entirely of
leather and finished with the same beige leather colour as the piping on the
seats, the new gearstick knob is made of walnut. The bottom has a set
of new original black CooperW mats with logo and finish. From front
to back with a finished interior, the headliner is used and there is a small tear on the passenger seat.
A beautiful Cooper S with excellent maintenance and never smoke in!
Mechanics:
Service and booklets available! Original mileage 120,000 km and
it's a real feast for the eyes when you open the bonnet, over 65 HP and only
maintained with original parts! The engine runs great and has
an alarm with immobilizer, 4 manual gears and a perfectly
shifting gearbox. The heater works well, as do all electronics
such as lighting, windscreen wipers etc. The brake booster has been replaced, the spark plugs and ignition coil have been replaced, the spark plug cables are new. We checked all mechanics, the valves have been set, oil and filters have been replaced, the suspension is like new and perfect, fitted with new front disc brakes and brake pads, brake booster and new fluids. The front damper was replaced a few years ago, the sills were professionally renewed and the Mini has an ML stone chip protection underneath.
Bottom:
The entire bottom is in good condition, the sills are neat and there is no rust or damage.
It has a new and original rear subframe and an original standard Rover Cooper exhaust system
with a cool sound! All brakes and lines are in good condition. The Mini
does not leak or lose oil and is fully treated with an ML protection layer.
Description:
This extensive description reflects how fantastic this Mini is, it's certainly used but in good condition and with a full history, a Mini like this is a perfect and very
good investment. Driving this Cooper is great, the 65 HP gives a
true rally feeling.
Including:
New (Dutch) periodic vehicle inspection
Maintenance service prior to delivery
Export documents (if needed)
Full tank of petrol
Major check prior to delivery
Complete history
Maintenance and service booklets
Maintenance invoices
Two sets of keys
Purchase invoice from 1999
Are you interested in this beautiful Mini? You are welcome to
view it and take an extensive test drive, please contact us
via Catawiki.
We have a lot of experience with shipping, together with our partners we can take care of
transport throughout Europe and beyond during this coronavirus period,
we are happy to send you a suitable quote for home delivery of this Mini.
The Mini is in Rogat, the Netherlands.