This listing is no longer available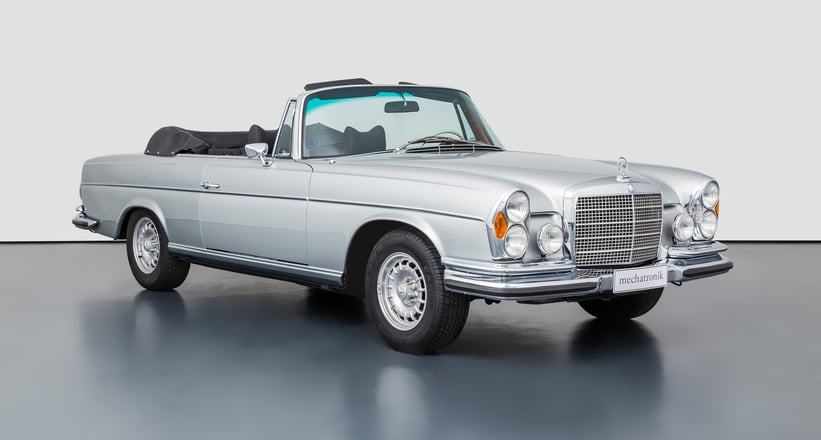 1970 Mercedes-Benz W111/112
280 SE 3.5 Cabriolet
Summary
Location

Performance

200 PS / 148 kW / 198 BHP
Description
Der Mercedes-Benz 280 SE 3.5 gilt als das Topmodell der Baureihe W111, die von 1961 bis 1971 von Daimler-Benz produziert wurde. Sowohl in der Coupé- als auch in der Cabrio-Ausführung besticht der Klassiker bis heute mit Stil und Eleganz. Mit dem Verkauf der W111-Modelle begann Mercedes-Benz bereits im Jahr 1961 und setzte dabei in Sachen Sicherheit ganz neue Maßstäbe. Eine große Neuerung bestand in einer Karosserie, die zum ersten Mal überhaupt bei einem Pkw mit einer stabilen Fahrgastzelle und einer wirksamen Knautschzone versehen worden war. Außerdem waren die W111-Modelle mit Keilzapfentürschlössern ausgestattet, die nicht versehentlich aufspringen konnten. Das war unter anderem deshalb wichtig, weil - wie bei vielen Autos dieser Zeit - nicht in jedem W111 Sicherheitsgurte für die Fahrgäste vorhanden waren. Dafür wiesen die Wagen im Inneren andere, moderne Sicherheitsmaßnahmen auf: So wurde zum Beispiel das Lenkrad mit einer Prallplatte mit weichem Bezug versehen und auch das Armaturenbrett besaß eine Polsterung und war mit teilweise elastisch versenkt angeordneten Bedienungselementen ausgestattet. Die Motorenleistung der verschiedenen Modelle wurde über mehrere Jahre hinweg immer wieder gesteigert, bis sie schließlich im Schmuckstück der Reihe - dem Mercedes-Benz 280 SE 3.5 - ihren Höhepunkt erreichte. Doch das Modell brachte noch weitere Merkmale mit, die es von seinen Vorgängern abhob.
Acht Jahre hatte es nach der Modelleinführung gedauert, bis Daimler-Benz 1969 einen 3,5-Liter-V8-Motor verbaut im 280 SE 3.5 einführte, der es bei einem Hubraum von 3499 cm³ auf satte 200 PS (147 kW) brachte und damit eine Höchstgeschwindigkeit von 205 km/h beim schnellen Spurt über den Asphalt erreichte. Aber nicht nur technisch unterschied sich der Mercedes-Benz 280 SE 3.5 von seinen vorangegangenen Modell-Geschwistern, die bestenfalls an der 170-PS-Marke gerührt hatten. Auch äußerlich war ein deutliches Facelift zu erkennen, bei dem die Frontpartie des Wagens mit einer flacheren Motorhaube und einem niedrigeren Kühlergrill ausgestattet worden war. Seither werden die Modelle als die älteren "Hochkühler" und die später entstandenen "Flachkühler" unterschieden. Letztere gelten dabei heute als die begehrtesten Modelle der Klassiker-Reihe. Besonders wertvoll sind die Schmuckstücke heute auch deshalb, weil sie nur in einer kleinen Stückzahl die Werkshallen von Daimler-Benz verließen. Zwischen 1969 und 1971 durften insgesamt nur 3270 Mercedes-Benz 280 SE 3.5 Coupés und mit einer Stückzahl von 1232 noch weniger Cabriolets ihren Dienst auf der Straße antreten.
Die Fertigstellung des hier angebotenen Mercedes-Benz W111 280 SE 3.5 Cabrios erfolgte laut Datenkarte am 9. April 1970. Die Auslieferung des Fahrzeugs erfolgte im Farbton 180 Silbergrau metallic, in Kombination mit schwarzem Verdeckstoff und einer roten Lederinnenausstattung. Ab Werk verbaut war ebenfalls die begehrte Klimaanlage, sowie die Halogen Nebelscheinwerfer. Gemäß dem noch im original vorliegenden ersten Kraftfahrzeugbrief fand die Erstzulassung dieses Cabrios bereits nur wenige Tage nach Fertigstellung, am 10.04.1970 in Kassel statt. Der Erstbesitzer, ein Tiefbauunternehmer namens Friedrich Radde registrierte den Wagen auf das Kennzeichen KS-EC 36. Sechs Jahre später, im März 1976 erfolgt der der Verkauf des Cabrios an Herrn Manfred Bürchert, welcher das Fahrzeug am 24.03.1976 in Berlin mit dem amtlichen Kennzeichen B-ZZ-696 zulässt. Über 25 Jahre fand dieser Mercedes in Berlin sein Zuhause, bis sein Besitzer im Sommer 2001 den Entschluss fasst sein Fahrzeug zu verkaufen. Der Käufer war niemand geringeres als das noch heute existierende Autohaus der Gebrüder Behrmann. Die Geschichte des Namens Behrmann ist eng mit der Marke Mercedes-Benz verwurzelt, nicht umsonst ziert dieser Schriftzug eines der legendärsten Mercedes Modelle aller Zeiten. Den W109 300 SEL 6.8. Eben dieser befindet sich in unserer hauseigenen Sammlung und so finden diese zwei Fahrzeuge nach Jahrzehnten wieder zusammen.
Das sich 2001 noch immmer im Originalzustand befindende 280 SE 3.5 Cabrio konnte mitlerweile sein Alter und die damit einhergehenden Mängel nichtmehr verbergen und so entschied sich der Fachbetrieb der Gebrüder Behrmann für eine umfangreiche Restaurierung. Diese sollte schlussendlich über ein Jahr andauern und über 100.000,- € verschlingen und doch war diese Investition ihr Geld mehr als Wert. Die Unterlagen der Restaurierung liegen selbstverständlich vor. Die Restaurierungsqualität ist über jeden Zweifel erhaben und selbst knapp 20 Jahre später beeindruckt das Gesamtergebnis. Dem Cabrio, zwischenzeitlich zugelassen auf das Unternehmen Gebrüder Behrmann KG Automobile sollte sein zweifellos beneidenswertes Zuhaus für die kommenden 15 Jahre erhalten bleiben. Im Spätsommer 2016 erfolgt schließlich der letzte Halterwechsel des Wagens an einen Autoliebhaber und Sammler nahe Bonn.
Die lückenlose und zweifelsohne erhabene Historie in Verbindung mit dem makellosen optischen, wie auch technischem Gesamtzustand machen aus diesem Mercedes-Benz 280 SE 3.5 Cabrio ein sehr attraktives Angebot. Für Detailfragen wenden Sie sich gerne jederzeit an unser Verkaufspersonal.
____________________________________________________________________________________________
The Mercedes-Benz 280 SE 3.5 is regarded as the top model of the W111 series, which was produced by Daimler-Benz from 1961 to 1971. In both the coupé and cabriolet versions, this classic car still captivates today with its style and elegance. Mercedes-Benz began selling the W111 models as early as 1961, setting completely new standards in terms of safety. A major innovation was the bodywork: for the first time ever a passenger car was equipped with a stable passenger cell and an effective crumple zone. In addition, the W111 models were equipped with wedge pivot door locks that couldn't jump open accidentally. This was important, among other things, because - as was the case with many cars of the time - not every W111 had safety belts for passengers. But the cars had other modern security measures inside: For example, the steering wheel was fitted with an impact plate with a soft cover, and the dashboard was also cushioned and equipped with partially elastically recessed controls. The engine performance of the various models increased repeatedly over several years until the real gem of the series - the Mercedes-Benz 280 SE 3.5 - finally reached its pinnacle. But the model also had other features that set it apart from its predecessors.
It took Daimler-Benz eight years after the introduction of the model to introduce a 3.5-litre V8 engine to the 280 SE 3.5 in 1969. The 280 SE 3.5 had a displacement of 3499 cm³ and a full 200 hp (147 kW), which enabled it to reach a top speed of 205 km/h. However, the Mercedes-Benz 280 SE 3.5 was not only technically different from its previous siblings, which had at best touched 170 hp. Also externally the car was given a clear facelift - the front part of the car was given a flatter bonnet and a lower radiator grille. Since then, we have distinguished between the models by calling them the older "high grille" and the more recent "low grille". The latter are now considered the most coveted models in this classic car series. These gems are particularly valuable today because only a small number of them left the Daimler-Benz production halls. Between 1969 and 1971, a total of just 3,270 Mercedes-Benz 280 SE 3.5 coupés and even fewer cabriolets - namely just 1,232 - were put on the road.
According to the data card, the Mercedes-Benz W111 280 SE 3.5 cabriolet on sale here was completed on 9 April 1970. The vehicle was delivered in 180 silver grey metallic with a black convertible top and red leather interior. The coveted air conditioning system and halogen fog lights were also installed ex works. As per the first vehicle registration document, which still exists, the vehicle was initially registered just a few days after leaving the production halls, on 10 April 1970 in Kassel, Germany. The first owner, a civil engineering contractor named Friedrich Radde, registered the vehicle with the registration number KS-EC 36. The vehicle was sold on six years later, in March 1976, to Mr. Manfred Bürchert who registered the vehicle on 24 March 1976 in Berlin with the registration number B-ZZ-696. This Mercedes had found its home for the next 25 years until the owner decided to sell it in summer 2001. The buyer was none less than the Behrmann brothers' car dealership which still exists today. The history of the Behrmann name is deeply rooted in the Mercedes-Benz brand, and it is not without reason that these letters adorn one of the most legendary Mercedes models of all time. The W109 300 SEL 6.8. And precisely this vehicle is in our in-house collection and so these two vehicles are reunited again after decades.
The 280 SE 3.5 Cabrio, still in its original condition in 2001, could no longer hide its age and the associated defects and so the Behrmann brothers decided to carry out an extensive restoration. Lasting for over one year and devouring more than EUR 100,000, this investment turned out to be worth more than the money it cost. The documentation of the restoration is, of course, at hand. The quality of the restoration is beyond all doubt and even 20 years later the overall result is impressive. The cabriolet, meanwhile registered to the company Gebrüder Behrmann KG Automobile, stayed in its undoubtedly enviable home for the next 15 years. In late summer 2016, the car changed hands for the last time and went to a car enthusiast and collector near Bonn.
The complete and undoubtedly sublime history of this vehicle combined with its overall flawless visual and technical condition make this Mercedes-Benz 280 SE 3.5 cabriolet a very attractive offer. For detailed questions, please contact our sales staff at any time.