This listing is no longer available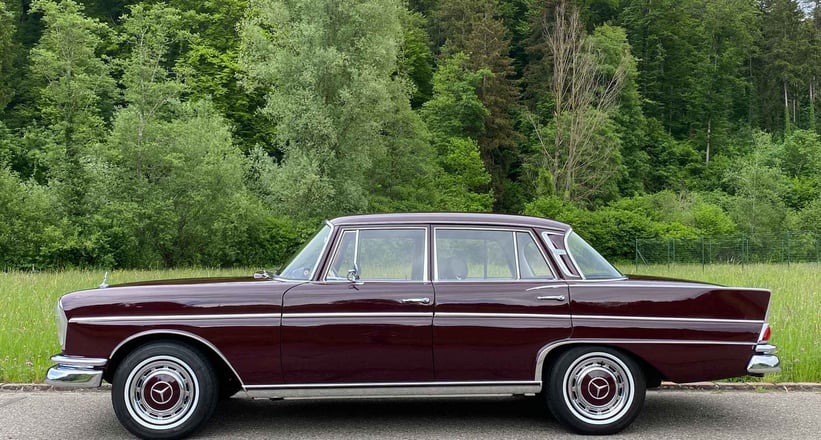 1962 Mercedes-Benz W111/112
300 SE Automatic
Location

Performance

160 PS / 118 kW / 158 BHP
Description
Mercedes-Benz 300 SE Automatic
First Registration 1962, Mercedes-Benz 300 SE Automatic, W112
4-Speed Automatic Gearbox
Power Steering
Leather and Wood Interior
Swiss Road Registration with "Veteran" entry
The Mercedes-Benz 300 SE (W112) was launched as a replacement for the big 300d Adenauer saloon and was equipped with the three-litre in-line six-cylinder (M189 engine). To distinguish it optically from the similarly constructed W111 (Mercedes-Benz 220 SE), it was upgraded with various luxurious features and details. The exterior of the W112 featured considerably more chrome and luxury equipment such as power steering, air suspension and automatic transmission as standard. This top model cost almost twice the price of a 220 SE. The performance of the 300 SE was top of the range for Mercedes saloons. A special feature that could only be found on the 300 SE: the 300 SE lettering with a chrome lining was placed on the boot lid. The 300 SE lettering on the C-pillars also underlined the proud character of this luxury saloon. This luxury continued into the interior, expressed with plenty of chrome, wood and leather. The characteristically arched rear wing gave the 300 SE the name "Heckflosse" and was further accentuated by the chrome trim on the side. Only about 5,200 units of the W112 were built between 1961 and 1965.
This rare Mercedes-Benz 300 SE is in a optically and mechanically very good condition. The sophisticated driving experience and the luxurious interior give this saloon a wide range of possibilities. The tasteful colour scheme in Bordeaux red with black leather interior underlines the extraordinary exclusivity.
Please, check our website www.lutziger-classiccars.ch for more detailed pictures.
GERMAN LANGUAGE:
Mercedes-Benz 300 SE Automatic
Jahrgang 1962, Mercedes-Benz 300 SE Automatic, W112
4-Gangautomatikgetriebe
Servolenkung
Leder- und Holzausstattung
Schweizer Strassenzulassung mit Veteraneneintrag
Der Mercedes-Benz 300 SE (W112) kam als Ersatz für die grosse 300d Adenauer-Limousine auf den Markt und wurde mit dem drei Liter grossen Reihensechszylinder (M189-Motor) bestückt. Um ihn optisch vom baugleichen W111 (Mercedes-Benz 220 SE) abzuheben, wurde er mit diversen luxuriösen Funktionen und Details aufgewertet. Äusserlich zeigte der W112 wesentlich mehr Chrom und Luxusmerkmale wie Servolenkung, Luftfederung und Automatikgetriebe waren Standard. Dieses Topmodell kostete fast das Doppelte des Preises eines 220 SE. Die Leistung des 300 SE war die Spitze der Mercedes-Limousinen. Ein besonderes Merkmal welches nur beim 300 SE zu finden war: Auf dem Kofferraumdeckel prangt der 300 SE-Schriftzug mit einer Chromumrahmung. Auch die 300 SE-Schriftzüge auf den C-Säulen unterstrichen den selbstbewussten Charakter dieser Luxuslimousine. Dieser Luxus setzte sich auch im Innenraum fort und drückte sich mit viel Chrom, Holz und Leder aus. Der charakteristisch schwungvolle Heckkotflügel verlieh dem 300 SE den Namen "Heckflosse" und wurde von der seitlich angebrachten Chromzierleiste zusätzlich betont. Gebaut wurde der W112 zwischen 1961 und 1965 lediglich in rund 5'200 Exemplaren.
Dieser seltene Mercedes-Benz 300 SE befindet sich in einem optisch und mechanisch sehr gepflegten Zustand. Die gediegene Fahrkultur und der luxuriöse Innenraum verleihen dieser Limousine einen für viele Zwecke möglichen Einsatzbereich. Die geschmackvolle Farbgebung in Bordeauxrot mit schwarzen Lederinterieur unterstreicht die aussergewöhnliche Exklusivität.
Irrtümer, Fehler und Zwischenverkauf vorbehalten.
Weitere, detaillierte Bilder von diesem Mercedes-Benz 300 SE Automatic, finden Sie auf unserer Homepage www.lutziger-classiccars.ch