This listing is no longer available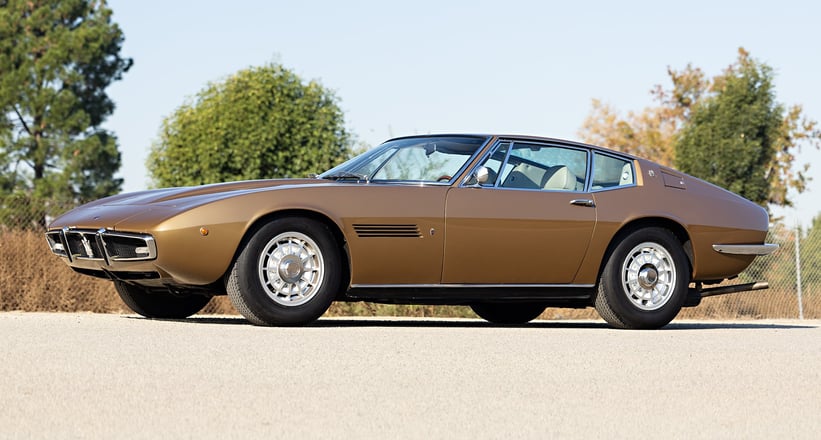 Location
Description
The Maserati Ghibli has been described as quite possibly the most handsome car of the 1960s. Without question, it was certainly one of the fastest. Styled in Ghia's studios by gifted automotive designer Giorgetto Giugiaro, the Ghibli is a true masterpiece – even considering his impressive body of work that now spans over 50 years. The Ghibli debuted at the 1966 Torino Motor Show and was very well received. Giugiaro himself described the Ghibli as offering "a very striking, long, flat bonnet, full-width radiator grille, pop-up headlights, a sharply angled windscreen and very clean flanks."
The striking bodywork was wrapped around an aluminum-block V-8 engine with dry sump lubrication, and dual overhead cams. In fact, the engine was a further development of the powerplant in Maserati's potent 450S racer, piloted by the likes of Stirling Moss, Juan Manuel Fangio, and Carroll Shelby.
Just two years after the Ghibli was first introduced, Maserati upped the ante with the SS version. Horsepower was increased to 335, which enabled a top speed of 175 mph, turning the Ghibli SS into the fastest Maserati road car of the day. With 1,149 coupes constructed between 1967 and 1973, the Ghibli held its own against two worthy rivals: the Ferrari Daytona and the Lamborghini Miura. This was a testament to the design and performance of this stunning GT coupe, which offered an unparalleled, modern design and a fantastic driving experience.
The Ghibli offered here is a stunning example of the desirable SS version and is believed to have been imported into the US from Milan in 1971 by Angelo Bio, who retained ownership of his prized Maserati for over 35 years. Refinished in its original Light Brown Metallic to a high standard, the Ghibli's interior has also been re-trimmed, with the inviting parchment leather in its original pattern, and a stainless steel exhaust system has been fitted for long-term durability. Beginning in early 2016, the car resided in a respected, professionally maintained eastern US collection, before its acquisition by the consignor in 2021. Complete with a tool kit and spare, the coupe continues to present beautifully inside and out, and currently shows just over 85,000 km on its odometer.
Today, the Ghibli remains coveted by enthusiasts and knowledgeable collectors due to its excellent driving dynamics, race-inspired engineering, comfortable passenger compartment, and the faultless styling of Giugiaro. This example of the iconic Maserati Ghibli 4.9 SS offers its next owner a fantastic opportunity to enjoy iconic 1960s style and incredible performance in a single stunning package.