This listing is no longer available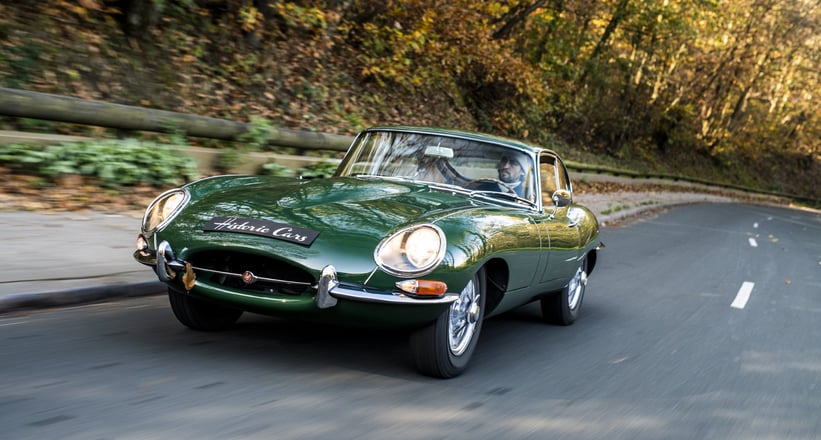 1962 Jaguar E-Type SI
3.8L FHC
Summary
Location
Description
LA DERNIERE VRAIE JAGUAR DE SPORT ?
Lorsque Jaguar dévoile sa Type E au salon de Genève en mars 1961, c'est la surprise totale. Surprise, car personne n'avait eu d'informations préalables sur la future Grand Tourisme de la marque de Coventry, et également parce que la ligne de la Type E a totalement subjugué les foules. Une ligne signée William Lyons, un châssis sportif tout en restant confortable et des performances de premier ordre caractérisait alors la nouvelle Jaguar Type E. Sans parler du prix sans concurrence alors, puisque trois fois moins cher qu'une Ferrari et deux fois moins qu'une Maserati...
Depuis la fin de la guerre, Jaguar symbolise à merveille le Grand-Tourisme à l'anglaise. Toute la généalogie des roadsters XK (120 à 150) a largement contribué à construire cette image sportive en complément des nombreuses victoires dans des compétitions majeures. Mais à l'orée des années 60, malgré toutes leurs qualités, les XK ne peuvent masquer leur âge. Alors, en secret, Coventry travaille sur la remplaçante. Les journalistes de l'époque sont alors totalement tenus à l'écart et les quelques dessins de perspective qui sont dévoilés seront loin de la réalité. Le 15 mars au salon de Genève, c'est la cohue de journalistes dans le parc des Eaux-Vives. Tous veulent admirer en avant-première la nouvelle star de Coventry. Puis, c'est le grand bain de foule au salon de Genève. Les commentaires et réactions sont dithyrambiques. A chaque apparition d'une Jaguar Type E, dans la rue, c'est l'attroupement. Nombres de stars et de personnalités se sont empressées de prendre commande de la belle anglaise : Françoise Sagan, Johnny Halliday, Bernard Consten, Charles Trenet, Pierre Bardinon, Robert Hirsch, sans parler des têtes couronnées. Mais non contente de posséder une ligne à couper le souffler, la Jaguar Type E pouvait se targuer de posséder un châssis très en avance pour l'époque…
On a souvent attribué le design de la Jaguar Type E à Sir William Lyons. Mais comme dans chaque genèse d'automobile, il y a un capitaine à la barre, et toute une équipe derrière lui qui travaille dans son ombre. C'est à Malcom Sayer, aérodynamicien venant de l'industrie aéronautique, que revient la paternité du coup de crayon. Habillant un châssis tubulaire très léger, notre designer anglais a offert à la Jaguar Type E un capot immensément long et plat qui a vite contribué au magnétisme opéré sur le public par la noble GT de Coventry. L'ouverture dudit capot est totale avec le bloc complet qui bascule vers l'avant et découvre intégralement la mécanique. A l'avant, une petite calandre ressemble à s'y méprendre à une petite bouche entre-ouverte suggestive laissant la porte ouverte aux imaginations les plus fertiles. Deux phares ronds sont sous globes et encastrés. L'arrière est de type Fastback avec le toit qui descend jusqu'aux fins feux arrière. Les surfaces vitrées se distinguent par des montants très fins et élégants recouverts de chrome. Enfin, l'arrière de la Jaguar Type E se singularise par des ailes aux courbes très prononcées. Vous le comprendrez vite, il y a beaucoup de charme et de féminité dans ce design. La finition à bord ne souffre pas la critique, bien au contraire, et un coffre conséquent permettait d'envisager les voyages au long court. N'est-ce pas là justement la vocation première d'une GT ?…
Jaguar doit tant au moteur XK que nous ne pouvons parler de lui sans rappeler son histoire. Lorsque le roadster Jaguar XK120 est présenté à Earls Court en 1948, le salon de l'auto anglais, le coup de foudre avec le public est immédiat. Son nom " XK 120 " vient justement de son moteur et ses performances. Equipé du moteur XK, ce six en ligne de conception Jaguar, il autorisait à la Jaguar XK120 Roadster une vitesse maximale de… 120 miles à l'heure ! Né en 3,4 litres avec un bloc en fonte et une culasse aluminium, sa distribution se faisait par deux arbres à cames en tête. Pas mal en 1948 !! Pour la Jaguar Type E, Coventry l'équipe d'une version réalésée du moteur XK. Le 6 en ligne a désormais une cylindrée de 3,8 litres (87x106 mm) et conserve son caractère de moteur longue course. Plus de couple donc dès les plus bas régimes. La puissance annoncée par l'usine est de 265ch SAE à 5500 tr/mn et un couple de 35,9 mkg à 5500 tr/mn. Aujourd'hui encore, les performances que procurent le moteur XK 3.8 à la Jaguar Type E sont peu communes, avec 240 km/h en vitesse de pointe et moins de 8 secondes pour le 0 à 100 km/h.
Pour son châssis, la Jaguar Type E a été l'objet des soins les plus attentifs. En effet, de nombreuses solutions ont été reprises de la compétition. Ainsi, pour la nouvelle GT de Coventry les ingénieurs châssis (Bob Knight et Norman Dewis) ont imaginé un berceau indépendant de la coque. Il reçoit ainsi la suspension arrière, les freins et le différentiel. Il est ensuite rattaché à la coque par des silents blocs en forme de V. Cela permet ainsi d'isoler l'habitacle de tout parasite provenant des suspensions et/ou des irrégularités de la chaussée. Pour la partie avant, c'est presque un " copier-coller " de la structure de la Type D de course. Deux leviers triangulés superposés, dont celui du bas qui accueille l'extrémité antérieure du bras de torsion longitudinal.
Pour ralentir son félin aux griffes acérées, Jaguar a repris le principe des freins à disques inauguré avec succès aux 24 Heures du Mans en juin 1953 avec la Jaguar Type C. Les quatre roues en sont équipées et un double circuit de freinage séparé est monté. Avec un poids contenu de 1 220 kg, la Jaguar Type E se targue d'un rapport poids/puissance très flatteur qui lui permet de postuler au statut de véritable sportive. La tenue de route est très moderne et c'est surtout le confort de conduite qui étonne. On comprend mieux pourquoi Jaguar se taillera une réputation à part dans le domaine des châssis.
3500 coupés furent produits en 1962 pour une production totale de 7667 « Coupés 3.8 litres »C'est certainement la plus désirable de toutes. Sa ligne en fait un collector de choix, ses solutions techniques et sa genèse lui autorisent aujourd'hui encore un comportement d'actualité et son moteur qui semblait à l'époque archaïque se distingue aujourd'hui par sa fiabilité et son coule généreux.
Notre voiture a été produite en février 1962 puis livrée aux États-Unis par Jaguar Cars New York à Eugene Hansen Bros dans l'Oregon. Encore aujourd'hui dans sa teinte « dark green »avec son intérieur beige, elle a également conservé son bloc moteur d'origine.
Elle fut la propriété de M. Charles Ruff avant d'être importée en Europe en Hollande dans les années 2000. Elle fut acquise par son actuel propriétaire début 2016, et il confiera la voiture a un atelier réputé afin d'en refaire la carrosserie extérieure, une peinture et de monter des freins avant 4 pistons plus modernes. Une révision profonde de la mécanique fût également réalisée. Prête à prendre la route, c'est l'auto parfaite pour fêter dignement l'année prochaine les 60 ans de la Jaguar Type E
THE LAST REAL SPORTS JAGUAR?
When Jaguar unveiled its Type E at the Geneva Motor Show in March 1961, it was a complete surprise. Surprise, because no one had had any prior information about the future Grand Touring of the Coventry brand, and also because the Type E line totally captivated the crowds. A William Lyons design, a sporty yet comfortable) chassis and first-class performance were the hallmarks of the new Jaguar Type E. Not to mention the unbeatable price then, since it was three times cheaper than a Ferrari and half as much as a Maserati...
Since the end of the war, Jaguar has become the symbol of British Grand Touring. The entire genealogy of XK roadsters (120 to 150) has largely contributed to building this sporting image in addition to the many victories in major competitions. But at the dawn of the 1960s, despite all their qualities, the XKs could not hide their age. So, in secret, Coventry is working on the replacement. On 15 March at the Geneva Motor Show, it is the crowd of journalists in the Parc des Eaux-Vives who can admire a preview of the new Coventry star. Then, it is the great crowd at the Geneva Motor Show. The comments and reactions are ecstatic. Every time an E-Type Jaguar appears in the street, there is a crowd. One the stream of stars and personalities who hastened to take orders for the beautiful English car: Françoise Sagan, Johnny Haliday, Bernard Consten, Charles Trenet, Pierre Bardinon, Robert Hirsch, not to mention the crowned heads. But not content with having a line to cut the blow, the Jaguar E-Type could boast of having a royal chassis for the time...
The design of the Jaguar Type E has often been attributed to Sir William Lyons. But as in every automobile genesis, there is a captain at the helm, and a whole team behind him working in his shadow. Malcolm Sayer, an aerodynamicist from the aeronautics industry, assumes the authorship of the pencil stroke. Dressing a very light tubular chassis, our English designer gave the Jaguar Type E an immensely long and flat bonnet which quickly contributed to the magnetism operated on the public. The opening of the bonnet is total with the complete block tilting forward and fully uncovering the mechanics. At the front, a small grille looks like a suggestive half-open mouth, leaving the door open to the most fertile imaginations. Two round headlights are under globes and recessed. The rear is Fastback style with the roof sloping down to the slim taillights. The finish on board does not suffer from criticism, quite the contrary, and a large bootmakes it possible to envisage long journeys. Isn't this precisely the primary vocation of a GT?.
Jaguar owes so much to the XK engine that we can't talk without recalling its history. When the Jaguar XK120 roadster was presented at Earls Court in 1948, the English motor show, the love at first sight with the public was immediate. Its name "XK 120" comes from its engine and performance. Equipped with the XK engine, this Jaguar-designed in-line six, it gave the Jaguar XK120 Roadster a top speed of... 120 miles per hour! Born in 3.4 litres with its cast iron block and an aluminum cylinder head, its distribution was done by two overhead camshafts. Not bad in 1948 ! For its Jaguar Type E, Coventry equipped it with a rebored version of the XK engine. The in-line 6 now has a displacement of 3.8 litres (87x106 mm) and retains its character of a long-stroke engine. This means more torque from the lowest revs. The power announced by the factory is 265 hp SAE at 5500 rpm and a torque of 35.9 mkg at 5500 rpm. With a top speed of 240 km/h and a 0-100 km/h time of less than 8 seconds many motorists in their 'modern' cars are surprised by the good health of the E-Types.
The Jaguar Type E has been the object of the most careful attention for its chassis. Indeed, many solutions have been taken from the competition. Thus, for the new GT of Coventry the chassis engineers (Bob Knight and Norman Dewis) have imagined a cradle independent of the hull. It houses the rear suspension, brakes and differential. It is then attached to the body by V-shaped silent-blocks. This isolates the passenger compartment from any interference from suspension and/or road irregularities. For the front part, it is almost a "copy and paste" of the Type D race structure. Two superimposed triangulated levers, including the lower one which houses the front end of the longitudinal torsion arm.
To slow down its sharp-clawed feline, Jaguar adopted the principle of disc brakes successfully inaugurated at the Le Mans 24 Hours in June 1953 with the Jaguar Type C. All four wheels are equipped with them and a separate dual braking system is fitted. With a contained weight of 1,220 kg, the Jaguar Type E boasts a very flattering power-to-weight ratio that allows it to claim the status of a true sports car. The handling is very modern and it is above all the ride comfort that is astonishing. It's easy to see why Jaguar would make a name for itself in the chassis business.
In 1962 3500 coupes were produced out of a total production of 7667 coupes in the 3.8L version. This E Type is certainly the most desirable of all. Its line makes it a collector's item of choice, its technical solutions and its genesis still allow it to be a modern car and its engine, which seemed archaic at the time, now stands out thanks to its reliability.
Our car was produced in February 1962 and delivered to the United States by Jaguar Cars New York to Eugene Hansen Bros, in Oregon. It was then owned by Mr. Charles Ruff who imported the car to Europe from Holland in the 2000s. It was finally acquired by its current owner in early 2016 who entrusted the car to a reputable workshop to redo the exterior bodywork and paintwork, install more modern 4 piston front brakes and thoroughly overhaul the mechanics. Ready to hit the road, this is the perfect car to celebrate the 60th anniversary of the Jaguar E Type next year.