This listing is no longer available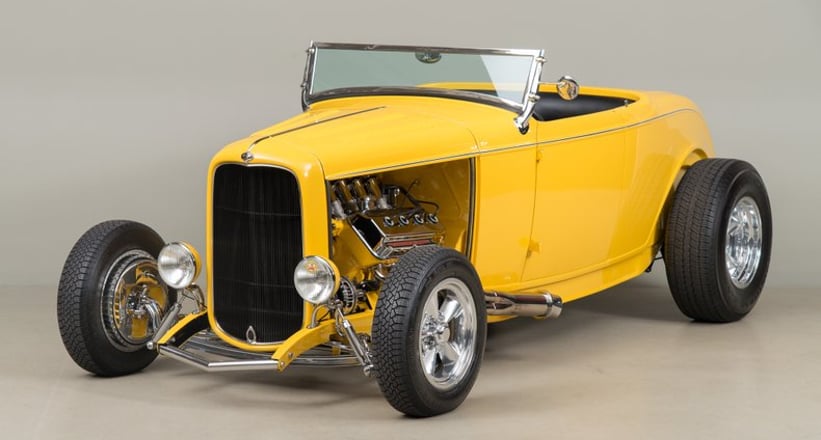 Summary
Location
Description
1932 Ford Roadster
Custom-built from the ground up by So-Cal Speed Shop
Award-winning and featured in Issue 32 of The Rodders Journal
Custom 392 Hemi V8 engine built by Ray Zeller
One owner since new
Tremec 5-speed manual transmission
Ferrari Fly Yellow paintwork
Famously known as one of the first hot rod parts store in Southern California, So-Cal Speed Shop was founded by Alex Xydias who now is a motorsports legend in his own right. With a history of building amazing salt flat and drag race cars that pushed the limits of what was thought to be possible, So-Cal Speed Shop for many years only sold performance parts. In 1997, Pete Chapouris, a legendary builder, revived the So-Cal name and began a partnership with Alex, creating and delivering turn-key hot rod customs to clients around the world. With the speed shop's instantly recognizable name and Chapouris' hot rod vision, the pair would become a tour de force in the hot rod world, producing customs that would grace countless covers of magazines.
In 2005, an idea began to form with who would become the first and only owner of this So-Cal built roadster. Wanting a car that was built with amazing craftsmanship, attention to detail, lots of power but ultimately reliable to use on long trips, he chose the builders at So-Cal Speed Shop in Pomona, California.
Building from the ground up everything starts with the chassis, which So-Cal decided to use their own stepped box 1932 chassis. Suspension consists of an I-beam axle with hairpins, and the rear suspension is a traditional Posies A-style rear cross member employing a transverse spring. In order to accommodate these new mechanicals in the rear, the trunk floor was raised. All the welding beads were recreated to look as though they were stock. Underneath the car the Vintique fuel tank was reshaped in order to clear the Winter Champ quick-change rear end, with the front disc brakes and rear drum brakes covered by Buick-style polished finned aluminum covers. The chopped traditional style windshield was chrome plated for that classic look, with the Aero-style headlights directly from the So-Cal Speed Shop. No award-winning hot rod would be complete without an amazing paint finish, and Paco Castell of Los Angeles, California was the man for the job. Responsible for the laser-straight bodywork, he also sprayed the PPG Ferrari Fly Yellow paint.
With much of the suspension and chassis done, it was time for So-Cal to begin with the American V8 that would power the roadster. Introduced in 1957 and would prove to be a natural choice for the build, the 392 Hemi was chosen for this, with a large displacement but extremely drivable from day to day. Custom built by well-known California engine builder Ray Zeller, the motor was balanced, blue printed, and then assembled along with the Hilborn injectors converted to EFI. The stock firewall was modified to fit this large engine, and the car was built to have an open side panel hood to show off the Hemi. A Tremec 5-speed manual transmission was used along with a Weber clutch, ensuring an excellent shift every time and all power going to the rear wheels. Rod Sexton fabricated and polished the stainless-steel headers and cleverly routed them through the frame rails.
Spending quite a bit of time on the interior yielded a subdued but refined interior complete with black leather everywhere. The dash was custom fabricated to accept an Auburn-style dash insert, old-school style Stewart-Warner gauges were installed with all of the work being done by Ryan Reed. A Mullins steering column and a Budnik 15" Corvette-style steering wheel were installed along with a custom column drop. The black leather interior and black wool carpet with its custom lift off top was all done by Gabe's Street Rod Custom Interiors, a well-known shop in southern California, which yielded an award-winning interior that is comfortable both on short spirited sprints or long travel days.
Completed and ready for use, the owner would spend some time with his roadster taking many trips in it. Driving from his residence in Los Angeles, the roadster would make the trek to Pleasanton a few times and even going north to Vancouver. He would add 5,681 miles to the car since 2005, and this hot rod shows its immaculate attention to detail as freshly today as it did when it first rolled out of So-Cal's shop.
Upon arriving at Canepa, the roadster was inspected from front to back. Bruce took the car for a quick drive and determined that it was a fantastic driver with plenty of power, dialed in and ready to go. In already amazing condition, the car was put through the "Canepa Difference" process for that extra added attention to detail that Canepa has become known for. Completely washed underneath and ensuring all the tiny areas that most wouldn't ever see were cleaned, the undersides presented as new. Lowered down and inspected, the engine bay was hand cleaned to where the Hemi looked as though it was just installed for the first time. With the rest of the car in an immaculate state, this Ford roadster is ready for its new owner. Just as capable on the show lawn as it is on the street, this So-Cal Speed Shop built roadster carries a feeling that this roadster is just a little extra special over so many other hot rod builds.