This listing is no longer available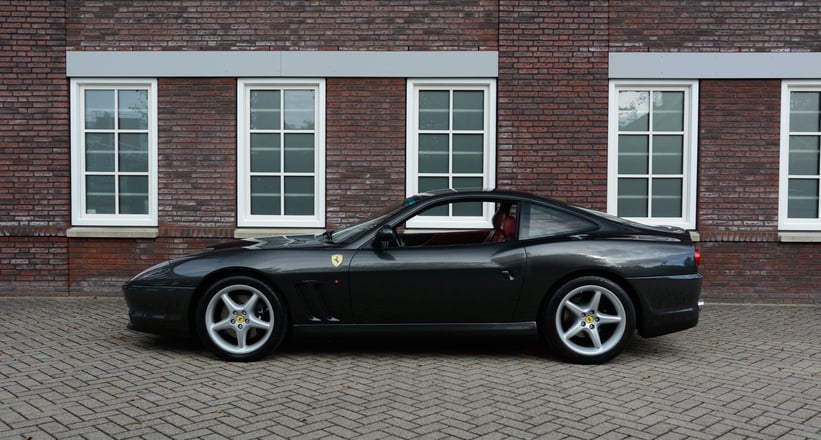 1999 Ferrari 550
Maranello - Canna di Fucile - Fantastic low mileage example
Location

Performance

357 kW / 486 PS / 479 BHP
Description
40.000 km from new ! Fabulous condition.
Model History
Since 1973, when the traditional front-engined 365 GTB/4 Daytona had been replaced by the mid-engined Berlinetta Boxer, Ferrari's top-of-the-line 12-cylinder 2-seater model had used a mid-mounted 180° V12 flat engine. The Berlinetta Boxer had later been developed into the Testarossa, whose last evolution was the 1994 F512 M. Under the presidency of Luca Cordero di Montezemolo, who took office in 1991, the F512 M replacement was developed as a traditional front-engined V12 grand tourer.
After a 30 months of development, the Ferrari 550 Maranello was presented in July 1996 at the Nürburgring circuit in Germany. Pininfarina executed both the exterior and interior design. Frame and main engine components were shared with the 2+2 Ferrari 456, although at 2,500 mm the 550's wheelbase was 100 mm shorter. The car used a transaxle layout, with the 6-speed manual gearbox located at the back, in-line with the driven wheels. The model number refers to total engine displacement (5.5 litres) and the model name Maranello refers to the town where the Ferrari headquarters are located.
The engine is a 5.5 litre V12 with 4 valves per cylinder with dual overhead cams and variable length intake manifold. It produces 485 BHP at 7000 RPM and torque is 568.1 Nm at 5000 RPM. The body is an all aluminium construction to keep the weight down. The 550 Maranello can accelerate to 100 kp/h in an impressive 4,2 seconds, with a max top speed of 320 kilometers per hour.
The 27 November 1996 issue of the British magazine "Autocar" featured a road test with the car, where they recorded a 0-60 mph time of 4.6 seconds, a 0-100 mph time of 10.1 seconds, quoting the manufacturer's claimed top speed of 199 mph. They also proclaimed it "Britain's Best Driver's Car 1998″, and in 1999 said of it "it continues to be the best GT on the block".
The 5.5 L V12 engine won the 'over 4 litre' class of the International Engine of the Year award for 2000 and 2001.
EVO magazine awarded the Ferrari 550 Maranello the award 'Best Sportscar of the 1990's'.
In total Ferrari produced only 3083 cars.
This example
This Ferrari 550 Maranello was delivered on 25 March 1999 in Munich Germany through Ferrari dealer ST Sport und Tourenwagen. The car stayed in Germany until 2015 and was then imported to Holland.
In 2016 the owner did not like the original plain color of silver, which ofcourse is the taste of the individual owner, so he decided to repaint the car in the most amazing Ferrari original colour of Canna di Fucile. This car will appeal to the most critical of enthusiasts as the many problems of the Maranello series have been taken care off. No sticky no more, no rust on the bonnet, no torn leather dashboard etc.
Service history
25/3/1999 Delivery of the new car in Munich
31/5/2000 at 8,700 km
30/1/2002 at 28,650 km
2/9/2004 at 34,303 km now in storage
20/9/2015 at 36,000 km complete reconditioning
29/6/2016 at 36,466 km
3/7/2017 at 38,280 km
11/06/2019 at 39,003 km Service with cam belts
7-5-2021 40.606 km
A big file with service records and the original service booklet come with the car.
Mileage now is 40.844 km
The car has Dutch registration papers and is road registered and ready to enjoy!
Price is Euro 115.000,-
Very Superior Old Cars is a classic sportscar consultancy company founded in 1992. We work for our customers to assist with all aspects of their car interests. From acquisition consultancy with restoration advice and management to private sales in our boutique art gallery.
VSOC is centrally located between Amsterdam and The Hague, only 17 km (11 miles) from Schiphol Airport. There is a broad selection of classic sports cars on display, in very good or excellent condition, varying from beautiful yet affordable sports cars to rare and valuable collectors' items. When you intend to visit us in The Netherlands, we would advise you to make an appointment so that we can give you some quality time. If you arrive by plane or train, we would be happy to pick you up at the airport or train station. Besides Dutch we speak English, German, French and Italian.