This listing is no longer available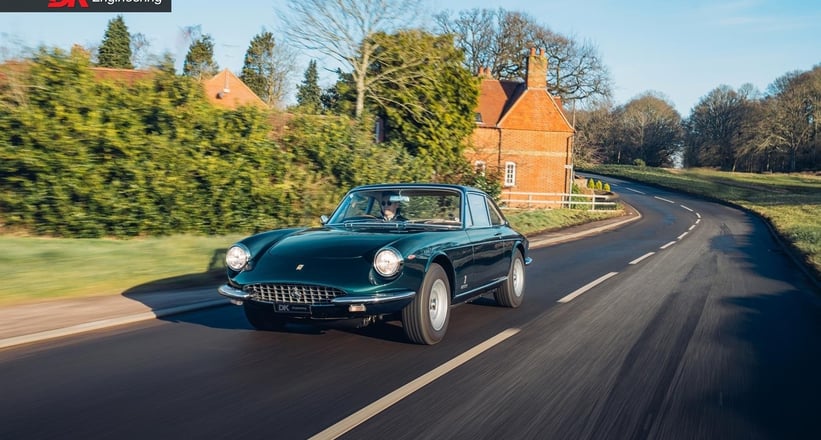 1969 Ferrari 365
Period Colour Combination - 1 of 22 UK RHD Supplied Examples
Location
Description
This Ferrari 365 GTC was ordered new by Mr G.B. Pilkington, the managing director of Vibroplant Limited. At the time, Vibroplant Limited was the market leading plant hire company specialising in road construction equipment. The company was going from strength to strength, rolling out its equipment that would help to build Britain's motorway network throughout the 1960s and 70s.
In early 1969, Mr Pilkington began communication with Michael Salmon of Maranello Concessionaires, the sole UK importer of Ferraris, looking to learn more about the latest models available. Copies of the original communication between Pilkington and Salmon are contained within this car's impressive history file.
Originally ordering his GTC to be supplied in Blu Tourbillon over a scarlet hide; after 'a complete change of heart' the order was amended, and his allocation change to car already in build.
In early July 1969, Ferrari invoiced Maranello Concessionaires for this 365 GTC, one of only 22 examples to be finished in right-hand drive. The car was finished in his revised choice of Oro Nasrullah with a Nero interior.
However, Mr Pilkington had wanted to amend the Nero interior to a Pelle Beige interior. Too later to be completed by the factory, the car was returned to Pininfarina before delivery to be fitted with a beige interior. The Ferrari invoice also notes that the car was to be delivered via air freight, quite unusual for this era but perhaps a result of the delay incurred by having the interior changed.
By the end of July, Maranello Concessionaires delivered this 365 GTC to Mr Pilkington, whilst also accepting his Mercedes Benz 250 SL, valued at £3,500, on part exchange. Copies of this correspondence and original sales invoices are contained within the history file. Interestingly, on the Maranello Concessionaires invoice, we can see that a "radiomobile with twin speakers, etc" was also fitted, costing in excess of £55! The car was UK registered on license 'DYG 921H'.
Mr Pilkington had a passion for luxury cars and regularly made visits to his various plant depots in the north-east. We can see from further period documentation that he requested and arranged with Maranello Concessionaires for his personal mechanic to travel to London for a week, where he would receive specialist Ferrari training, working exclusively on 365-engined road cars to enable him to maintain the 365 GTC.
Later, this car was re-registered in the UK with license 'YGV 81G' before being bought by Mr John Maher in Australia. During his ownership, Mr Maher restored the car before selling it to Mr David Rodd, a resident in Victoria, Australia. Whilst Down Under, the car was regularly maintained by Sports and Classic Car Services. David Rodd is an avid Ferrari enthusiast, also owning a 1951 195 Ghia Aigle Coupe and a 1967 275 GTB/4.
Also during its time in Australia, this 365 GTC was bought by Mr Brian Meredith and was then returned to the UK by Mr Jason Yates in 2012. Since returning to the UK and in the care of its current owner from 2018, this 365 GTC has been maintained by Ferrari specialists GTO Engineering and DK Engineering.
This fabulous example is available to view at our showrooms outside London immediately, complete with history file, tool kit and Ferrari Red Book Classiche Certification
Please refer to our main website www.dke.co.uk for full details, additional photos, our terms of sale and accurate pricing as some websites may use out of date currency exchange rates: https://www.dkeng.co.uk/ferrari-sales/1317/blue_chip_competition_cars/ferrari_365_gtc.html