This listing is no longer available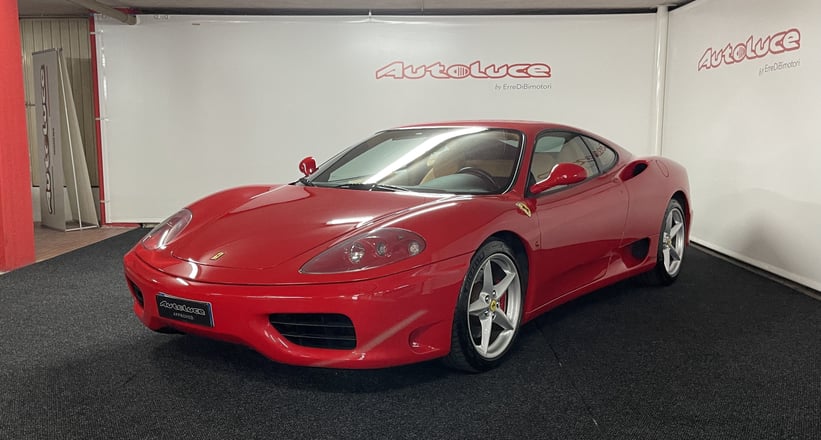 Summary
Location
Description
Nel 1999 la fine del millennio e l'imminente avvio dei Duemila portano nuove idee e stili innovativi. Si chiude un'era, se ne apre un'altra, diversa, con forme inedite, pensieri concettuali fino a quel momento inesplorati. Una mini-rivoluzione che coinvolge anche il settore automobilistico, anche Ferrari. Che, come spesso succede, si distingue: perché la Rossa rinnova mantenendosi nella tradizione. Sembra un paradosso, ma non lo è.
A Maranello vogliono replicare il successo delle sportive con motore V8, ovvero la 308 e la F355. La nuova creatura concepita dagli ingegneri dovrà montare lo stesso propulsore, ma con caratteristiche tecniche differenti. Dal punto di vista dello stile, la supercar "in rosso" del nuovo millennio rappresenterà l'inizio di una nuova strada. Un nuovo percorso, chiamato 360 e intrapreso insieme a una garanzia del settore come Pininfarina.
La berlinetta sfornata da Maranello viene presentata al Salone di Ginevra 1999. Piccola, scattante, sportiva. Colpiscono subito gli esterni. La vettura infatti non presenta le classiche linee della 'collega' precedente F355. Ha un motore a trazione posteriore, come altre sportive Ferrari, ma è la prima Rossa a sfoggiare il telaio completamente in alluminio, che la rende più leggera del 28 % della 355, nonostante fosse più grande. Non ci sono più i fanali anteriori "a scomparsa", rimpiazzati da quelli "a vista" con, tra l'altro, un nuovo impianto d'illuminazione.
Le caratteristiche rendono la 360 un esempio da seguire, ancora oggi, per tutte le supercar moderne. Se ne sono accorti anche nella stessa Maranello: nella costruzione della recentissima F8 Tributo, e non solo, è possibile scovare ispirazioni direttamente prese dalla 360. Che, nella sua versione base, viene lanciata con il nome di Modena. Il V8, che ha 5 valvole per cilindro, viene dotato di una cilindrata aumentata, rispetto alla 355, a 3856 cc, capace di erogare una potenza di 400 CV a 8500 giri/minuto. Lo 0-100 km/h viene raggiunto in 4,5 secondi.
Immatricolata 18/01/2000
Km 66000
Rosso corsa
Interno beige con moquette rossa
Toolkit e service book presenti
Scudetti Ceramici
Calipers Rossi
Sempre seguito dalla rete ufficiale Ferrari
In 1999, the end of the millennium and the imminent start of the 2000s bring new ideas and new innovations. An era closes, another one opens, different, with unprecedented forms, conceptual thoughts hitherto unexplored. A mini-revolution that also involves the automotive sector, including Ferrari. Which, as often happens, stands out: because the Rossa renews by keeping in tradition. It sounds like a paradox, but it isn't.
In Maranello they want to replicate the success of the sports cars with V8 engines, the 308 and the F355. The new creature conceived by the engineers will have to mount the same engine, but with different technical characteristics. From the point of view of style, the supercar "in red" of the new millennium will represent the beginning of a new road. A new path, called 360 and undertaken together with an industry guarantee such as Pininfarina.
The berlinetta produced by Maranello is presented at the 1999 Geneva Motor Show. Small, snappy, sporty. The outsiders immediately hit. In fact, the car does not have the classic lines of the previous 'colleague' F355. It has a rear-wheel drive engine, like other Ferrari sports cars, but it is the first Red to sport the all-aluminum chassis, making it 28% lighter than the 355, despite being larger. There are no longer "retractable" headlights, replaced by "visible" ones with, among other things, a new lighting system.
The features make the 360 ​​an example to follow, even today, for all modern supercars. They also noticed it in Maranello itself: in the construction of the very recent F8 Tributo, and not only, it is possible to find inspiration directly taken from the 360. Which, in its basic version, is launched under the name of Modena. The V8, which has 5 valves per cylinder, is equipped with an increased displacement, compared to the 355, to 3856 cc, capable of delivering a power of 400 hp at 8500 rpm. 0-100 km / h is reached in 4.5 seconds.
Registered 18/01/2000
Km 66000
Rosso Corsa
Beige interior with red carpet
Toolkit and service book present
Ceramic Badges
Red Calipers
Always followed by the official Ferrari network