This listing is no longer available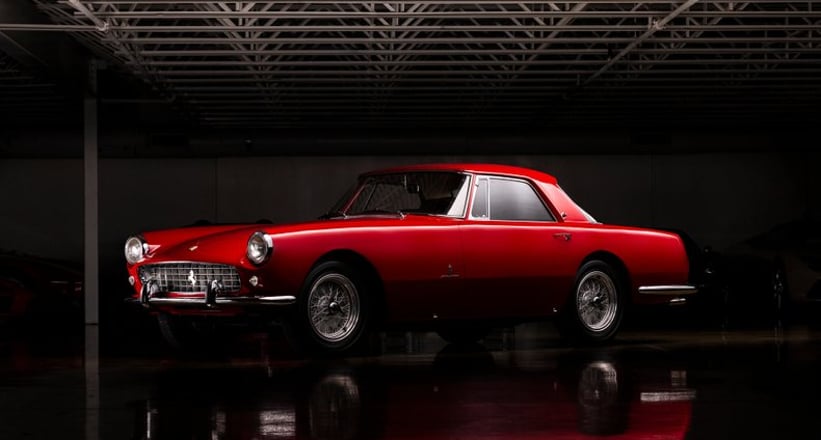 Summary
Location
Description
1959 Ferrari 250 GT PF Series I Coupé
Chassis No. 1491 GT
Engine No. 1491 GT
Series I 250GT, Featuring an Inside Plug Engine & Drum Brakes
The 201st of Only 353 Examples Produced
In Single Family Ownership for 43 Years
Fitted with its Numbers-Matching Engine & Powertrain
Offered with Marcel Massini History Report
Complete with Copies of Factory Build Sheet & Purchase Invoice from 1975
Beautifully Tuned, Balanced & Well Presented
Not to be underestimated by virtue of its design, the 250 GT Coupé was a performer through and through. The car was fitted with the Colombo-designed V12 engine, which is nothing short of a detuned competition powerplant, fitted with three twin-choke Weber carburetors. Sporting a zero-to-sixty times of less than seven seconds, the model is more than capable of competing head-on with the finest sports car manufacturers of the era.
1491GT was completed in October 1959 and delivered new to Luigi Chinetti Motors wearing Nocciola paint over Naturale leather, with Nardi steering wheel, Abarth exhaust, and chrome Borrani wire wheels. Between 1959-1971 the PF coupe is believed to have had just two or three East coast owners before it was acquired by Wayne Sparling, an avid enthusiast, NART mechanic and senior Chinetti technician. An accompanying copy of this purchase invoice from Gold Coast Sports Car Centre is included in the vehicle's dossier. Color noted at red, with a purchase price of $2,188! Sparling's love affair with 1491GT would last over four decades, and in 1992, the car underwent an extensive restoration which it proudly displays today. At that time, the exterior received its current red paintwork, while the cabin was dressed in black upholstery.
For distance touring and additional comfort, Mr. Sparling integrated a subtle air conditioning system, three-point seat belts and a headrest for the navigator – both of which are easily removeable. The 250 was later displayed at the 2007 Cavallino Concours at the Breakers Hotel in Palm Beach, FL. Subsequently, the Ferrari has been properly stored and sparingly used, with recent maintenance and upkeep.
The body appears very strait with a notably solid undercarriage and frame. The underside is nicely detailed and presents nicely. Rarely seen the underside "belly pan" is still in place. Drivability is excellent, including tight handling, quick revving and the feel the you would want and expect out of a vintage touring / event car. Engine no. 1491 GT shows excellent compression (150-160PSI per cylinder) with great road manners both on the prowl or in pursuit. An ideal PF Coupe that will certainly reward its next caretaker, we have no doubts this Ferrari could offer its pilots a cross-country trip at whim. Now available for worldwide purchase and delivery from our Houston, Texas showroom.
Contact one of our sales associates today for competitive pricing!
To learn more about this vehicle, please contact our sales department at (281) 497-1000 or [email protected]
SELLING YOUR CAR or Collection?
Our Philosophy is Selling Made Simple! We Are A Leading Buyer of Fine Motorcars since 2005. We Purchase Classic European Sport Cars - One Vehicle or Entire Collections
The above vehicle information is accurate to the best of our knowledge at the time it is posted to this website. It is provided 'as-is', without warranties as to its accuracy, whether expressed or implied, and is intended for informational purposes only. Corrections or additional information is always appreciated.
All advertised prices exclude government fees and taxes, any finance charges, any dealer document preparation charge, and shipping expenses. Vehicles are subject to prior sale. DriverSource is not liable for any errors, omissions, or mistakes.