This listing is no longer available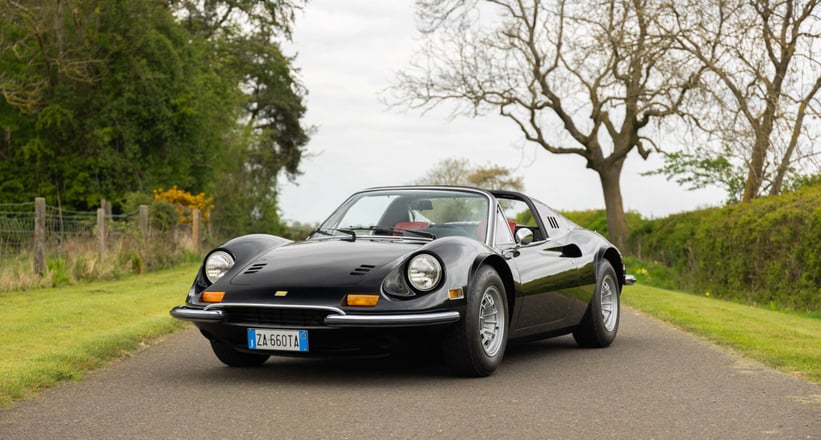 Location
Description
There is no doubt that this stunning 1973 Ferrari Dino 246GTS is simply 'World Quality'. We have seen many lovely examples of these beautiful cars over the years but this one is exceptional. It was delivered new to Modern Classic Motora, Nevada in January 1974, finished in Nero with a Pelle Rosa interior, and onwards to its first owner who lived in greater Los Angeles. In addition to electric windows and air-conditioning, it was ordered from new with two options that have become known as 'Chairs and Flares' and being rare, add considerably to the car's appeal. To be accurate the seating option was listed as "Nero 161 inserts" and refers to Daytona-style black inserts in whatever colour of leather was specified for the rest of the interior. 'The Flares' option was technically listed as "Wide wheel/Housings" and refers to the flared wheel arches and sand-cast Campagnolo wheels fitted by the factory before despatch.
The Dino's first owner was to keep it for the next thirty years, mainly in the LA area, and in 2004 the time had come to move it on. It had only covered 36,871 miles at this point but was 30 years old, so the car's second owner committed to a full restoration.
It was fully stripped to bare metal and refinished in Giallo Fly (yellow), the interior was totally refurbished in tan with new 'mouse-fur' on the dash-top and new carpets. The brake calipers were rebuilt with new hoses and pads, new shocks and shock bushings were fitted with suspension bushings, new lid supports, door and window seals and the chrome was re-plated. All this work was photo-documented, however, it's a little academic as our vendor, the Dino's third owner, went quite a lot further a few years later.
Having purchased this little yellow Ferrari in Los Angeles during 2010, our vendor added it to his eclectic collection where it was used lightly. An international business man with influence in every continent, he decided that it would be advantageous if his Dino could be awarded Classiche Certification and being a man with a reputation for standards and detail, tasked Cremonini Carrozzeria SRL (Cremonini Classic) of Modena with creating, what he hoped would be, the best 246GTS in the world. Whether they succeeded or not is for you to judge but, now returned to it's original Nero with red leather 'Daytona' seats and red carpets, it was granted full Classiche Certification in April 2018 confirming matching numbers.
The Cremonini restoration amounted to some £350,000 and within the history file are many invoices detailing the process. The substantial file also contains the car's US Title, UK V5C (previously registered as DBY 970M), current Italian registration, ZA 660 TA, Dino handbooks, the warranty card in its leather wallet and naturally, the hard-won Classiche in the famous 'Red Book'. Pleasingly the car retains what appears to be its original tool-roll.
We welcome and encourage any inspection of this spectacularly presented, 'Chairs and Flares', Classiche certified 246 GTS.