This listing is no longer available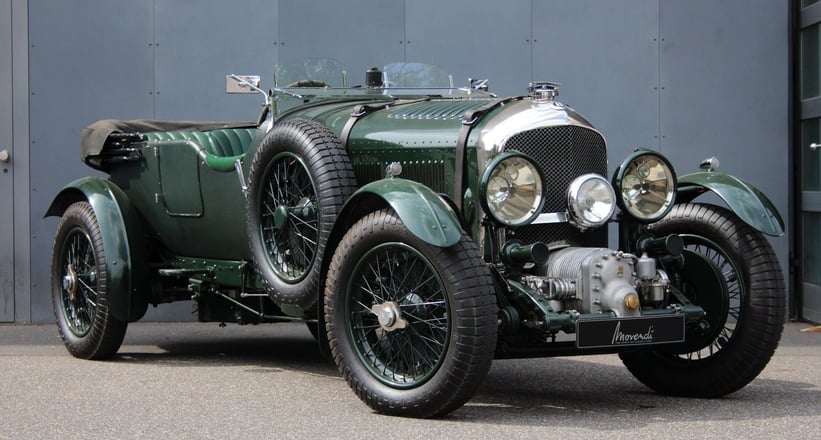 1928 Bentley 4 1/2 Litre
Blower Van den Plas - Style Open Tourer
Location

Performance

200 PS / 148 kW / 198 BHP
Description
- Aufgebaut von R.C. Moss bei dem Bentley Experten Graham Moss in Melbourne
- Exakte Rekreation des Vanden Plas Blower Bentley von 1929
- 130 Inch Wheel Base Chassis
- 5.3 Litre Block
- Originales 4.5 Litre Getriebe, viele originale Komponenten, Birkin Blower adaptiert
- Sofort einsatzbereit für Enthusiasten im besten Stil der Bentley Boys
Fahrzeughistorie:
Dieser Blower Bentley wurde bei dem sehr bekannten Spezialisten für Bentley Vorkriegsfahrzeuge in England, Graham Moss, um einen historischen Vanden Plas Body herum neu aufgebaut. So viele originale Komponenten wie möglich wurden verwendet. Die Idee war es, den ultimativen Blower Bentley aufzubauen, so wie ihn die Bentley Boys gerne gehabt hätten. Der bestehende Body wurde auf einen 130 Inch Rahmen aufgesetzt. Originale Achsen und auch ein original 4 ½ Litre konnten gefunden werden. Der 5.3 Litre Motorblock wurde mit Magnesium Birkin Blower Kurbelgehäuse komplettiert und mit einem korrekten Kompressor beatmet.
Ein wirklicher Bentley für Enthusiasten, der auf die Straße gehört und die Tradition der Bentley Boys erlebbar macht.
- Built by R.C. Moss at the Bentley expert Graham Moss in Melbourne
- Exact recreation of the Vanden Plas Blower Bentley from 1929
- 130-inch wheel base chassis
- 5.3 liter block
- Original 4.5-liter gearbox, many original components, Birkin Blower adapted
- Immediately ready for use
Vehicle history:
This Blower Bentley was rebuilt around a historic Vanden Plas body by the well-known specialist for Bentley prewar vehicles in England, Graham Moss. As many original components as possible have been used. The idea was to build the ultimate Blower Bentley, just like the Bentley Boys would have liked. The existing body was placed on a 130-inch frame. Original axles and an original 4½ liter were found. The 5.3-liter engine block was completed with a magnesium Birkin Blower crankcase and ventilated with a correct compressor.
A real Bentley for enthusiasts that belongs on the road and brings the Bentley Boys' tradition to life.