This listing is no longer available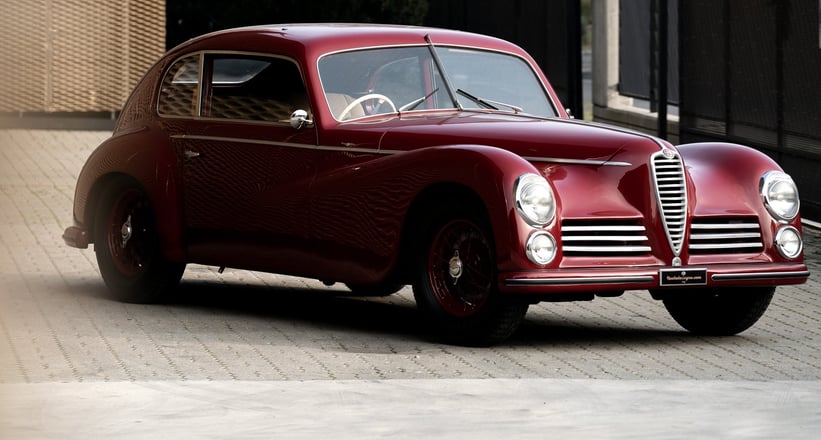 Location
Description
Chassis no. 915459
Engine no. 926082
Displacement 2443 cc
Power 90 Hp @ 4600 rev/mins
Max Speed: 155 kph
-
Certificate and Statements: ASI Gold Plate No. 0825
MilleMiglia Elegible
2.500 units made between 1947 and 1950, only 680 "Freccia d'Oro"
The History
The Alfa Romeo 6C 2500 was the last car in the series produced before the Second World War, so in 1946 in the Portello Factory (half destroyed) it was the first to enter production, flanked by the Tourism, Sport and Super Sport versions.
In fact, the chassis of the 2500 in post-war version (with independent wheeled rear deck type Porsche) was among the most advanced in the entire world production and still better than what was proposed by the newborn Ferrari.
The body fastening system had also changed, no longer bolted, but welded to the chassis, a novelty brought to debut by the 6C 2500 "Freccia d'Oro", a new Coupé, characterized by a modern "two-volume" style with a rounded tail (nicknamed Gobbone).
The "Freccia d'Oro" were assembled by Carrozzeria Alfa, forerunner of the Alfa Romeo Style Center and were equipped with a 90 HP engine that allowed to reach 155 kph. Almost obvious their success in sports competitions, especially thanks to their proverbial reliability. In 1950 two 6C "Freccia d'Oro" participated in the Carrera Panamericana of 1950, the n. 90 of Taruffi and the 103 of Bonini-Bonetto.
From 1947 to 1950, 2,500 were produced, of which only 680 were "Freccia d'Oro".
Our Alfa Romeo 6C 2500 "Freccia d'Oro"
Our car is now conservatively restored in a beautiful red color with original cream-colored interiors.
The dashboard is perfectly preserved and all the instrumentation is working.
The engine is original and maintained in perfect efficiency thanks to revisions at brand specialists.
Original Alfa Romeo ray rims, new tires.
In 1974 the car was repainted black to be used for the filming of the "Mussolini last act" film by director Carlo Lizzani with Rod Steiger as Benito Mussolini, Franco Nero, Henry Fonda and Lisa Gastoni as Claretta Petacci.
On that occasion the first number plate was covered, having a more recent numbering than that of the plaques of the period of the historical re-enactment.
This model is still today a true icon of style that continues to "please" many collectors for participation in historical re-enactments, or jealously guard it in their garage.
It is mythical because it ranks among the most beautiful cars ever, because it represents the final chapter of one of the most prestigious Alfa Romeos and finally, because it remains one of the most valuable Alfa road cars.
Today it is possible to view the car online, booking a call with one of our commercial operators, via Skype, Zoom, Whatsapp and Google Meet platforms.
This car is visible in Ruote da Sogno showroom in Reggio Emilia
!