There's a quandary every racing driver faces, be it in historic or contemporary motorsport, and that's switching from an adrenaline-inducing, sense-assaulting competition car to a comparatively sensationless road car to drive home. Following the Le Mans Classic in 2016, Sébastien Crubilé of the French Porsche specialist Crubilé Sport and his friend, who for reasons of discretion we'll call Mr G, pondered the issue. They'd raced a 911 Carrera RSR 2.1 Turbo and a 935 K3, respectively, two of the fastest and most exciting Porsche racers of them all. Why, then, was there not a refined, reliable, and genuinely usable road car in which the experience offered by those cars was remotely replicated? A plan was hatched, and in that very moment, Ateliers Diva was born.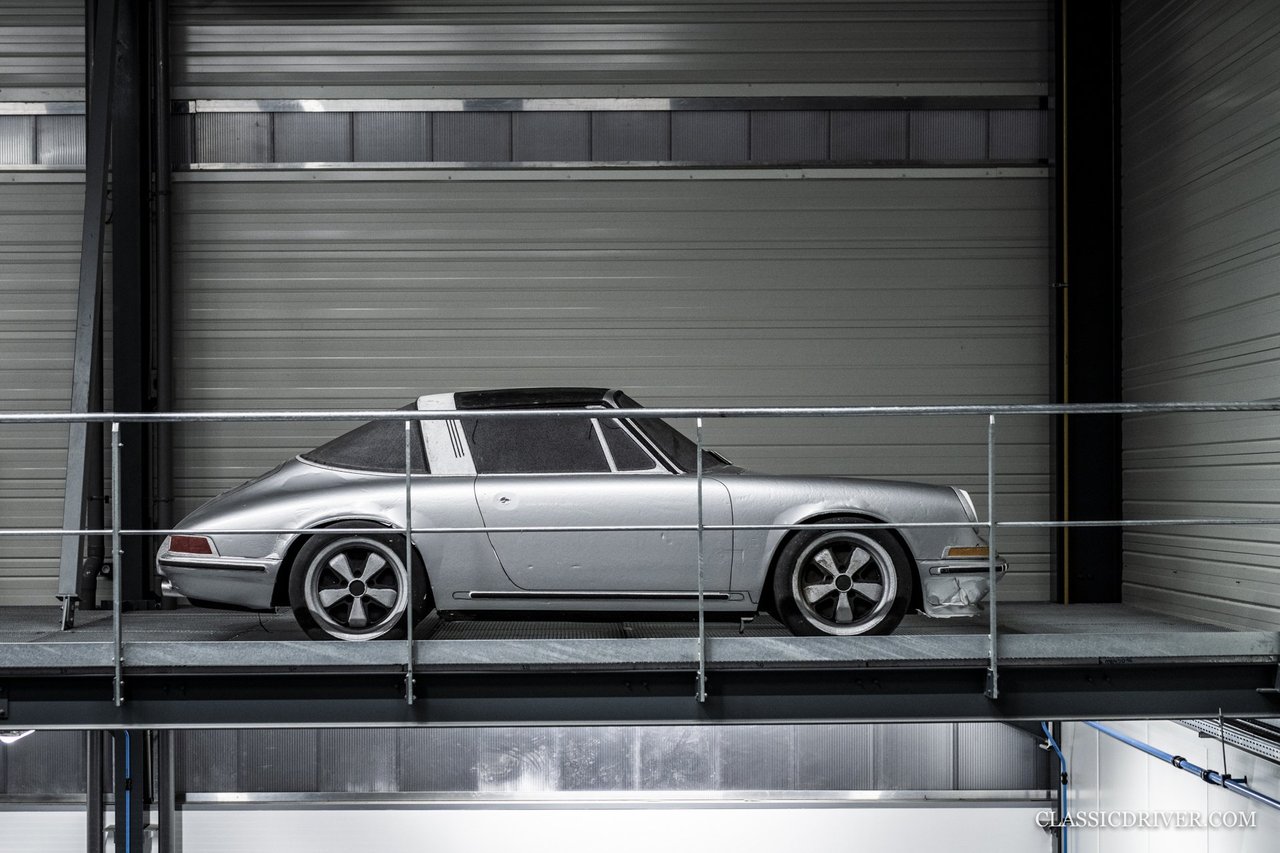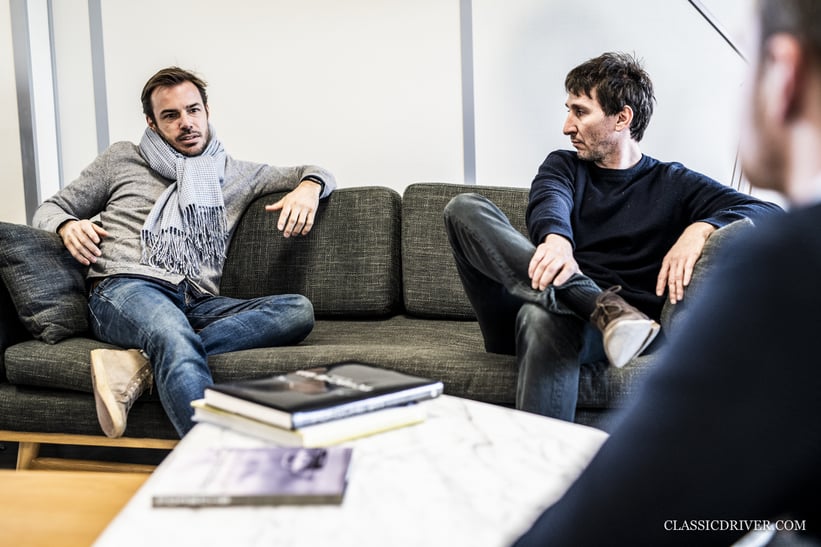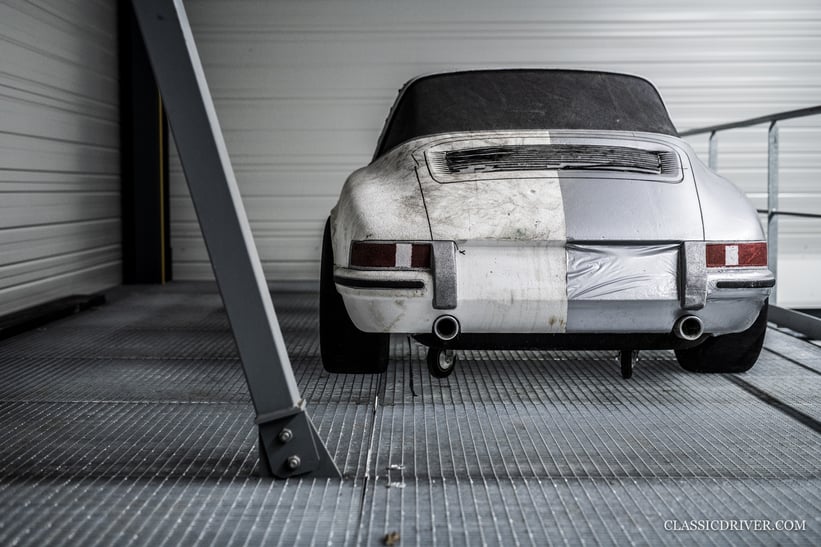 Fast-forward two and a half years and we've travelled to the outskirts of Paris to drive the stunning Ateliers Diva Targa, the very first of Crubilé and Mr G's Porsche 964 restomods that, if the duo is to be believed, solves the question they asked themselves back in 2016.
We're joined by Crubilé, project manager Ronan Quentel, and Jeremy Garamond, the latter of whom joined the project as a partner shortly after its conception and has been instrumental in making the Diva a reality. "The original idea was to build a Porsche that connects those fearsome racers with the regular cars we use in everyday life," Garamond explains. "It was to be a 911 with the cutting-edge technology and corresponding performance of a thoroughbred competition car, the elegant lines of the classic narrow-bodied original, and all the reliability, refinement, and creature comforts one could reasonably expect from a luxury car today." It might sound like a simple idea, but when you think about how all those points fundamentally contradict each other, you realise it's anything but.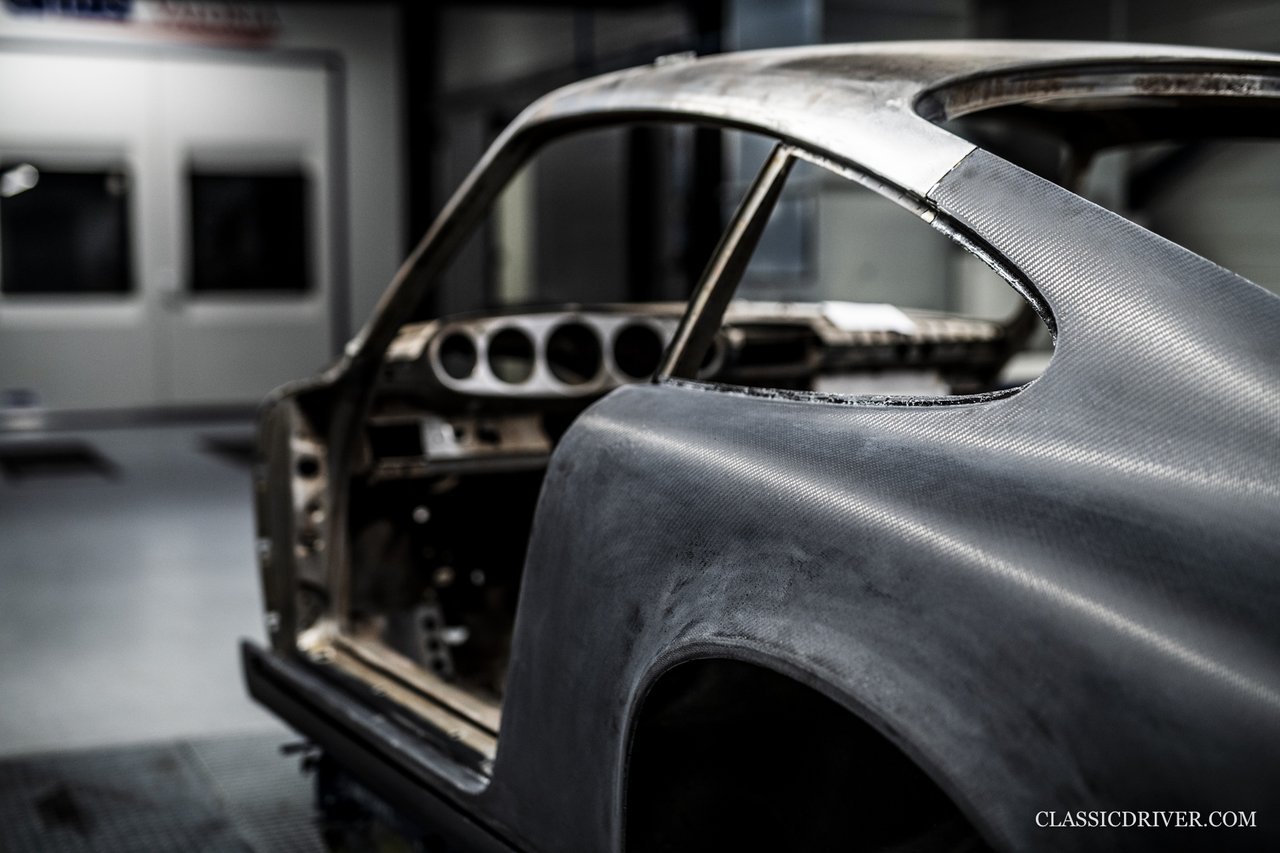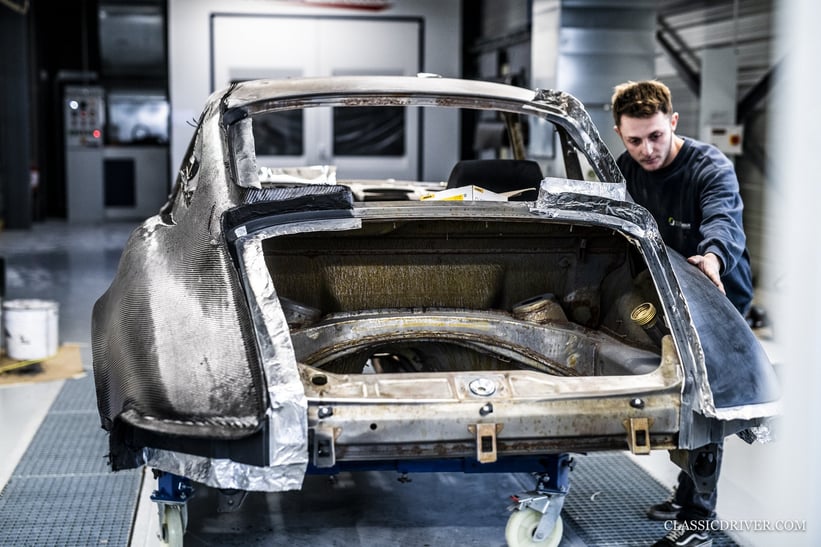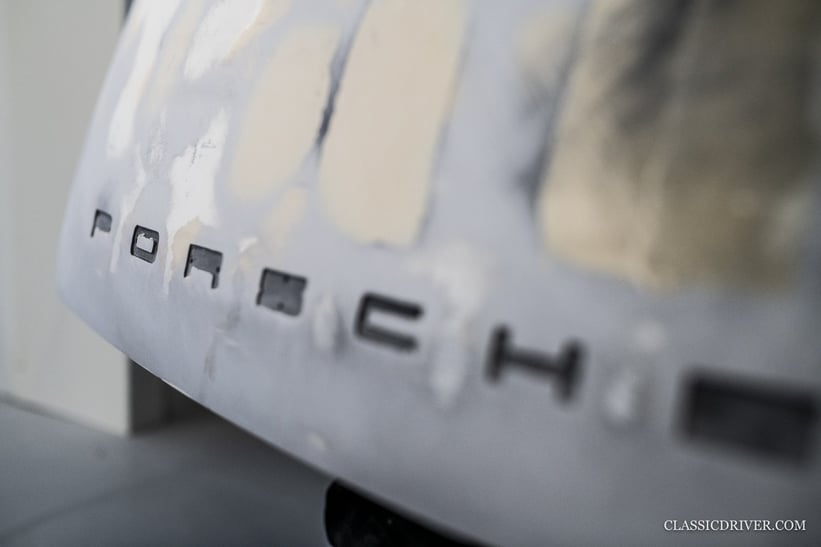 You might think that this is just another backdate Porsche 911, but you couldn't be any further from the truth. Here's what you need to know: the Diva starts life as a two- or four-wheel-drive 964 Carrera, which is taken back to its shell and treated thoroughly. It's then fitted with an ingeniously designed body, developed together with Hermidas Atabeyki, the renowned French designer behind D3 Studio.
While the car gives the honest and minimal appearance of a classic narrow-bodied 911, it's actually been cleverly engineered to be three centimetres wider so as to conceal all the modern (and thus larger) technological bits and pieces, such as the custom 17-inch Fuchs wheels shod with Michelin Pilot Sport Cup 2 rubber. Furthermore, the body is handcrafted from Prepreg carbon-fibre, the exact same grade used in current Formula 1 and LMP1 cars, which, combined with numerous other weight-saving measures, results in a dry weight of around 1,100kg.
It's beneath the surface, or more specifically, beneath the boot lid where the Diva differentiates itself from almost every other modified Porsche 911 on the planet. And that's because of Sébastien Crubilé, a man who cut his teeth repairing and restoring historic Porsche prototypes, has raced historic and contemporary Porsche racing cars including a 997 RSR in the 24 Hours of Le Mans, and today heads one of the world's foremost specialists for the marque.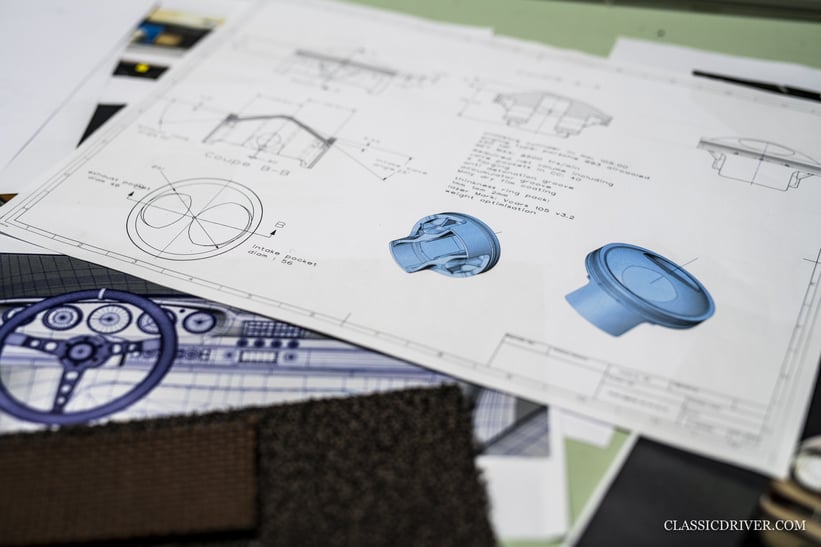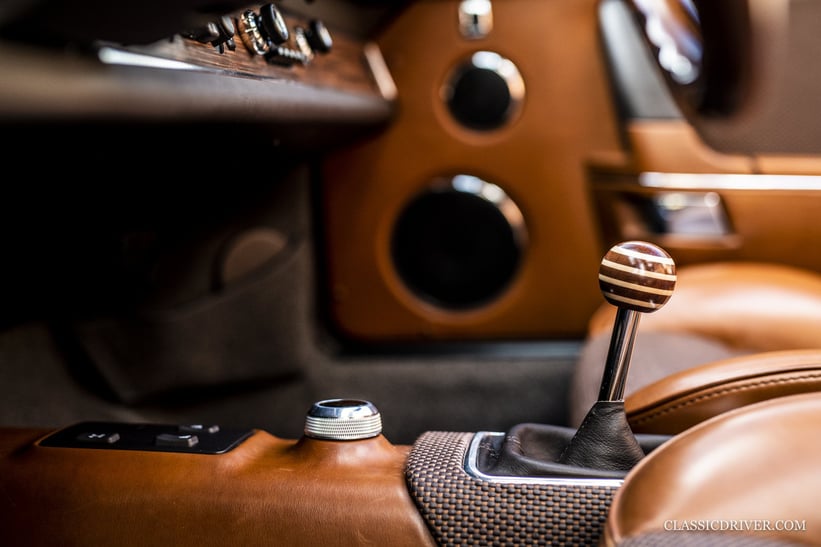 As cliché as it may sound, he really does live and breathe Porsche – something we found out during our recent visit to Crubilé Sport. And from the outset of the Diva project, the car had to be a technological tour de force, reflective of the outstanding work for which he and his father's company has become known over the years. That meant working in parallel with the design team at D3 Studio to ensure issues were overcome prior to any aesthetic sign-offs. "We began with all the technological constraints because we didn't want to make a car that looked great before we knew it could drive well," says Crubilé. "There is absolutely no compromise here, which is a mantra we've applied to the entire car. Where there was a problem, we have the technology – be it design software, 3D printers, or our dedicated engine room, for example – to solve it."
Diva owners will be able to choose from two different air-cooled flat-six engines, both of which have been developed, built, and tuned entirely by Crubilé: there's a 4.0-litre that's torquier at lower revs and a peakier 4.2-litre, the latter of which is undergoing final testing in Ateliers' test mule, a completely unassuming 964 Carrera. Crubilé put around 20,000km on the mule to develop the engines, ensuring they are tractable and reliable yet powerful and linear enough to be used every single day for long periods of time.
"It really is a racing-spec engine for the road," Crubilé comments. "Naturally, a racing car's engine is not going to be used every day for five years, so there were so many changes I had to make along the way and I'm still always coming up with new ideas to improve the way they work."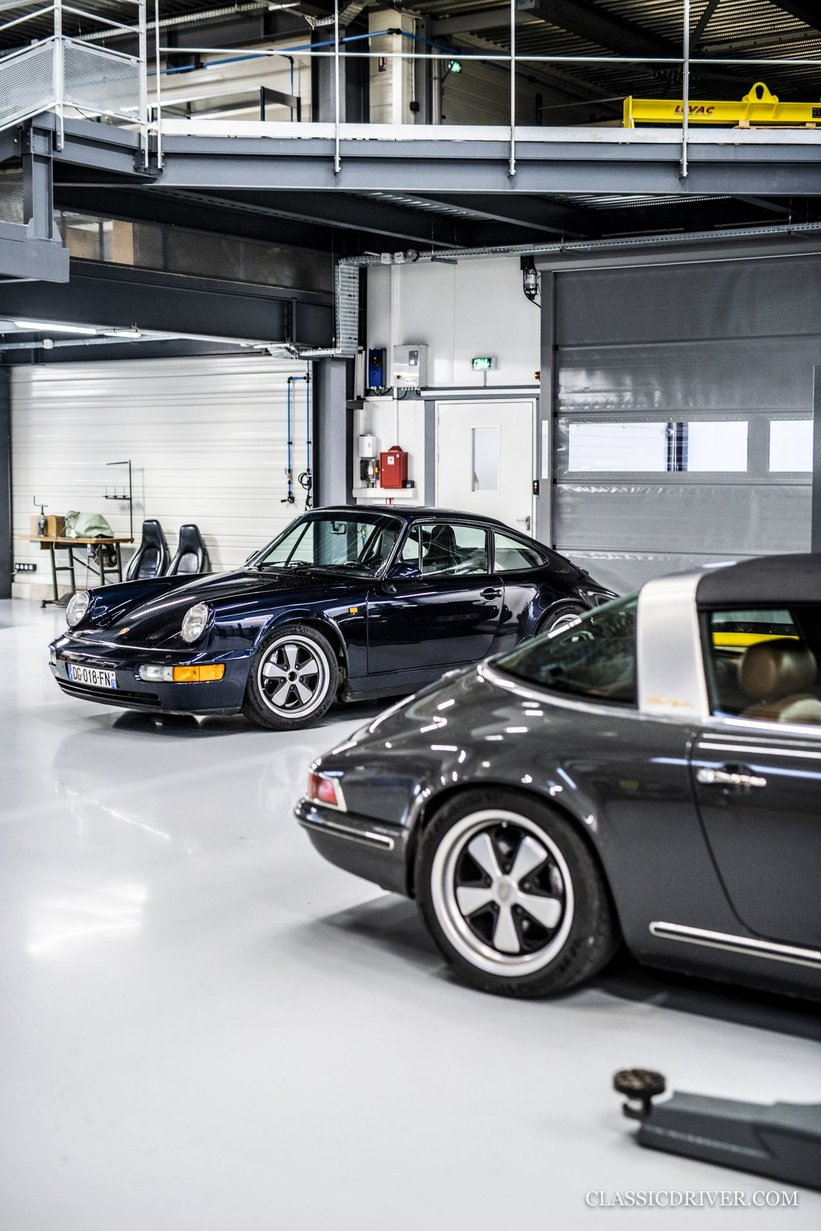 It's time to experience the fruits of Ateliers Diva's labour. We've driven to a disused factory for some static photography and it's our first chance to get up close and personal with the Targa. The finish is sublime, with seemingly no detail left untouched. Remember the 'compromise is not an option' mantra? Perhaps nowhere it is more evident than the chrome rear bumperettes, which are intricately crafted from single pieces of aluminium and encompass the rear light clusters. Or the subtle aerodynamic front lip, which was specially developed so as not to interrupt the airflow around the wheels. Outwardly, it raises fewer questions than a 2.4S, but delve deeper into the Diva and you understand why it's far more than the sum of its parts.
The interior is no less impressive. Each Diva will be entirely bespoke, and customers will consult closely with the award-winning interior designer Tristan Auer to ensure their personal tastes are reflected – the sky is the limit, apparently. Our favourite feature is the classic dashboard strip, which seamlessly integrates the air vents and is crafted from straw-based marquetry sourced from a Parisian atelier more used to furnishing yachts and luxury homes. There's also a high-fidelity audio system developed in collaboration with the guys at Focal, the French audio specialists who are veterans in their field just like Crubilé Sport.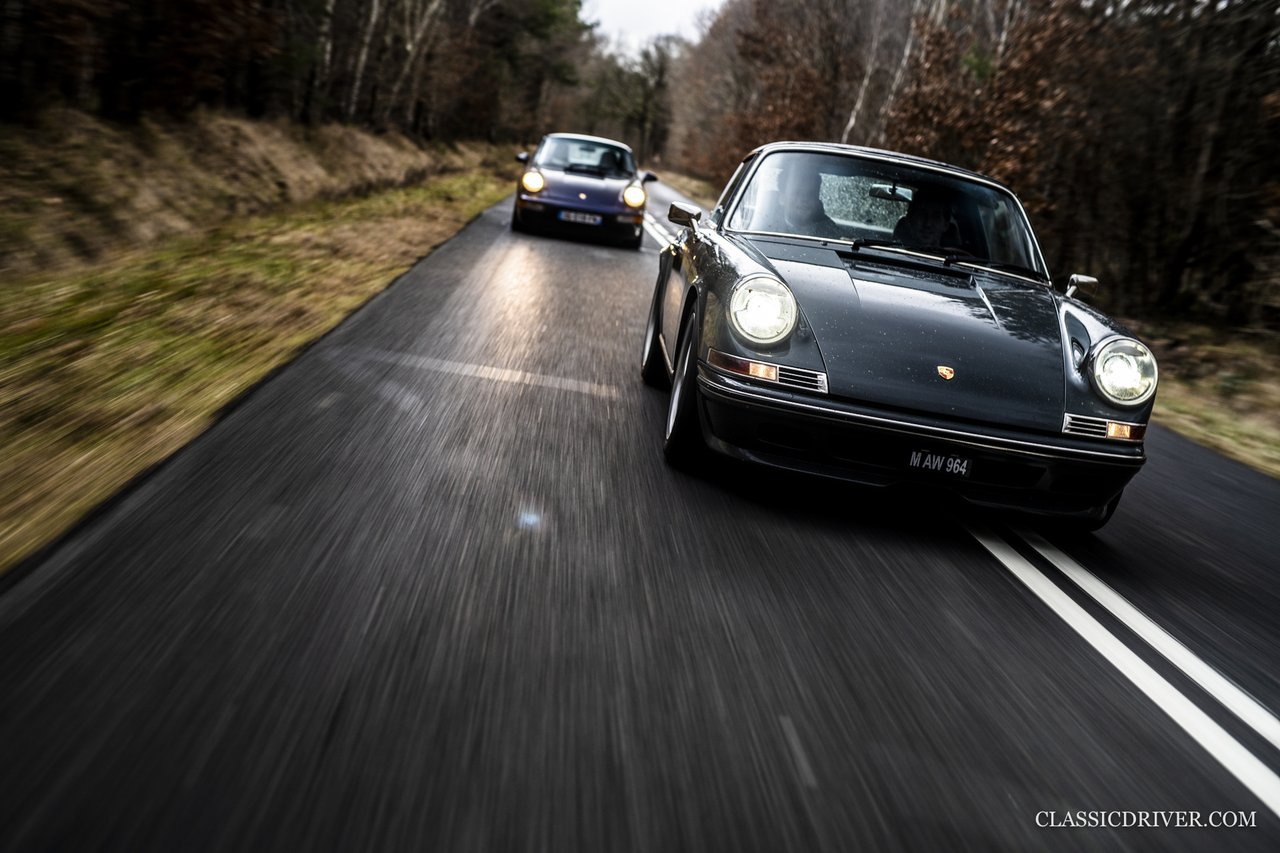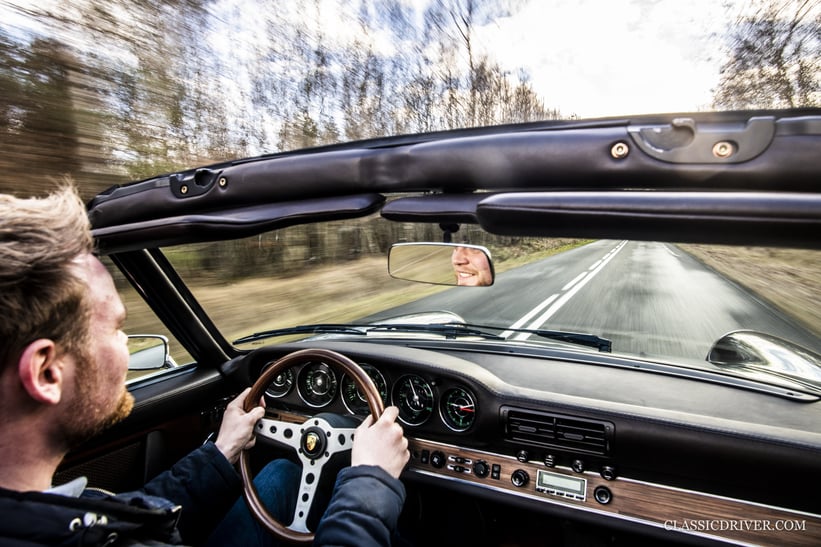 It's time to drive. Despite the racing flywheel that requires a certain knack with the clutch to get the car rolling, the first thing that strikes us is just how normal the car feels at low speed. The steering is light, the suspension is soft, and the visibility from the open-topped cabin is fantastic. We're led to a series of long straights spanning a shallow valley of fields, connected by a string of both high- and low-speed corners.
It's when you start to push on and exploit the Diva's inner beast that its Dr Jekyll and Mr Hyde nature comes to the fore. The engine dominates the driving experience. The 4.0-litre sounds gruff, akin to an early 911 SWB racer, and pulls hard from 3,000rpm, its abundant torque not so much squeezing your lower back than kicking it when you stab the throttle. It keeps on pulling, too, well above 5,000rpm, the sensation of building speed heightened by your exposure to the elements.
The six-speed gearbox is a delight, with large and perfectly positioned pedals facilitating intoxicating and perfectly judged heel-and-toe blips seemingly with each and every downshift. In fact, thanks to the motorsport-derived Brembo steel brakes and a comprehensively redesigned suspension system, it's the slowing down and getting the car turned in that proves to be every bit as fun as hammering the straights – Crubilé worked tirelessly to eradicate the inherent understeer of the 964 and it shows. In fact, in these freezing January conditions and with near-slick tyres, the car rotates in the blink of an eye. Thankfully, the four-wheel drive and clever multi-mode ECU save us from any embarrassment.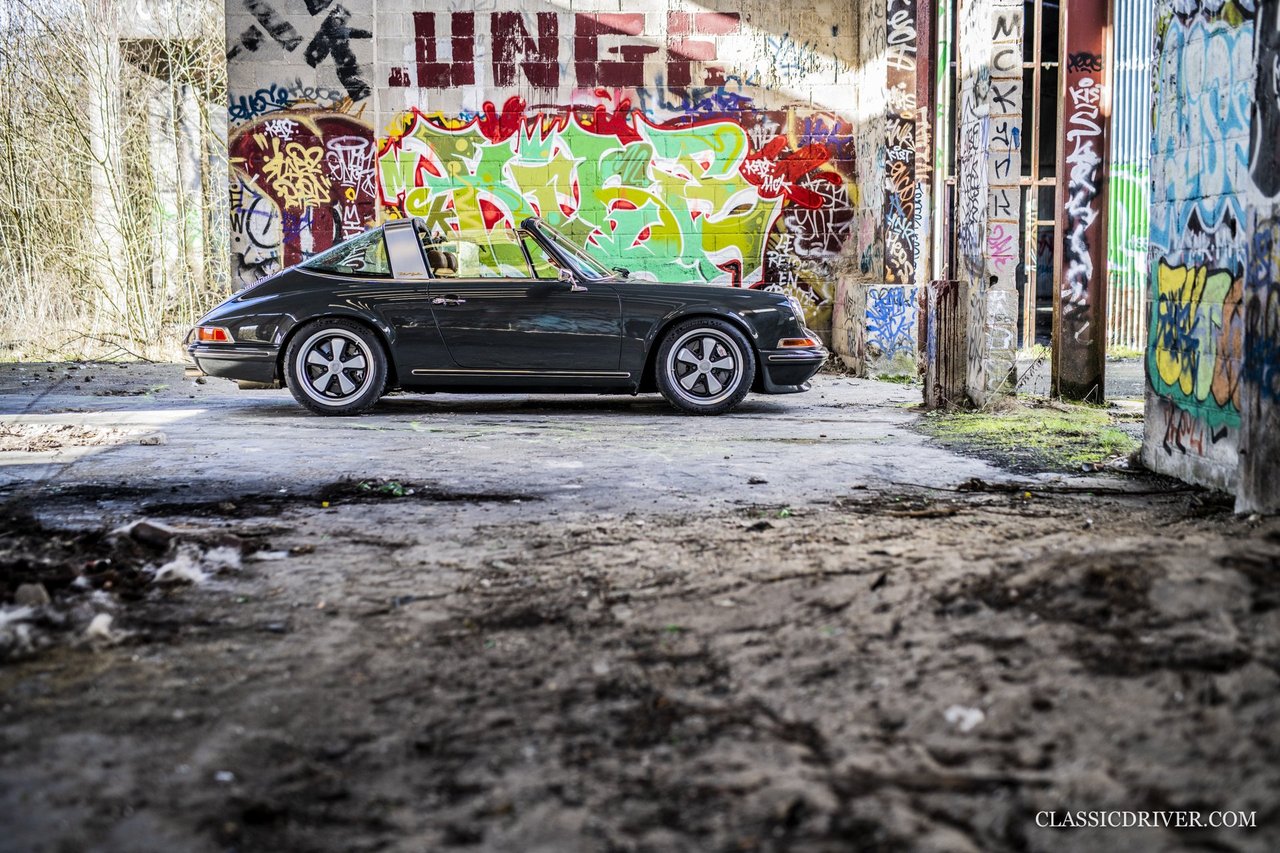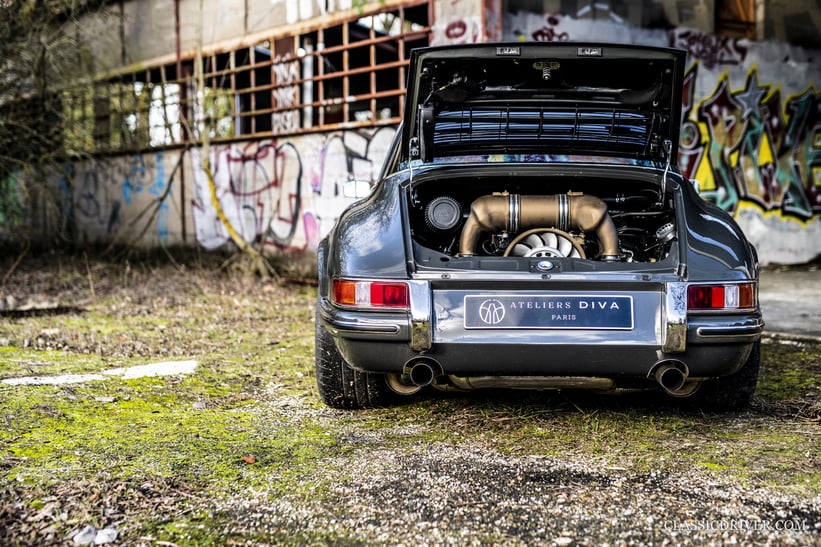 A quick ride with Crubilé in the mule confirms his suggestion that the 4.2-litre is an entirely different animal. The target is 500bhp and we can well believe it – the throttle is like flicking a switch and the ensuing jolt, we imagine, is just how the Apollo astronauts felt when the second stage of their Saturn rocket fired, thrusting them into orbit. And whereas the 4.0-litre sounds like an old 911, the 4.2 boasts the shrill and soul-stirring howl of the new 911 RSR. Anyone who was at Le Mans last year will know exactly what we mean.
To draw comparisons to Singer's 'reimagined' Porsche 911s is irresistible, but Crubilé and Garamond are proud to be spoken of in the same vein. "We absolutely love what Singer does and we're honoured to be compared, but Ateliers Diva is fundamentally very different," comments Garamond. "It's like comparing a 2.4S with a 2.5 ST – from a design point of view, the Diva is entirely different. Plus, almost all our research and development was carried out right here, by people who know Porsche's most important racing cars down to the very last nut and bolt." Someone suggests that Singer's cars are like a Californian wine – bold, fragrant, and impressive – while the Diva has the subtlety and refinement of a French Bordeaux, which we thought was a clever analogy.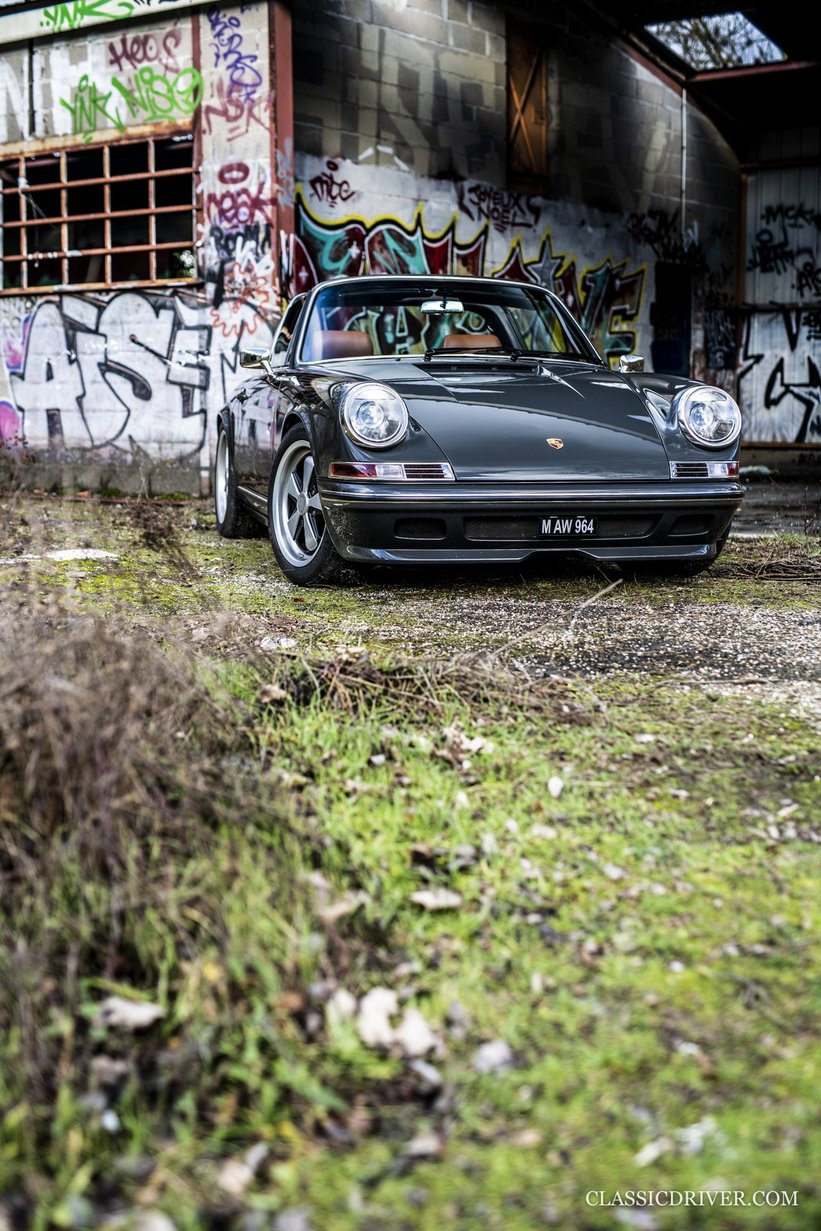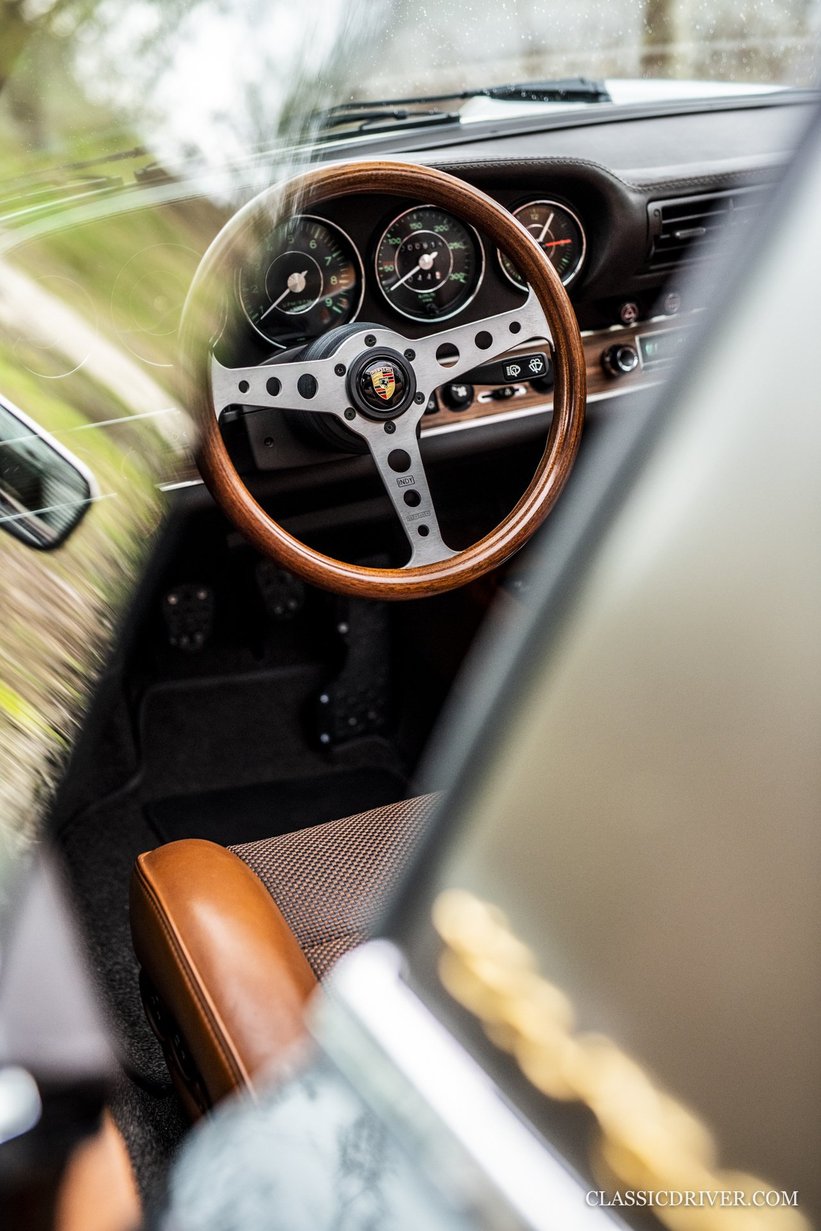 In addition to 25 Targas and 25 Coupés, Ateliers Diva is going to build 25 Safaris. But all we'll say is that you can forget any Safari 911 that's come before. From walking through the door at the company's vast and impressive HQ, which annexes Crubilé Sport, it's going to be around 12 months until you receive your car. And the price? We're talking between 400,000 and 500,000 euros for the transformation, depending on specification. That's a lot of money, but then this car is, from a technological point of view, a whisker away from Porsche's own GTE racer in terms of performance, but with the real-world usability and longevity of a 991. It's also an embodiment of the technological prowess of Crubilé Sport, a company with decades of experience restoring and repairing the highest-calibre Porsche racing cars ever built. Rest assured, the Diva has put France firmly on the global Porsche modification map.
Photos: Rémi Dargegen for Classic Driver © 2019