Deep-diving into Ferrari's history with ultimate collector Ronald Stern
What can you expect from the man who essentially owns the history of Ferrari? An unassuming British gentleman, who greets you with a big smile and a warm handshake. Ronald Stern is the ultimate 'tifoso' — and who better to take us on a private tour of the Ferrari exhibit at the London Design Museum?
The saviour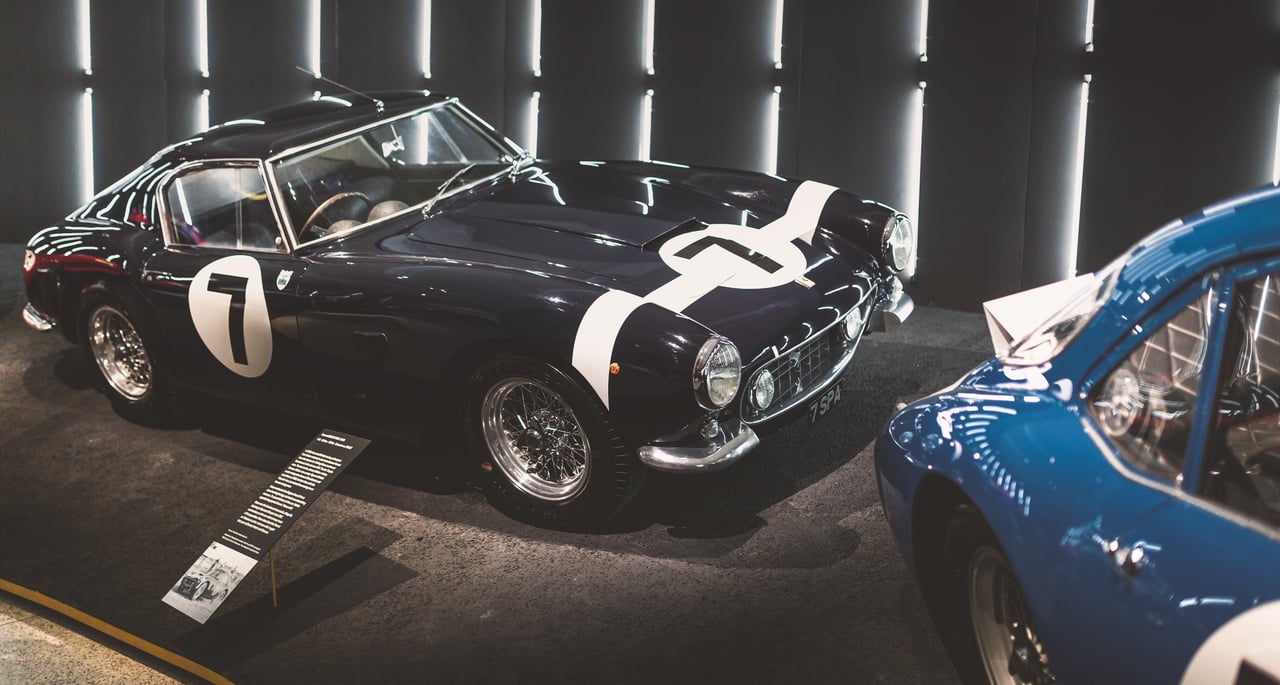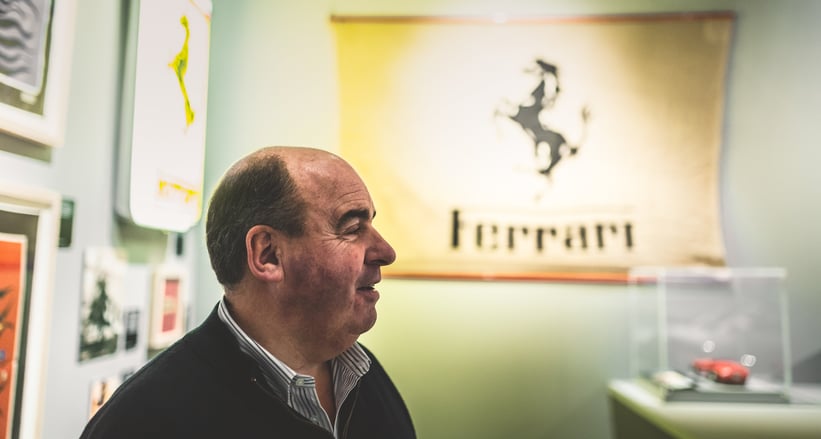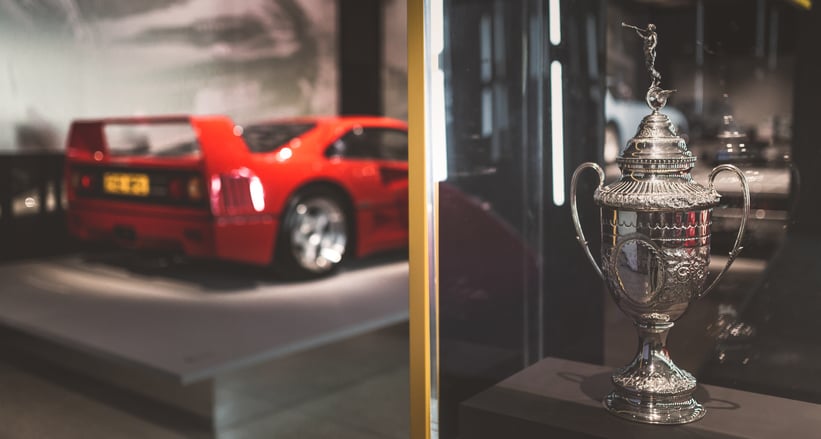 Ronald Stern isn't just a man who's tacked posters of Ferraris on his walls and saved magazines with adverts in them in hopes of owning a great Prancing Horse one day — although, we're not saying he didn't do that as well. He's so much more. He's a protector, a keeper, a guardian, and if it weren't for him, the history of the great Enzo Ferrari and the brand he lovingly created from the ground up would have been dispersed around the world and be unknown to most — or worse, lost forever.
Holy grail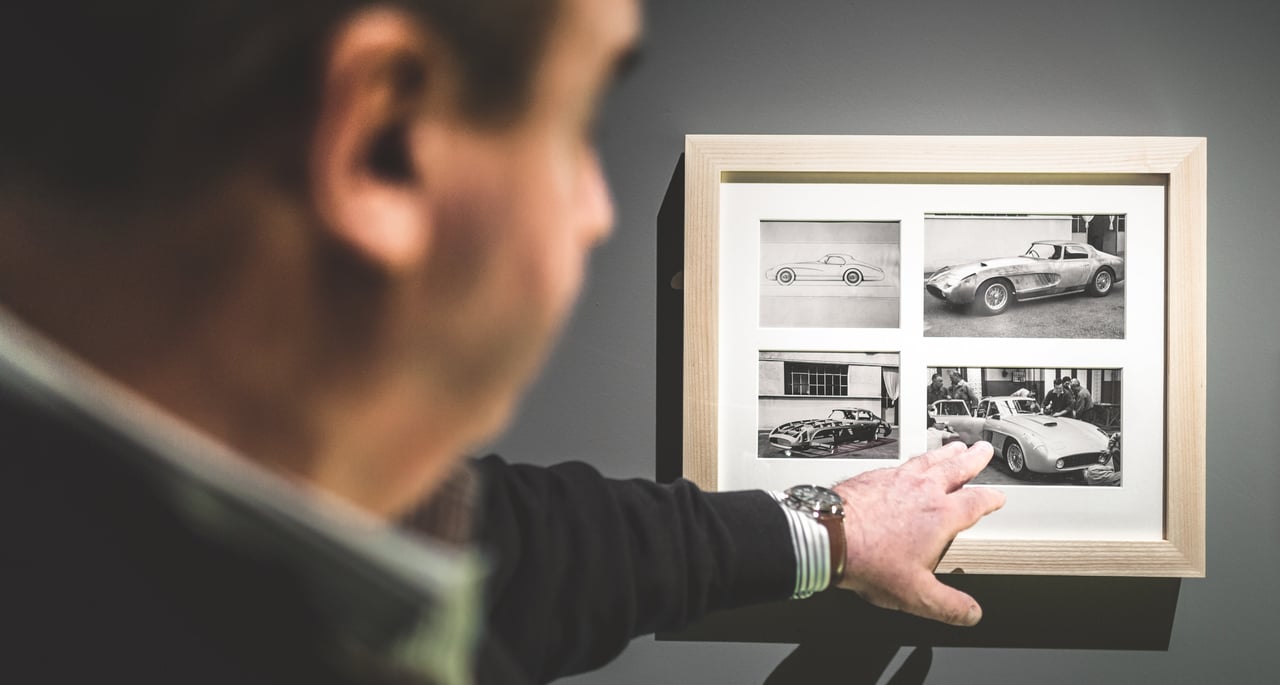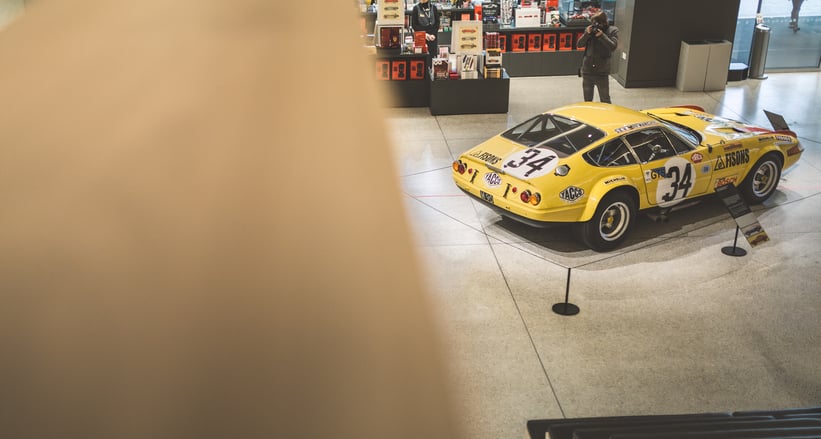 It's no easy task to preserve one's history — how many of us have photos on our phones yet to be printed, stray tickets from events at the bottom of bags unseen for months, and magazines in boxes left unfiled? And all of this is usually just sitting in one room in our homes, waiting to be remembered once again. Now, imagine all that is spread out in rooms in many homes, offices, barns, and storage units all over Italy (with some pieces even sneaking out to other corners of the world). Most would have (and many had) given up in trying to find it all — except for Ronald. For almost 40 years, he has dedicated his life to finding as many original photographs, invoices, original drawings, yearbooks, brochures, and books as possible, creating one of, if not the, largest Ferrari archives in the world.
Hunter and gatherer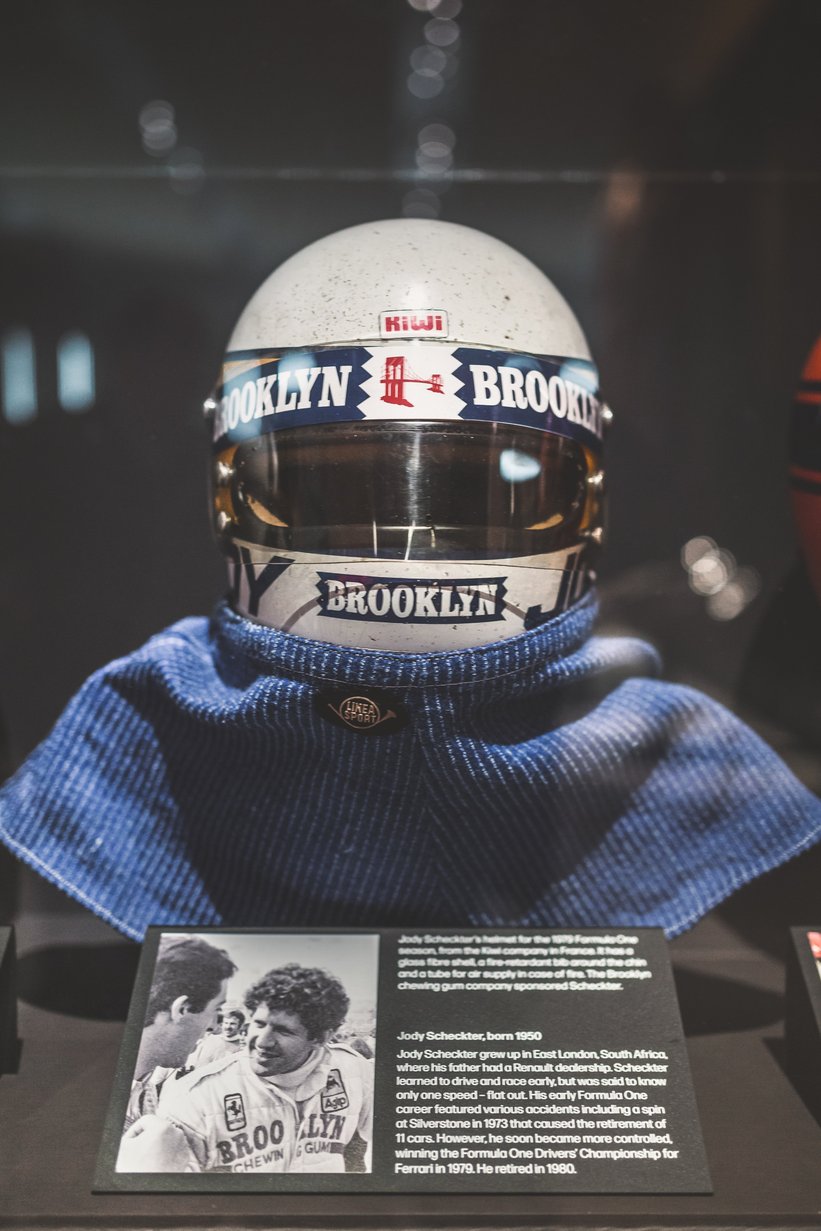 Looking back to how it all began, Ronald remembered: "I just hunted, and hunted, and hunted. A lot of trips to Italy. Over the years, all of the materials seeped out of the factory, and when I realised it was being dispersed, or had been dispersed, I thought it was a travesty and I should go and collect it all together — so that's what I did. I've spent a lot of time and effort doing it, but I'm pleased I've done it and it's a great thing to have done." From photos of Enzo Ferrari and his brother at their communion and menus from the very first Scuderia Ferrari dinner to original drawings of the Modena factory and Enzo's personal blotter with original invoices and letters, the archive doesn't just represent the history of the Ferrari brand but also the story of the man behind it all. We got a small preview into his vast and encompassing archive during a private tour of the Ferrari: Under the Skin exhibition at the Design Museum in London, and from what we saw, it is truly great.
Pretty bloody cool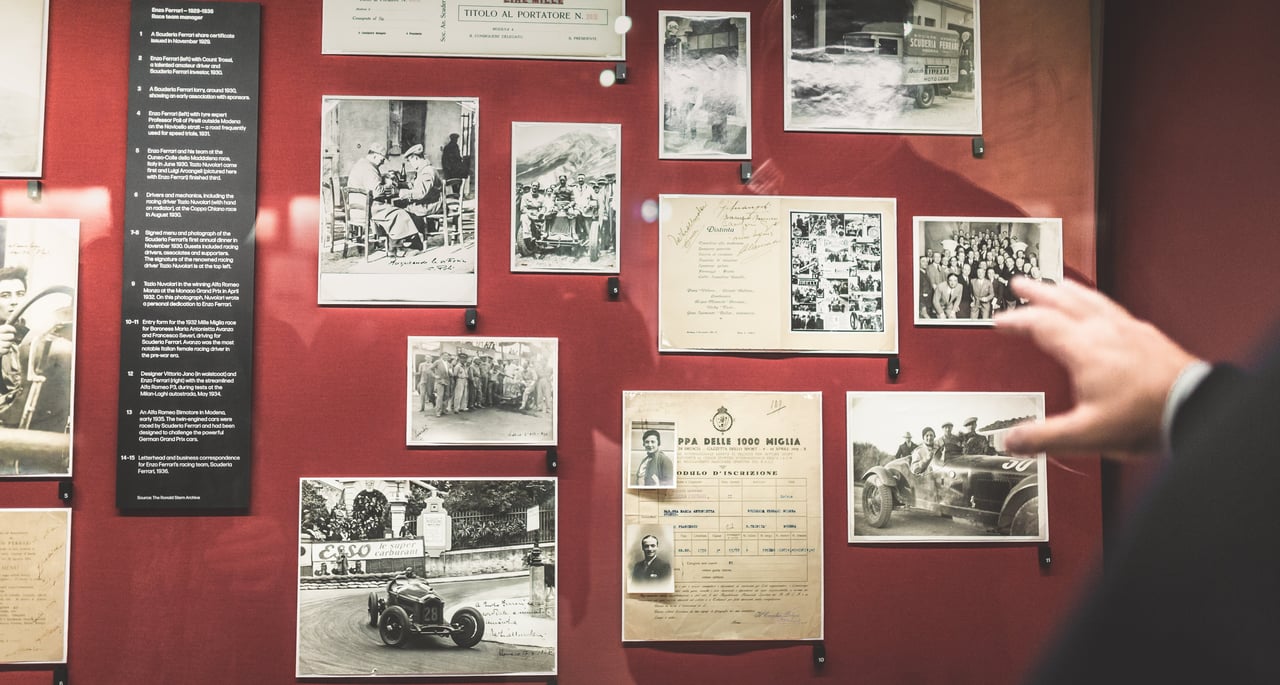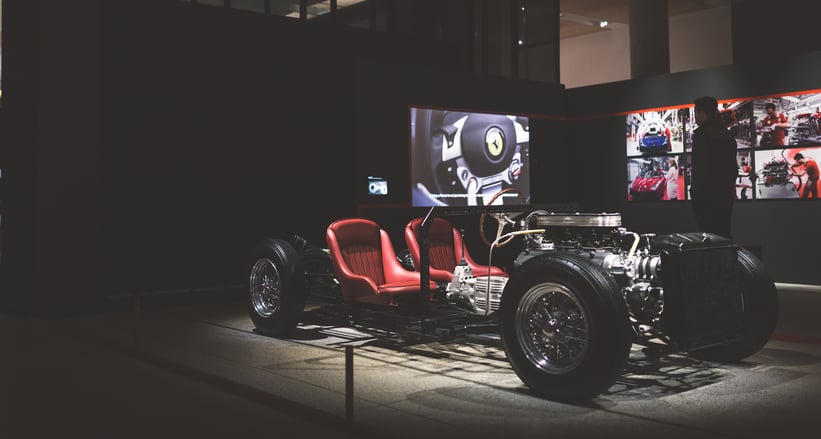 From the moment Ronald introduces you to the pieces in his collection, it's clear that this isn't a passing fad for him — it's a lifelong passion. He speaks about the history of Enzo Ferrari with admiration and genuine interest, as if remembering a friend. And while he's had many pieces for decades, it's as if he's seeing them again for the first time. Take for example a picture of Tazio Nuvolari in an early Scuderia Ferrari Alfa Romeo. "To me, that is one of the greatest motor racing photographs of all time. It's of Nuvolari at the 1932 Monaco Grand Prix, which he won in a Scuderia Ferrari Alfa. It says, 'To Enzo Ferrari, with very best friendship, Tazio Nuvolari.' And it's pretty bloody cool, isn't it? It just ticks all the boxes."
For show and road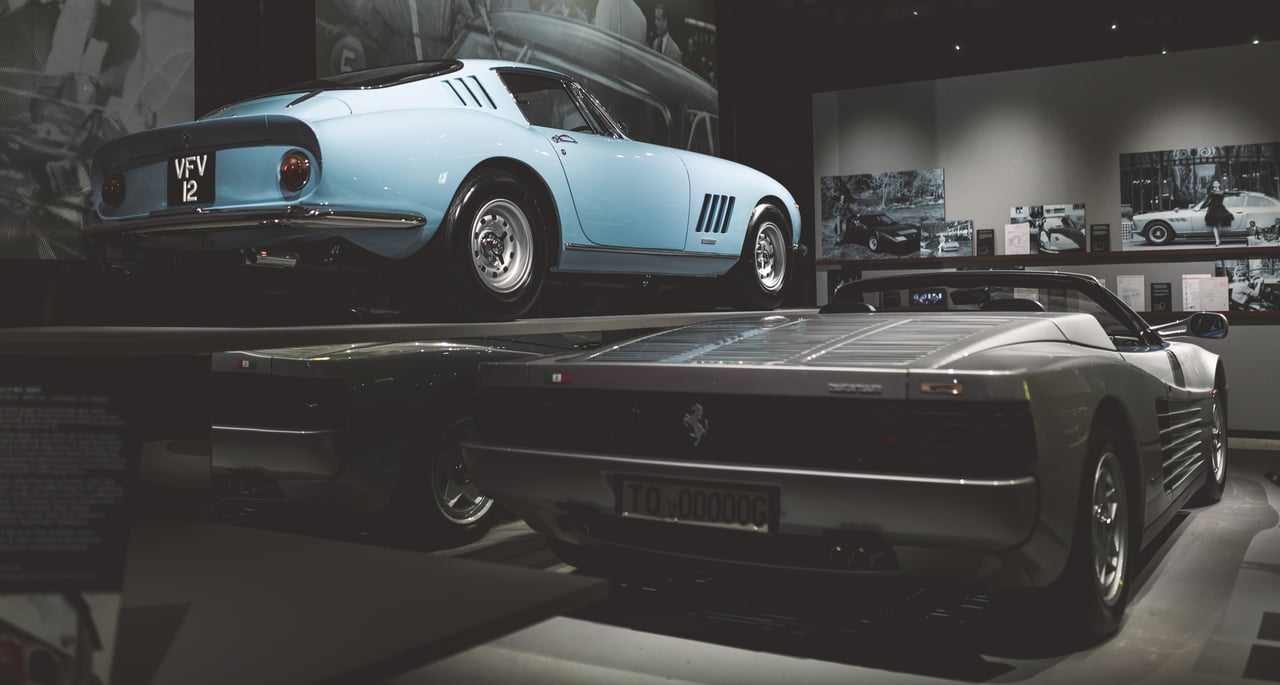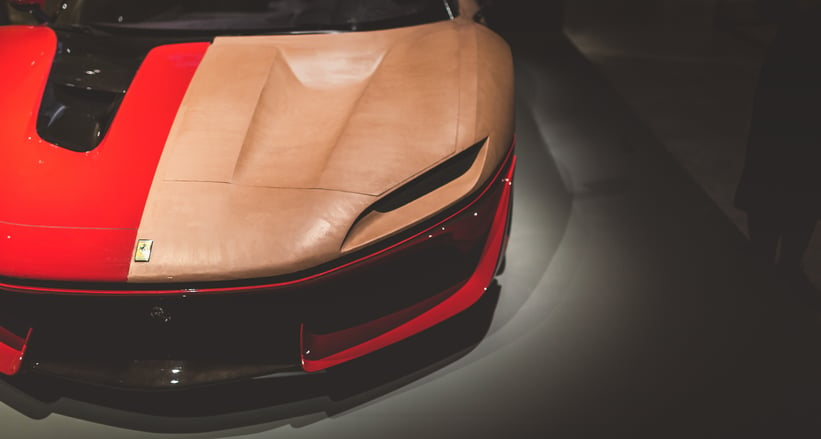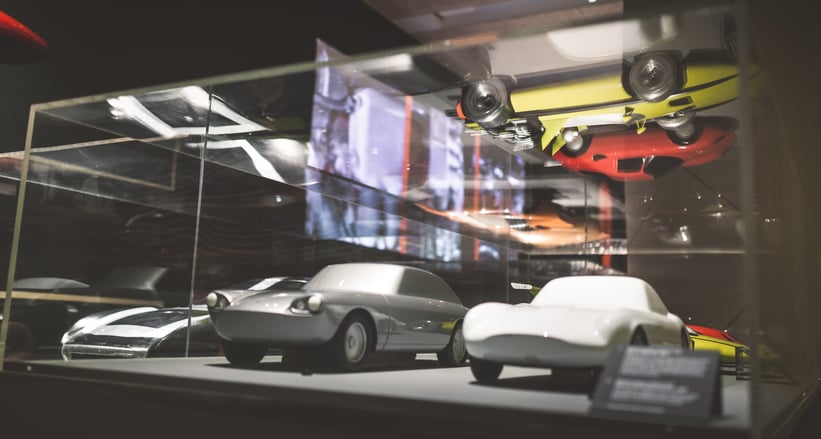 It's not just memorabilia that Ronald has collected, as a special car or two has come through his garage over the years, two of which are on display at the museum: the silver and blue Testarossa Spider originally built for Gianni Agnelli and the Maranello Concessionaires 275 GTB/4. Speaking of the Testarossa, Ronald said: "I thought, what a great car — it's got a fantastic history. And I didn't really buy it as a car to use, I bought it as a show car. You know, I'd rather use that probably," while pointing to the baby blue 275 sitting behind it. "DK Engineering just finished restoring it a few days prior to the opening of the exhibition. It was a Maranello Concessionaires demonstrator, and I was really pleased when I found it. Ronnie Hoare always wanted Cambridge Blue on his cars, so we brought it back to its original colour, and if you look back in the racing days, you can see the red but there's always a blue tint on the nose or tail, or both."
A true gentleman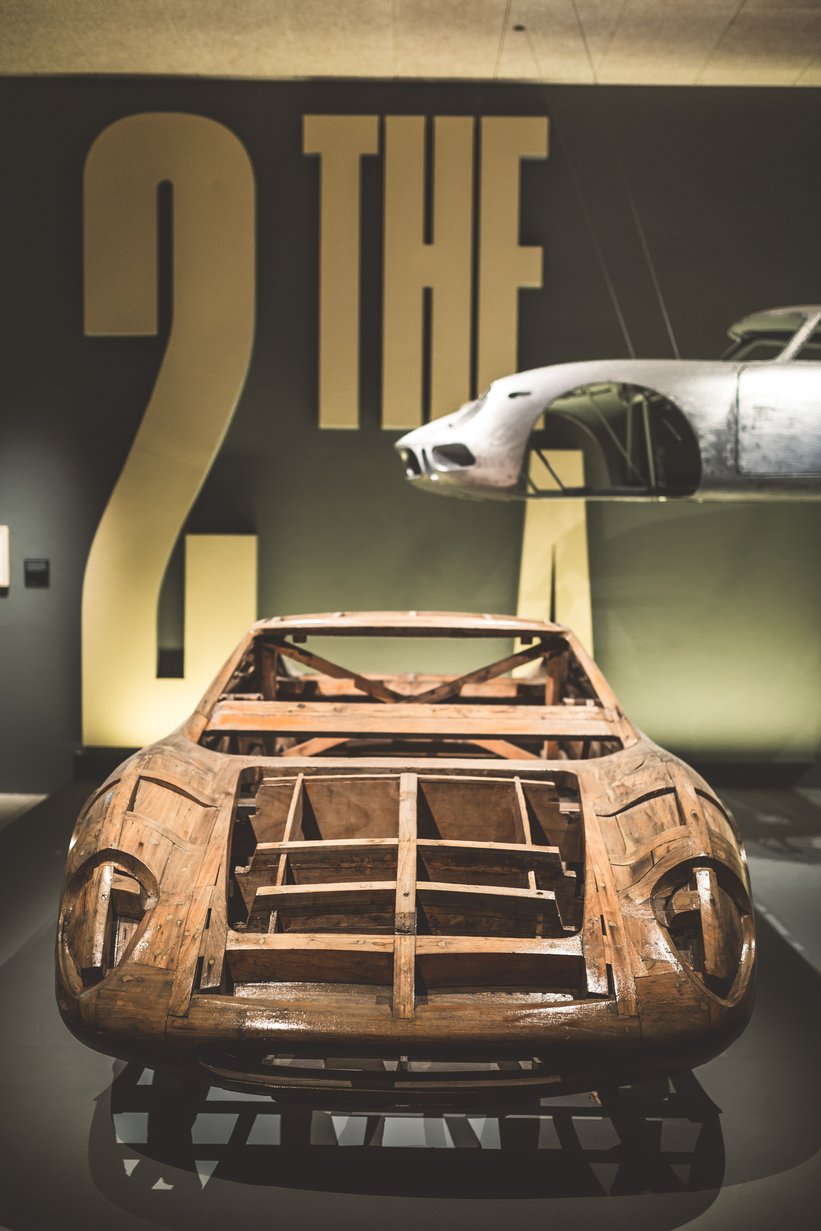 While a good 90% of the memorabilia present at the Ferrari: Under the Skin exhibition comes from Ronald's archive, drawing more attention to his name than ever before (outside of the Ferrari circles, that is), it's very clear that Ronald hasn't created this archive for recognition or praise, and he's not using it as a profit-making venture. He firmly believes that the magic of Ferrari should be experienced by all — not just those who can afford a 166 MM or LaFerrari Aperta. "I have tried my hardest to preserve the history of Ferrari to the best of my ability. It would have been sad to see the history of such a great company be dissipated all over the world, and I am so pleased that the Design Museum is able to let some of the pieces be seen and enjoyed by so many people that would never have had the opportunity otherwise."
Photos: Robert Cooper for Classic Driver © 2017
The Ferrari: Under the Skin exhibition is currently running at the London Design Museum until 15 April 2018. If you're looking for a museum-worthy Ferrari of your own, the Classic Driver Market has over 1,000 examples to choose from.