BMW Group's Adrian van Hooydonk pays homage to Marcello Gandini
Adrian van Hooydonk, Head of BMW Group Design, congratulates Marcello Gandini on his new exhibition in Turin and promises to rekindle the special relationship between BMW and the Italian design master in 2019.
There is no doubt that Marcello Gandini is one of the most significant automotive designers of the 20th Century. His clean, geometrical and often daring creations for Bertone especially – which included game-changing cars such as the Lancia Stratos Zero Concept and the Lamborghini Countach – have left their mark on automotive history and inspired generations of designers across all industries. Now, the Museo Nazionale dell'Automobile in Turin has curated an exhibition dedicated to the Italian designer, which traces Gandini's impressive career and showcases a stunning selection of his most iconic concept and production cars. The show, which is titled 'Marcello Gandini – Genio Nascosto', will be on display until 26 May 2019.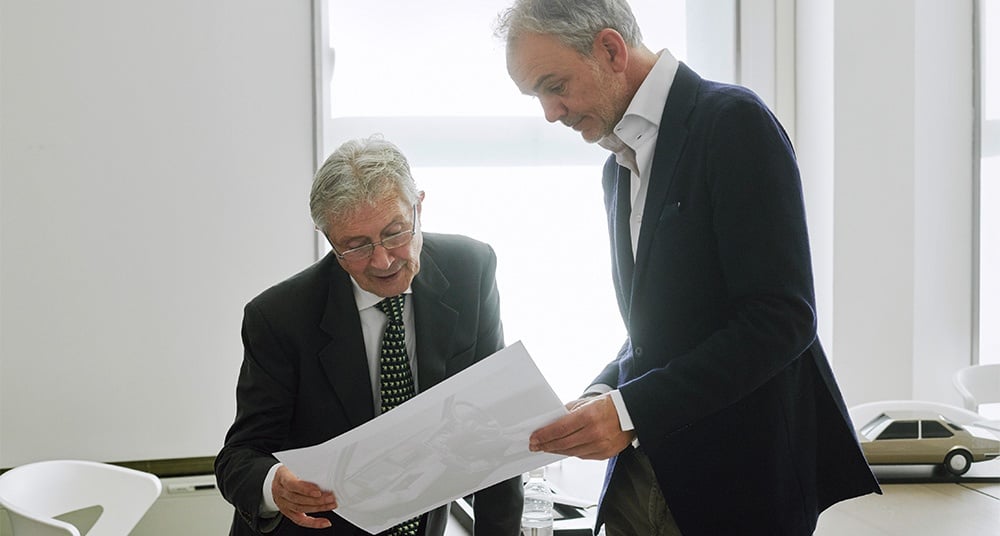 Among the most prominent admirers of Marcello Gandini's work from today's automotive world is Adrian van Hooydonk, Head of BMW Group Design, who used the occasion of the exhibition's opening to pay his respects to the grandseigneur of wedge-shaped car design: 'Marcello Gandini's work has always impressed me because of its dramatic simplicity. As a person he impresses me with his combination of huge talent and extreme modesty. He is a true gentleman of style.'
After all, design is a language that transcends time and space. And while Italian design culture has generally influenced the aesthetic evolution of BMW since the 1970s, Marcello Gandini himself contributed his talents to the Munich-based manufacturer during his years at Bertone. Adrian van Hooydonk has suggested to us that this lesser-known chapter in BMW's history and the story of the brand's relationship with Marcello Gandini will be revisited in 2019. And it is safe to reveal that there will be more to see at the Concorso d'Eleganza Villa d'Este in May. Much, much more…