On the Hunt with Hesketh's new prototype motorbike
It was back in January that we brought you news of the revival of the Hesketh motorcycle marque. This followed the purchase of the name by British engineer Paul Sleeman from its former custodian Mick Broom, originally Lord Hesketh's test and development engineer…
Often in such situations, many months (and sometimes years) go past before schemes turn from proposal to reality, so it was a pleasant surprise when Classic Driver was offered a test ride on the first, completed Hesketh 24 last week.
Sleeman and his team have so far received seven firm orders and will begin building the first of the 24 production machines in time for late-December delivery, but the opportunity to get a ride in before the grim English winter descends was not to be missed - especially since we were blessed with idyllic biking weather on the day in question.
The '24s' are being built at an unassuming unit on an industrial estate in Redhill, Surrey, to which we travelled to find the prototype. Despite being a 'prototype', it's more or less exactly as the production models will be. And that means it's an extremely good-looking machine in the 'street bike' mould with a long wheelbase (apparently identical to that of a Suzuki Hayabusa), low, wide handlebars, race-quality Ohlins suspension front and rear, Beringer brakes and carbon wheels.
Large all over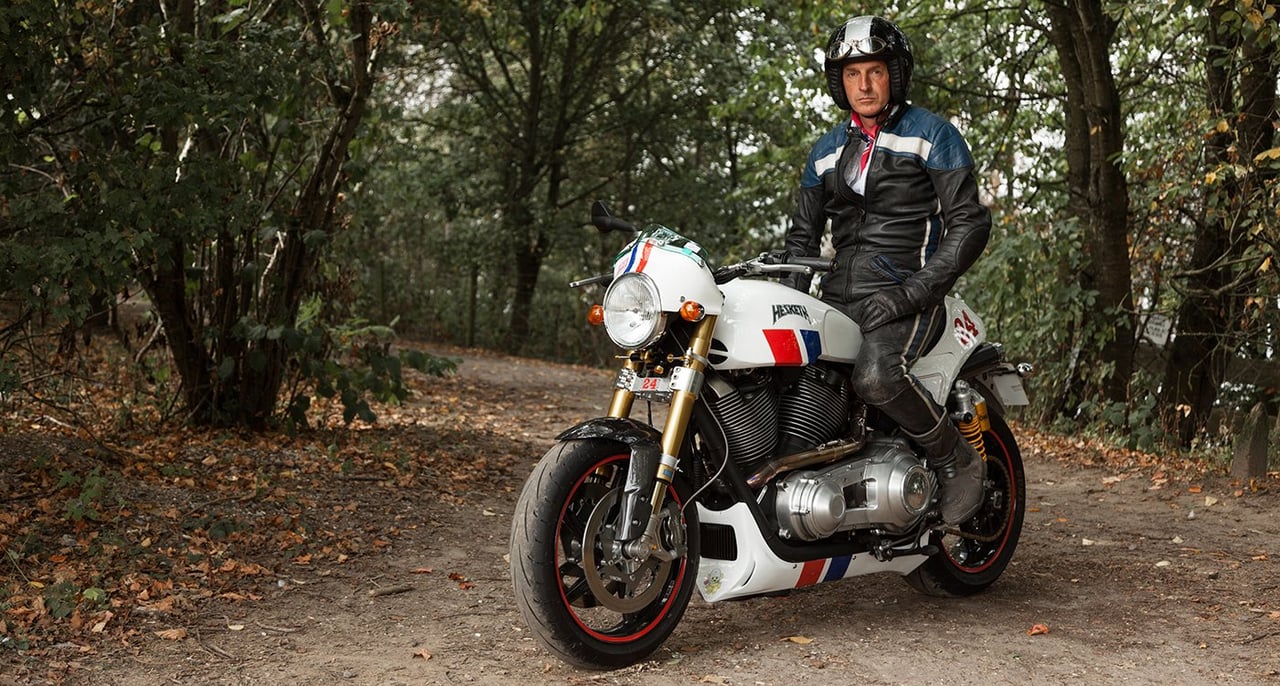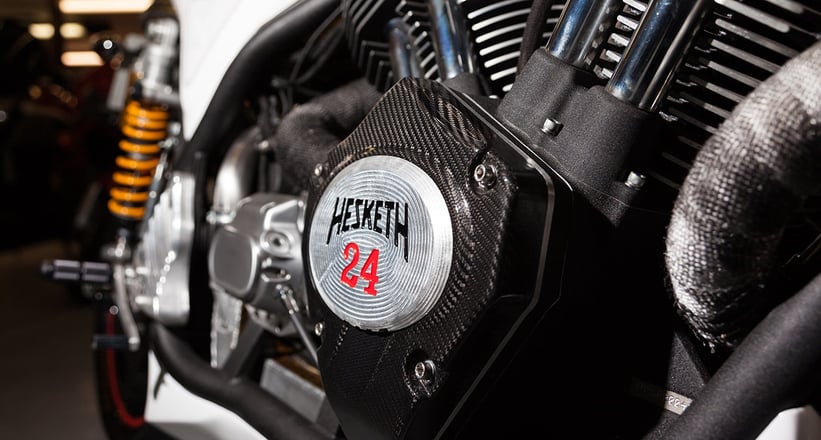 The heart of the matter, meanwhile, is a stonking S&S v-twin engine of almost two litres' capacity (and breathed on a bit by UK-based tuner HPE), mated to a separate Baker gearbox with five speeds plus an 'overdrive' sixth.
Firing the beast up produces a glorious growl from the twin, underseat silencers (which don't quite warrant the term) and a surprisingly smooth idle for an engine in which each cylinder is the size of a small bucket. The first reaction on climbing aboard is that this is one big motorcycle, and one which needs a firm hand to ride, too.
It's not that the controls are heavy - even the massive 'King Kong' clutch is easy on the hand - it's just that the 24 is large all over and, although I'm around six feet tall, the distance between the rear-set footrests and the low handlebars required a fair old stretch. Frankly, if you're anything under 5 foot 10 inches, this probably isn't the bike for you. It rather reminded me, in fact, of being aboard Yamaha's even more unwieldy XS1100 of old.
But, while slow-speed manoeuvres are not what it's best at, the Hesketh comes alive at anything above 10 miles per hour as that mighty motor gradually gets into its effortless stride - and it really is effortless, with 125 horsepower to play with and, more impressively, 140 foot-pounds of torque. That means clean, snatch-free acceleration from ridiculously low revs in virtually any gear, and a wonderful loping gait that makes the bike far more relaxing to ride fast than slow. It also handles far better than its size might suggest (and many, many times better than an XS1100!).
Perils of the pillion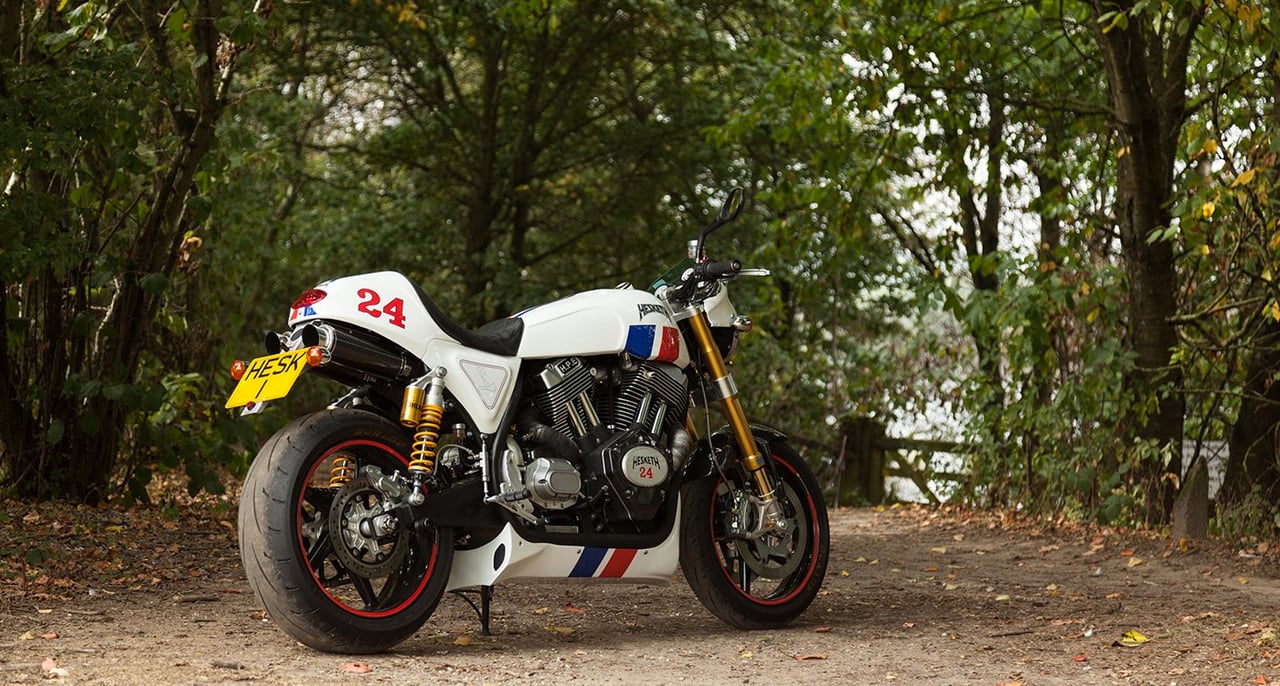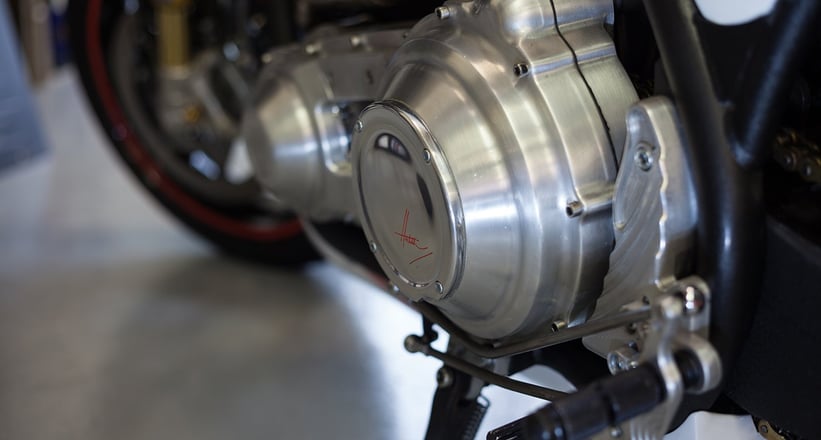 As might be expected with that much grunt on tap, it's necessary to keep a close eye on the sporty Stack speedometer to avoid unwittingly breaking the limit - not least because a fairly major increase in momentum is achieved with only a minimal rise in revs.
The big-bore motor does have its drawbacks, however. I didn't ride the bike hard, but I'm sure that doing so would result in a hefty thirst for fuel, while the other downside is that the huge, air-cooled cylinders give off an incredible amount of heat.
Realistically, however, I don't see the Hesketh 24 being bought by your average, daily rider - not least because of the £35,000 price tag. But it holds undoubted appeal to the wealthy, occasional biker who wants something really special to add to the motorhouse and which might prove to be a sound, long-term investment.
Most importantly, however, it bodes well for the proposed, full-production Hesketh two-seater sports tourer which is due to enter production when the 24 is sold out.
I feel a bit sorry for anyone who finds themselves riding pillion, though - Sleeman intends to equip it with the same S & S engine, but with the addition of a turbo to give it a bit more ooomph...
Photos: © Nick Elvery for Classic Driver