RM Auctions at Monaco, 11 May 2012: Ducati sale Preview
Due to its progressive engineering and design, coupled with being the perpetual underdog against the combined might of the Japanese factories, few if any marques enjoy a more zealously devoted following than Ducati.
Consequently, RM Auctions' forthcoming, unprecedented and dedicated sale of 101 rare and special Ducatis dating from 1947 to 2011 has Ducatisti the world over in a state of feverish anticipation.

Ninety-nine of these bikes are from Ducati dealer, racer and factory test rider Carlo Saltarelli's collection – and are offered at no reserve – but excitement was further intensified by the more recent announcement that Ducati Corse would be offering its own factory race machines for sale, specifically an ex-Casey Stoner 2010 V4 Desmosedici MotoGP racer and a similar 200+HP 799cc bike campaigned last year by nine-times World Champion Valentino Rossi, the latter being the first ex-Rossi MotoGP bike ever to be offered for sale.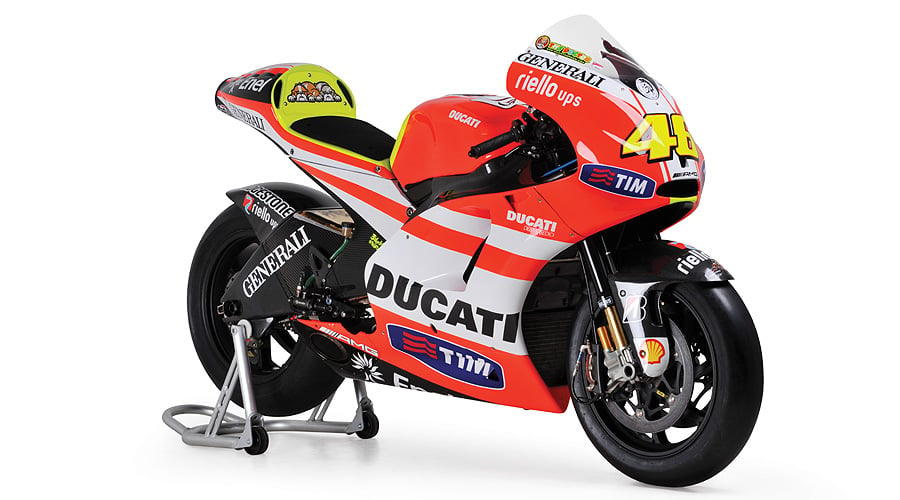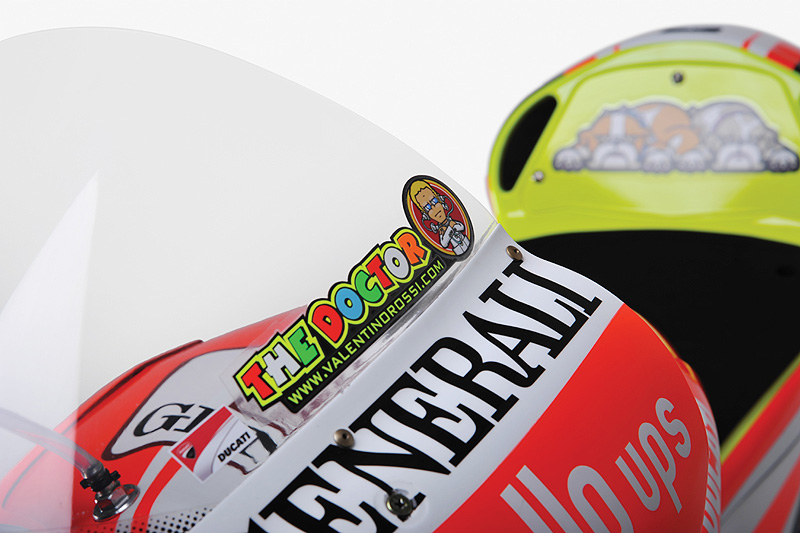 Although Ducati was founded in 1926, the company's first powered two-wheelers were the tiny Cucciolo models of the early post-War period, and no fewer than four of these are for sale in Monaco, one with Moto Giro d'Italia competition history (10,000-12,500 euros).

The late 1960s saw the introduction of the first production desmodromic engines, their exotic single-cylinder motors also featuring a bevel-gear-driven overhead cam. Four of these will be for sale, including a restored 1970 Mk3 350 Desmo road bike in the emotive yellow paint scheme (10,000-12,500 euros) and a 450 Corsa from the same year (30,000-40,000 euros).

But Ducati didn't really arrive on the world stage until Barry Sheene's brother-in-law Paul Smart triumphed on the pre-production works Desmo v-twin 750SS in the 1972 Imola 200-mile race, with Bruno Spaggiari taking second on a similar bike.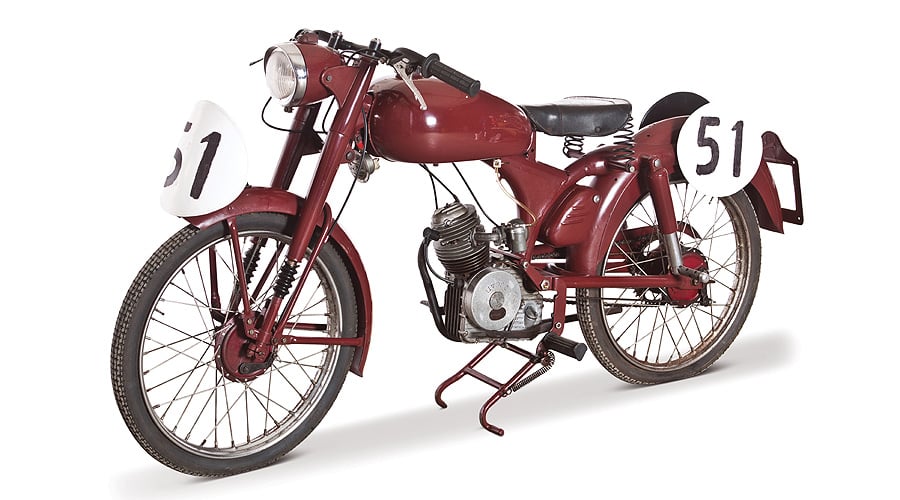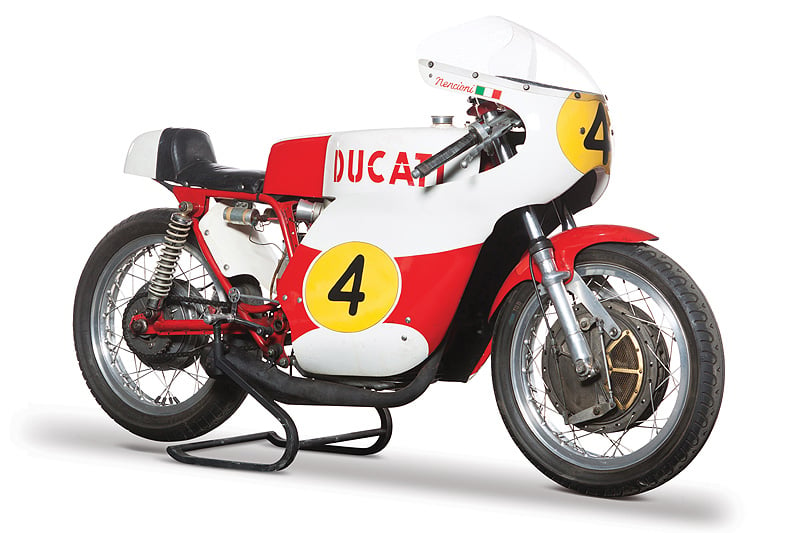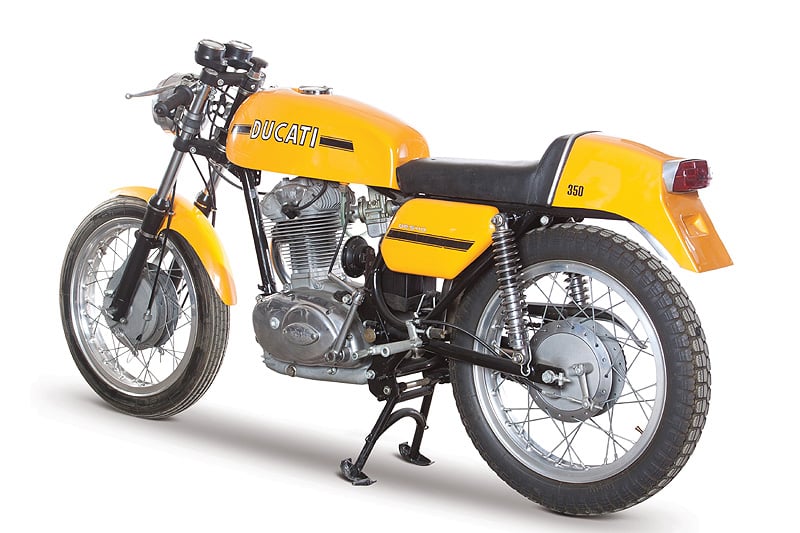 This success was followed by Grau and Canellas' victories in the 1973 and 1975 Barcelona 24hr races, US journalist Cook Neilson's win at Daytona in 1977 and Mike Hailwood's legendary comeback victory in the following year's Isle of Man TT – all on similar incarnations of the renowned Desmo v-twin.

The Monaco sale features several early-'70s 'round-case' Desmo v-twin racers, one being a 200 Miglia Imola Corsa Replica assembled by Saltarelli from pukka factory parts in the mid '70s. With an 80,000-120,000 euro estimate this 'green-frame' 750SS racer is about as close as you'll get to the Smart/Spaggiari machines, neither of which have ever come to market.

For road riders, and from the same era, there's a rare 1975 750SS on offer. This has a 15,000-20,000 euro estimate, but with just 249 of these 'square-case' versions built it's likely to fetch substantially more.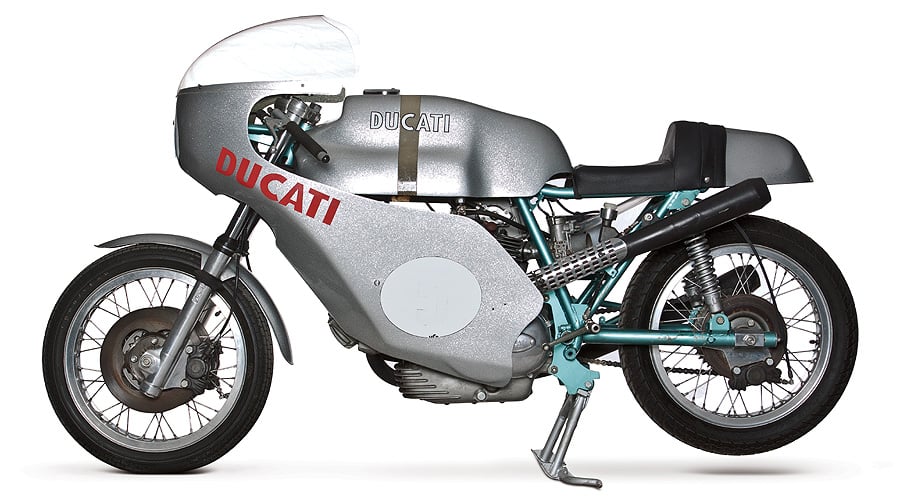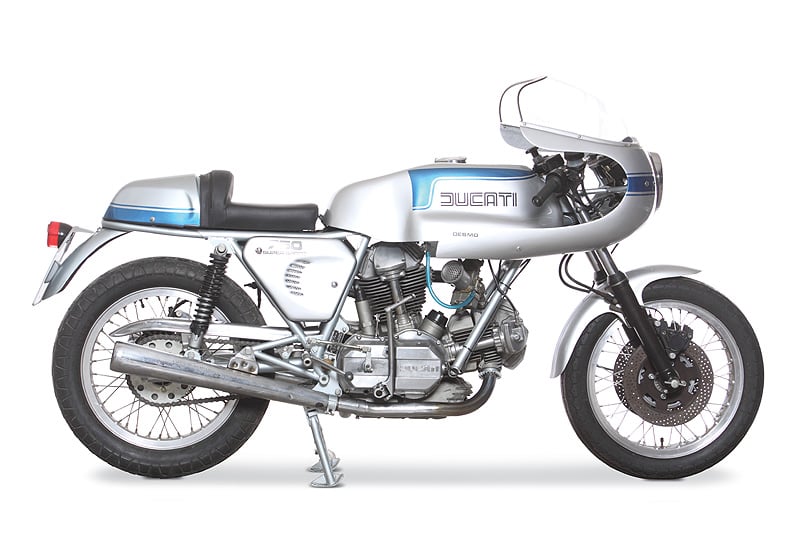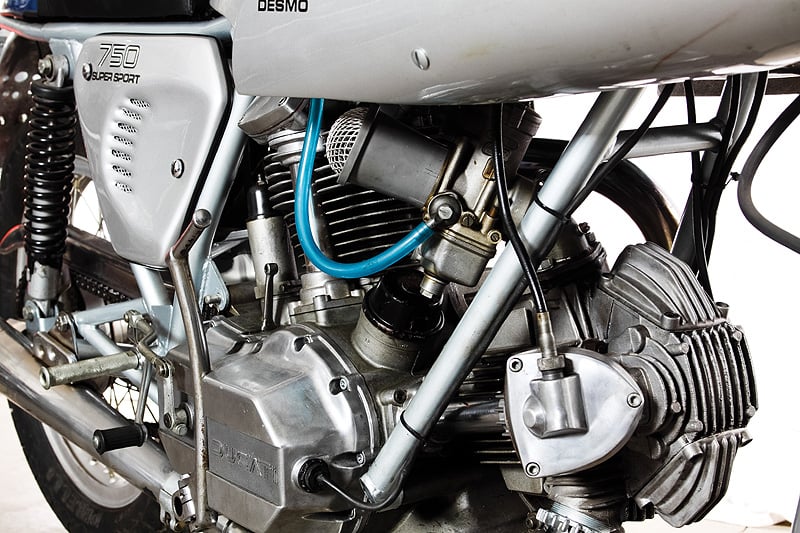 1979 saw the introduction of the smaller belt cam-drive Pantah 500 and its subsequent international success in 600/750cc TT-class racing during the 1980s, while 1990 heralded the start of the company's unparalleled achievements in the production-based World Superbike Championship. Ever the underdog, Ducati took 14 WSB titles in the 21 years to 2011, and at the time of writing Carlos Checa (Ducati) is just one point adrift of the lead in this year's series...

A prime example from the early WSB years is an ex-Giancarlo Falappa 888 works racer from 1992. The charismatic Italian rider scored 16 WSB race wins for Ducati from 1989-1994 (including four in '92) and this machine has had its screen autographed by the man himself (80,000-100,000 euros).

In 1994 the company launched what many believe to be the most beautiful production road bike ever; the seminal 916. Two 916s will be offered at Monaco, including a 1996 high-spec SP version (12,000-15,000 euros).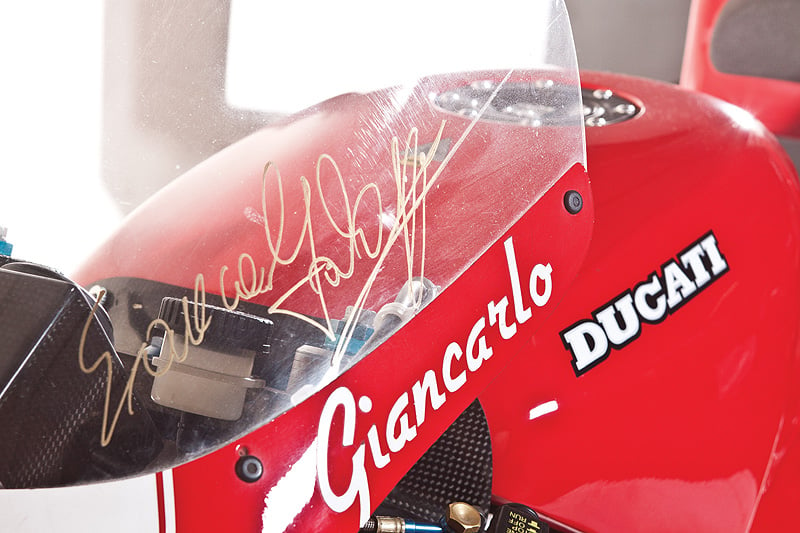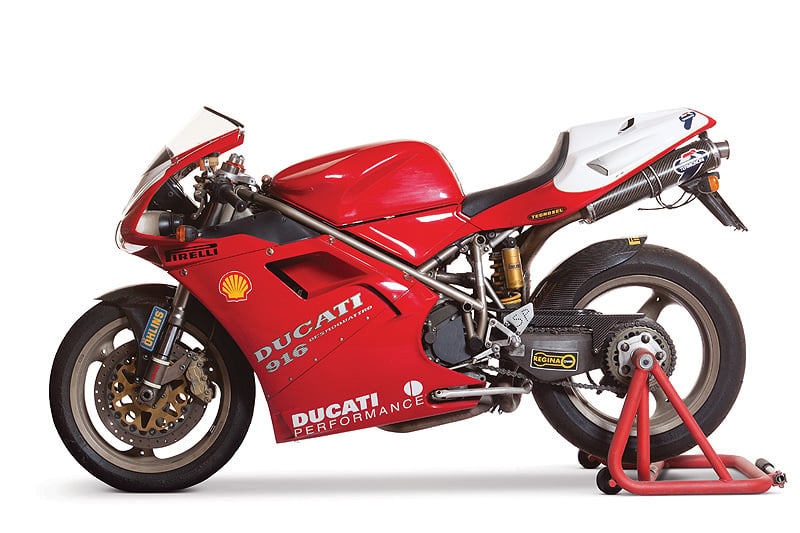 With the switch from 2- to 4-stroke power in 2003, Ducati entered the MotoGP arena at its dawn. It took a podium finish in the first ever MotoGP race, and five races later scored its first race win, but it wasn't until 2007 that Ducati and Stoner lifted the premier class world title.

In 2010 the Australian rider notched up three wins, three fastest laps and four pole positions, and both Stoner's 'GP10 CS1' and Rossi's 'GP11 VR2' machines carry an estimate of 300,000-350,000 euros (plus 20% VAT on the full purchase price and, due to their hush-hush technologies, both are also subject to special terms and conditions laid down by Ducati).

Those on a considerably tighter budget might be drawn to the 1974 125 Enduro on offer. Aside from the Cucciolos, Ducati isn't known for 2-strokes, or indeed off-roaders, and so with a single-cylinder stroker motor and a 3,500-4,500 euro estimate, the knobbly-tyred Enduro is a rare but decidedly affordable piece of Ducati history.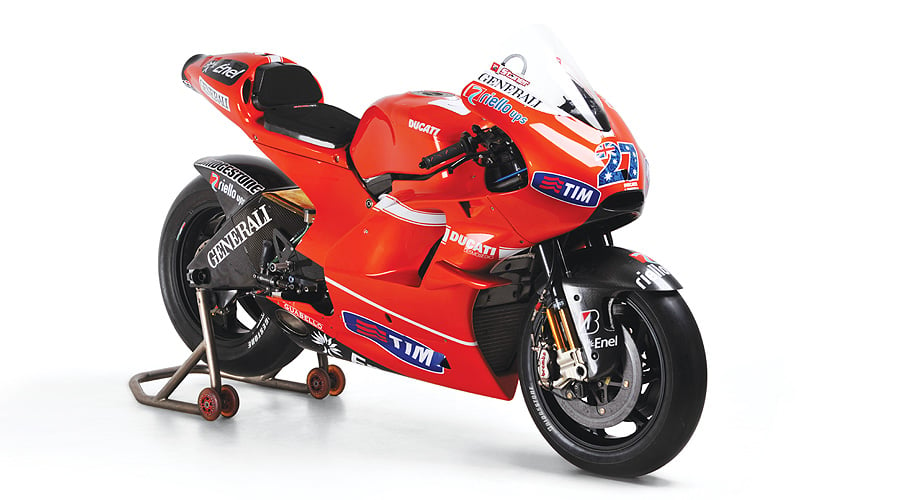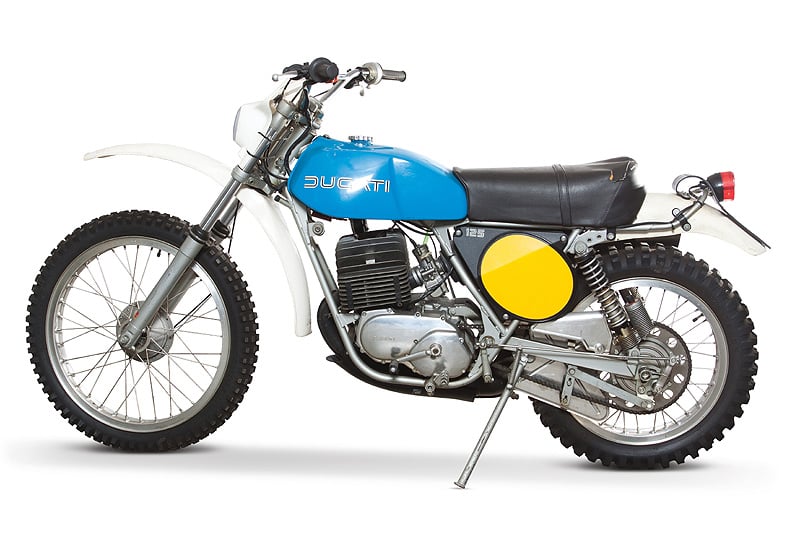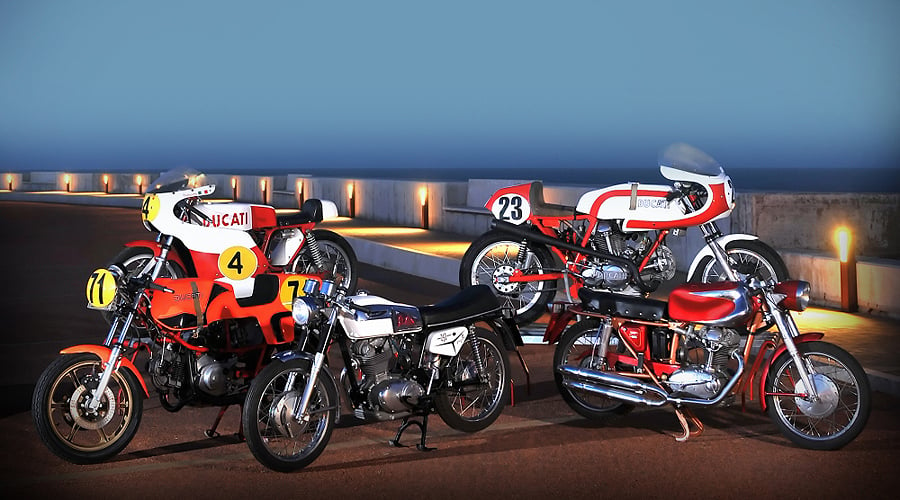 Admission to the event requires the purchase of an official auction catalogue for 100 euros. The catalogue admits two and must be presented at the entrance to the sale to be granted entry.

Ducati Motorcycles Auction schedule

PREVIEW:
May 10, 2012 10:00 AM - 7:00 PM CET
May 11, 2012 10:00 AM - 1:00 PM CET

SALE:
May 11, 2012 1:00 PM CET (Auction will run approx. 6-7 hours)

LOCATION:
The Grimaldi Forum
10, Avenue Princesse Grace
98000, Monaco



Photos: RM Auctions