Artcurial, Paris, 11 Nov 2012: Lancia Stratos makes 360,000 euros in 2.9m-euro sale
Artcurial's final 2012 motor car sale grossed EUR 2,989,277. The high percentage of cars sold resulted from the many 'No Reserve' entries, with the 1976 Lancia Stratos Gp.4 car topping the event, selling for EUR 360,000.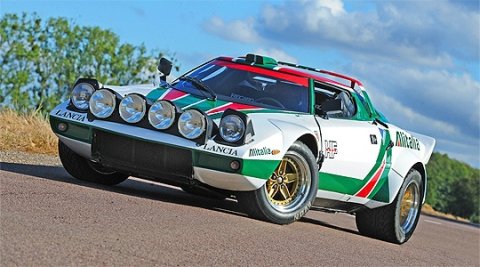 Small was beautiful at the Paris-based saleroom's fourth 'Automobiles sur les Champs'.
Among many modestly endowed cars sold on the night were the 1963 Fiat 500 Giardiniera modified by Abarth (EUR 22,636), the 1969 Autobianchi Eden Roc Cabriolet (EUR 19,062) and the EUR 12,509, 1969 Fiat 500 Moretti Coupé.
Moving upwards in cylinder displacement, the market's appetite for glassfibre-bodied 308 GTBs showed no sign of abating with the black (not appearing terribly original in the catalogue) 1977 Ferrari achieving EUR 58,377.
The 1963 Ferrari 250 GTE we profiled recently sold for EUR 142,963.
The Mercedes-Benz 280 SE coupé has its adherents in the Classic Driver office, and someone bought a sandy gold (with tobacco hide) 3.5-litre version from 1971 for a not unreasonable EUR 23,827.
Good call – as was EUR 7,148 for the stately 1984 Maserati Quattroporte III. Who says you can no longer find a bargain out there?

Photos: Artcurial
Artcurial, Paris, 11 Nov 2012: Summary

Number / percentage of motor cars sold: 57 / 77%

Gross value of motor cars sold: EUR 2,924,617

Gross value of motor cars sold as a percentage of average estimates: 73%

Artcurial website: www.artcurial.com