Secure art for uncertain times at Art Basel 2016
How has the art market responded to the global uncertainties and security threats that plague the media? You can find out at Art Basel this week. We paid a visit during the fair's two preview days…
Escape to the Modern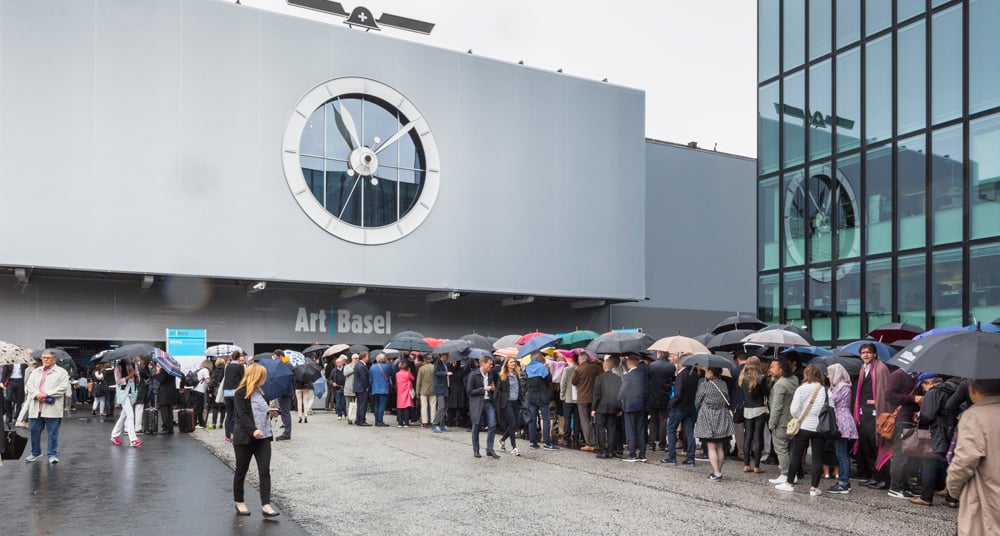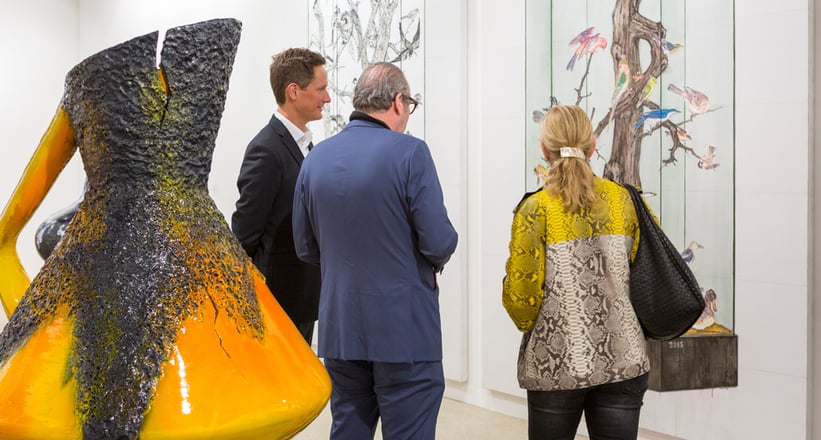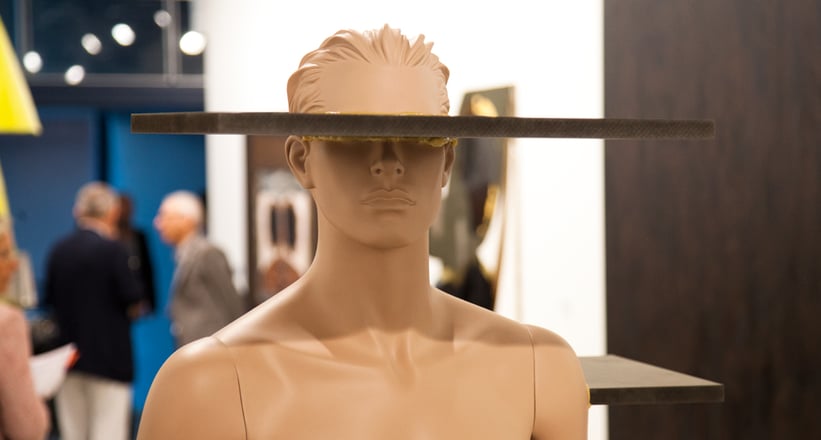 Terrorism, a refugee crisis, Donald Trump and the threat of 'Brexit' – the contemporary art market is responding to these global uncertainties in its own way. At Art Basel, the 286 exhibiting galleries, from 33 different countries, were unusually conservative. Instead of flashy attention magnets and provocative works from young artists, in the main exhibitions you could find works of modern and post-War art from the biggest names. Collectors seem to want reliable values, and the galleries are reacting. With the main auction houses Christie's, Sotheby's and Phillips holding sales near to the British EU membership referendum, all with significantly fewer lots and lower estimates than usual, the risk appetite of collectors appears to have reduced as much as the detailed security checks at the entrances to the fair have been heightened.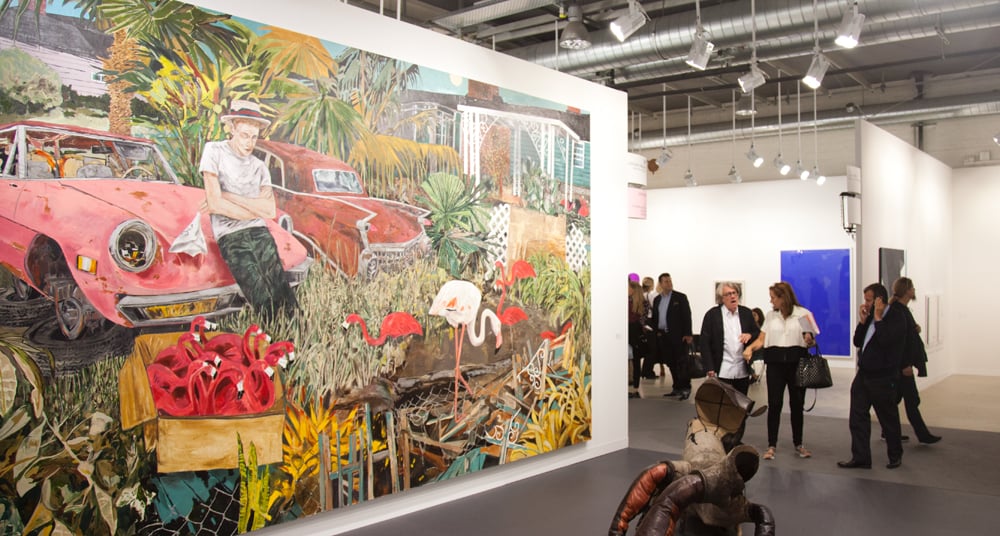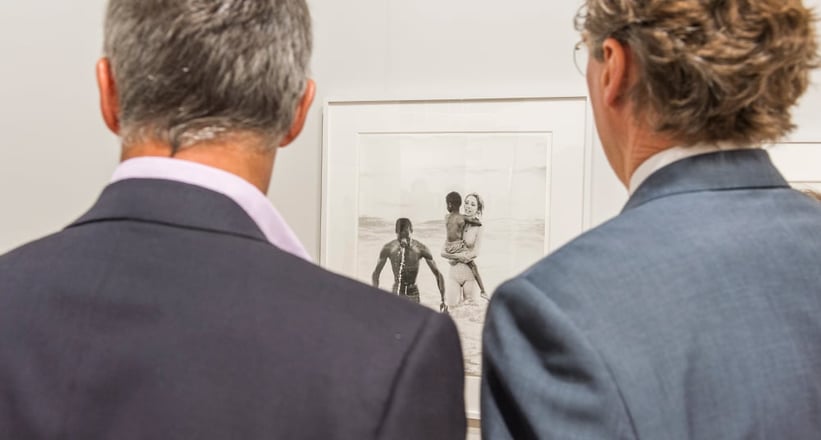 Of course, there were plenty of counterexamples to this pessimism to be found elsewhere at Art Basel. In Hall 2.1, for example, you could find sculptures and oddities including a mannequin with a board through its head. The flagship galleries such as Gagosian, David Zwirner and Hauser & Wirth offered predominantly historically relevant 'flat' goods, from the likes of Sigmar Polke, Ed Ruscha, Gerhard Richter and Lucian Freud. These works were tastefully combined with a Calder mobile suspended from the ceiling. "In uncertain times, you use your art," stressed Art Basel director Marc Spiegler at the fair's opening. Galleries rely on fairs such as Basel for much of their sales, and often will invest hundreds of thousands of euros on their stalls, transport and equipment. This increases the pressure to sell, be it to interior decorators furnishing townhouses or speculative investors looking for low-risk purchases.
Large formats, controversial issues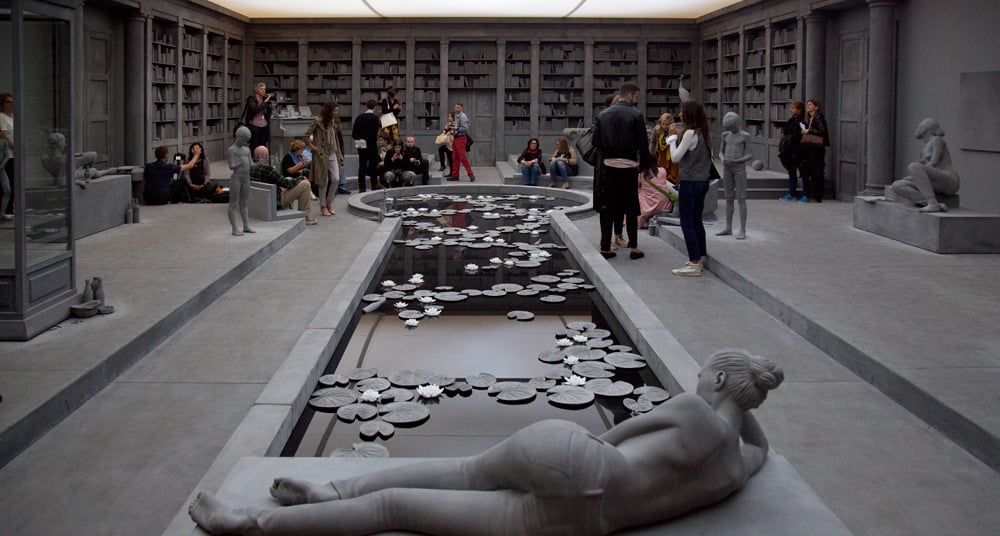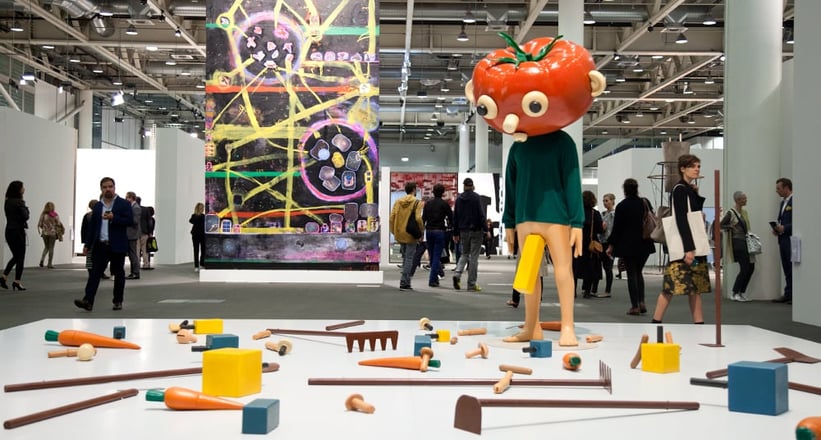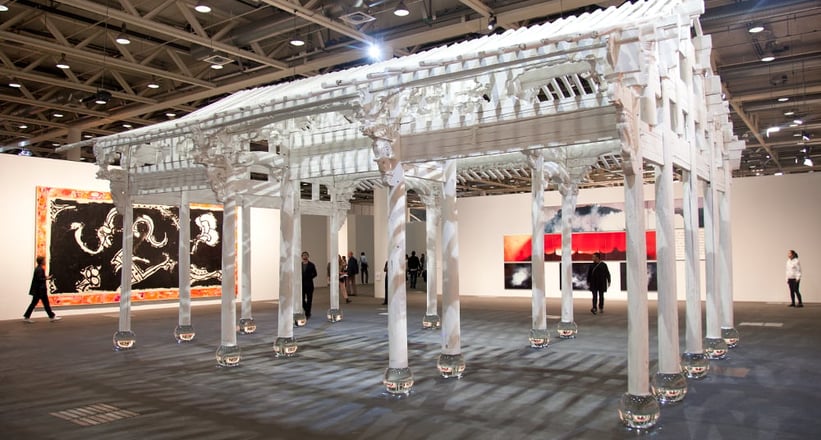 While the big business on the preview days was taking place in Hall 2, the gallery show next door in the 'Unlimited' sector showed those works that go beyond the scope of the exhibition stands, including large-scale paintings and installations, performances and video works. Previously such works have mostly been bought by museums, but more and more private collectors are entering the scene. Among the eye-catchers – and the most shared on Instagram – were Ali Wei Wei's glass ball temple, and Hans Op de Beeck's 'Collector's House', a mysterious grey piece reminiscent of the ruins of Pompeii.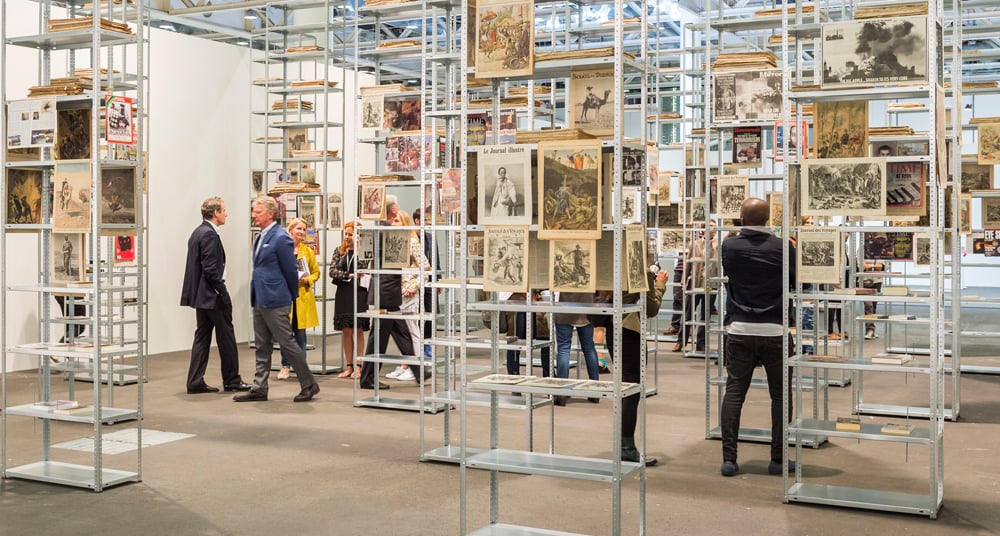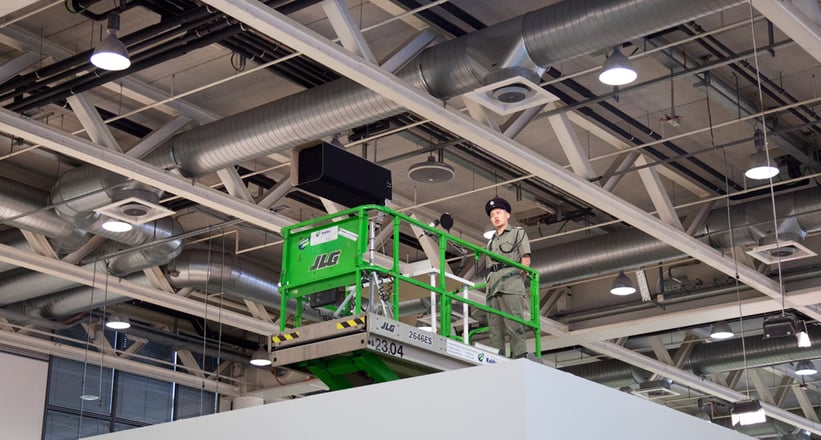 The 'Unlimited' sector was also one of the few places where one could find political art and comment on current world affairs. Kader Attia's 'the Culture of Fear: An Invention of Evil' traced the tradition of how non-Western cultures were represented as threats in the 19th Century. In the 'Zoom Pavillion' by Rafael Lozano-Hemmer and Krzysztof Wodickzo, meanwhile, you could learn about the development of surveillance and facial recognition technology – a particularly relevant exhibit given the volume of CCTV cameras in public spaces around Basel. Last year's winner of the BMW Art Journey award, Hong Kong-born Samson Young, towered over the sector with his mighty ultrasonic cannon, designed for use on unwelcome protestors in totalitarian regimes.
My Prouvé house, my Jacobsen chair, my Lamborghini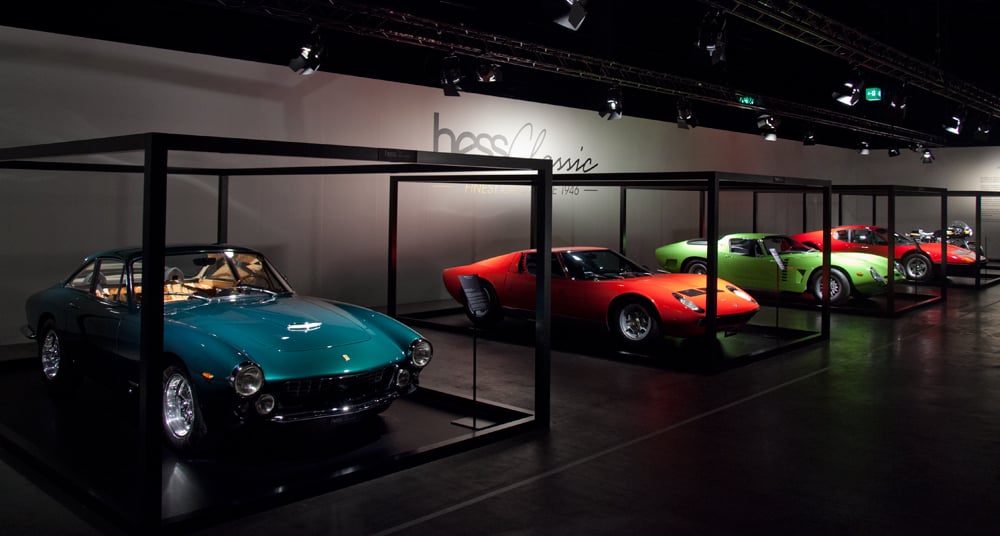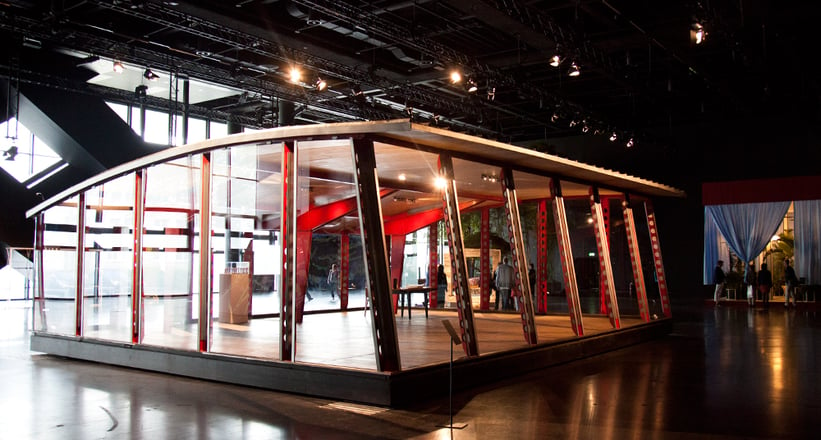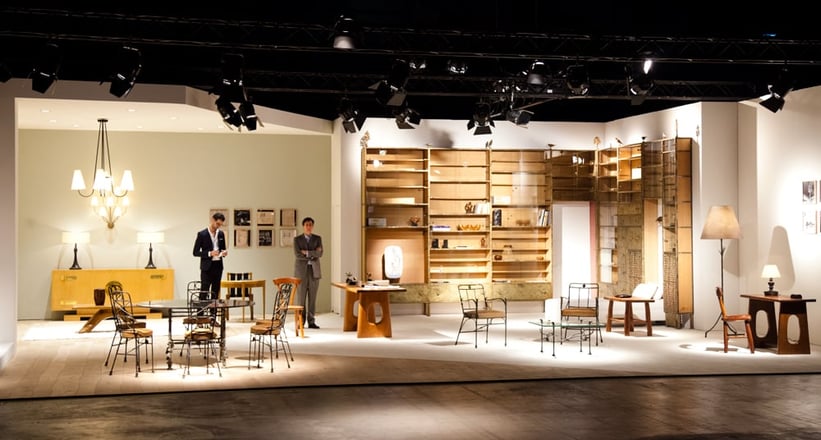 The unpleasant beeping from Young's 'Canon' rang in your ears for a while, even after entering the nearby Design Miami Basel fair where, in dim light, modern and contemporary pieces of furniture are traditionally displayed. Here, the offerings hardly differed from last year's event – there were Prouvé chairs and prefabricated houses, rare mid-century furniture and Danish teak design classics, all of which still hold their place alongside the more traditional works at Art Basel. A surprise this year was inclusion of classic cars and motorcycles. Hess Classics from France brought six icons of Italian automotive design from Ferrari, Lamborghini, Bizzarrini and Ducati.
Looking for geological time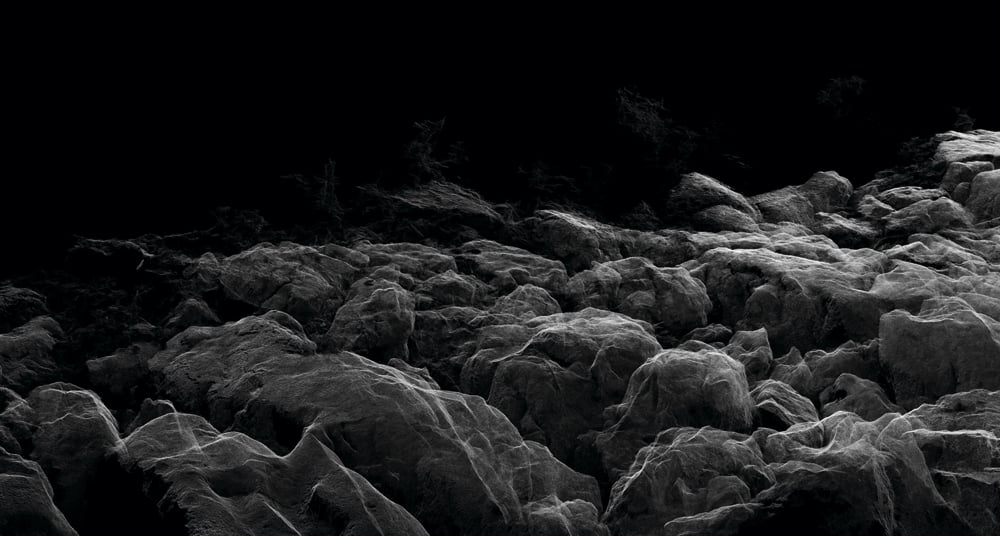 Art Basel serves not only as a diverse marketplace, but also as a stage for brands such as UBS, BMW and Ruinart, all hoping to demonstrate their connections to the art world. Watch sponsor Audemars Piguet succeeded in stopping time, at least for a moment. Chilean designer Sebastian created a melting ice palace with plenty of Plexiglass, resembling the remoteness of the Vallée de Joux where the watches are traditionally manufactured. Even deeper in the topography of the Jura Mountains southwest of Basel, the British photographer Dan Holdsworth carried out survey work for Audemars in search of geological time, work that was actually very soothing. We wonder who will remember Donald Trump, the proposed EU referendum or the results of the summer art auctions in 100,000 years' time?
Photos: Jan Baedeker / Art Basel / Audemars Piguet