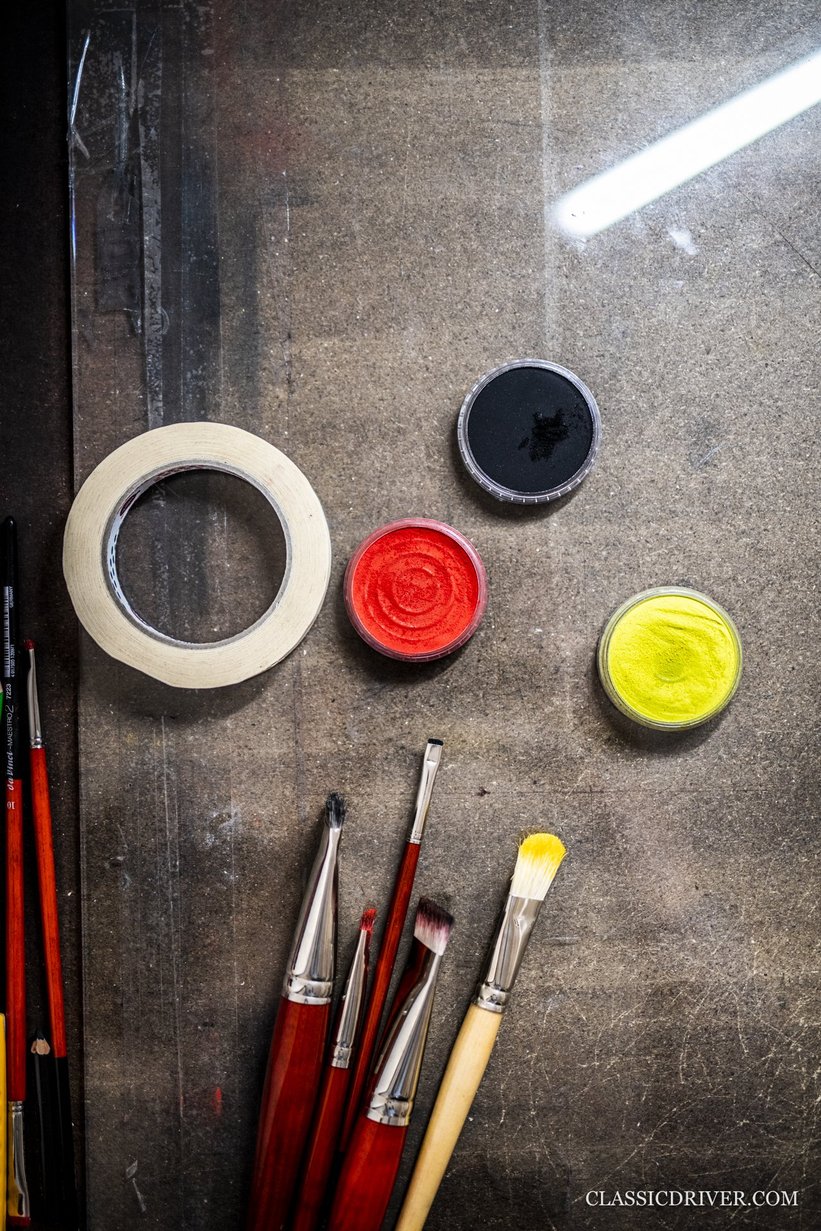 If you watched the 2020 Formula 1 championship, then you'll probably have seen one of Yan Denes' latest artworks on Charles Leclerc's helmet for the Scuderia 1000th Grand Prix. The helmet was ornamented with Yan's drawings of 15 championship-winning Ferrari single seaters and a portrait of Enzo Ferrari, for a total of 16 drawings to match Leclerc's race number.
Being directly commissioned by Scuderia Ferrari to create these drawings was the ultimate recognition for Denes: drawing Ferrari racing cars at speed is what he's known for, and the roots of his ambition go back far. "I've always wanted to be an artist, I love American minimal art of the '60s in particular," he says. "But I have to confess a strong love of Ferraris since age nine, when I bumped into a Ferrari rally in Corsica, where my family is from".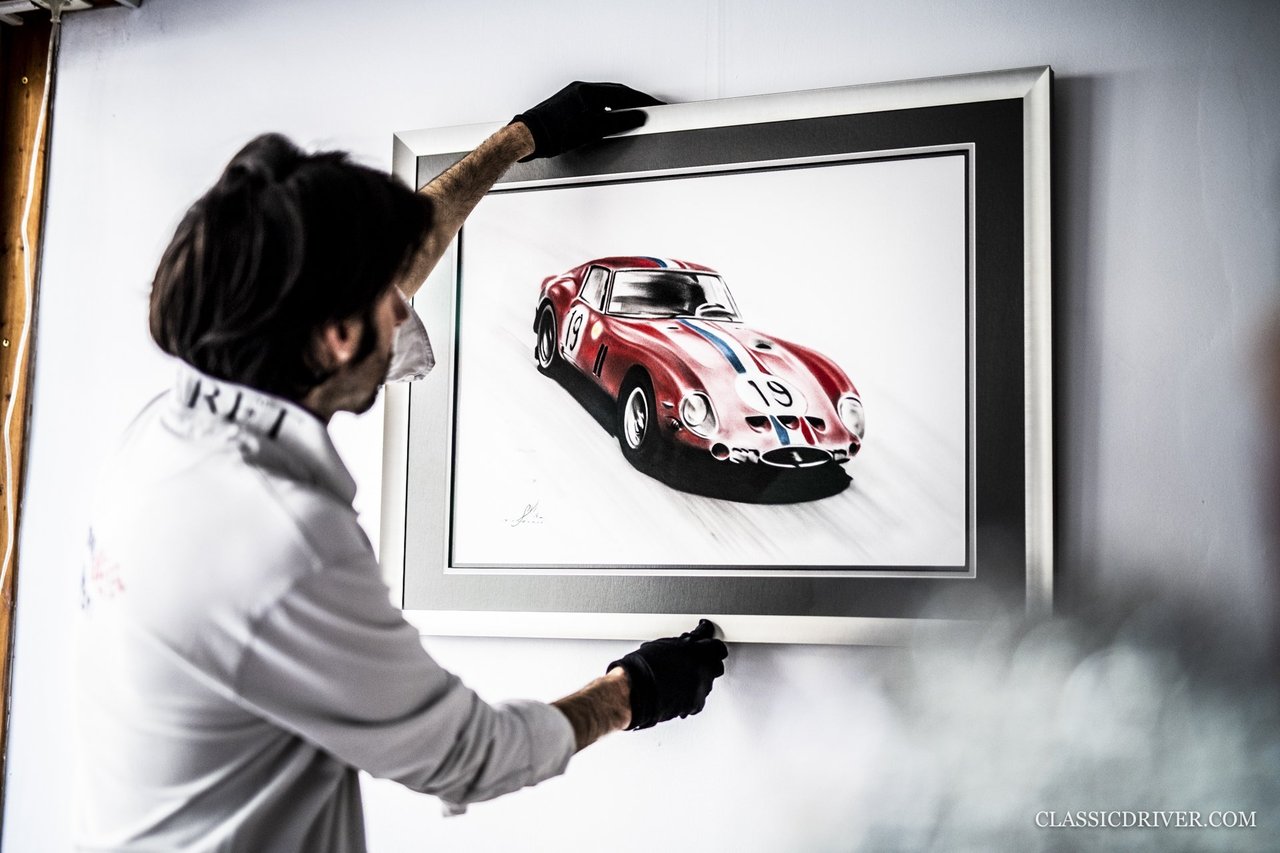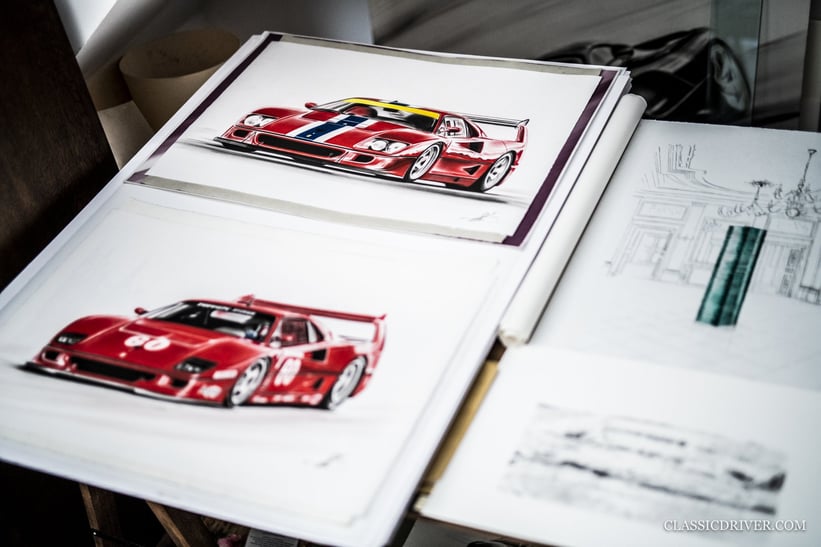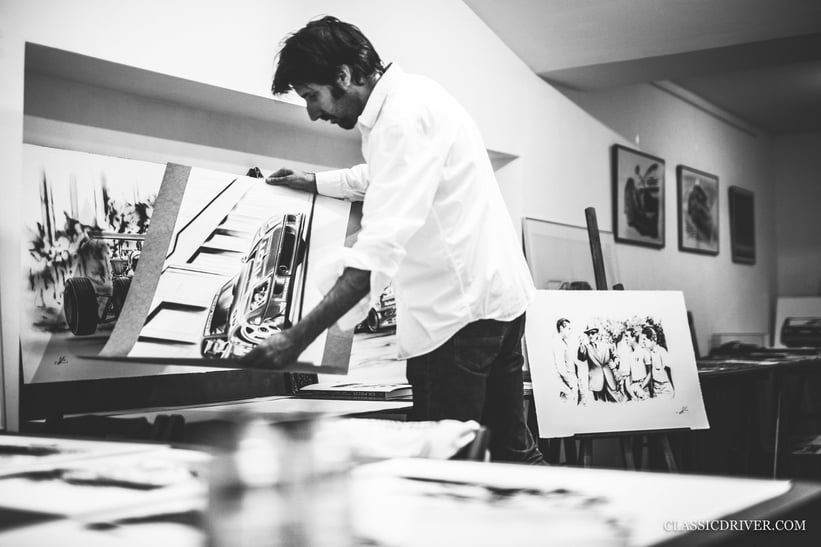 After his studies at the Ecole des Beaux Arts, Yan has explored many artistic fields, but keeps coming back to drawing: "I enjoy dry techniques such as dry pastel pigments and black stone, a lot, although I'm increasingly interested in watercolours," he admits. "I also attach great importance to paper; I use five or six different types, from a thin paper able to transcribe the details well for static scenes to thicker ones for blurred drawings."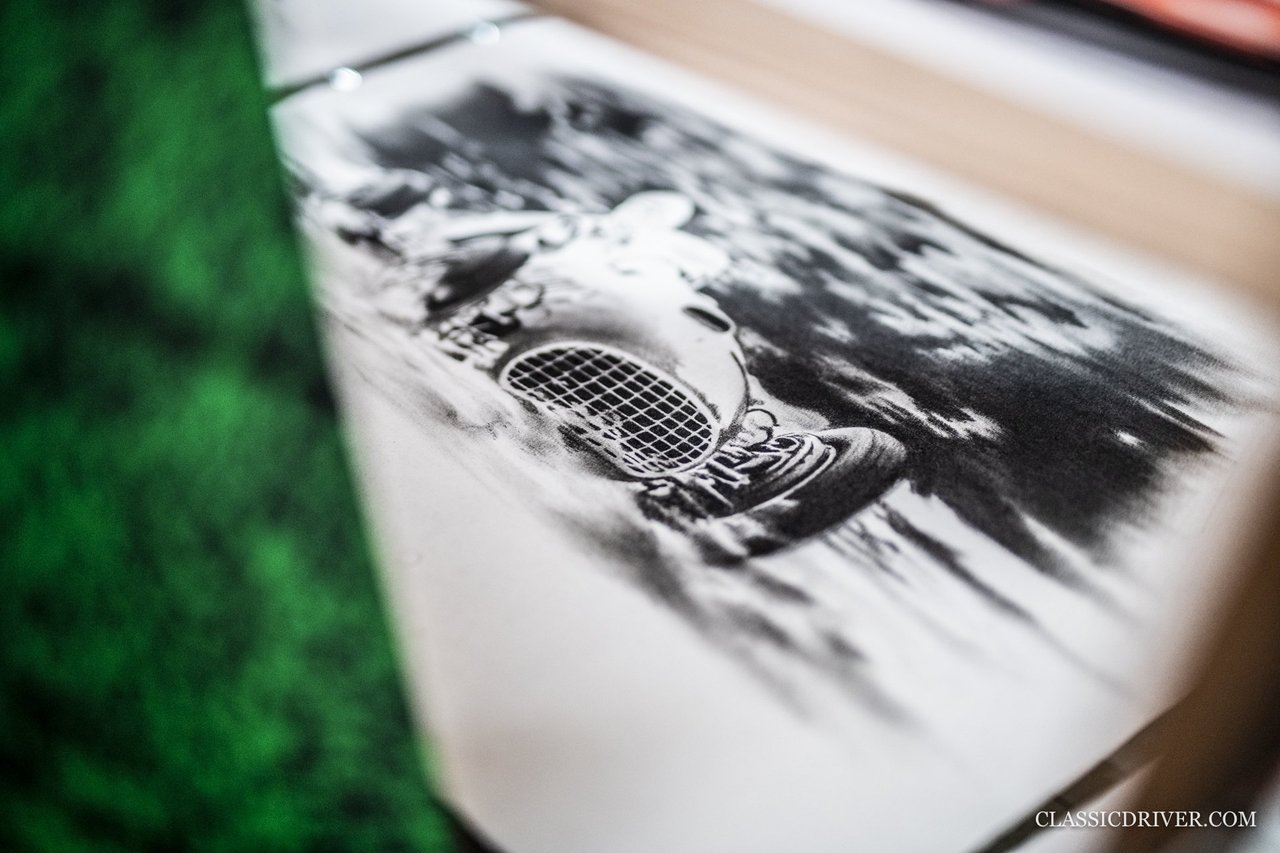 While the vast majority of Denes' commissions come from owners of modern Ferrari race cars such as the 360 Challenge, 430 GT2, 488 GT3 and FXX, Yan is actually better known for his passion for historic racing scenes. "My primary era is clearly the '60s," he says. "For these scenes, I use period photos with the agreement of their photographer and allow myself some freedom on the framing, for example. I like racing cars, and if they have flaws or imperfections, I represent them faithfully, of course."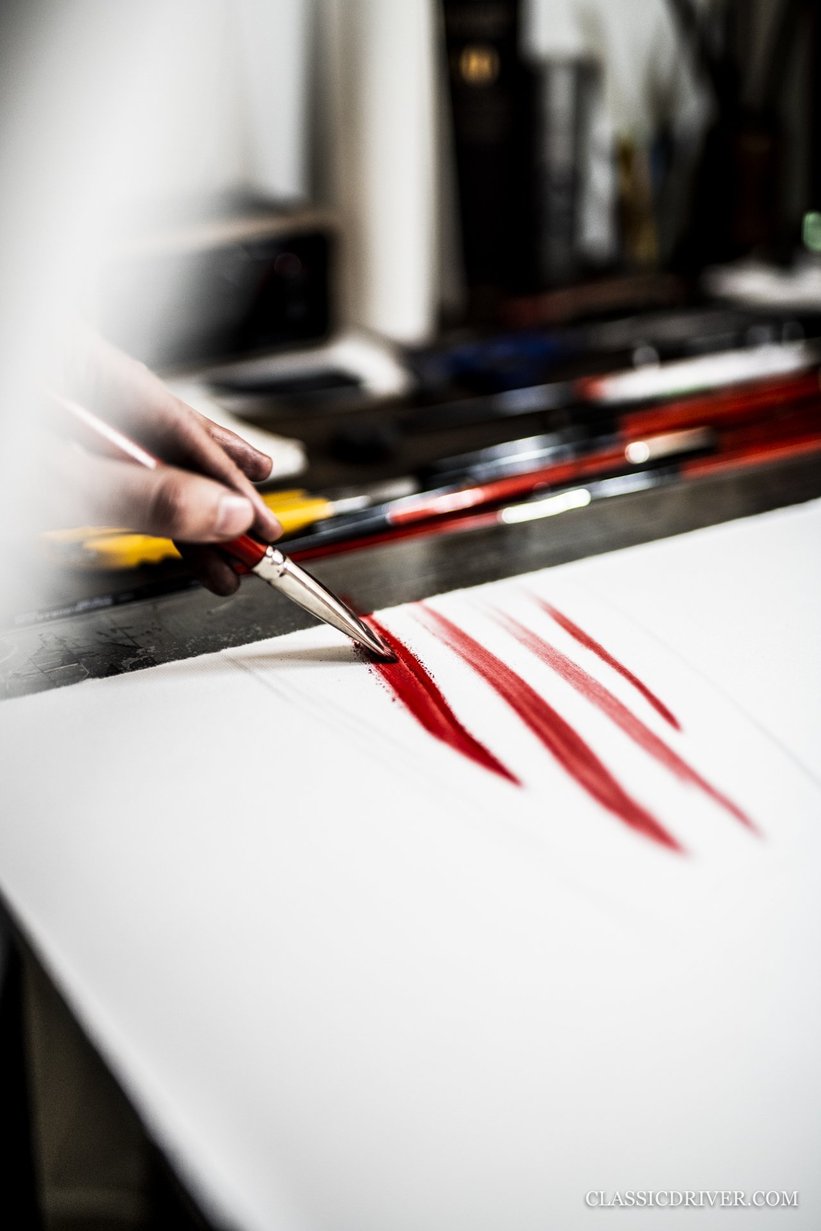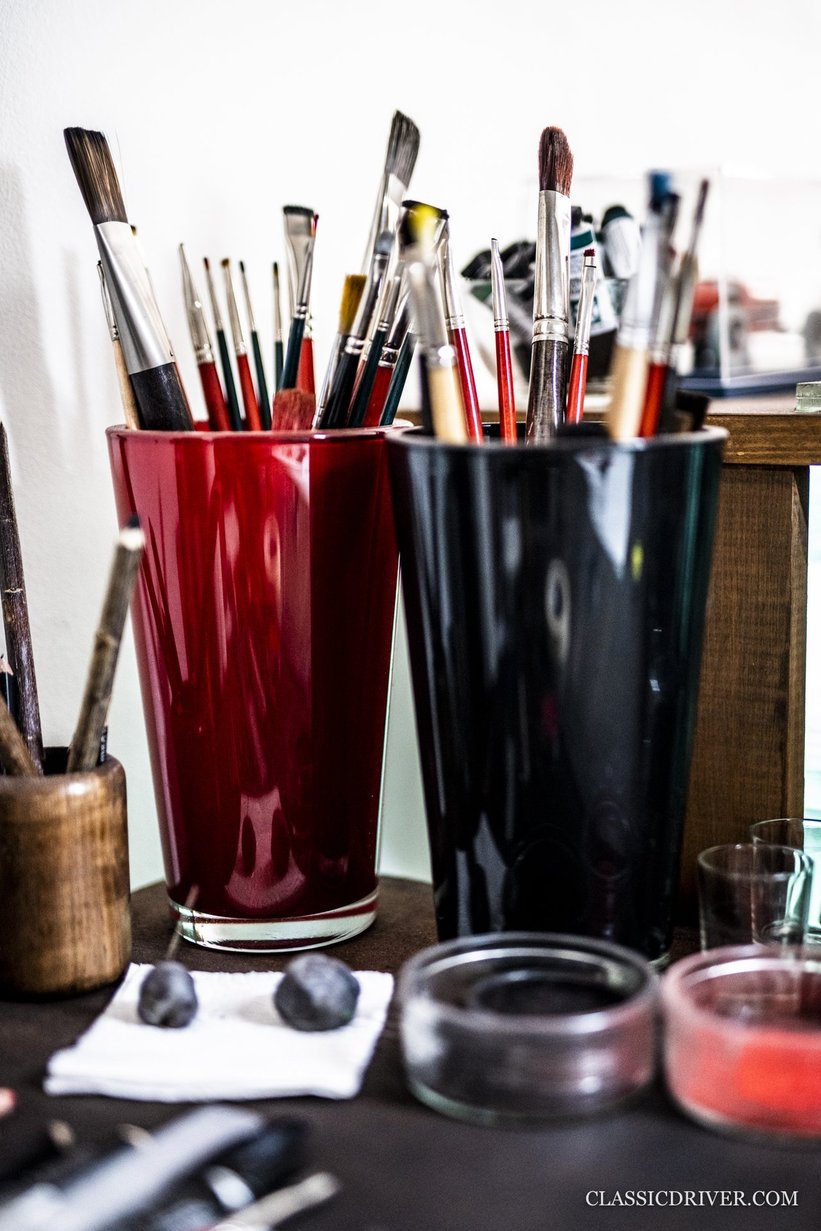 It has to be said that Denes is a virtuoso when it comes to transcribing speed and movement. "My master is Leonardo da Vinci, who is the ultimate reference in drawing because of his mastery of blur and movement," he says. "There's an indeterminate aspect to these drawings that's essential. It reminds me of Picasso's famous phrase 'finishing a drawing, what a horror' – that's exactly it, I always leave an area of blur and a part of emptiness. The viewer fills that space with their experience, their story. In this way, a drawing is simply an exchange – an encounter between two people."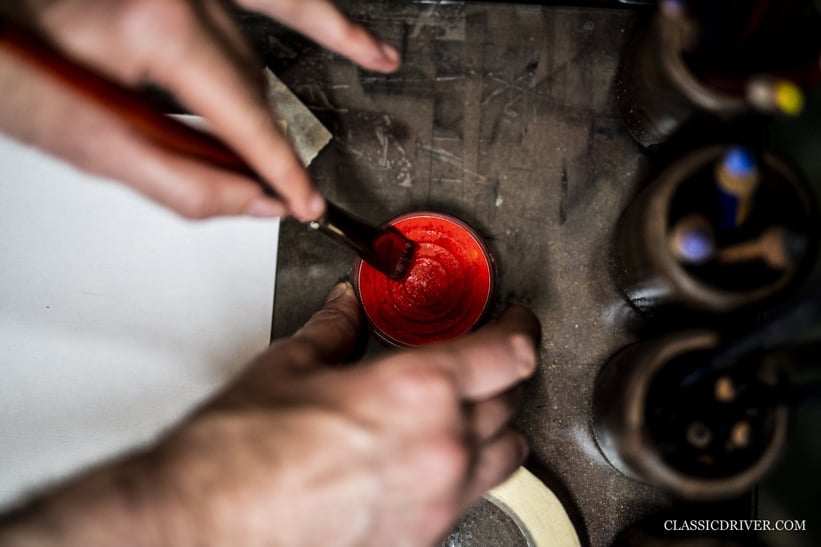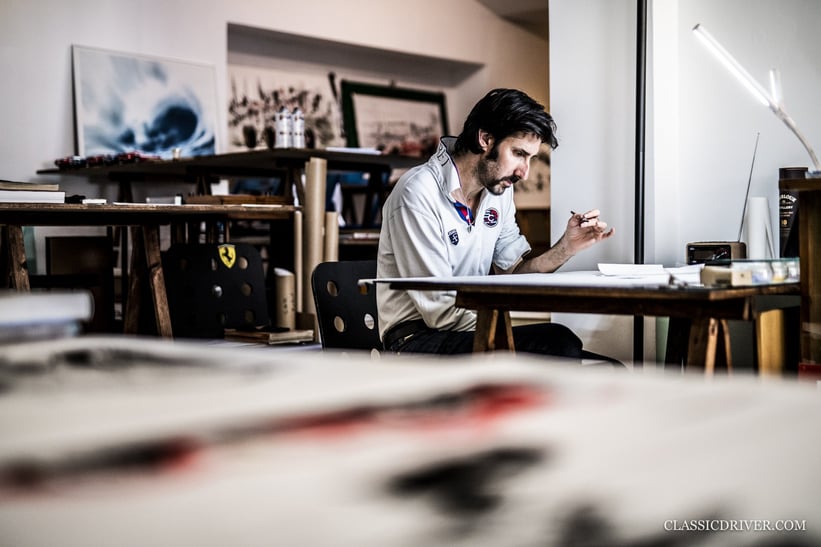 As for transcribing speed, "it's important to manage reflections, nuances and gradations, in the spirit of what Geo Ham and Denis Sire, who I've met, mastered very well. The blurred area is subtly transcribed with gradient pastel powder. In race scenes, I also focus on the car and its driver and choose to leave the audience blurred in the background." It's clear that this meticulous work requires a lot of concentration and time: more than 25 hours for some drawings.
Denes also has a passion for portraiture. Jacqueline Beltoise complimented him highly by "immediately recognising François' blue eyes despite the black and white" when she first saw his portrait of François Cevert. Another of his very striking portraits is of Ayrton Senna "drawn on the day of his death, isolated in my studio".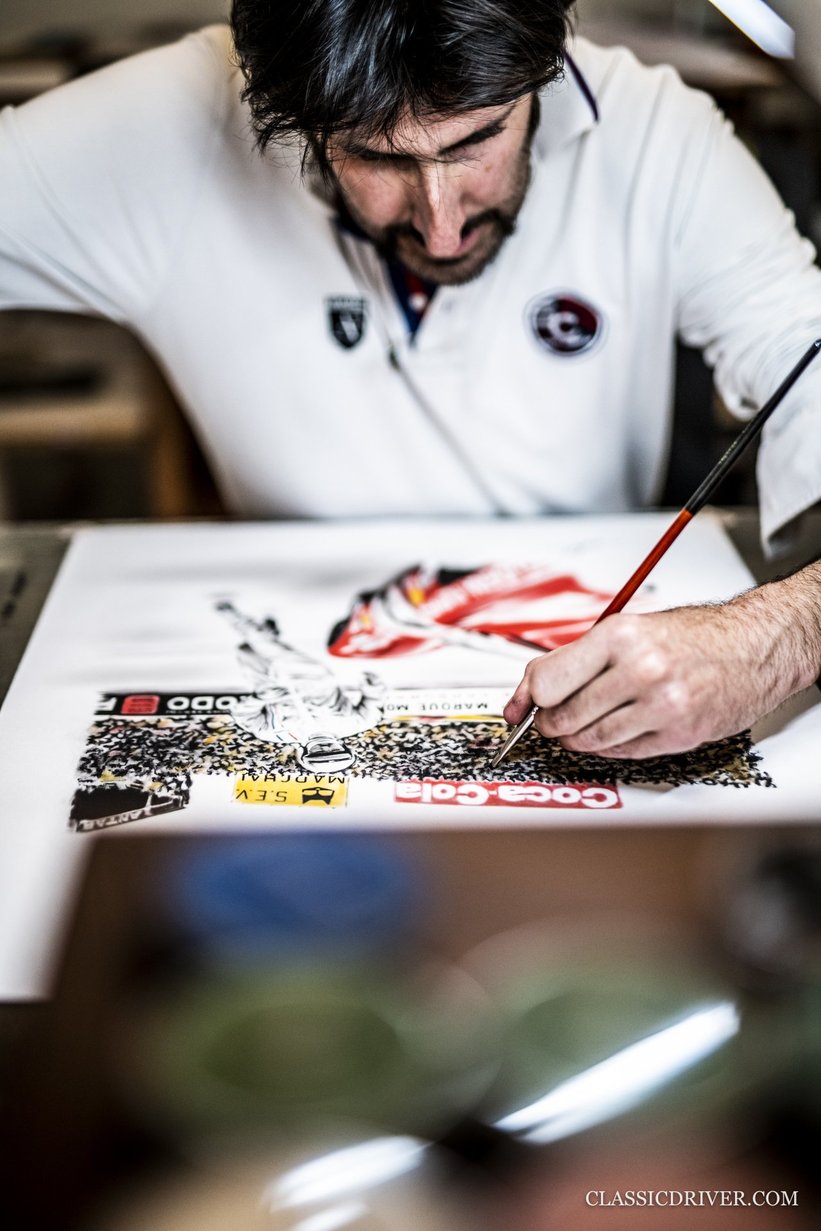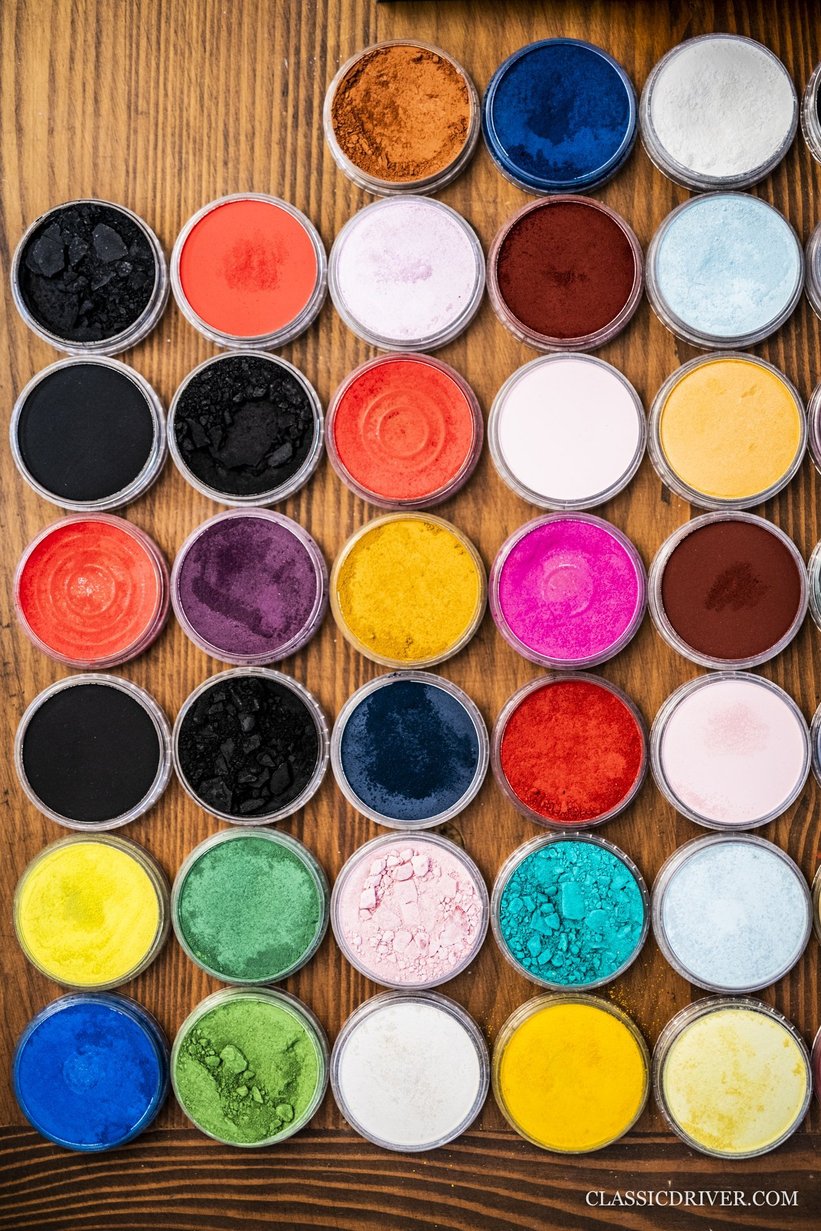 "Today, 80% of my clients are overseas; they find me through social networks. But I also like to welcome visitors to my studio gallery, which is in a tiny village in Haute Marne, France. Some come to see me with their vintage cars, such as a lady who was driving her Lamborghini Miura SV from Switzerland to London and stopped en route. Yes, I also like Lamborghinis, and drawing them! I'm actually just about to ship out another drawing of a red Miura SV."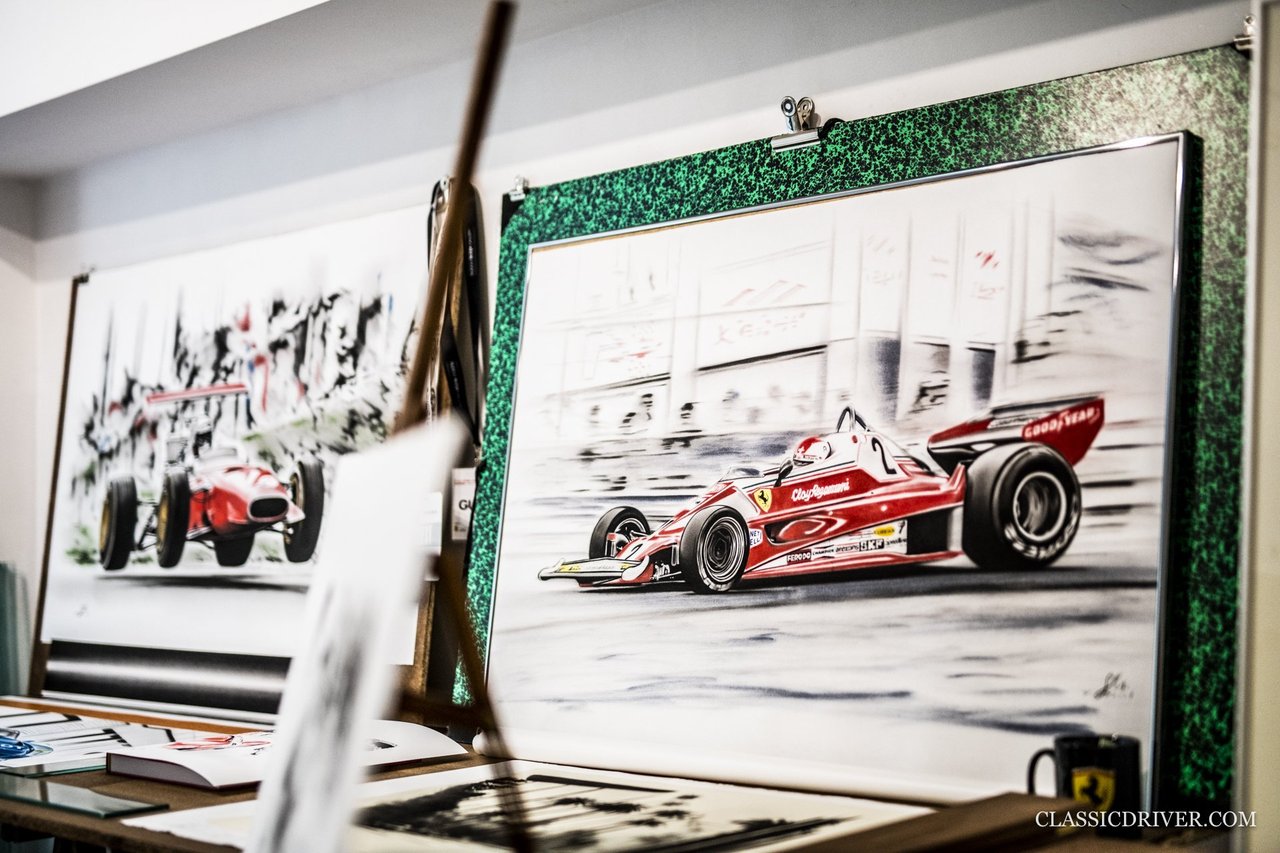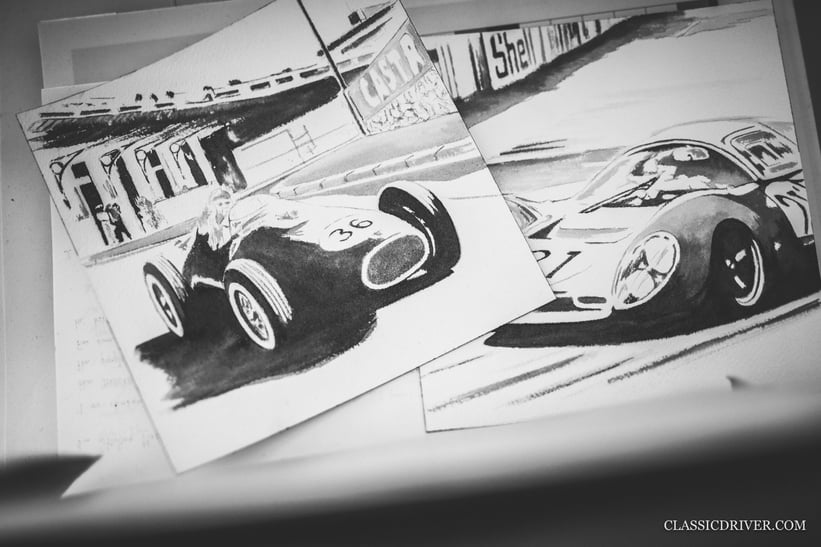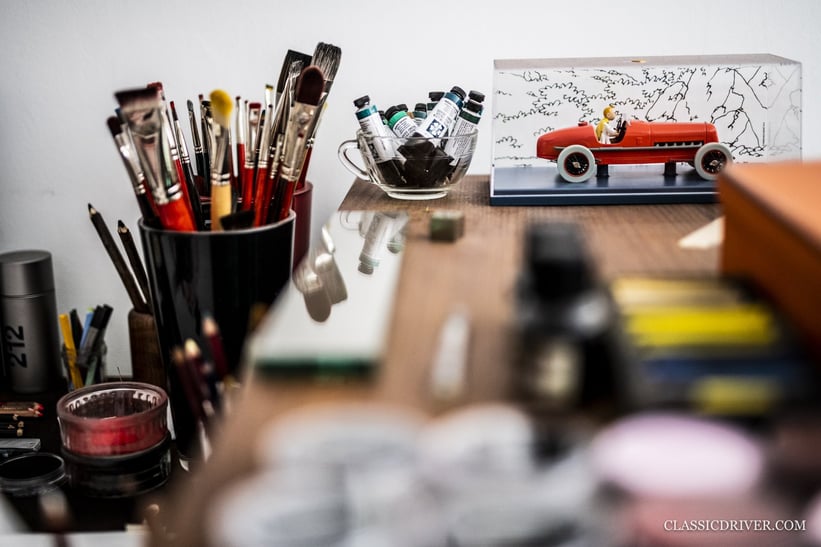 To capture the essence of motor racing, Yan is always keen to travel when possible. He's a regular at the Challenge & GT Days organised by Heinz Swoboda at the Red Bull Ring in Austria, for which he has designed an event poster. Quite a few drivers have also become Yan's most loyal customers, asking him for a new drawing of their car every year in its latest livery.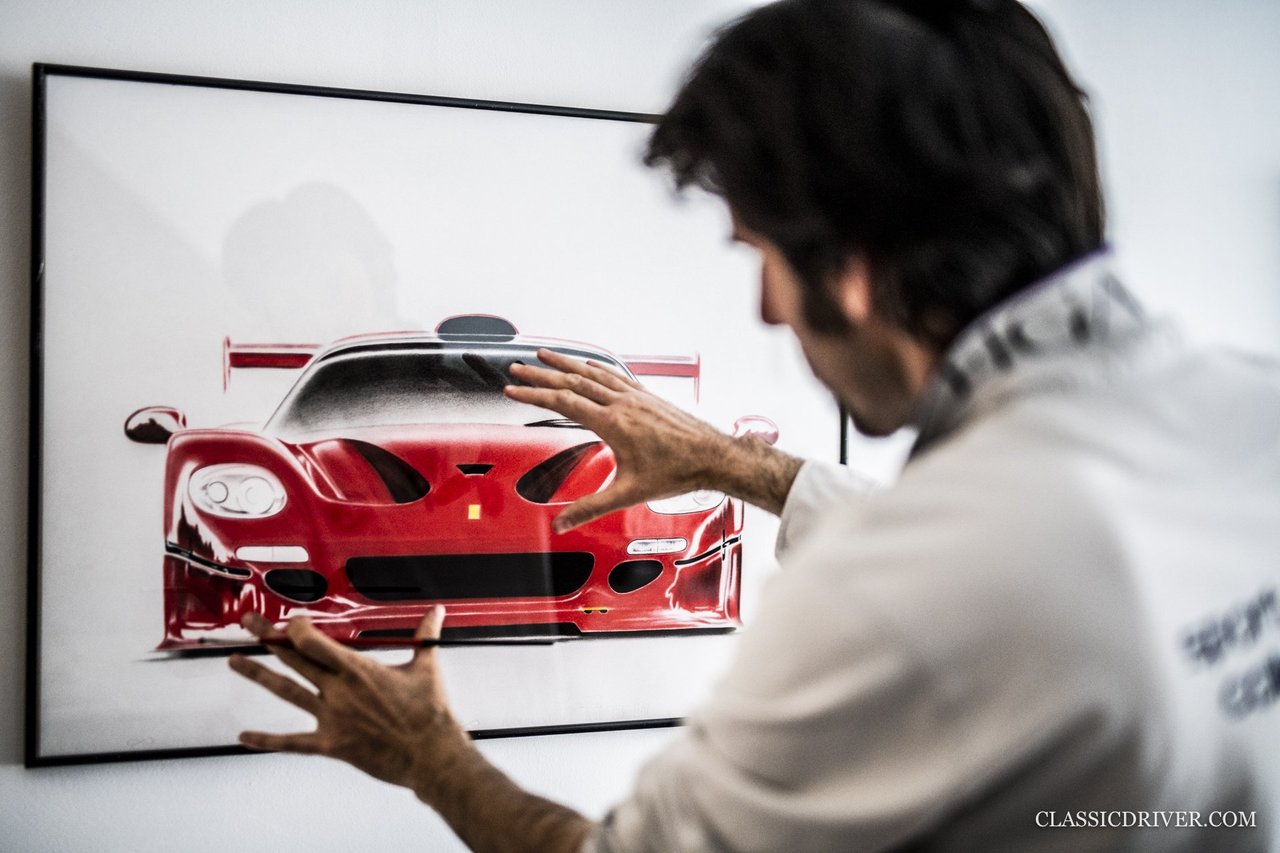 The same applies for the most significant historic Ferrari owners, who regularly commission Yan to create bespoke depictions of their 250 GTO, SWB or 750 Monza. In this respect, Yan enjoys visiting historic events. So once things get back to normal, you may spot Yan at the start of next Mille Miglia or in Le Mans Classic paddock.
Asia is also a potential destination this year, as Yan is involved with the Hong Kong-based Blackbird Automotive publishing company. Yan has a strong ambition to explore Japan, a country he has always admired for its sense of perfection and love of paper, ink and photography.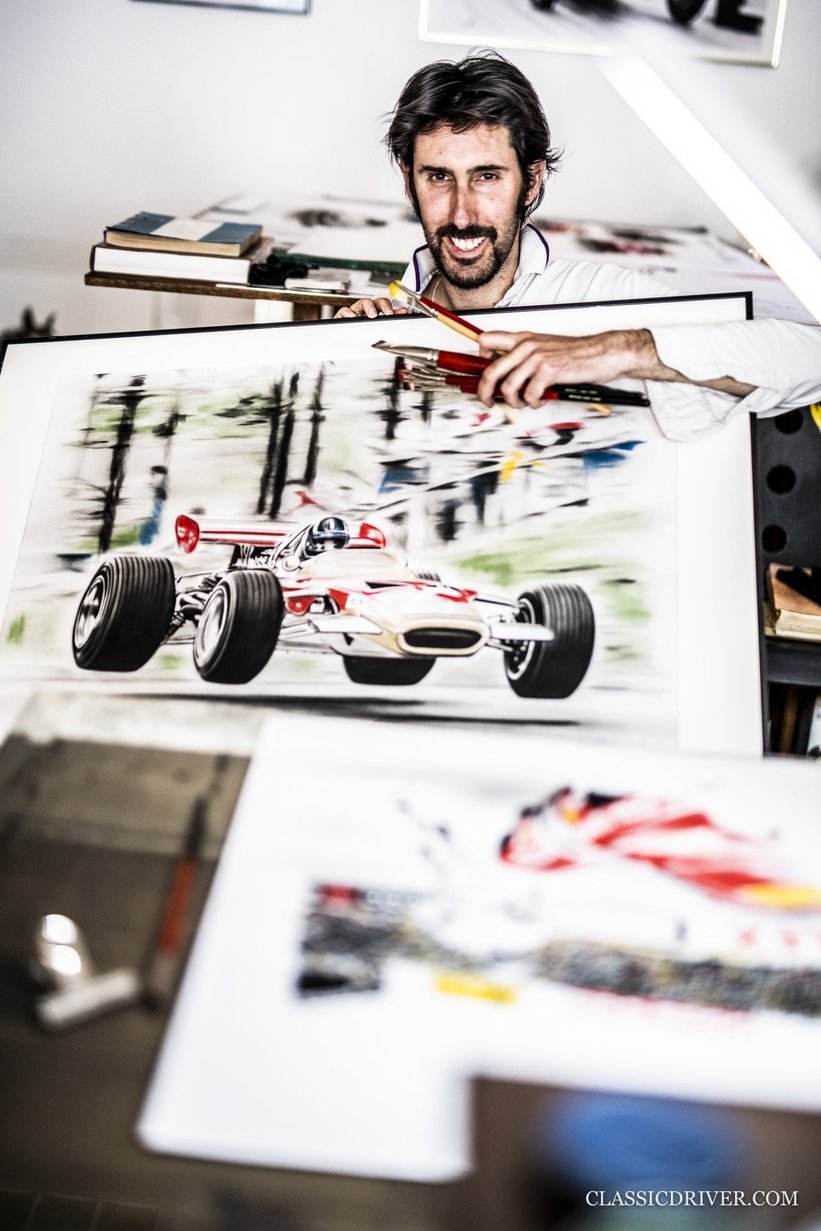 After the Ferrari helmet, Yan also plans to venture into large-scale sculptures, but in the meantime expect more exquisite drawings of scenes from the golden era of motorsport, especially if they involve Ferraris!
Photos: Rémi Dargegen for Classic Driver © 2021