This listing is no longer available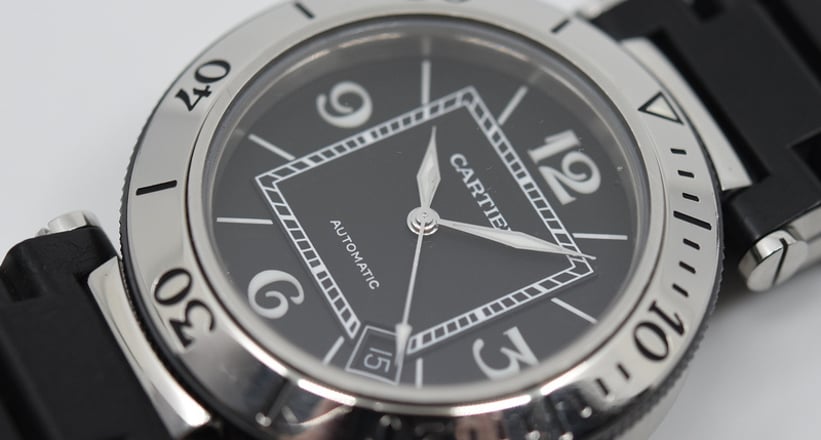 Location
Description
Pasha Seatimer Automatic
38 mm case
Hours minutes seconds date
Rubber Steel bracelet
Comes with all box and papers . -
Montre Pasha Seatimer Ronde, automatique, format 38 mm et taillée pour les défis, elle vogue sur le poignet avec l'élégance et l'aisance pour horizon. Une montre au masculin pour plonger au fil des sensations et de l'eau, accessoire nautique conçu pour vivre l'aventure en temps réel. Une montre pour lui, à toute heure, jour et nuit, reflet d'un homme qui navigue sans limites avec son temps. Un capitaine de séduction qui adopte ce bloc d'acier gradué dont les aiguilles et les chiffres luminescents pulsent d'énergie sur l'écran géant d'un cadran noir. Pasha Seatimer multiplie les contrastes et choisit la modernité de matériaux hautement sophistiqués qui ont le goût de l'exploit et le sens de l'éclat. De l'acier surmoulé de caoutchouc noir pour les maillons articulés dont Cartier laisse apparaître les tranches à vif et de la céramique, noire toujours, pour une lunette cerclée d'une frise décor clou de Paris. Alliance de mat et de brillant, d'acier et de noir qui fait le graphisme puissant au diamètre solaire de cette nouvelle version de la montre Pasha de Cartier qui s'offre le grand large d'un temps à prendre au compteur du plaisir, de la vitesse et de l'action. Une version s'inspirant du style Pasha de Cartier, sa forme ronde, ses quatre chiffres arabes, son cache-couronne, détails historiques dont Cartier renforce encore l'esprit d'évasion et de sportivité précieuse.
Cadran noir, bracelet en acier surmoulé de caoutchouc noir.
boîte en acier satiné et lunette polie ;
Mouvement mécanique à remontage automatique, calibre Cartier 049
Lunette tournante unidirectionnelle (étanche à 100 m).
Ecrin & certificat d'origine !