This listing is no longer available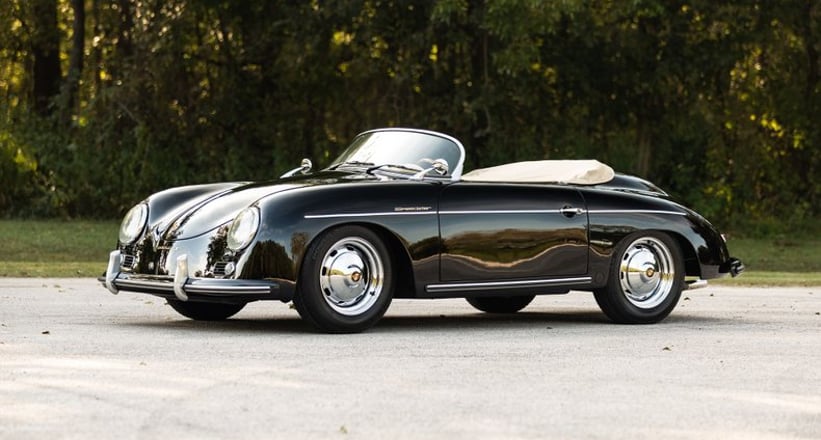 1973 VW Speedster Replica
Summary
Location
Description
Selling Exclusively at Auction, through Bring-a-Trailer.com: https://bringatrailer.com/listing/2006-beck-speedster-3
2006 Beck Speedster
*titled as a 1973 Volkswagen
Chassis No. 1132624135
Striking Midnight Black over Beige Livery
Just 6,595 Miles Driven Since Completion
• Built in 2006
Superior Performance over the Original Porsche 356 Speedster
Nicely Optioned Example
• 1915cc Engine
• Full Tonneau Cover
• European Bumper Guards
• Nardi Steering Wheel
• Dash Grab Handle
• Chrome Interior Door Pulls
Additional Fittings:
• Concealed Stereo with AUX Input & CD Changer
• Coco Mats
• 3-Point Seatbelts
• 12-Volt Electrical System
All-New Weather Equipment Installed Summer 2020
• New Black Canvas Top and Matching Black Side Curtains with Protective Case
• Beige Full-Cab Tonneau Cover with Stowage Bag
Complete with Owner's Manual & Spare Tire Assembly
Specifications:
Wheelbase: 85"
Height: 49"
Length: 152"
Width: 65"
Dry Weight: 1600 lbs
Standard Engine: Customer Specific, (1915cc with Weber 44 IDF Carburetors)
Front Suspension: Fully Adjustable Twin Torsion I-Beam
Rear Suspension: Torsion Bar with Adjustable Spring Plates
Brakes: Front Disc, Rear Drum and Handbrake on Rear Wheels
Wheels: 5 road wheels 15" x 5.5" Front and Rear
Tires: 165/80 R15
Performance* (according to Beck):
Standing Start: 0-60 mph in 6.7 seconds
Quarter Mile: 14.8 secs @ 92 mph/148 kph
Top Speed: 110 mph
*with optional 1915cc 125 hp engine and 3:88 final drive
Offered here is a limited driven example from enthusiast ownership - finished in a striking Midnight Black over Beige livery and well-equipped for immediate spirited driving. Boasting considerable power, along with a tubular chassis and adjustable suspension, the Beck Speedster is often considered among the finest, fittest, and most desirable reproduction Porsche 356 Speedsters available. Performance and drivability are noticeably greater on a Beck, for a fraction of the original Porsche model's values.
1132624135 is titled as a 1973 Volkswagen Speedster and comes equipped with all new weather equipment, including a black canvas top and matching side curtain with protective sleeve when stored, as well as a full-cab / half zip tonneau cover with supplemental stowage bag. In the summer of 2020 the Speedster received a oil/filter, dyno tune service and full detail with steam cleaning of the underside and engine compartment. Additionally, a new canvas soft top was installed. Built for boundless smiles and reliable vintage touring, we offer this outstanding Beck Speedster.
Engine Compression:
PSI/Cylinder
1. 115 PSI
2. 110 PSI
3. 115 PSI
4. 120 PSI
The above vehicle information is accurate to the best of our knowledge at the time it is posted to this website. It is provided 'as-is', without warranties as to its accuracy, whether expressed or implied, and is intended for informational purposes only. Corrections or additional information is always appreciated.
All advertised prices exclude government fees and taxes, any finance charges, any dealer document preparation charge, and shipping expenses. Vehicles are subject to prior sale. DriverSource is not liable for any errors, omissions, or mistakes.